Kale chips are easy to make with abundant kale leaves and your dehydrator or oven.  They make a tasty and nutritious snack food, too.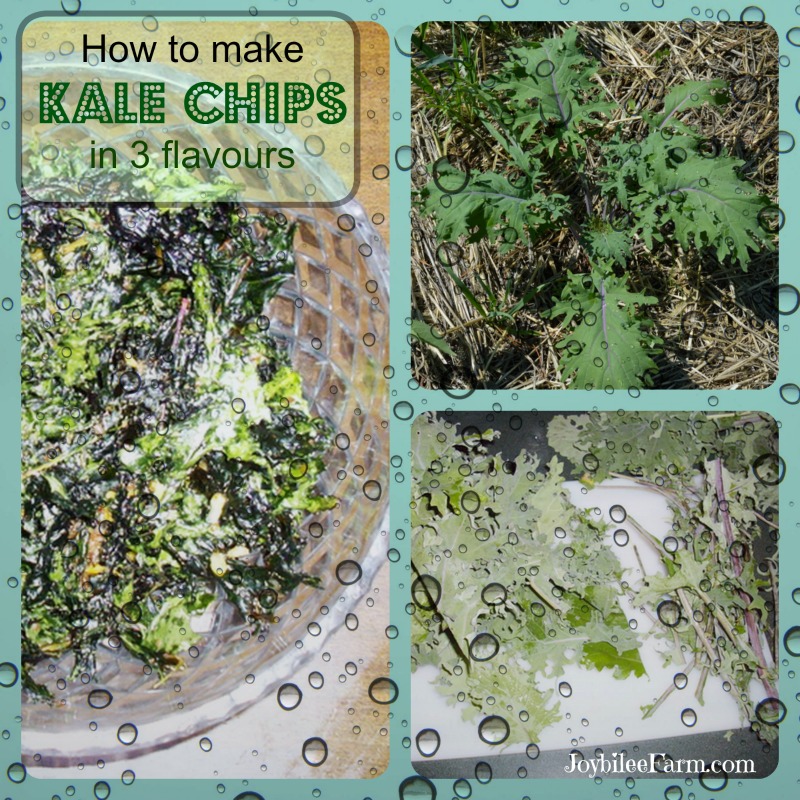 Have you seen those tiny packages of spiced, dried kale in the organic store for $7 per 2 ounces?  That's more expensive than grass-fed steak.  Seriously, who actually buys that?  It's so easy and satisfying to make your own.  You can use your oven or a dehydrator.  I prefer the dehydrator because the kale remains raw and it dries quickly.  You can have it in the oven in 15 min.  and ready to eat in 2 hours, while you do something else.  Or give it 3 to 4 hours in your dehydrator.  It will keep in an airtight container at room temperature for a week or two.  Longer if you can vacuum seal it.  Let's do it.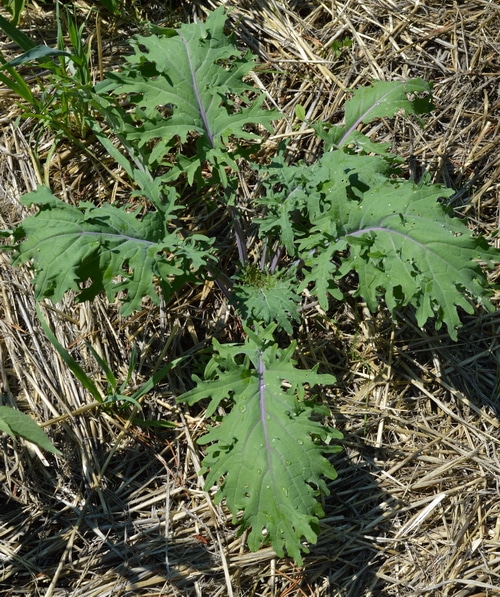 How to make Kale Chips
Take enough kale leaves from your garden to fill up a 2-quart bowl.   About 2 large bunches of kale leaves are enough.  If you are buying your kale fresh at the farmer's market, 2 bunches will be enough.
Wash the leaves well and put them in a colander to drain.
Remove the center rib from each kale leaf.  You can do this by either cutting out the center rib or by tearing the tender part of each leaf away from the center rib.
Tear the kale leaves into bite-size pieces.
Place the kale leaves into a 2-quart bowl.  Add the dressing.  (See recipes below or use your favorite salad dressing)
Massage the dressing into the Kale leaves with your hands, being sure to coat each piece of kale thoroughly.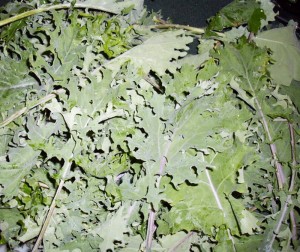 Place the prepared Kale leaves on your dehydrator trays.  Set the heat to medium.  Dry until leaves are thoroughly dry and crumbly.  The time for this varies depending on your dehydrator. In the Excalibur dehydrator, it takes about 3 to 4 hours. Smaller countertop models may take longer.
Alternatively, you can dry the Kale in your oven at 200*F for about 2 to 3 hours.  Dry until crisp.
Allow to cool and serve.  Or store in an airtight container until ready to eat.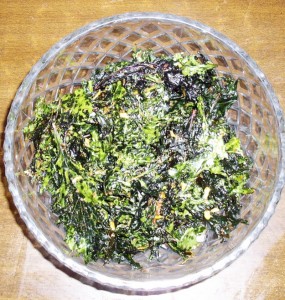 Lemon poppy seed dressing
1/4 c. virgin olive oil
zest and juice from one organic  lemon juice
1 garlic clove, crushed
1 tbsp. poppy seeds
1/4 tsp. Himalayan salt
Pinch of freshly ground pepper
1 tsp. dijon mustard
Soak poppy seeds in lemon juice for 30 minutes.   In your blender (I use a Vitamix) add all the ingredients, including soaked poppy seeds.  Whirl in the blender until mixture is thick and creamy — about 1 minute.
Pour the dressing over the prepared Kale leaves and massage into the leaves well.  Dry the marinated kale leaves as per the directions above.
Nacho dressing
1/2 cup of virgin olive oil
2 tbsp. cider vinegar
2 tbsp. finely grated cheddar cheese
1/2 tsp. nutritional yeast
1/4 tsp Himalayan salt
1 clove of garlic, crushed
1/4 tsp. chipotle spice or chili powder (optional)
1 tbsp. tomato powder
Add all ingredients to a pint mason jar.  Put an airtight lid on the jar and shake well.  Continue shaking until the mixture is well blended and has thickened.  About 2 min.  Pour over prepared Kale leaves in 2-quart bowl and massage well into each leaf.  Dry marinated kale leaves as per directions above.
Fruity pomegranate dressing
Alternatively, try pomegranate dressing for sweet, fall Kale chips.
Don't let the list of ingredients in the Kale dressing discourage you.  You can use your favorite bottled dressing if you want, but the homemade dressing is very quick to make.  The key is to use a dressing with very little water — mostly oil.  In this way, the dressing doesn't weigh down the kale leaves and the leaves dry quickly.
Now you can enjoy this superpower food and gain the benefits that easy to grow, Kale has to offer, without the high organic specialty price tag.
Your turn:
What's your favorite way to enjoy superfood Kale?