Fall Kale Salad with Pomegranate Dressing and a Secret Ingredient
A fun kale salad recipe plus pomegranate dressing. This easy recipe has kombucha with all its great flavour and health benefits.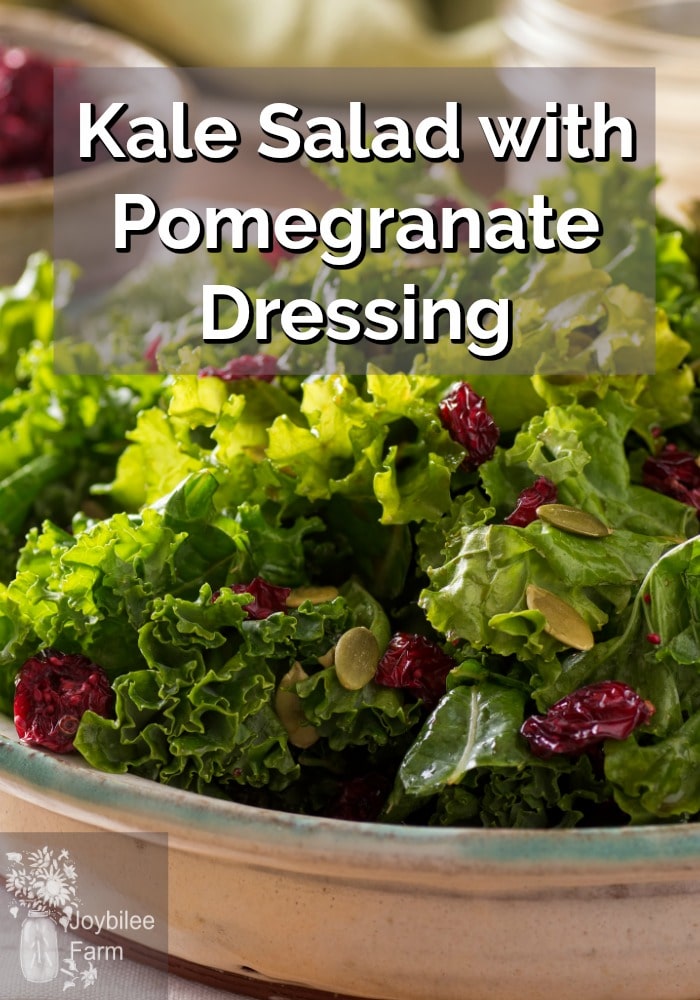 This Kale salad gets a lot of showings at my dinner and lunch table at this time of year.  It's the one vegetable that's still vibrant in my garden after frost.  In fact, it gets sweeter as the frosty mornings remind me that winter is just around the corner.  Kale is a mainstay of the fall and winter garden.
This simple salad makes use of the vegetables that you have on hand in the Fall and winter
Recipe: Kale salad with Pomegranate dressing
3 cups of Kale leaves
1 Sweet onion, diced
2 Tomatoes, cubed
1 small Cucumber, cubed — peel only if using a bitter variety
Pomegranate seeds from 1 pomegranate
1/2 cup sliced almonds, lightly browned in a dry frying pan, over med heat
Wash Kale leaves well, remove the centre rib and tear leaves into 1/2 inch pieces.  Add the other ingredients, except almonds.
Dressing (Makes 1 cup):
1/2 cup kombucha that has gotten vinegary-tasting
1/4 cup pomegranate juice, I used POM brand
1/4 cup poppy seeds
1/2 tsp dijon mustard
1 clove of garlic, crushed
2 tbsp. toasted sesame oil
1/4 cup extra virgin olive oil
1/4 tsp Himalayan salt
1/2 tsp turmeric powder (#ad)
To make the dressing:
Soak poppy-seeds overnight or for at least 2 hours in kombucha vinegar.  In a Vita-mix or other blender pour soaked poppyseeds with their kombucha, pomegranate juice, mustard, garlic, oils, salt and turmeric.  Blend until thick and creamy — about 1 min.  Refrigerate until just before serving.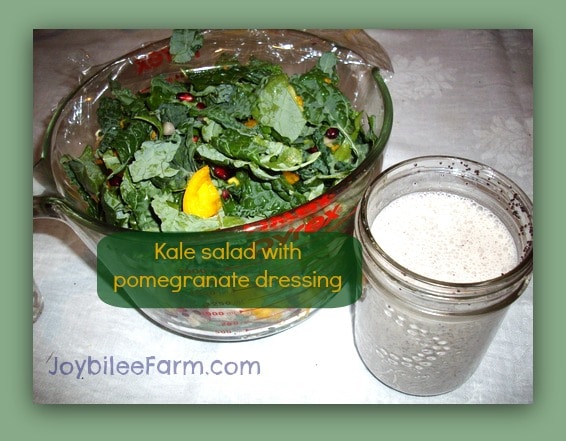 To serve the salad:
Toss the salad with the 1/2 cup of dressing.  Sprinkle with toasted almonds.
Serve with roasted garlic toast and spaghetti squash with creamy mushroom sauce.