Is bee keeping in your future homestead plans or do you plan to buy your honey?  I get my honey from a local bee keeper that keeps his hives close to my own farm during the summer.  While his bees pollinate my apple trees for free, it's the least I can do to buy my honey from him, don't you think?  If you don't have a local bee keeper, you'll be looking for a reputable source of honey online.
Honey's Health Benefits
Natural, unpasteurized and unfiltered honey contains pollen and has many health benefits.  Honey is naturally antihistamine and eating local honey can help if you suffer from seasonal hay fever.  Honey also inhibits bacterial infection and is a common wound care remedy.  Honey is a natural immune booster.  I already knew these things but in researching this article I found some things I didn't know about natural honey.
Honey is a natural antioxidant
Honey is anti-inflammatory
Natural cough suppressant
Restores energy faster than other forms of glucose after fatigue
Honey enters the blood stream slower than other forms of sugar, reducing the sugar highs and crashes.
Find out more of the little known health benefits of eating natural honey from this article in Mother Earth News.
The threat of the adulterated honey – laced with GMO corn syrup and beet sugar
Much of the honey available in the supermarket has been super filtered and pasteurized.  Some has been adulterated with corn syrup or beet sugar and is no longer a healthful product.  Buying honey from a local bee keeper that you know or from a reputable certified organic source is your best "bet" for ensuring that the honey that you feed your family is the same healthful product that your grandmother used to feed her family.
Interesting honey facts:
It takes 10,000 worker bees to gather one lb of honey. (this figure varied depending on the source as different species of bees work at different rates.)
2 million flowers are pollinated for every pound of honey produced.
The pollination value of honey bees in fruit crops is 10 times more valuable than the price of the honey produced.
A honey bee colony produces about 100 lbs of honey over and above the needs of the bees.
Tips when cooking with Honey
When using honey in baking – lower the temperature. Honey caramelizes at lower temperatures than sugar, making baked goods brown more quickly, unless temperature adjustments are made.
Honey can be substituted for corn syrup in candy recipes, measure for measure.  Corn syrup is added to candy recipes to inhibit the crystallization of sugar during the cooking process.  The fructose in corn syrup crystallizes at a slower rate than the sucrose in white sugar.  Honey contains both fructose and sucrose.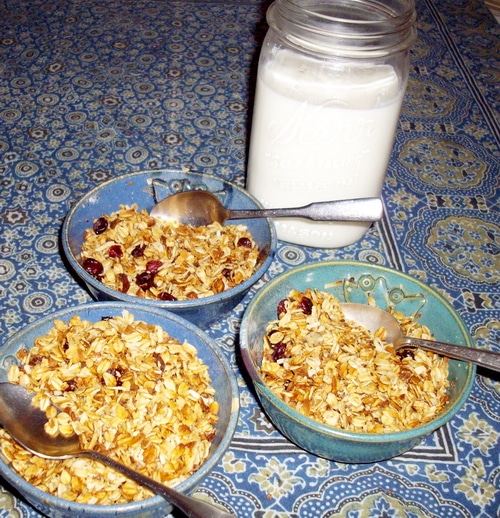 Kefir and Honey Granola Recipe (Makes 14 cups)
½ cup coconut oil
1 cup of honey
2 tsp. vanilla
1 cup of milk kefir, (fermented milk)
½ cup freshly ground flax seed
1 cup of chopped hazelnuts
8 cups of old fashioned rolled oats
1 cup of medium shredded coconut
2 cups of dried cranberries
In a saucepan, melt the coconut oil and honey together, just until both are liquid.  Stir well.  Add vanilla and kefir.  Transfer the mixture to a 4 to 5 quart mixing bowl.  Add nuts, coconut, and flax seed and stir well.  Add rolled oats and stir until all the oats are evenly moistened.
Spread oat-nut mixture on a well-buttered baking sheet.  Preheat oven to 325*F and bake for 20 minutes.  Stir granola on baking sheet so that corners do not brown prematurely.  Bake for an additional 10 minutes.  Stir granola again.  Bake an additional 10 minutes, if necessary.  Granola is done when it is evenly golden brown.  Increase baking time at 10 minute intervals, stirring intermittently, so that the corners do not over brown.  Variations in both altitude and relative humidity can affect the length of time required for the granola to brown evenly.
Once granola is evenly golden in colour, remove from oven.  Before the granola cools, stir in 2 cups of prepared, dried fruit.  I used dried cranberries but you can use any dried fruit that you have on hand.  Allow to cool completely.  Store in 2 – 2 quart jars with tight fitting lids.
Adding kefir to this granola recipe makes the oats soften and swell in the oven, but the extended cooking time restores the crunch to the oats.
To serve put ½ cup of granola in a bowl, top with milk or yogourt and serve.
Enter the giveaway
I had fun researching this article for you and I hope you enjoyed learning along with me.  To make it more fun for you, I joined up with Krystyna at Spring Mountain Living for a giveaway for 3 lbs. raw honey from Mohawk Valley Trading Co. — 1 buckwheat, 1 summer wildflower & 1 tulip-poplar black-locust.  What a great way to try the different flavours in natural honey for yourself.  Makes me sad that I can't enter.  But YOU can enter the giveaway until  March 9th.
(Sorry, Canadian and international friends, this draw is only open to residents of the USA.)