Cold and flu season is almost here. There's a few easy things you can do now to defend you and your family against sickness this year. One is to wash your hands often. But when you are out in public, it's not easy to do. And of course, that's when you end up exposed to viruses and bacteria. You can find alcohol based hand santizers in most public places now. Overwaitea, our local grocery store, actually moved theirs from the front door to the back corner of the store, because the new manager thought it made the store seem "dirty" having it right at the front door. What? That's really helpful… NOT… So now you know why you need to always carry your own. You can't trust that the one you saw there last week will be there this week. Consider yourself warned.
I just ordered two natural hand sanitizers from ePantry, to compare them for a future post. They both come in 2 oz. bottles. Both are alcohol based. I'll let you know more about that experiment in a future post. In the meantime….
Do you want to learn how to make hand sanitizer? This recipe is an adaptation of one I found in the class, "How to Protect Your Family From Colds and Flu" at the Aromahead Institute. It's gentler than the commercial hand sanitizers and just as effective. Aloe vera is moisturizing and won't dry your skin the same way alcohol does. Dry skin is more suseptible to infection.
Gentle Hand Sanitizer
(adapted from "How to Protect Your Family From Colds and Flu" by the Aromahead Institute)
Make a gentle hand sanitizer that really works. Without alcohol that will dry your skin and without antibiotics that contribute to antibiotic resistance. Naturally antimicrobial essential oils like lemon, tea tree, and lavender will take care of the bad stuff and defend your family against flus and colds this season.
Ingredients:
2 ounces aloe vera gel
12 drops of lemon essential oil
12 drops of lavender essential oil (#ad)
12 drops of tea tree essential oil
12 drops of eucalyptus essential oil
Directions:
Mix all the ingredients and put into a 2 ounce silicone squeeze bottle. These ones are leak proof and durable. You can also use a 2 oz. spray bottle. It's thin enough to work through the sprayer. Label the bottle. Keep one inside your car for trips to the store. Keep one at home and one in the office.
In less than 5 minutes you can make enough hand sanitizer to keep you through the season.
Gentle Hand Sanitizer (For children ages 5 to 12)
Kids shouldn't use adult hand sanitizers. The extra potency of commercial hand sanitizers can challenge the delicate immune systems of kids. Instead make this gentle hand sanitizer that will cleanse without drying skin. Plus it smells great.

2 ounces of aloe vera gel
4 drops of lemon essential oil
4 drops of lavender essential oil (#ad)
4 drops of sweet orange essential oil (#ad)
Directions:
Mix all the ingredients and put into a 2 ounce silicone squeeze bottle. Use as often as needed, especially when you are out in public and kids may be exposed to microbes that their immune system hasn't been challenged with yet.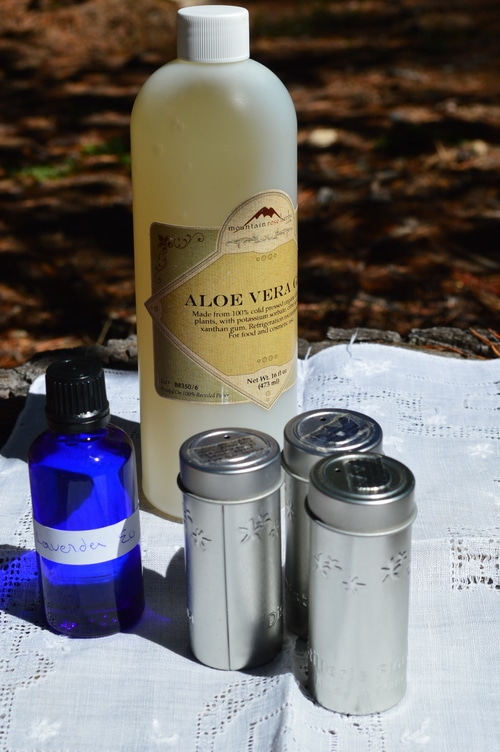 If you are allergic to aloe vera or don't have access to it, you can use flax jelly. See this recipe for hand sanitizer made with flax jelly
.
Other tips to protect your family against colds and flu
Keep your vitamin D levels optimized.
Spend a bit of time every day in the sunshine and if you live in the wintery parts of North America, take a vitamin D supplement beginning September 1st.
Clean the light switch plates and door knobs
Wipe door knobs, fridge and microwave handles, light switch plates, and keyboards once a week with an antimicrobial solution to keep the microbes in check. These areas are often neglected and are places where outside hands touch first. Here's my recipe for Thieves Vinegar that will give you extra umph in your cleaning. If you don't have time to wait a month for it to maximize, and lose some of that acidic scent, just add 1/2 tsp. of lemon essential oil, 25 drops of cinnamon essential oil, and ½ tsp. tea tree essential oil to 2 cups of white vinegar, in a spray bottle. Give it a good shake. Spray your cloth and wipe.
When your kids (or you) are sick stay home
So often the claims that the world (or church) has on us, outweigh the claims we have on our own health and wellbeing. How many times did I take my baby into the church nursery, only to find 3 other kids with runny noses and coughs? Of course, by Wednesday my own cherub has the virus that was going around the church nursery that week. When your child is sick, let him rest at home, with you. And when you are sick, don't go out. Have enough food in your pantry that you don't need to run to the grocery store when you are sick. Rest and drinking lots of fluids are the best cure for sickness. When we pop a pill to mask the symptoms and carry on as usual, we cheat our bodies of the rest they need and often bring complications on.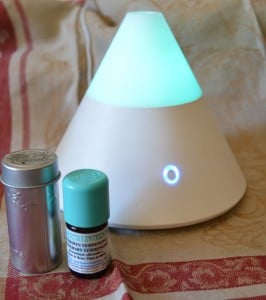 Use a disinfecting room mist to cleanse the air of microbes
Ingredients:
8 drops of rosemary essential oil
4 drops of lavender essential oil (#ad)
Water to fill the reservoir of your diffuser
Directions:
Place water in the reservoir of your electronic room diffuser. (This is the one I use.) Add the essential oils. Turn it on. It will put cool mist into the room air and disinfect at the same time. If you don't have a room diffuser, you really want to get one. It makes keeping healthy in winter smell so nice. But you can put your essential oils in a pan of water on a warm burner or on the back of your woodstove. They don't last as long in high heat though as they do in a room diffuser.
Herbs to take at the first sign of a cold or flu
Elderberry syrup
Elderberry prevents viruses from replicating in your body. Experiments have shown Elderberry to be more effective than Tamiflu at lessening the duration of a cold or flu. One drawback of the syrup is it's short shelf life. It only lasts about 2 weeks in the fridge for me. You can process it in a boiling water bath to extend the shelf life. Elderberry tincture (2 cups of dried elderberry or 3 cups of fresh elderberries macerated in 4 cups of vodka for 4 weeks) lasts indefinitely, but it has alcohol and so shouldn't be used with young children.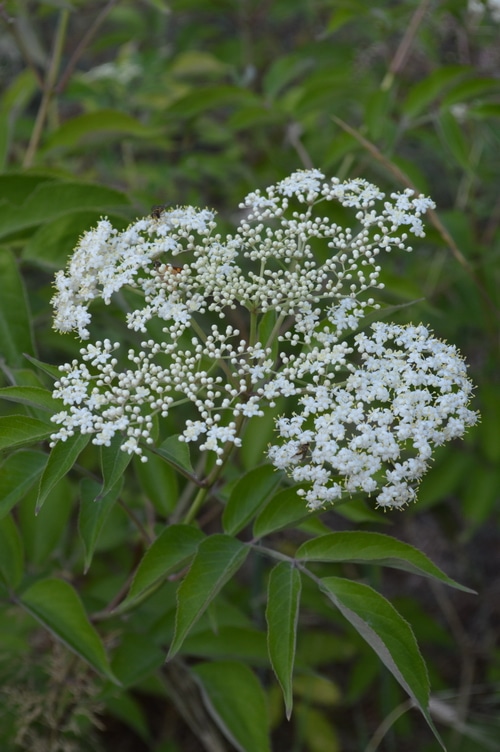 Elderberry tincture
I keep dried elderberries on hand at all times, and make the syrup fresh on an as needed basis. But I also make 1 quart of elderberry tincture each fall, for those times when you just need a couple doses to stave off a cold. 1 quart of tincture makes about 6 – 100ml bottles of tincture. It's very economical to make your own. ($30.50 for 4 ounces of prepared tincture or $8 for enough dried berries for $180 worth of tincture.) Note that raw berries should be cooked before eating.
There are many other herbs that can help your body fight viruses. Yarrow, mullein, astragalus, St. John's Wort, and woad should be in your arsenal. But having a homestead apothecary won't help if you don't know how to use them safely and judiciously.
Learn about Herbs
Learn more about the herbs and essential oils that can help you defend your family against viruses and bacteria in the (Affiliate) Introductory Herbal course from the Herbal Academy of New England. The class is an entry level herbal class with lots of hands on recipes and DiY remedies. You learn at your own pace in the comfort of your own home. And you will see immediate results. Find out more…
The (Affiliate) Chestnut School of Herbs offers an herbal medicine making class as well as an advanced herbal class.
Save
Save
Save