Homestead Medicine Cabinet: Flax jelly for sore throats
Its a beautiful sunny day today. It seems brighter with the sunlight reflected on the snow. The wind is blowing quite strongly and its blowing in freshness and life. Its been kind of dark since Solstice and I love to see the sunlight again. Lots of my friends are sick right now. Its cold and flu season around here and lack of sunlight is a huge factor in the weakening of our Canadian immune systems. I hope you are taking vitamin D3. I take 5 tablets a day, when I remember, which isn't every day.
When you do get sick, flax jelly is a great remedy for the cough, sore throat, and generally hackiness of flu season. Here's the recipe. You can print it out using the button at the bottom of the post and save it for when you need it.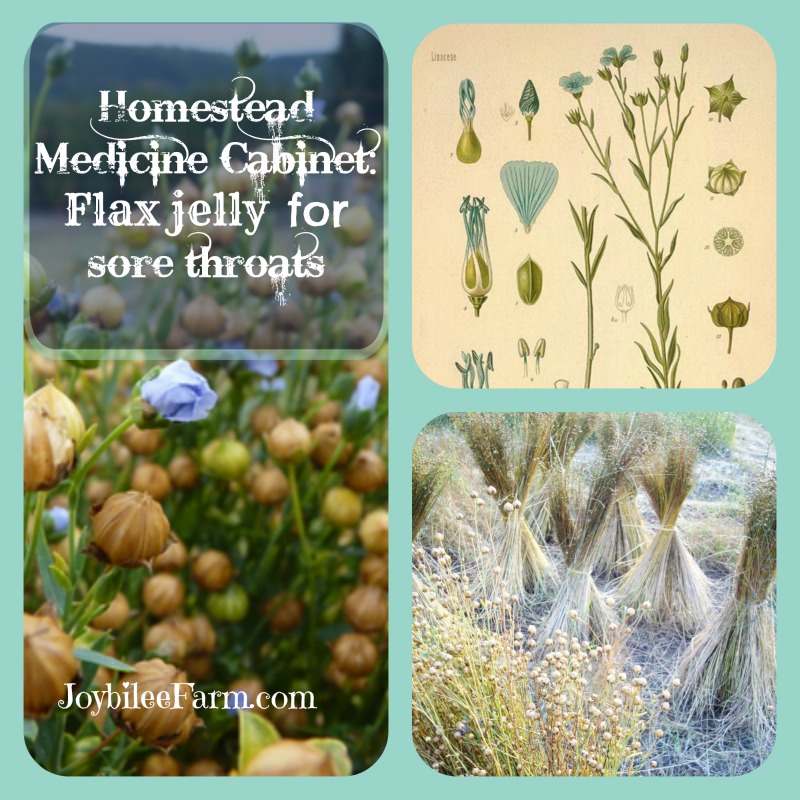 Flax Jelly Recipe

MY LATEST VIDEOS
Flax jelly is the oldest herbal remedy known. It has stood the test of time. It helps with chest congestion, cough and sore throat. Make it just before you consume it. It thickens as it cools.
2 tbsp. whole flax seed
1 cup of water
Bring to a boil and simmer for 5 min. Strain immediately and reserve the clear liquid. Mix in one tsp. honey and 1 tsp. lemon juice. Drink it down immediately, before it gets too thick.
It is the consistency of snot, errr, I mean egg white. Not pleasant but it is medicine and it doesn't taste bad. And it does help with the symptoms of a sore throat, cough and chest congestion. Mr. Joybilee says, "You get used to it."
The actions of flax seed are: demulcent (soothes), anti-tussive (prevents coughing), laxative, emollient, and vulnerary(wound healing).
You can also use flax jelly without the honey and lemon, as an egg white substitute in baking, or as an aftershave lotion. Or take the jelly and seeds together in a cotton cloth and use it externally as a warm plaster over the chest, to reduce congestion.
Other herbs you can take for a cold or flu:
Echineacea
Willow Bark (for the aches and fever)
And don't forget the vitamin C and Vitamin D.
To find out more things you can do with flax check out these other posts:
Flax plasters, compresses, cold relief, and omega 3: The benefits of Flax
DIY moisturizing hand sanitizer from flax
Your Turn:
This isn't an exhaustive list. What's your favourite natural remedy for colds and flu? Share it in the comments.
Save
Save
Save
Save
Save