Growing rhubarb at your homestead
Almost every homestead in BC has a rhubarb plant growing close the house. Rhubarb is a hardy perennial that will grow in the most difficult circumstances. It doesn't mind frost. It is one of the first plants to show signs of life in the spring. It will often already be growing when the snow melts.
All children are told never to eat the rhubarb leaves because they are poisonous. But the Russian settlers in my area added rhubarb leaves to their spring borcht, by first cooking the leaves in boiling water and discarding the water, before adding the leaves to the borcht pot. My goats and llamas will eat rhubarb leaves in the spring, while leaving the acidic stalks. Since they only do this occasionally, I assume the leaves offer medicinal benefits to them. Perhaps rhubarb leaves help with worming.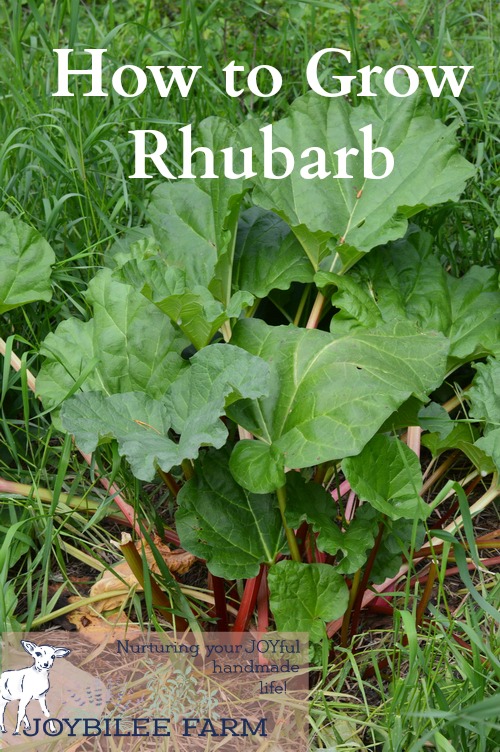 Propagating rhubarb in your homestead garden
There are two common varieties of rhubarb available to the home gardener. Canadian Rhubarb has green stems with just a hint of red. These stems will remain green. The plant is common on Canadian homesteads. Strawberry rhubarb, on the other hand, gets its name from the red stems. This rhubarb has a pink tinge when cooked down. The flavour is similar to Canadian Rhubarb but the colour is definitely a warm red, even when young.
Rhubarb doesn't ripen like other fruit, so there is no change in colour when it is ready to eat. If you plant strawberry rhubarb, the stems will be red. If you plant Canadian rhubarb, you stems will be green, with a red blush. Rhubarb is ready to harvest when the stalks are about 18 to 24 inches long and at least an inch thick, and firm. That's about a month from snow melt, for your first harvest.
If you are planting a new bed of rhubarb on your homestead, try to get plants from a neighbor rather than planting garden nursery plants. The plants already growing in your neighborhood will be acclimatized to your region and have more vitality than nursery plants that are shipped over many miles.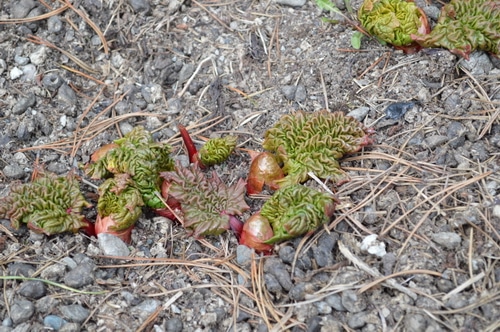 Rhubarb benefits from annual top dressing with composted manure. It's a heavy feeder and grows really well when given a second application of composted manure when you are done harvesting for the season.
Bringing a neglected rhubarb back
Let's talk about how to bring a rhubarb plant back that's been neglected. After many years of growth, a rhubarb plant needs to be divided. The root grows woody in the centre and the tender stalks grow around the circumference of the root. The harvest seems huge but will improve with some extra attention.
Divide the plant in early spring or late fall, by cutting through the root with a sharp shovel. I like to slice off the sides of the root, while leaving the original root intact. This way I will get a harvest from the original plant, while allowing the new root divisions to take hold, in another location. Take 4 inch pieces of root with a bud attached. You want some growth buds or stalks attached to the root portion that you are taking away from the main plant.
Prepare a new rhubarb bed by tilling well and amending with well composted manure. Dig a hole and plant the root division to the same depth as the original plant. Firm in well. Mulch with rabbit mulch or clean straw, to keep down weeds and conserve moisture.
You can plant rhubarb plants 18 inches apart in a row with enough room between plants to allow you walk between rows to weed. If you are planting in a raised bed, plant them on 18 inch centers to allow the plants to spread. You will be weeding from the sides of a raised bed so you don't need room to walk between the rows.
In the first year that you plant a new rhubarb bed, don't harvest any stalks. Allow it to send up a flower stalk and grow naturally. You can start harvesting rhubarb in the second season from planting.
How to harvest rhubarb stalks
To harvest rhubarb, grasp the stalk at the base of the plant and pull up. Do not cut the stalks from the plant, but instead pull them out of the root. This will leave behind a sheath and the stalk will pop out from the root. I like to break off the leaves from the stalk and lay them out in the garden under the plants to provide a mulch. The rhubarb leaves inhibit weeds. Only harvest ½ to 2/3rds of the longest and thickest stalks at a time. New stalks will grow from the root and the stalks you have left will grow thicker and longer. Harvesting allows more sunlight to reach the roots, which encourages new growth.
The flower stalk looks different than the fruit stalk on a rhubarb plant. You may find a flower stalk coming up in mid-June from your root, or if the plant gets stressed from lack of water during the growing season. Break this off if you intend to continue harvesting your plants. Never take more than 2/3rds of the stalks from your plants at any one harvest, and allow new stalks to grow before harvesting again.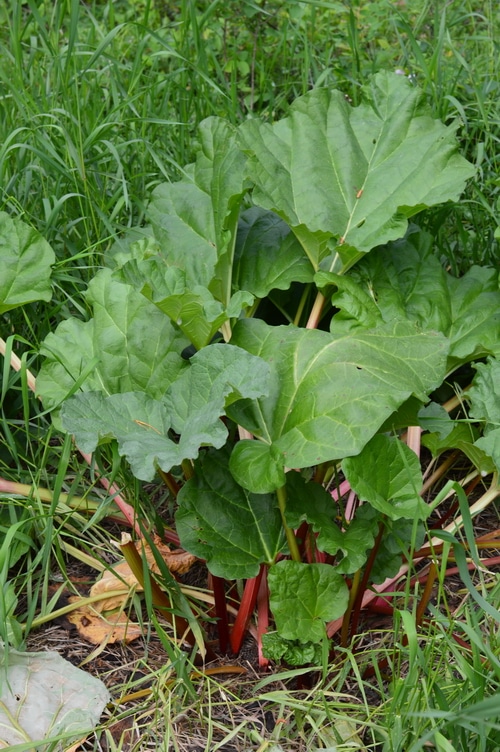 Around midsummer, or if the plants get water stressed, rhubarb plants will stop growing new stalks. The stalks will be thin and feel hollow. At this point, the stocks that the plant has will be needed to feed the root for next year's harvest. Stop harvesting for the season. Mulch for the second time with well composted manure. And leave the plants for the season.
What to do with rhubarb
When you harvest the stalks keep them from drying out. Wash them right away. Cut off the tough part at the base of the stalk and the part where the leaf was attached. They are tart and juicy and many people like to eat them fresh, dipped in sugar. That's a bit too much tartness for me.
Rhubarb fruit sauce
Add 16 cups of rhubarb to a soup pot. Add 2 cups of sugar or sugar to taste. Add 1 cup of water and simmer on medium heat to soften the fruit. This takes about 30 min. Add berries like strawberries or raspberries, if desired. Sweeten to taste. Serve immediately or can for future use, in a boiling water bath (10 min for pints). Makes 7 pints.
You can serve rhubarb sauce over ice cream or pour it over a bundt cake and top with whip cream.
Gluten-free Bundt Cake
1 cup of coconut oil
1 cup of organic sugar
10 farm fresh eggs
2 tsp. vanilla
1 ½ cups yogourt
1 1/2 cups of coconut flour
½ tsp. baking soda
1 ½ tsp. baking powder
½ cup of shredded coconut (optional)
½ cup of dried cranberries (optional)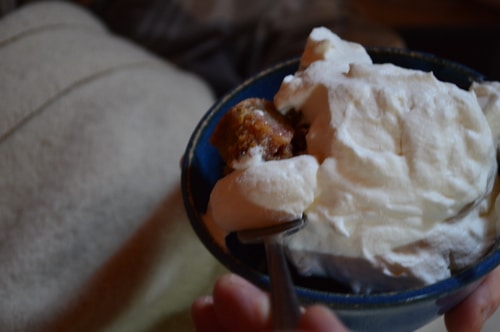 Beat coconut oil and sugar until light and fluffy. Add eggs, one at a time, beating well after each addition. Add vanilla and yoghurt and beat well. Add coconut flour, baking powder and baking soda. Beat until smooth. Spoon into well greased bundt pan or angel food pan.
Bake at 350F for 40 minutes. Cake is done when golden brown, and when a toothpick inserted into the centre comes out clean.
Cool cake in pan for 15 minutes. Use a knife around the outside of the pan to loosen and turn cake out of pan. Continue cooling on a rack.
Serve cake with prepared rhubarb sauce and whipped cream, if desired.
Save
Save