Cookies for gift giving and shipping in care packages
This week's theme for #CookieMonth14 is cookies for shipping and gifting.  Cookies need to keep well and hold up to a bit of abuse in order to stay fresh and crisp in the box and to hold their shape in travel.  Refrigerator cookies are a little sturdier than drop cookies and bar cookies for shipping long distances.  They keep well and travel well.
Gift cookies –  gluten-free
If you are like me, you have a few friends that must maintain a gluten-free diet.  Holidays can be tough for them.  They are so appreciative of the thoughtfulness of gluten-free baking just for them.  But gluten-free baking in the past has resulted in cookies that are either crumbly — with the cookies barely keeping together —  or else rubbery.  It's really hard to get cookies that both stay together and are crisp and flaky with gluten free flours.  Baking gluten-free cookies is an art.  So in today's cookie recipe, I've adapted my own family refrigerator dough cookies to gluten-free baking, for that special friend of yours.  Baking gluten-free shows how much you care.
Gluten free baking tips
While no one in my family needs to be on a gluten free diet now, my relationship with food was not always so carefree. 21 years ago, after Sarah's birth, I was diagnosed with Celiac disease and spent 4 years avoiding all forms of wheat, barley, rye, and oats, plus dairy, corn, soy, peanuts, and all legumes, due to complications arising from my inflamed gut. My relationship with food drastically changed. I couldn't eat at church potlucks. I couldn't go to restaurants. There was no thought of cheating because the consequences were immediate and lasted for days. I remember dreaming of pizza, chocolate chip cookies and craving bagels and cream cheese. Thankfully I had a miracle in my life – God healed me completely in April of 1997. I am no longer celiac. But like you, I have several friends who have gluten sensitivities or celiac disease.
That's why I was super excited to have the opportunity to test Bob's Redmill gluten free 1 to 1 baking flour.   The gluten-free flour contains sticky rice flour, brown rice flour, potato starch, sweet sorghum flour, tapioca flour and xanthan gum. The brown rice and the sorghum in this mix are both whole grain flours. The added gum helps everything stick together and makes this gluten-free flour behave very similarly to wheat flour. The sorghum flour gives these cookies the mouth feel of wheaten cookies.  I didn't think that was possible.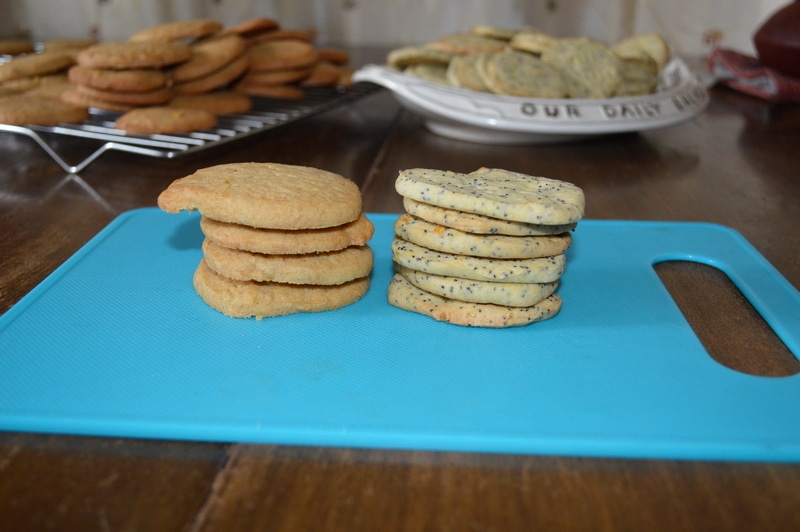 How this gluten-free flour is different:
Some minor differences between refrigerator cookie dough made with Bob's Redmill gluten free 1 to 1 baking flour and Bob's Redmill organic unbleached white flour:
I was happily surprised at how much this dough resembled regular wheaten cookie dough. There were some differences though:
The cookies took longer to bake – 15 minutes rather than 12 minutes.
The cookies didn't spread as much as wheaten cookies in the oven and didn't raise much.
The cookies needed a higher temperature, at my elevation, to brown – 375*F instead of 360*F. (I'm at 2,700 feet).
The cookies needed some mechanical help to crisp up – I poked holes in the cookies with a fork to increase the drying out of the dough during baking. This small change resulted in flaky, crisp gluten-free cookies.
The aroma of browning wheat flour is sadly missing from the baking process. Maybe my oven temperature needs to be higher to brown this flour.
None of these differences are insurmountable – especially when you've gone years without being able to eat normal cookies. Then this flour is a miracle!
 
Some good points about Bob's Redmill gluten-free baking flour:
It really is a 1 to 1 substitution. I was surprised by this. I've baked with homemade gluten free mixes in the past – usually some combination of finely ground sticky rice, finely ground brown rice, potato starch, and tapioca starch – sometimes with the addition of guar gum or xanthan gum to give the dough more structure. The results are nothing like baking with wheat. The bread turns out rubbery and flat on top. Cookies or crackers crumble and don't hold together. But Bob's Red Mill gluten-free flour is different.
The addition of sorghum in this flour is genius and gives the perfect chewy, wheat-like texture .
The cookie dough held together perfectly even before baking. The sliced refrigerator cookies didn't crumble. The finished cookie held together, too.
This cookie would make perfect gluten-free crumbs for a cheese cake crust, or a cream pie crust for those that are on a gluten free diet.
This cookie makes a great base for other treats – cream filled cookies, bar cookies, ice cream sandwiches.
Gift giving tips for keeping your gluten-free friends reaction free:
Before you bake for your gluten-free friends thoroughly wash all cookie trays, mixing bowls, and preparation utensils, including your cooling rack so that there is no accidental gluten contamination of the dough.

If you use a mixer to make wheaten doughs, consider mixing gluten-free batters by hand, in a glass bowl, to minimize the flour spray that happens naturally when flours meet the electric mixer blades. This will avoid accidental contamination of the dough.
Ensure that the gluten-free cookies remain gluten free from preparation through baking, and right through to packaging, by scrupulous cleanliness and keeping all gluten flours, breads, and equipment away from the work area.
Only bake gluten free cookies on the day that you will bake gluten-free. Don't try to save time by baking both gluten-free and wheaten cookies in the same baking session. Complete the packaging of your gluten-free treats before you open your wheaten flour to bake regular cookies.
If you intend to package gluten free cookies in the same parcel as regular cookies or other wheaten snacks, package your gluten-free treats first and keep them sealed in their own packaging for shipment.
Use popcorn and tissue paper to cushion and protect cookies in transit.
Consider including the recipe with the cookies so that your gift recipient can make another batch. You can print it out from my website to give with your gift.
Making refrigerator or icebox cookies
Refrigerator cookies are a make ahead cookie dough.  You can make your cookie dough several days ahead and then slice and bake as you like.  This dough keeps well in the fridge for up to a week or in the freezer for 3 months.  Thaw it slightly before you slice to bake it.
Slice the cookies as thinly as possible and lay on buttered cookie sheet to bake.  Your cookies will be crisp and flaky, with a wonderful texture, even with gluten-free flour.
Gluten-Free Poppy Seed Cream Cookies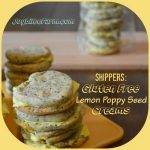 This is a delicious, lemony, gluten-free cookie with the texture that your gluten free friend has been missing. Crispy and flaky with the mouth-freel of wheaten cookies, these cookies are perfect for shipping and gifting. Make them plain as lemon poppy seed biscuits, or put two biscuits together with a lemon cream centre for Lemon Poppy Seed Cream Cookies.
Author:
Prep Time:

30 min.

Cook Time:

15 min.

Total Time:

45 minutes

Yield:

24
Ingredients
Cookie Ingredients
1 cup of butter, creamed
1 cup of organic sugar
2 tbsp. flax jelly*
3 eggs
2 tbsp. organic lemon peel
2 tsp. lemon extract
½ cup of poppy seeds
2 1/2 cups of Bob's Redmill Gluten Free flour
1 tsp baking powder
Cream Centre Ingredients
¼ cup butter, softened
2 tsp. lemon extract
1 tbsp. lemon juice
½ tsp. India Tree Natural Dye Food Colouring
1 to 1 ½ cups of icing sugar
Instructions
Cream butter and sugar.
* Make flax jelly: In a separate bowl add 3 tbsp flax seed plus ½ cup of boiling water. Allow it to sit for 3 minutes. Beat with a fork until foamy and viscose. Strain out the clear viscose liquid. This is the flax jelly. Take 2 tbsp. of the flax jelly and add to the creamed sugar and butter mixture.
Add eggs one at a time, beating after each addition.
Add lemon peel and lemon extract and beat for 1 minute.
Add poppy seeds. Allow the poppy seeds to swell for 30 minutes.
Add gluten-free flour and baking powder.
Allow to sit for 30 minutes to allow the flour to absorb liquid.
Form into logs and wrap in parchment paper. Refrigerate for overnight or up to 1 week.
How to bake
Preheat oven to 375*F.
Remove from the refrigerator.
Slice as thinly as possible into cookie rounds.
Place one inch apart on greased cookie sheet.
Prick cookies with a fork several times. This helps the cookies crisp up.
Bake at 375*F for 15 minutes or until cookies are golden brown.
Remove from the oven. Allow to cool for 2 or 3 minutes on the baking sheet.
Transfer cookies to cooling rack to finish cooling completely. Cookies will be crisp and chewy.
With this gluten free cookie, you don't need to wait for the cookie sheet to cool before putting the next rounds of dough on the baking sheet for baking. A hot cookie sheet will help the cookies spread thinner, making for a crisper finished cookie.
To make creamed cookies
Creamed filling
Blend butter and sugar together until smooth.
Add lemon extract, lemon juice, and food colouring.
Blend until smooth.
Makes enough icing for 2 – 3 dozen cookies.
You'll want to use a spatula to get every bit of the icing out of the bowl.
Place 1 tsp of icing in the centre of each cookie, with a spatula, moving icing in a circular motion.
Cap with second cookie.
Set aside and wait for the cream filling to firm up before packaging.
Package in an gift bag, tying tightly closed, so that the cookies stay fresh and crisp.
Notes
These cookies are crispy and flaky. They are great alone or with the cream centre. Make some of each.
My review of Bob's Red Mill gluten Free 1 to 1 baking flour, India Tree natural dye food colouring, and the GIR pink spatula
Bob's Red Mill gluten Free 1 to 1 baking flour
I was very surprised at how easy Bob's Red Mill gluten free 1 to 1 baking flour was to use. I've mixed my own gluten-free flours, I've bought other premade mixes, as well, but there is always something lacking. That mouth – feel that wheaten doughs have. But I was very happy with the results of this flour. (I'd tell you if I wasn't). These are truly satisfying gluten-free cookies thanks to Bob's Red Mill gluten free flour. They have the mouth free of regular cookies and the sweet crunch that is missing from the plates of those who must eschew wheat, barley, and rye.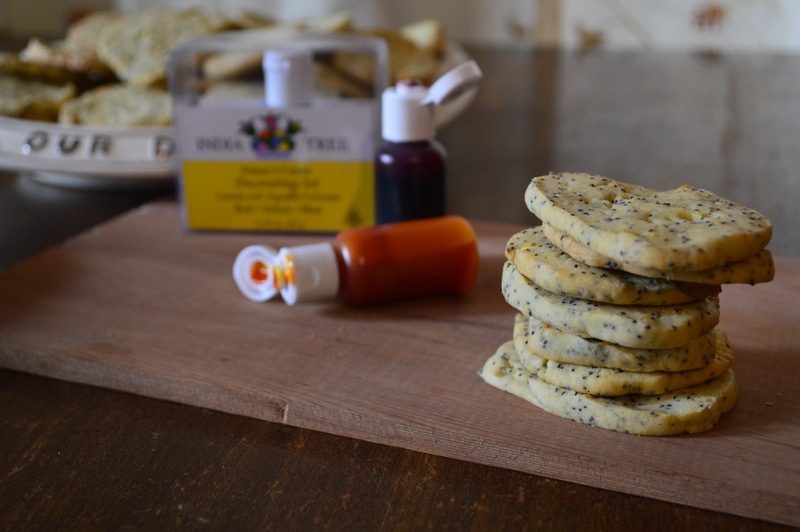 India Tree natural dye food colouring
The India Tree natural dye food colouring gives them that exceptional wow factor that makes the cookies stand out in a gift box. I really liked working with the India Tree natural dye food colouring. I love that they are made with real food like beet juice and turmeric, not chemicals. While the colours are more muted than chemical dyes, that's what I like about them. Just like naturally dyed cloth is muted, with many different shades of colour, so these food colours have many shades ready to enhance your baking.
GIR Spatula
Every kitchen needs a spatula, in fact several spatulas in different sizes and shapes.  The GIR Ultimate spatula is made from silicone. I love that.  I've melted so many rubber spatulas and vinyl spatulas by using them on a hot surface.  But sometimes you have to use a spatula on a hot surface.  This is one spatula that won't be damaged if you do.  Yay!  This size is perfect for cleaning out a mason jar or scraping a bowl to get the last bits of dough or icing onto your pan.  With a spatula, you can get one extra cookie or a half a muffin extra, because the batter doesn't get left in the bowl.  And I think you already know how wonderful it is to be given the gift of the batter bowl and a spatula, after the cookies are in the oven.  Need I say more?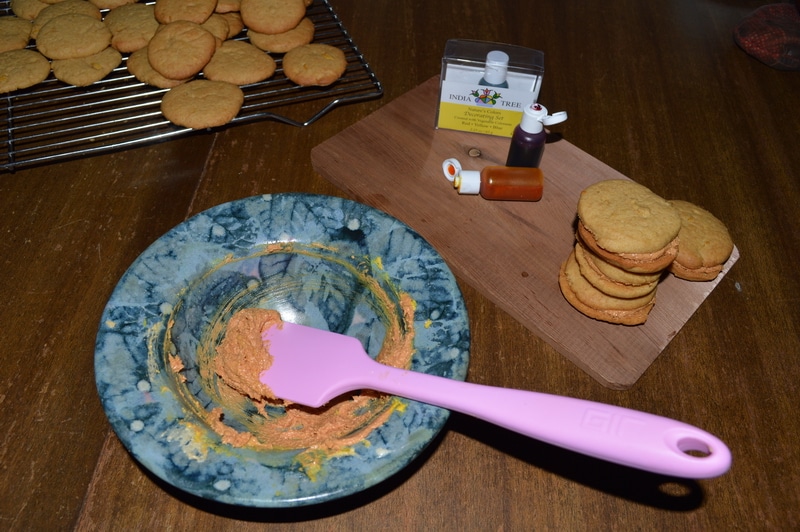 Katom professional grade cookie sheet
I also received a heavy aluminum cookie sheet from Katom Restaurant Supply company.  I wasn't required to review this item.  This is my first time baking cookies on a real cookie sheet rather than a jelly roll pan.  In fact, I didn't know that a jelly roll pan wasn't a cookie sheet until I read this post by Jess of 104 Homestead with 8 tricks for extraordinary cookies.  I loved the results of just switching baking pans to a real cookie sheet.  The heavy cookie sheet cooked evenly and retained its heat for a long time.  The gluten free cookies crisped up wonderfully when baked on the heavy aluminum pan.   I was pleasantly surprised by the difference in crispness and texture that I got, just by changing the pan that the cookies were baked on.  Thanks, Katom.
I did receive the GIR Ultimate spatula, the Bob's Redmill gluten-free 1 to 1 baking flour, and the India Tree natural dye food colours in order to review them, but my opinion of these products is my own.  Would I buy these products again?  Definitely, yes.
Save
Save