My online friend, Kathie Lapcevic, from Homespun Seasonal Living, is living the DiY lifestyle in Montana, on her one acre homestead. She harvests her own herbal remedies and herbal teas from the garden and the wild forest that surrounds her homestead. These fruity herbal teas are some of Kathie's favorites. I'm so glad Kathie offered to share them with you and me.
5 Herbal teas from the garden that you may have overlooked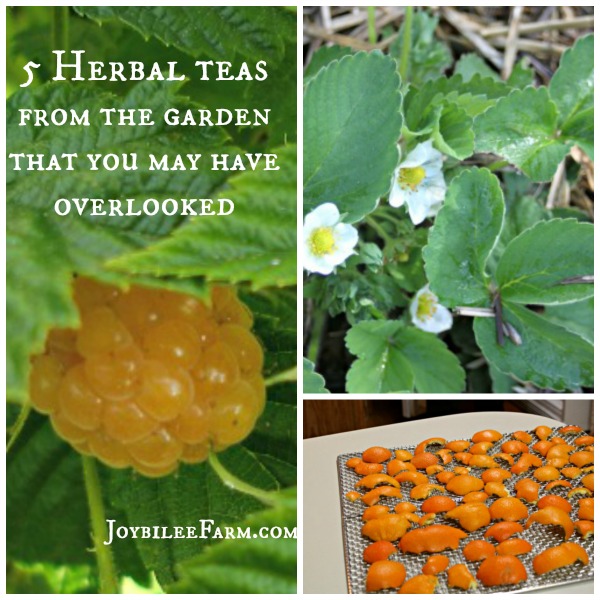 Often when we think of herbal teas and our gardens we think immediately of herbs like mint, lemon balm, hyssop, and others commonly found in our herb beds. However, we shouldn't neglect our fruit trees and berry patches as sources of tasty and medicinal teas. Consider adding these 5 fruity herbal teas to your tea and medicine chests.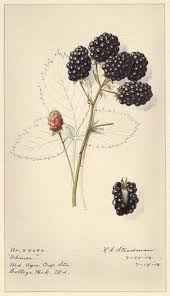 Blackberry
Those leaves that grow wild in many hedgerows and forests are not only tasty but also refreshing and very useful. Blackberry leaves have traditionally been used medicinally to treat diarrhea when infused into a tea.
Infuse 1 teaspoon dried leaves (or 3 teaspoons fresh) with 1 cup boiling water. Let steep 5-10 minutes or to taste. If drinking to treat diarrhea drink one cup every hour until symptoms subside.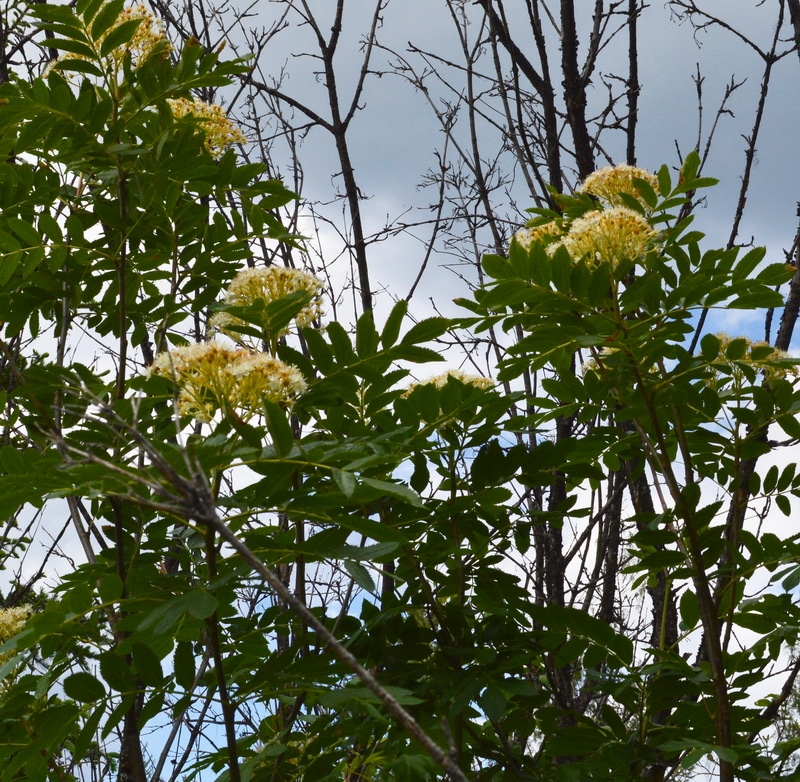 Elder Flowers
Elderberries are wildly known and used to help boost the immune system. The elder flowers too have some medicinal uses particularly in moderating excess mucus in the upper respiratory system (Herbal Kitchen). The cold elder flower tea is a diuretic and can help alleviate hot flashes associated with menopause.
Make tea from the flowers by pouring 1 cup of boiling water over 2 tablespoons fresh elder flowers and steeping for 10 minutes. It's delightful as an iced tea, especially when combined with equal parts mint, so make a big pot and serve over ice, sweeten with honey before cooling if desired.
The flowers can be dried for winter use by simply hanging until crispy and stored in an airtight jar.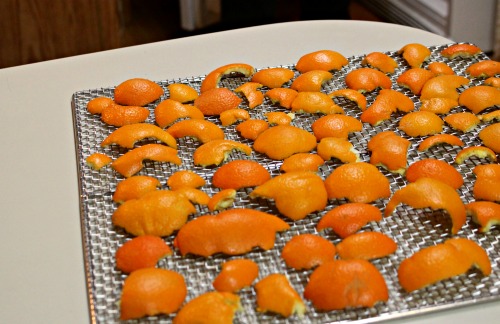 Orange Peels
This could work for most any citrus peel but oranges tend to be sweeter and more palatable than lemons or limes to many folks. The peels are loaded with vitamin C and pectin. <a href="http://aem.asm.org/content/66/4/1321.full" target="_blank"> Pectin is a source of dietary fiber and can be very helpful in feeding the beneficial bacteria in our guts</a>. Because of the high-level of vitamin C the peels can also help shorten the length of colds.
The peels can be dehydrated by placing in a dehydrator until crispy and stored in an airtight container.
To make orange peel tea, use 1 Tablespoon dried peels (or 2 Tablespoons fresh) per cup of water. If using dried, crush the peels just slightly with a mortar and pestle first. Combine the water and peels in a small saucepan. Bring just to a boil, cover, and turn off heat. Let steep for one hour. Drink warm or cold.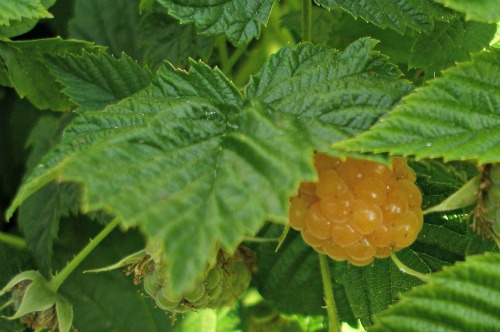 Raspberry Leaves
Raspberry Leaves have long been considered a valuable and useful tonic herb for women especially. Raspberry promotes a tight uterus making it helpful for pregnant women (Essential Herbal for Natural Health) and is often used to help keep risk of hemorrhaging low during child birth. Raspberry leaves are also high in calcium making it a good tea for bone building health. Use the leaves from the first year canes for optimum flavor and medicinal use. First year canes are green and usually don't produce fruit whereas older canes are woody in appearance and fruit bearing.
Infuse 1 teaspoon dried leaves (or 3 teaspoons fresh) with 1 cup boiling water. Let steep 5-10 minutes or to taste.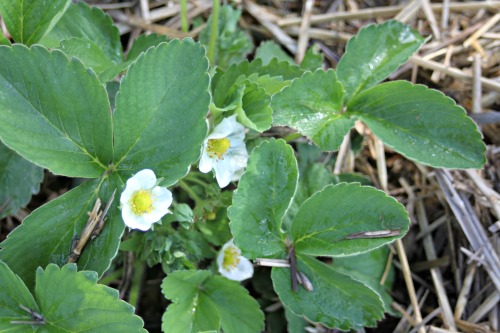 Strawberry Leaves
Strawberry leaf tea is believed to relieve anemia and lack of appetite (15 herbs for Tea). Like blackberry and raspberry the leaves can be used dried or fresh and make a refreshing drink both hot and cold.
Infuse 1 teaspoon dried leaves (or 3 teaspoons fresh) with 1 cup boiling water. Let steep for 5 minutes before straining. For an extra delightful summer time drink, crush a fresh berry or two in the bottom of a glass, add ice, and pour the tea over all.
Fiercely D.I.Y.
Creating herbal teas from the things that are growing in your yard or available to you locally is just one of many ways to build a courageous home and live fiercely D.I.Y. Creating herbal tea blends is just one of the weekly projects in this summer's Fiercely D.I.Y. e-course being offered by Kathie at Homespun Seasonal Living. This e-course will inspire and encourage you to live a life by own your hands, on your own terms, and at your own pace. You can learn more. Download a sampler and register for the course over at Homespun Seasonal Living.
I looked over this class to make sure it was something of value to you. It's amazing! Real practical applications to all aspects of self-sufficient homemaking. Kathie teaches classes in her community and this online course answers the questions so many of her in-person students ask her.
When you sign up for the Fiercely D.I.Y. summer course you'll have access to these informative lessons for as long as you like. And there's even a Facebook group where you can ask your questions, get more inspiration, and share your accomplishments with other students.
I wish I'd had a course like this when I was starting out. It's hard to be the only one learning about these things in your neighborhood. It makes you feel weird. Like you were born at the wrong time. But a class like this goes a long way to proving that not only aren't you weird, but your ahead of your time by relearning the ancient skills our ancestors cherished. In fact, these are the skills our confidence and survival depend on. But the class registrations close on Sunday, June 21st, so don't miss out. Sign up now.
Homeschoolers need this, too
This is a really awesome way to bond with your homeschooled kids. We homeschooled K through 12. We didn't stop doing homeschooling during the summer. We just switched to more hands-on, nature-based learning. This Fiercely D.I.Y. Summer E-Course gives homeschool families direction for their summer hands-on learning. You won't hear, "Mom, I'm bored. There's nothin' to do." because there are so many things to learn and enjoy with this class. And you get jam (or tea, or lip balm). Become a Fiercely D.I.Y. person this summer, and don't keep it to yourself. It starts here.
Meet your teacher — Kathie Lapcevic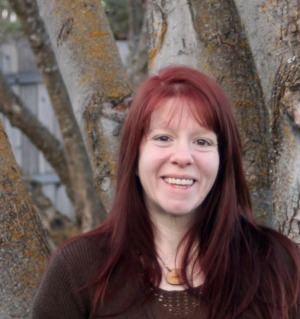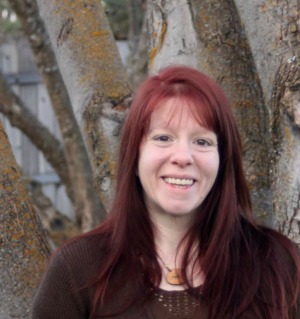 About Kathie N. Lapcevic
Kathie is a freelance writer, teacher, and blogger living in northwest Montana with her soulmate Jeff. She lives a fiercely D.I.Y. lifestyle in harmony with the natural rhythms of nature. You can follow her blog at Homespun Seasonal Living.
Sign-up for her on line classes here.
****************************
Other Fiercely DIY Articles
Oregano: Healing Herbs to Grow
Frozen Strawberry Smoothie Pie
*************************************************************************
Pictures of raspberries, strawberries, and orange peels copyright to Kathie N. Lapcevic and used with permission.