How to make Fire Cider
Fire cider is a folk remedy used to increase your circulation, warm your insides, and kick cold and flu symptoms to the curb. Also called "Master Tonic" or "Mother Tonic," it is used in conjunction with elderberry syrup and echinacea tincture, to strengthen your immune system.  Use it this winter. It's very easy to make, especially if you have the ingredients on hand from your own garden. If you have to buy the ingredients, purchase organic ingredients, as the vitality of the herbs are stronger when grown organically, on naturally fertilized soil.
Every ingredient in Fire Cider is food.  There are no drugs here.  If you can't find one of the ingredients you can leave it out or get some from the grocery store. If you are wondering what action each of the ingredients has in the blend, just nibble some of each ingredient and see how your own body reacts.  Every person has a different constitution.  Some people are warm and some are cold.  Some people are moist and some are dry.  How you respond when you bite a piece of raw horseradish or raw onion may be different than how your friend reacts.  Keep this in mind as you formulate your own personal fire cider blend.  If you tend to be on the cold side, add more of the warming ginger and turmeric to the blend.  If you tend to be hot, the vinegar in this mixture is cooling by itself.  (FYI, other cooling herbs for immune building are echinacea and elderberry.)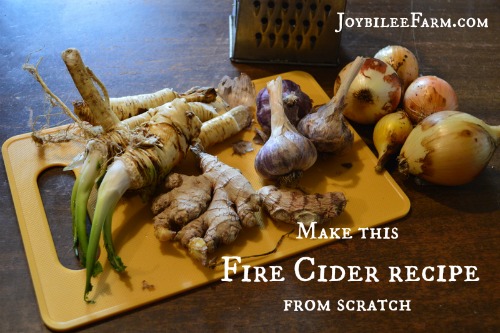 Most fire cider recipes come from adaptations of Rosemary Gladstar's folk remedy..  This is my version.  I add turmeric and astragalus for the extra immune boost and warmth.
Ingredients:
3 large heads of organic garlic, peeled and coarsely chopped
2 medium organic onions, peeled and coarsely chopped
1 – 4 inch piece of organic horseradish, coarsely grated
1 – 4 inch piece organic ginger, coarsely grated
1/2 tsp. organic cayenne spice
2 tbsp. organic turmeric powder
2 tbsp. organic astragalus
3 cup of raw organic apple cider vinegar
1 cup of local raw honey (optional)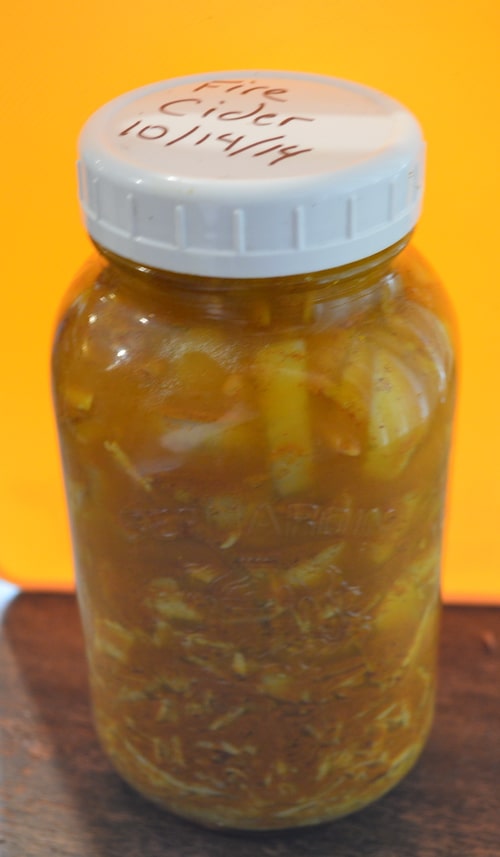 Method:
Prepare all ingredients. Layer in 1 quart, mason jar. Fill jar with vinegar. Use a chop stick to release any trapped air. Cover with more vinegar, so that all vegetables are completely covered with vinegar. Let sit for 4 to 6 weeks, at room temperature. Shake daily or as often as you think of it.
Strain through cheese cloth. Squeeze as much liquid as possible out of the vegetables. Reserve the liquid. Feed the merk to your chickens or compost. To the liquid, add 1 cup of raw honey or to taste.  (It is just as effective if you leave the honey out but it is spicier)
Note: 1 1/3 cups of honey equals 1 lbs. of honey.
How to use Fire Cider:
Rosemary Gladstar recommends taking 1 tsp. of fire cider a day during the winter to warm the body, boost the immune system, and enhance circulation. Take 2 tbsp a day at the first sign of cold or flu, to help your body deal with it quickly.
Add Fire Cider to salad dressings, put a tsp in a bowl of soup, or just take it right off the spoon.  I actually like the taste, without the honey.  Honey soothes a sore throat and cough though, so if you have a sore throat consider adding the honey.