Create customized bath salts with therapeutic benefits by using this master bath salts recipes to guide your choices.  Don't be stuck following a recipe designed for someone else's needs.  Instead, use the guidance of this master recipe and the ingredients you already have in your DIY cupboard to create a customized bath experience that will leave you feeling restful and whole.
You've probably heard that your skin is your largest organ.  It's helpful as a conduit for therapeutic herbal remedies because it absorbs all that you put on it.  While we've talked before out slathering herbal salves and ointments on your skin, and they are fabulous for on-the-go application, sometimes you need something fast and deep.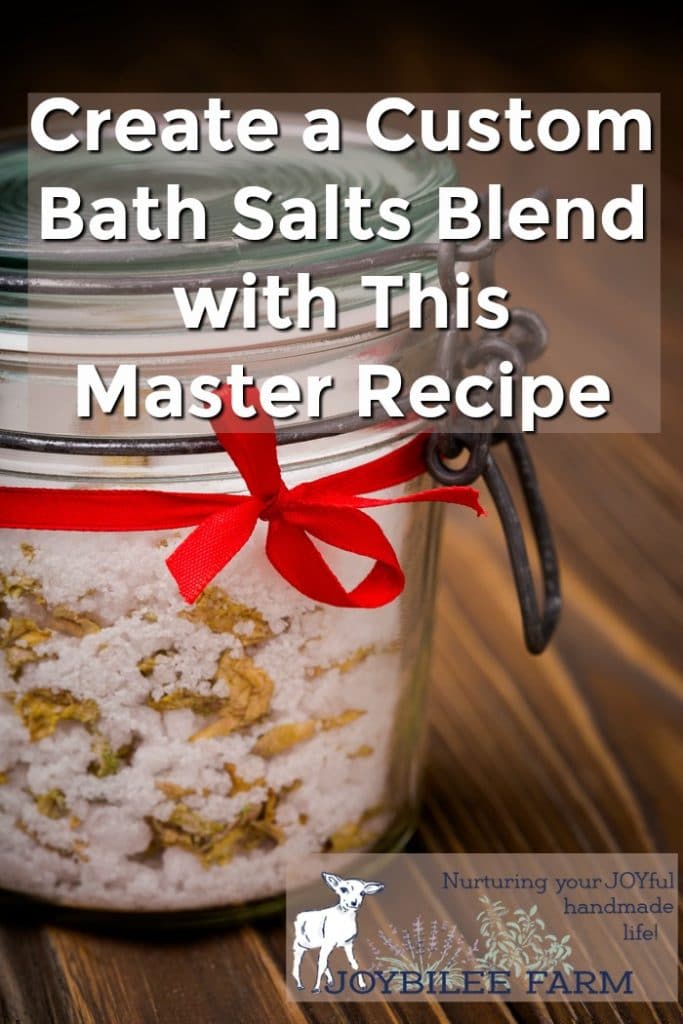 That's when having an herbal bath can make a huge difference.  While you relax and soak in the warm water, your pores open up to receive the therapeutic herbs and minerals and help you feel better faster.
Whether you need a remedy for stiff, sore joints and muscles,  a skin healing soak, a health-boosting detox bath, or you just need to relax, this master recipe will help you craft the kind of therapeutic bath salts that will be the most beneficial for your time in the tub.
If you aren't a bath person, you can use these bath salt recipes in the shower by making a salt scrub like this one.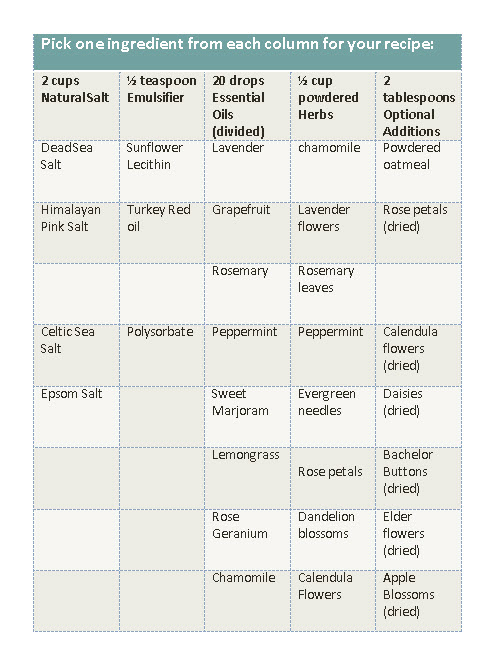 How to use this Master Bath Salt Recipe
Pick one ingredient from each column or a combination of ingredients to total the quantity in the master recipe's first row.  For instance, the first row says to use 2 cups of salt.  You could pick one salt from column one or a combination of salt provided that the total volume of salt comes to 2 cups.
The emulsifier in this recipe ensures that your essential oils are not floating on the surface of the bath, potentially harming delicate tissues, instead, they are distributed throughout the water.  If you choose to skip the emulsifier, the bath might get a little slippery, so be careful getting in and out of the tub
The powdered herbs in this recipe increase the therapeutic benefits of the bath.  You can powder whole herbs from your garden in your blender to get them fine enough.  Large unpowered pieces of herb will float on the surface of the water.
The oatmeal in the final column should be powdered very finely so it has a silky feel with no grains when rubbed between your fingers. The optional flower petals should be whole and will float on the surface of the bath.  Use dried flowers and dried petals from your garden or from an online herb supplier.  Or just leave them out.  However, don't let these petals go down the drain.  Rather scoop them out of the bath and discard them in the compost, to avoid a plugged drain.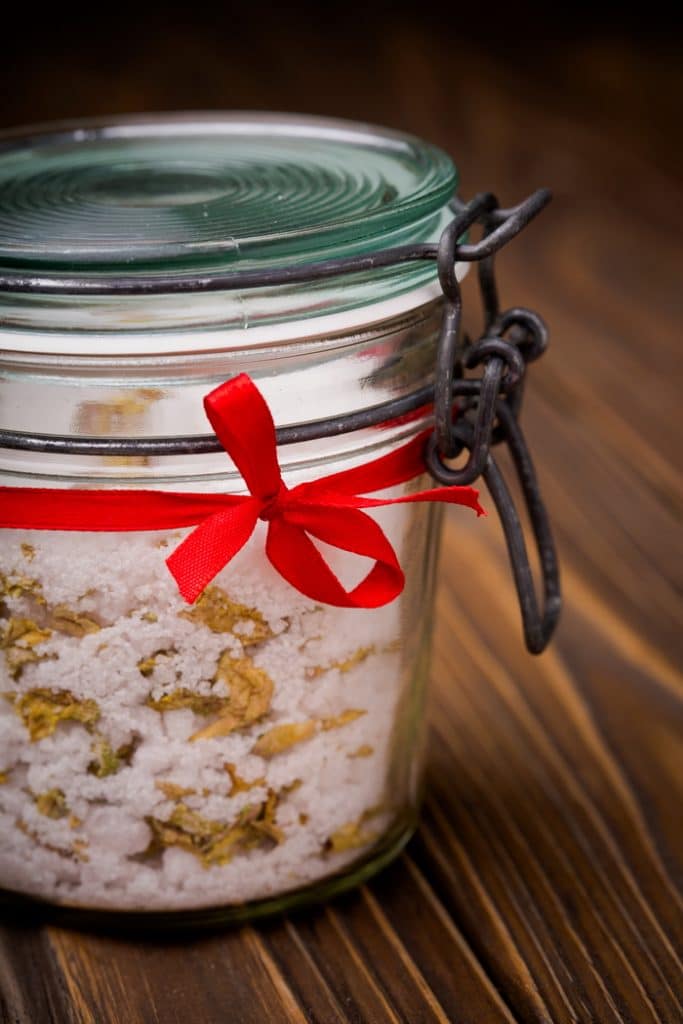 Skin Soothing Bath Salts
2 cups Dead Sea Salts
½ teaspoon Sunflower lecithin (#ad)
20 drops lavender essential oil (#ad)
½ cup dried lavender blossoms, powdered
2 tablespoons oatmeal, powdered
Bath Salts for Frazzled Nerves
2 cups Dead Sea Salts
½ teaspoon turkey red oil (#ad)
10 drops chamomile essential oil
10 drops rose geranium essential oil
½ cup dried chamomile flowers, powdered
2 tablespoons rose petals, dried
Sore muscle or sore joint soak
2 cups Epsom salts
½ teaspoon polysorbate
10 drops grapefruit essential oil (#ad)
10 drops lavender essential oil (#ad)
½ cup dried dandelion flowers, powdered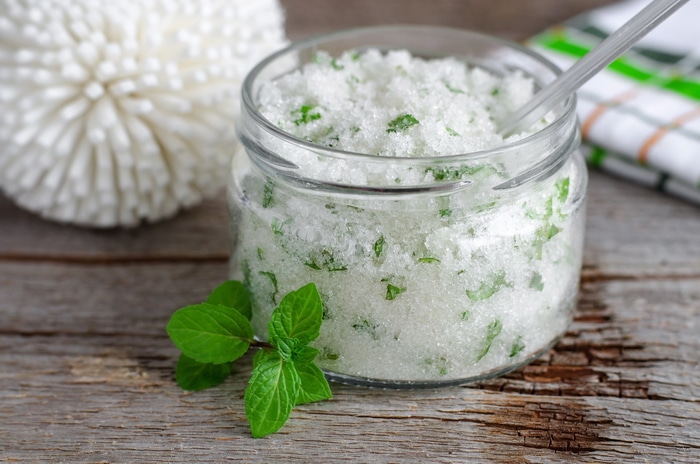 Detox Bath for Colds and Flu-
1 cup Dead Sea Salts
1 cup Himalayan Pink Salt
1/2 teaspoon sunflower lecithin (#ad)
10 drops grapefruit essential oil (#ad)
10 drops rosemary essential oil
½ cup fir needles, dried and powdered
Now that you have a master recipe you'll be in charge of your own water wellness.  Check out my water wellness course to increase your prowess when it comes to baths, showers, and DIY spa products.

You might enjoy these other bath related articles from Joybilee Farm