Cabbage rolls without the gas
Cabbage rolls are a tradition where I live.  It's savory comfort food that is sure to please most palates.  However, cabbage is strong tasting for wee ones, and a bit hard to digest.  Let's say it repeats.  For those who prefer to avoid the instant replay, chard is a viable and tasty substitute for cabbage rolls.  You can just substitute raw chard, trimmed, for cooked cabbage leaves in your favorite cabbage roll recipe and you'll score big with your family.  Or try my version with ground lamb that is very similar to the traditional Armenian/Middle Eastern dish of ground lamb wrapped in grape leaves — dolma or dolmades.
Lamb un-cabbage rolls
Ingredients:
1 lb. of chard, washed and cut the stems at the base of the leaf.  Save stems for another dish.

MY LATEST VIDEOS
1 quart jar of tomato sauce
½ cup of feta cheese, crumbled
Filling: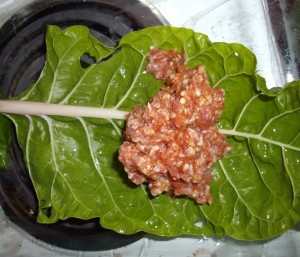 1 lb. ground lamb
1 finely chopped onion
1 t. garlic powder or 1 large clove of minced garlic
1 t. tomato powder
½ t. oregano, dried and crumbled
½ t. Himalayan salt
1 large egg, beaten
Optional:
Add a 1/2 tsp. of crumbled feta on top of the filling for each chard leaf, before rolling.
Mix filling together, use 1 tbsp. of filling per chard leaf.  Turn chard leaf with the underside of the leaf, face up.  This allows the leaf to roll toward its natural curl.  Place 1 tbsp lamb mixture into the tip end of the chard leaf.  Roll leaf around the filling, moving toward the stem end, tuck in the sides as you roll.  Place open side down in greased baking pan.  Repeat with remaining leaves and filling.
Pour 1 quart of tomato sauce over the chard rolls in the baking dish.  Spread the sauce evenly over chard.  Sprinkle with feta cheese.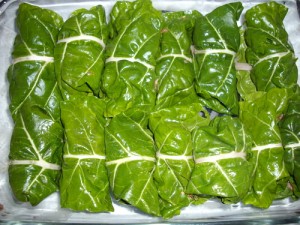 Bake for 45 minutes at 350F, until done.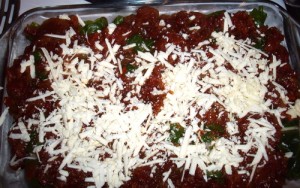 Serve with vegetables and potatoes or rice.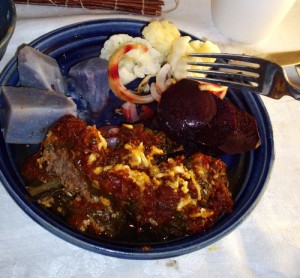 Wrapped food, whether the wrap is a vegetable or pastry or an ethnic bread is fun.  It's one of my favorite ways to serve a meat filling, and a great way to expand your repertoire of scratch cooking.
If you enjoyed this recipe, please share it with your friends on Facebook and Twitter.
Thanks,
Chris