Harvesting Balm of Gilead
Around Joybilee Farm one of the first signs of spring is the pleasant fragrance of the wind in the cottonwood trees.  It fills the air with a joyous perfume and announces the season for the harvest of the spring buds needed for Balm of Gilead ointment.  In the late spring, you'll know if you have cottonwoods growing near you, by the abundant white, cottony fluff that lines the lanes and pathways, and floats through the air.  If you are a hay fever sufferer, it's not your favorite spring scene.  But for the herbalist, that early spring fragrance announces the beginning of the spring harvest season.
Balm of Gilead comes from the early spring buds of the Balsam Poplar (Populus balsamifera), the Black Cottonwood (Populus trichocarpa) or the Narrowleaf Balsam Poplar (Populus angustifolia).  There are several other cottonwoods and populars native to North America but only these 3 produce the balsam buds and characteristic medicinal scent that you are looking for.  This post is about harvesting and using the spring buds of the Black Cottonwood, native to BC, Canada and the Western USA.  You can use the information gleaned from this post to help you identify and harvest buds from the correct species that grows near you.  These three species will cross-pollinate where their territories overlap and produce hybrids that are also suitable for Balm of Gilead herbal use.
Make positive identification of the tree
To determine if the cottonwood or poplar trees growing near you are the right kind, touch and smell the young leaf-buds, before leaf break.  The smell is a strong pleasant perfume, with a hint of camphor.  The buds will be sticky and resinous, coating your fingers with a reddish brown gum.  The young branch tips will be deeply coloured with the rising sap.
These pictures are of the Black Cottonwood, native to Western North America.  The bark of the trunk of a mature Black Cottonwood tree is grey, and deeply fissured.
The young tree bark is grayish green with prominent lenticels, similar to birch.  The young growth colours to bright reddish brown as the sap rises in spring.  The mature tree can be up to 30 meters (100 feet) tall and has a distinctive silhouette in the spring landscape.  If you are looking for the tree in the summer, it will be fully leafed out.  The leaves are dark green, long, and sometimes heart shaped. On the underside of the leaf, there is often a splotch of the reddish brown resin still evident.
The cottonwood trees are prone to wind damage and a windfall branch in winter or early spring can yield an abundance of resinous buds.  If you find such a treasure, be sure to harvest every single bud.  On the other hand, usually the tree is too tall to allow you to harvest from a mature tree, and those looking for this herbal treasure will be searching for young saplings between 2 feet and 10 feet tall.  At this height the trunk is supple and the branches can be bent over to bring the buds within easy picking range.
I'm told that the First Nations people in British Columbia tap the mature cottonwood trees to gather the resinous healing sap, but I haven't personal experience with this way to harvest Balm of Gilead.  I'd love to learn more about this practice.  If you've done this yourself or watched the elders do it I'd love it if you'd leave a comment and tell me your experience.
Conscientiously harvesting the buds
The cottonwood buds contain the sticky resin that is responsible for the healing properties of Balm of Gilead.  The resin is the sap from tree.  If you wait another week or two, these buds will swell with the resin and then the leaves will unfold.  Once the leaves break the window for the harvest season is over.
Since the buds represent the leaves of the tree, you want to leave enough buds on the plant to nourish the root for another season and produce the next spring's leaf buds.  The leaf buds grow during the summer months and then lie dormant on the tree from leaf drop until they swell with the rising sap, the following spring.  A general rule for harvesting balm buds, is to never take the terminal bud, as this bud represents the growing branches, as well as the future leaves.  Of the buds that alternate along the branch, take only 1/3rd.  Don't harvest from a tree that has already been harvested from – including those buds eaten by ungulates. Over harvest will kill the young trees.
Only harvest on land that you own or land where you have permission to harvest.
Make positive identification of the tree.
Don't take more than 1/3rd of the buds.
Don't take the terminal tip on any branch.
Respect the growth needs of the tree.
Use what you take.
What you will need to harvest
When you go to gather in Balm of Gilead buds, you will need a basket or container to gather in our harvest.  Don't plan to put it in a handkerchief or hat, as the resinous buds will stain the cloth.  A plastic yogourt container that you add a handle to, is lightweight and will more easily cleaned than cloth.
You just use your fingers to harvest – they are less likely to damage the bark of the tree.
How to deal with sticky fingers during the harvest
Harvesting resinous buds leaves your finger coated in the reddish brown resin.  You can minimize the discomfort right in the field.  Growing in close vicinity to the Balsam poplar and cottonwood trees are Trembling Aspens (Populus tremuloides).  There is a white yeasty powder on the smooth bark of the Trembling Aspen.  Rub your hands on the bark and the white powder covers the resin on your fingers, removing the stickiness, so you can keep picking.
Making Balm of Gilead infused oil
The bud harvest is meager unless you have a huge plantation of Cottonwood trees.  But use whatever you do harvest fully.  For 1 cup or less of buds, put the buds in a wide mouth pint size mason jar.  If you have two cups to 4 cups of buds, use a wide mouth quart jar.  Fill the jar to within 1 inch of the top with olive oil.  Put the jar in a warm spot.  I put my jars in a sunny window where the warmth of the sun helps the buds to release their resin.  Over a month or so, the resin will slowly move into the oil, giving the golden oil a deep reddish hue.  Shake the jar to distribute the resin, a few times a week, while you are waiting.  When it's ready to strain after a month, the oil will have the pleasant, Balm of Gilead perfume.
At this time, after a month of waiting, strain the oil into a clean, coloured glass bottle.  Cap tightly and label with the date and contents, "Balm of Gilead."  You can discard the spent buds in the compost pile.
Making Balm of Gilead Ointment
Balm of Gilead oil is like gold around here.  You can't buy it.  It is harvested by hand.  The buds aren't available in any herbal store.  So if you don't know someone who makes it or harvest your own, you are out of luck.  It takes hours to harvest a small amount of buds, and while the harvest is a pleasant experience, no one does it to make money.  Knowing this, you will want to treat your harvest well, so that you don't lose a single, precious drop of this healing oil.  Add a ½ tsp. of natural source vitamin E oil to your final bottle of oil.  This protects the oil from rancidity.  If you keep it tightly capped, and in a cool dry place, your harvest should last 2+ years.
Balm of Gilead Ointment
4 oz. of infused Balm of Gilead oil
½ oz. of pure beeswax melted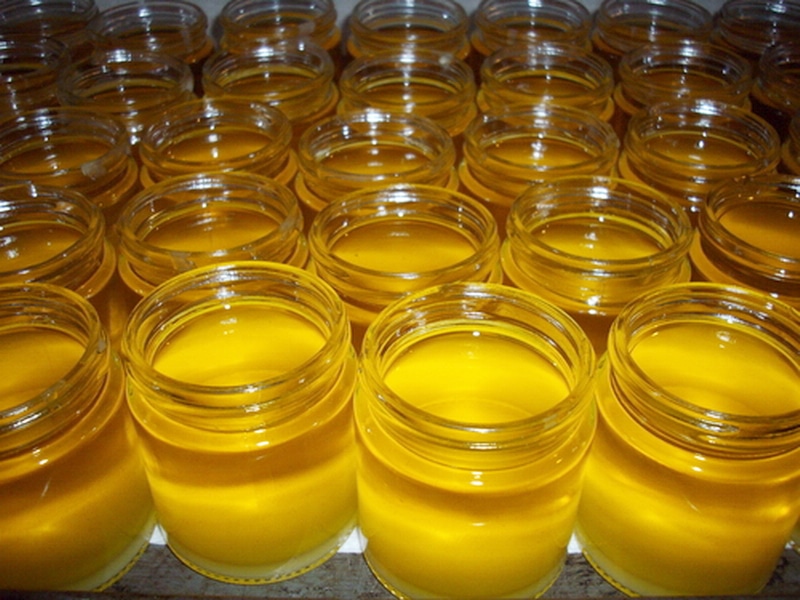 2 oz. of coconut oil
1 oz. of cocoa butter
Melt wax, coconut oil, and cocoa butter together until liquid.  Add the Balm of Gilead oil and heat until the mixture is fully melted.  Don't allow it to simmer though.  Keep it just warm enough to make everything liquid.
Pour into two 4 oz. glass jars.  Cap tightly while still warm.  Label and seal.
When to use Balm of Gilead Ointment
Balm of Gilead Ointment is:
Analgesic
Anti-inflammatory
Anti-bacterial
Astringent
Helps detoxify
Helps heal coughs
Balm of Gilead ointment has done some miraculous feats on my homestead.  It relieves pain, especially the pain from sore muscles, arthritis, and broken bones.  It reduces swelling and inflammation.  It relieves pain at the nerve level and combined with St. Johns Wort infused oil, it can do amazing things where there are shooting pains, or injuries in the joints or even broken bones.  Combine with St. Johns Wort for nerve pain and comfrey for bone healing.
True Stories about the healing efficacy of Balm of Gilead
In summer of 2010, a friend was visiting the farm, complaining of a swelling in his knee.  10 months before he had been loading a prize winning giant pumpkin into his truck, and he didn't see the trailer hitch.  He took the hitch, full blow, onto the knee cap.  The swelling and pain never abated.  His normal daily walks and bike rides had to stop.  He could barely walk, and spent many days in physio or icing his knee with no change in his condition.  Since he was a diabetic, the long injury was an ill-omen.  The day before this visit, my friend said his doctor told him to put his house in order, he didn't have long to live.  Of course I gave him some Balm of Gilead – St. John's Wort ointment and told him to use it liberally.  I saw him a week later super excited and wanting to know more about this ointment.  The swelling in his knee was reduced by 90% and he had full mobility once again.
On another occasion, Mr. Joybilee was loading wood into a wheelbarrow deep in the cold of January.  He slipped on the icy driveway, coming down sharp on the handle of the immovable wheel barrow breaking some ribs.  Ouch!   While he was given a prescription for Tylenol with codeine to help with pain management, the Tylenol just make the ever-present pain harder to cope with, while clouding his mind, and causing constipation. You know the routine.  Constipation caused straining which caused more pain.  I very gently applied Balm of Gilead oil directly to the rib cage and applied a hot flax bag to the area (hot compress).  The pain abated within 30 minutes, and stayed away for 4 to 6 hours.  No more prescription pain killers needed.  We added St. John's Wort tincture (orally) and Balm of Gilead ointment (topically) to the routine and he found tremendous relief.  Within a week, he only needed the ointment at night to help him sleep, until the ribs were healed.
Balm of Gilead can be combined with other anti-inflammatory herbs to relieve a variety of pains.  When you make your herbal infused oils this summer, consider infusing Comfrey leaf, St. Johns Wort Flowers, Calendula flowers, Arnica blossoms, Dandelion blossoms, Ox-Eyed Daisy flowers, and plantain. Use these oils in combination with Balm of Gilead for several analgesic, healing, and anti-inflammatory ointments and salves.
For your Materia Medica Binder:
Download the Balm of Gilead Fact Sheet (pdf)
An excerpt from Beyond Tinctures and Tea Cups (to be released in July 2014)
Cautions:
Balm of Gilead contains salicin, which converts to salicylic acid in your body.  If you are allergic to aspirin, check with your doctor before using Balm of Gilead oil.  If you are unsure, test it on your skin in an inconspicuous spot to make sure that you are not allergic.  If you notice any heat or redness developing, don't apply it to your skin.
As always, this is shared as a neighbor to a neighbor.  Always consult your health care professional for serious medical conditions.  Do you own due diligence.
I hope you found this post helpful.   Please share it with your friends.  Thanks.