Baileys' Chocolate Cheese Cake
This is a cheese cake worthy of a celebration. This is easy to make with creamy, light, chocolate mousse topping, over a deep, rich, chocolate cheese cake. You can make it ahead of the party and keep it chilled until just before serving. It also freezes well. Thaw it just 2 hours before the party. Serves 12 to 14.
This delicious dessert is a requested birthday favorite at our house. Veer from your traditional cake and try this instead. Make it a few days before the party and save the stress.
Ingredients:
1 pkg. chocolate wafers
1 cup of hazelnuts
¼ cup of butter, melted
2 – 8 oz. pkg. of cream cheese, softened
1 cup of organic sugar
4 eggs (large) or 6 bantam eggs
2 tsp. vanilla
½ cup of organic cocoa
6 oz. of high quality, semi-sweet, chocolate, melted (I used Callebalt Belgian chocolate)
2 cups of heavy cream, whipped
½ cup Baileys' Irish Cream liqueur
Directions:
Chocolate hazelnut crumb crust
In a food processor grind hazelnuts and chocolate wafers until they are a crumb texture. Add melted butter and whirl in the processor for 30 seconds, until well blended. Prepare a round, 10 inch spring form pan by buttering the bottom and sides. Press the crumb mixture evenly over the bottom and ½ way up the sides of the pan. Press firmly in the edge where the bottom joins the sides, so that that part of the crust isn't too thick.
Preheat oven to 350F.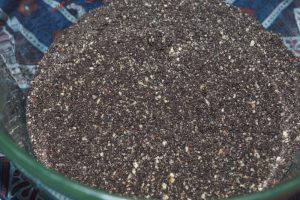 Cheese cake filling
In a separate bowl, using a stand mixer cream together sugar and cream cheese until light and fluffy. Scrape the sides of the bowl. Add eggs one at a time beating well after each addition. Add ½ cup of organic cocoa and beat until mixture is smooth.
Pour into prepared crust. Bake for 50 minutes until cream cheese filling is firm. Top of cheese cake may crack but it will smooth out as the cheese cake cools. Remove cheese cake from the oven and cool on a wire rack. Refrigerate once the cheese cake is cool.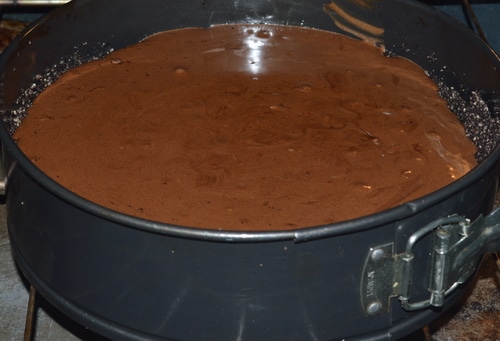 Chocolate Mousse Topping
This topping is delicious and light and worthy of the brightest celebration. You could even just make this filling and serve it up in glass dessert dishes for a light dessert. On to the chocolate mousse topping.
Melt chocolate using a double boiler or a microwave with a special chocolate setting. Be careful not to get any water into the chocolate as it is melting or the chocolate may seize. Once chocolate is melted cool to luke warm, and still liquid. Reserve a few tbsp. of melted chocolate to drizzle on the finished cheese cake.
Once chocolate is cooled, in a separate bowl, whip the heavy cream until it forms soft peaks. Add the Bailey's liqueur, in a slow stream, while the beater continues to whip the cream. Add the cooled but melted chocolate a little at a time, while the beater continues to whip the cream. Occasionally, stop the beater and scrape the sides of the bowl, to keep the chocolate from hardening on the sides of the bowl. Whip the cream until light and fluffy and all the liqueur and chocolate has been incorporated into the Mousse.
Chill thoroughly for 30 to 60 minutes.
Spread over the top of the chilled cheese cake. Drizzle melted chocolate over the top as a garnish. Refrigerate until ready to serve – at least one hour, to allow the cheese cake to set firmly. This will keep for 2 days in the fridge if kept covered. Or wrap well and freeze for up to 2 months.
Alternatively, divide into 12 individual portions. Separate portions with parchment paper and reassemble into cheese cake round. Wrap well and freeze. In this way individual portions can be served without thawing the entire cheese cake.
Make this gluten-free
Note that the chocolate wafers are the only gluten in this cheese cake. If you have family members who are gluten free, substitute 1 cup of almond flour (#ad), 2 tsp. organic honey, plus ¼ cup of organic cocoa for the chocolate wafers in this recipe. Add in the hazelnuts and melted butter and you won't even notice the difference.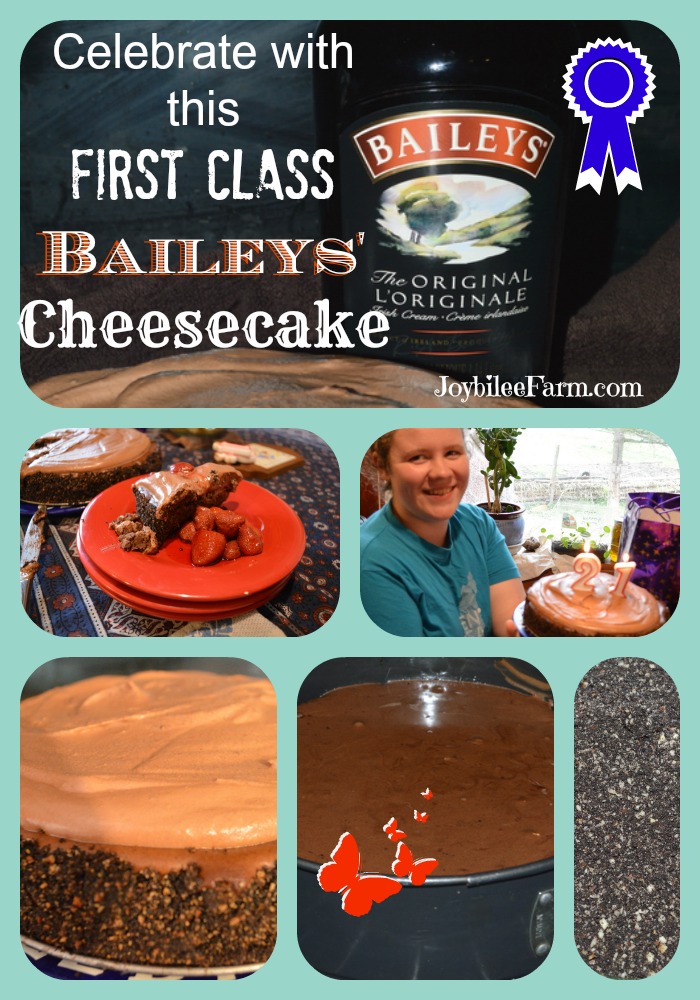 Your turn:
Do you have a traditional birthday cake or do you like to try new recipes each year?