While pizzelles are a traditional Christmas cookie and chocolate mint flavour is traditionally associated with Christmas, these Chocolate Mint Pizzelles are unique and non-traditional. Put your pizzelle iron to work on this easy to make sweet wafer. Then enjoy it with a homemade espresso, mocha, latte, or macchiato.
Heat up your pizzelle iron and get to work. They'll be ready by coffee time.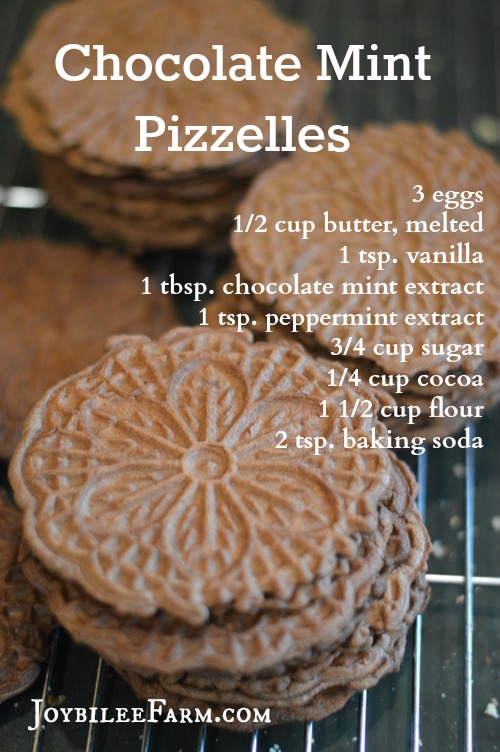 Chocolate Mint Pizzelles
Yield: About 30 Pizzelles
Ingredients:
3 eggs
3/4 c. sugar
1/2 c. butter, melted and cooled
1 tsp. vanilla
1 tbsp. chocolate mint extract
1 tsp. peppermint extract
¼ cup cocoa
1 1/2 c. flour
2 tsp. baking powder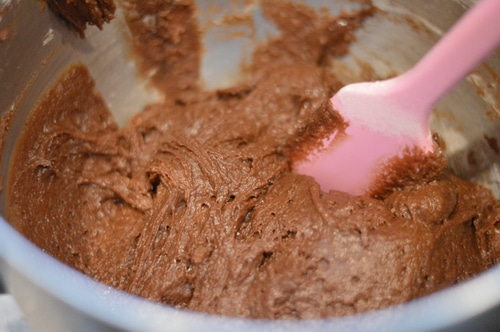 Method:
Grease the plates of the pizzelle iron generously with butter or coconut oil. Preheat the pizzelle iron according to the manufacturer's directions.
Set up a cooling rack close to where you are baking the pizzelles. One you start cooking them you need to work fast.
In a large mixing bowl, beat the eggs and sugar together until light and fluffy.
Add butter, vanilla, and extracts and beat well.
Sift flour and baking powder and add to egg mixture. Mix until just blended. Don't overwork the batter. Batter will be stiff. If it is too runny it won't spread properly in the iron.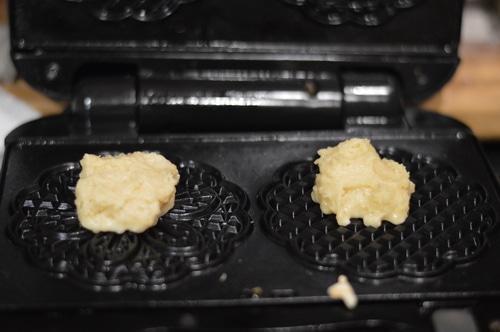 Drop the batter by the teaspoonful into the centre of each circle on the pizzelle iron. My pizzelle iron uses just slightly more than 1 tsp. of batter per pizzelle. Follow the directions with your own pizzelle iron.
Close the pizzelle iron over the batter and let it cook until the steam stops. Once the steam stops and the pizzelles are baked, remove them from the iron.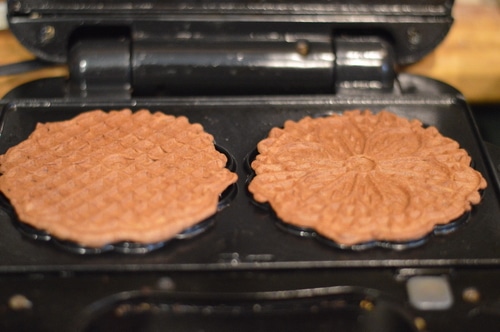 If you want to roll them into cones do that immediately when they come off the pizzelle iron. They are soft and pliable then. As they cool they will crisp up.
Place them on the cooling rack.
Serve them plain, with a dusting of icing sugar, or dip them in melted chocolate.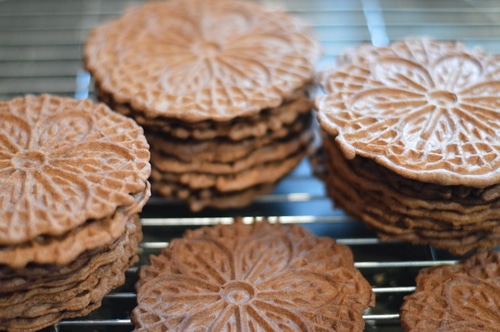 Enjoy!
Other Pizzelles to try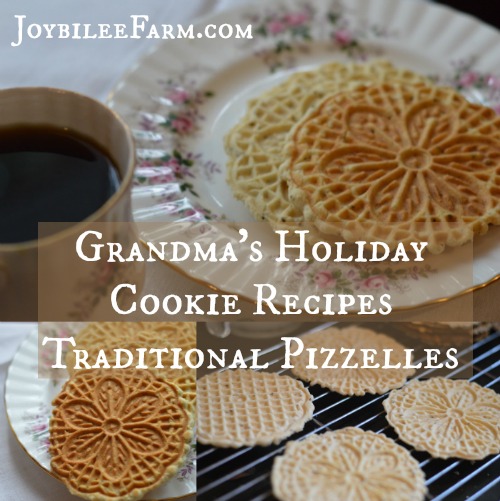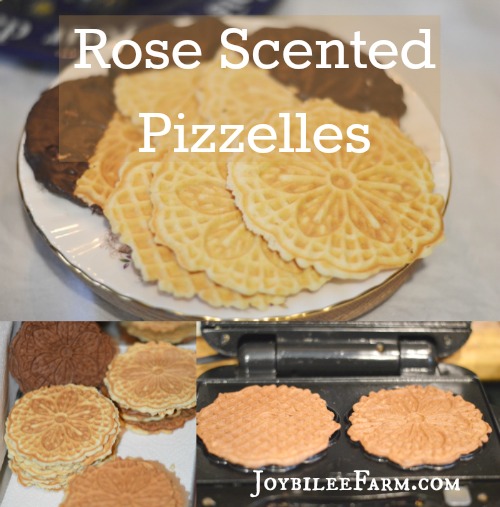 Gift Idea:
Pizzelles fit perfectly into a 4 inch round or rectangular cookie tin. 1 batch of 30 pizzelles filled the 5 1/2 inch deep tin. I made a batch of Anise pizzelles and a batch of chocolate mint pizzelles. I alternated them in the tin — 1 chocolate-mint, 1 anise, 1 chocolate mint, 1 anise. It was a lovely presentation for a simple, inexpensive but wow gift. Most people only get to eat pizzelles when they visit an Italian friend. I bought my tins at the dollar store.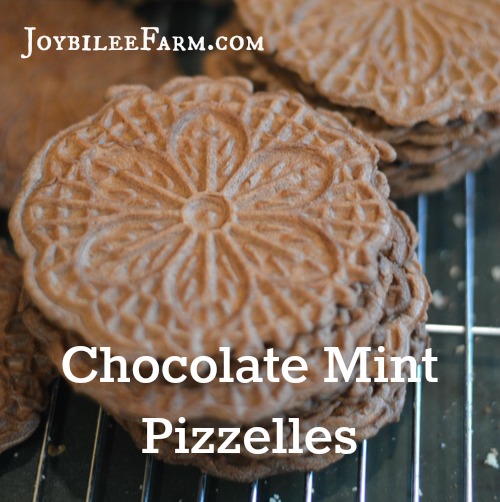 This can be a hostess gift by itself, or part of a gift basket of coffee or tea, biscuits, and a pretty mug. Simply match the mug to the interests of the recipient — A Dr. Who mug for the Dr. Who fan, A Lord of the Rings mug for your Lord of the Rings fan.
Find more Holiday Cookie Recipes here.
Disclaimer: