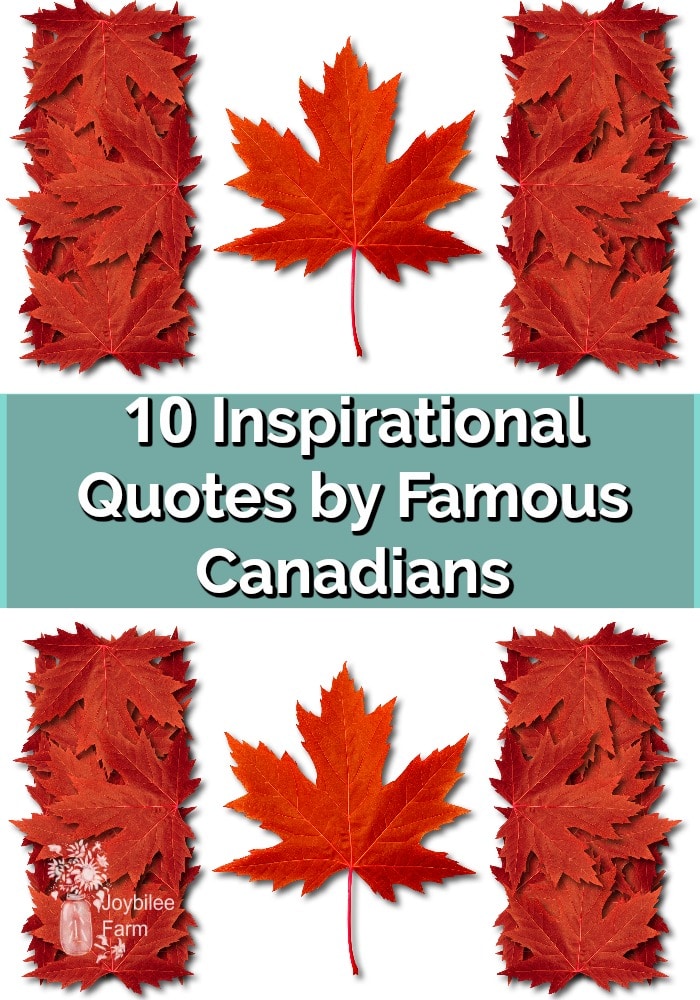 In preparing this post for you I had a really hard time finding famous Canadians who actually said something.  While there are many famous Canadians there aren't too many that actually spoke their thoughts aloud.  Apparently, Canadians don't talk much, except to apologize and to talk about the weather.
Canadian Innovation
Canada is a fairly innovative place to live.  It comes from spending all that time in the frigid darkness, waiting for summer.  There's lots of time to think, to problem solve, and to invent.  In fact, there are many Canadian inventions that we take for granted today — insulin, the telephone, wireless technology, the light bulb, the snow mobile (of course!), Superman, basketball, standard time, walkie talkies, the prosthetic hand, [the snow blower, the fog horn, sonar, IMAX, the electron microscope, the cardiac pacemaker, the alkaline battery, the jolly jumper, the garbage bag, plexiglass, the pager, the 56 K modem, the Blackberry messaging system, peanut butter, key-frame animation, the java program language, the Canadarm (used on the space shuttle), Essiac, an herbal cancer treatment, and the electric oven, to name just a few.  While reading over this list, I'm surprised.  Canada has given many amazing gifts to the world.
On the other hand we also gave the world Justin Bieber.  I'm sorry.
10 inspirational quotes from famous Canadians
To celebrate Canada Day, here are 10 inspirational quotes by famous Canadians.
When one door closes another door opens; but we so often look so long and so regretfully upon the closed door, that we do not see the ones which open for us.  – Alexander Graham Bell, inventor of the telephone


…with love, we are creative. With it, we march tirelessly. With it, and with it alone, we are able to sacrifice for others. — Chief Dan George, First Nations Chief


I believe that never was a country better adapted to produce a great race of women than this Canada of ours, nor a race of women better adapted a great country.  – Emily Murphy, first female magistrate in Canada and the British Empire


I think that one's art is a growth inside one. I do not think one can explain growth. It is silent and subtle. One does not keep digging up a plant to see how it grows. — Emily Carr, artist


A man, as a general rule, owes very little to what he is born with – a man is what he makes of himself. – Alexander Graham Bell, inventor of the telephone

"You miss 100% of the shots you never take." Wayne Gretzky, hockey player

"Unconsciously, Canadians feel that any people can live where the climate is gentle. It takes a special people to prosper where nature makes it so hard." Robert MacNeil, journalist.

"No one has ever had an idea in a dress suit." — Sir Frederick G. Banting, scientist who discovered insulin.

"Next to trying and winning, the best thing is trying and failing." — L.M. Montgomery, writer

"Early success is a terrible teacher. You're essentially being rewarded for a lack of preparation, so when you find yourself in a situation where you must prepare, you can't do it. You don't know how." ― Chris Hadfield, Astronaut and commander of the International space station
Happy 147th Birthday, Canada.
Sarah's favorite song:
O Canada
Ô Canada!
Terre de nos aïeux,
Ton front est ceint de fleurons glorieux!
Car ton bras sait porter l'épée,
Il sait porter la croix!
Ton histoire est une épopée
Des plus brillants exploits.
Et ta valeur, de foi trempée,
Protégera nos foyers et nos droits.
Protégera nos foyers et nos droits.
O Canada!
Our home and native land!
True patriot love in all thy sons command.
With glowing hearts we see thee rise,
The True North strong and free!
From far and wide,
O Canada, we stand on guard for thee.
God keep our land glorious and free!
O Canada, we stand on guard for thee.
O Canada, we stand on guard for thee.
The other verses that you may not have heard.
O Canada! Where pines and maples grow.
Great prairies spread and lordly rivers flow.
How dear to us thy broad domain,
From East to Western sea.
Thou land of hope for all who toil!
Thou True North, strong and free!
Chorus:

God keep our land glorious and free!
O Canada, we stand on guard for thee.
O Canada, we stand on guard for thee.
O Canada! Beneath thy shining skies
May stalwart sons, and gentle maidens rise,
To keep thee steadfast through the years
From East to Western sea.
Our own beloved native land!
Our True North, strong and free!
Chorus
Ruler supreme, who hearest humble prayer,
Hold our Dominion in thy loving care;
Help us to find, O God, in thee
A lasting, rich reward,
As waiting for the better Day,
We ever stand on guard.
Chorus