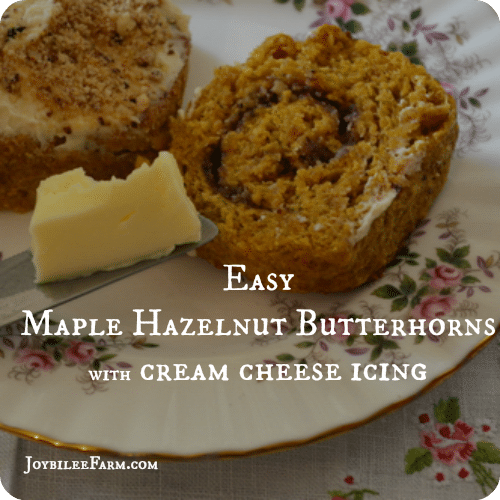 World Baking Day is May 17th
To celebrate World Baking Day on May 17th, I joined up with 10 of my favorite food bloggers and Montana's Granite Mill Farms, an artisan Flour Mill specializing in sprouted grain flours.   Together we've got 10 original baking recipes highlighting the very best that these unique flours have to offer.
World Baking Day encourages you to bake with someone else in mind. Who do you know that would appreciate some home baking this week? Do you have a friend coping with the loss of a loved one or a neighbor that's battling chronic illness or even a girlfriend that you've been meaning to have over for coffee. Make World Baking Day an excuse to fill your home with happy baking smells, and make a plate of butterhorns to encourage your friends and neighbors.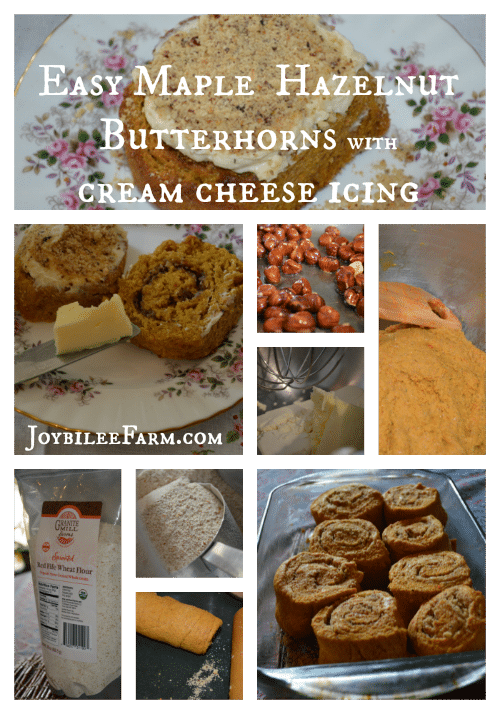 Easy Maple Hazelnut Butterhorns with cream cheese icing
Like a cross between a crispy butterhorn and a soft, fluffy cinnamon bun, these Maple Hazelnut Butterhorns are a healthy version of that coffee shop treat. Made with sprouted Organic Red Fife Wheat Flour from Granite Mill Farms, they have a nutty flavour that is accentuated with powdered carrots and just a hint of ginger. The carrots add a touch of sweetness, and lighten the texture.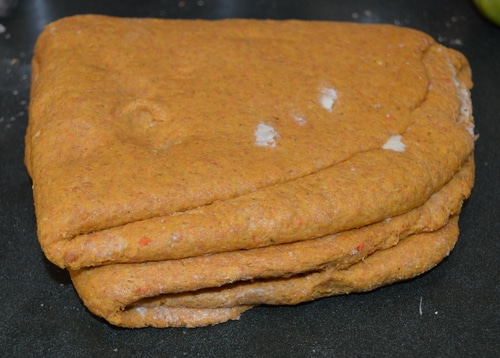 Making Butterhorns is easy
Making butterhorns is like making cinnamon buns with one added step. After the first rising, the dough is punched down, allowed to rest and then rolled into a thin rectangle. Bits of cold butter are layered on top and the dough is folded in half. More cold butter is layered on top and the dough is folded into quarters. This is rolled out thin again and the layering and folding is repeated. This changes the texture of the dough from the soft, fluffy texture of a cinnamon bun to the crisp, flaky texture of butter horns. The more time you fold in butter and roll it thin again, the flakier the butterhorn is. For this recipe I just folded ½ cup of butter into the yeast dough. The resulting texture is crisp around the edges and soft in the middle.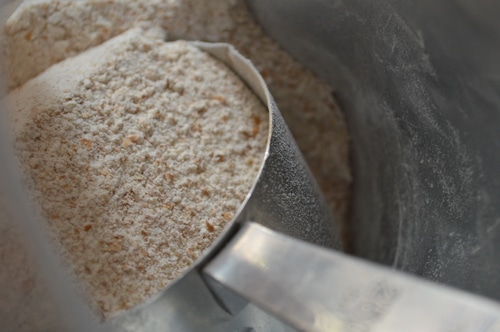 Why sprouted wheat?
Wheat contains anti-nutrients that inhibit its digestion and block the absorption of some minerals. By soaking and sprouting wheat these anti-nutrients are removed. The wheat increases its nutrient content, becomes easier to digest, and increases the amount of vitamins and minerals that your body can absorb. For more information about the advantages of using sprouted grains in your baking see the Granite Mill Farms website.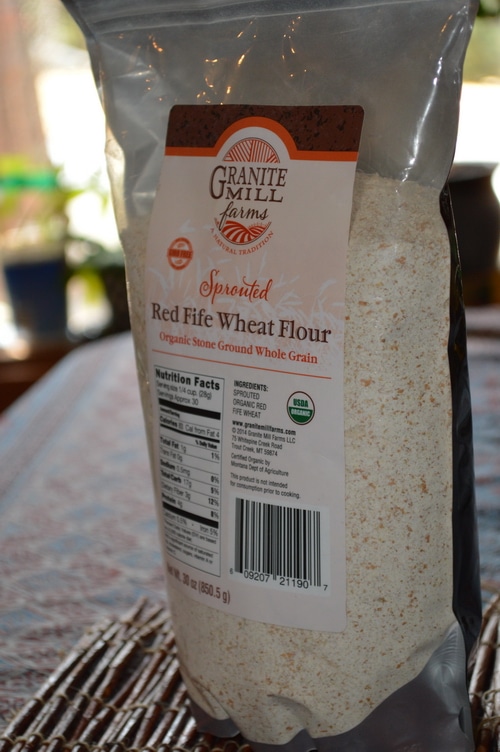 Further, over 50% of grain products are dried down using herbicides before harvest. Glyphosate is approved for use as a crop desiccant prior to combining. However, glyphosate cannot be used on organic crops. I've switched to organic grains after learning that farmers use glyphosate immediately before harvest. I recommend, that you make the switch to organic, too, and let your liver have a rest from glyphosate.
Consider this easy butterhorn recipe for your next coffee break.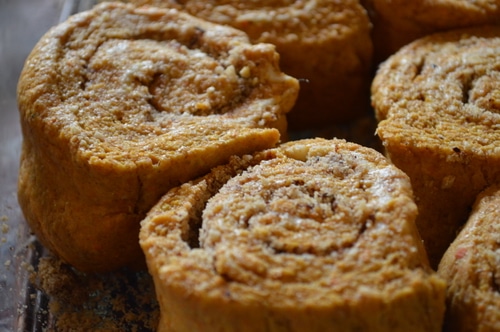 Maple Hazelnut Butterhorn Recipe
Ingredients:
Butterhorns:
1 tbsp. baking yeast
1 tsp. organic sugar
1 cup of warm water
2 large eggs
½ tsp. Himalayan salt
2 tbsp. coconut oil
½ c. dried carrot powder*
½ tsp. ginger spice powder
2 ½ cups of Granite Mill Farms, Sprouted Organic Red Fife Wheat
2 tbsp. vital wheat gluten
½ cup cold butter
Streusel Topping
½ c. toasted and ground hazelnuts
½ c. maple sugar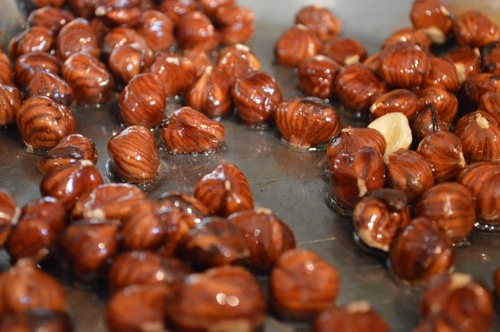 Icing:
1 8 oz. package cream cheese, softened
¼ cup of butter softened
½ tsp. vanilla
¼ c. maple syrup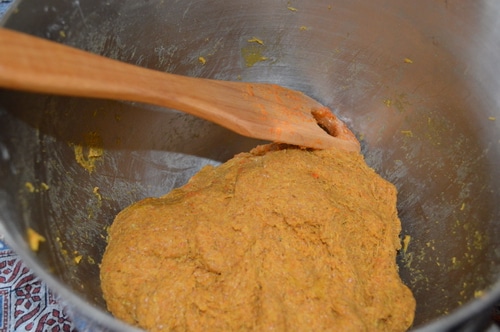 Directions:
Dough:
Dissolve yeast in 1 cup of warm water. Stir in 1 tsp of organic sugar to feed the yeast. Proof the yeast and ensure that it is bubbly.
Pour the yeast mixture into your mixing bowl. Add eggs and beat well. Add salt, oil, carrot powder, and ginger and beat well.
Add vital wheat gluten. Add 2 cups of the sprouted red fife wheat flour. Mix well until all the flour has been incorporated. The dough will be sticky. Add the remaining ½ cup of flour, 1 tbsp. at a time, fully incorporating it into the dough after each addition.
Stop adding the flour when the dough sticks together and is no longer sticky, but continues to be moist. Judging this moment is a little tricky. If you add too much flour the dough will be heavy and won't rise well. If you add too little the dough will be too sticky to handle. Err on the side of stickiness for the first rising. The flour will absorb some of the moisture during the first rising.
Cover the dough and let it rest for 90 minutes. During this rest period prepare the streusel topping.  See below.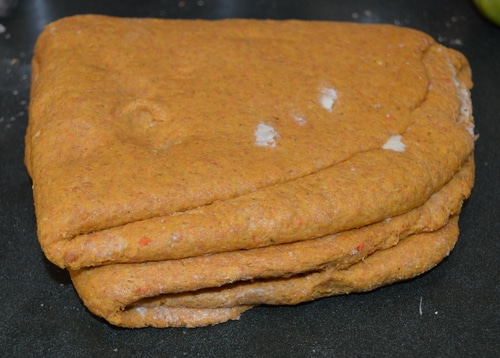 Punch down the dough and roll out onto lightly floured counter top, forming a rectangle. Shave thin slices of cold butter off of a ¼ lb. block of butter. Layer it over the rectangle of dough. Fold the dough in half. Continue shaving slices of cold butter off the brick and spread it over the top of the dough. Fold the dough in half again. Now the dough is folded into quarter.
Roll out the dough again into a thin layer and repeat the above until you run out of butter. With the dough in quarters, cover the dough and let it rest for 15 minutes.
Mix the streusel topping
Toast whole hazelnuts in a frying pan with 1 tbsp. of coconut oil, until golden brown. Allow to cool. Grind in a blender jar until coarse crumbs. Mix in maple sugar and set aside.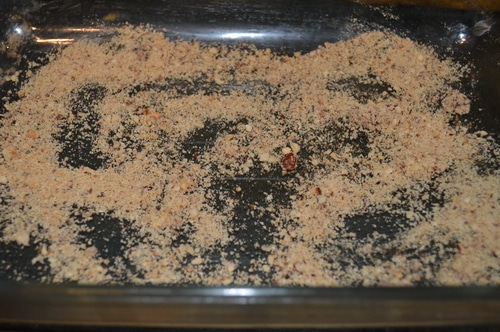 Forming the butterhorns
Prepare a shallow baking dish by buttering the bottom and sides of the pan. Sprinkle the bottom of the pan with ¼ cup of the hazelnut-maple sugar mixture.
Roll the dough out as you would if you were making cinnamon buns. Sprinkle ¼ of the maple sugar – hazelnut mixture on the rectangle of dough. Roll it up jelly roll style. Seal the edge by pinching it.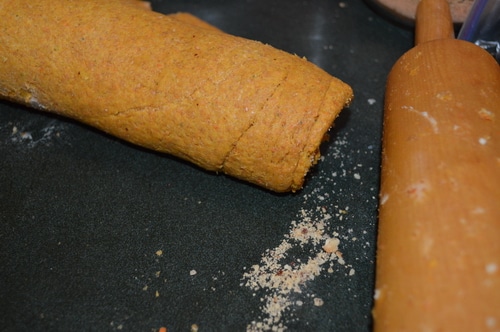 On a lightly floured counter, turn the dough so that the sealed side is down. Slice the roll of dough into 1 ½ inch pieces. Lay the pieces in the baking dish with the cut side down.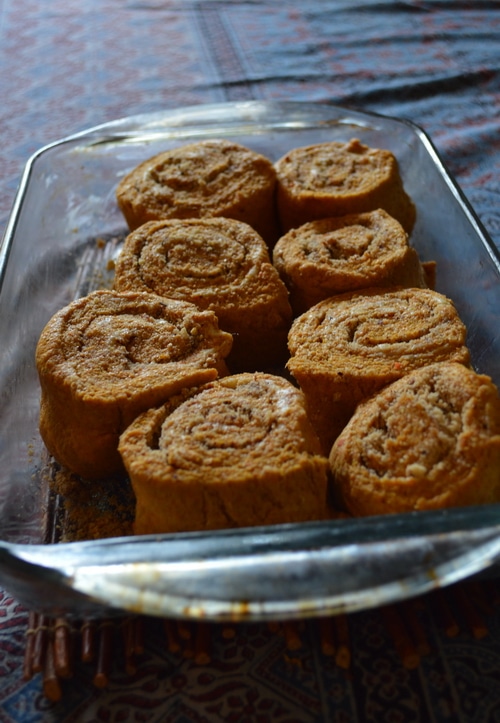 Cover with a cloth and let it rise for 1 hour, in a warm place.
Bake in a 400°F oven for 20 to 25 minutes, until golden brown. Remove from oven, turn out of pan, and cool on a cooling rack.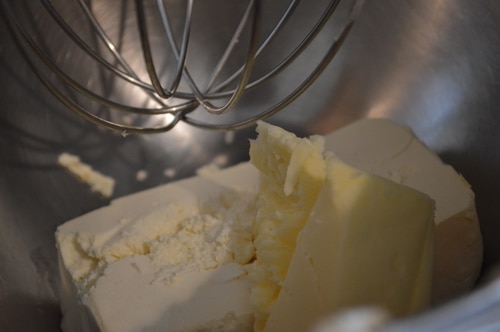 Prepare the frosting
In a mixing bowl cream the softened cream cheese and softened butter together. Add maple syrup and vanilla and continue mixing until it is light and fluffy.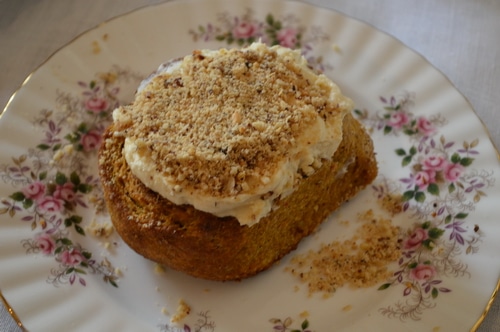 Frost the butterhorns
Once the butterhorns are cool, spread the cream cheese frosting on them. Sprinkle generously with the remaining maple sugar-hazelnut mixture.
Serve immediately or refrigerate until ready to serve.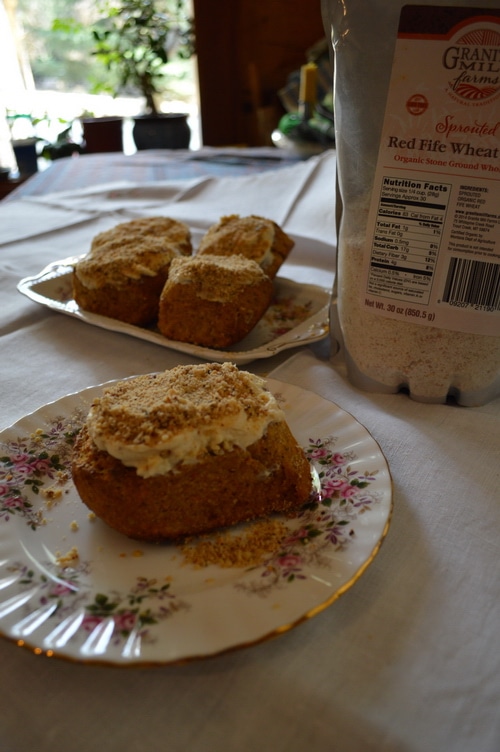 *Note about carrot powder:
Carrot powder is simply dehydrated carrot pulp. This might be leftover from a juicer, dried and powdered in a blender. See this post on how to dry your blender pulp. Alternatively, if you dehydrate carrots you can powder them in a blender to get the carrot pulp for this recipe. Carrot powder is also sold under the label "Carrot Juice Powder" and "Carrot powder." If you don't have carrot powder you can use an extra ¼ cup of flour, but the texture will be drier and heavier. The carrot powder lightens the dough and gives it a cake-like texture. It also gives it added sweetness and nutrition.
The sprouted flour in this recipe was graciously provided by our sponsor Granite Mill Farms. Be sure to check out my other World Baking Day Partners: Angi from SchneiderPeeps –   Jami from An Oregon Cottage – Kathie from Homespun Seasonal Living – Liz from Project Pastry Love – Lynda from Me and My Pink Mixer – Rhonda from The Farmer's Lamp – Sheila from Life, Love, and Good Food – Susannah from Feast and West – Wendy from The Monday Box