Tea Tree Essential Oil is one of the best essential oils for microbial infections and fungal infections.  It is inexpensive.  It is widely available.  Here in Canada, the drug stores and grocery stores carry it.  You can even buy it at Costco.  It's the only essential oil that Costco carries here.


Tea Tree oil is steam distilled from the leaves of Meleleuca aquifolia, a tropical tree from the myrtle family that is  native to Australia.  It is highly prized for it's antimicrobial, antifungal, and antiseptic qualities.  Tea Tree oil has over 100 different phyto chemicals that protect the plant from insect damage, fungal infections, and bacterial damage.  And we get the benefits in every drop of tea tree essential oil.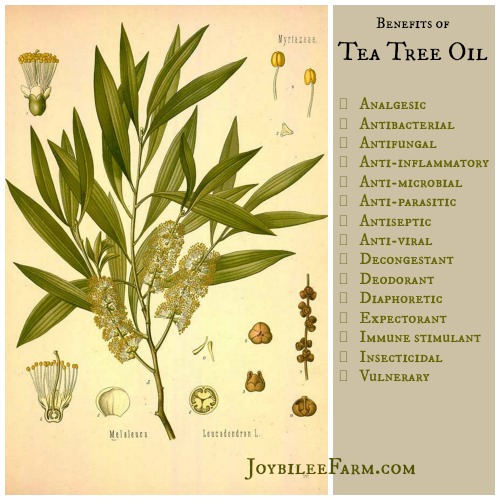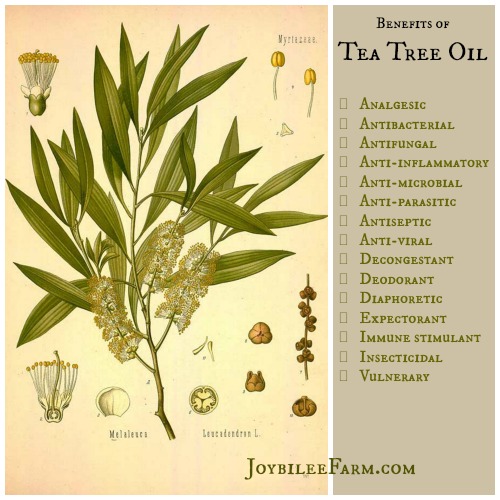 At Joybilee Farm, tea tree is the first essential oil I grab for disinfecting cuts, scratches, or bites.  I use it neat on an open cut, after the bleeding has stopped, to prevent infection.   I add it to disinfectant cleaning sprays to increase their anti-microbial power.  I diffuse it when there is sickness is in the house to cleanse the air.  I also use it to discourage ticks and biting insects, by spraying it on both humans and animals.  But don't use it on cats or rabbits, as they can become toxic from ingesting it.  Their livers lack the enzymes to break it down.
Tea Tree has a camphor smell. I find it pleasant.  Some people don't like it.
Here's 21 ways to use Tea Tree oil at home
Add 10 drops plus 1/2 cup of epsom salts to a warm foot bath and fight athletes' foot
Add 25 drops to your homemade deodorant
Put it in homemade mosquito repellant
Put 1 tsp into your laundry detergent to keep your washing machine smelling fresh
Apply a drop of tea tree oil to your gum when you have a tooth ache.  It will alleviate the pain and infection.
Put a drop of tea tree oil on your toothbrush to disinfect it after you've had a cold or virus.
Add it to homemade disinfectant wipes
Add 3 drops of tea tree oil and 1/2 tsp of salt to a glass of warm water for a sore throat gargle
Make a warm compress using tea tree oil and hot water to relieve sore breasts or mastitis.  Tea Tree oil penetrates the mammary tissue.
Make a teet dip with 1/2 tsp salt and 10 drops of tea tree oil in a cup of warm water to prevent mastitis in dairy animals.
Treat acne with 1 drop of tea tree oil in one tsp. of hot water, and dab on zits to speed healing.
Relieve the itch of mosquito bites by dabbing swelling with 1 drop of tea tree oil on a cotton ball
Relieve ear mites in dogs by putting 5 drops of tea tree oil in 1 tsp of warmed olive oil.  Saturate a soft cloth and wipe the inside of the ear.
Get rid of warts by applying 1 drop of tea tree oil to the wart.  Bandage and keep dry for 2 hours.  Repeat morning and evening until the wart is gone.
Make antibacterial soap by adding 2 tbsp of tea tree oil to a 3 lb. batch of cold processed soap, before pouring the soap into molds.  Allow soap to fully cure before using it.
Apply 1 drop of tea tree oil to the gauze portion of a bandage to keep the wound free of infection.  Change the bandage daily.
Add 25 drops of tea tree oil to a sink of hot water to soak hair brushes and combs to clean and disinfect them.
Rinse hair in cider vinegar plus 25 drops of tea tree oil to prevent dandruff.
Prevent ticks from climbing on you, by spraying your shoes and pant legs or the legs of your livestock with 1 cup of Witchhazel plus 2 tsp of tea tree oil.
Clean taps, light plates, switches, door knobs, and handles with 1 cup of vinegar plus 1 tsp. of tea tree oil, to prevent reinfection when a family member has a cold or virus.
Deodorize shoes by powdering them with 1/4 cup of baking soda mixed with 1/2 tsp of tea tree oil.  Put mixture in a shaker bottle and powder your shoes as needed.  This will also help prevent athletes foot fungus and nail fungus.
I buy my essential oils from Moutain Rose Herbs and from Tropical Traditions.  Both of these online sources carry certified organic essential oils.
This is not an exhaustive list.  What other ways do you use tea tree oil in your home?
Learn more:
My Book, "The Beginner's Book of Essential Oils" is on Amazon.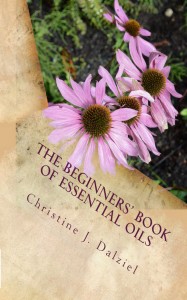 The Beginners' Book of Essential Oils: Learning to Use Your First 10 Essential Oils with Confidence
 Get your copy now.
Shared on:
Essential Fridays Linkup.