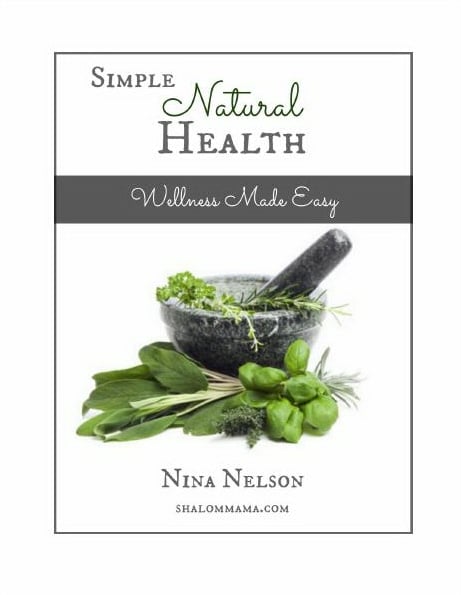 I wanted to tell you about another eBook from the Ultimate Homemaking Bundle, that I think is an amazing value.  Nina Nelson's (ShalomMamma.com), Simple Natural Health, Wellness made Easy (©2014)  is one of those books that pulls all the little pieces together for you.  It's not just an herbal remedy book, even though it's full of easy to make herbal remedies.  It's not just a diet and exercise book, although she shares her philosophy of healthy, natural eating and her minimalist exercise regime.  It's not just another tightwad shopping strategies book, though she shares her strategies for shopping, menu planning, and cooking for her family.  This is one of those books that covers all the different aspects of a wholesome, health-enhancing, family life and pulls it all together in an easy to apply, simplified plan.  It's not too complicated.  You don't need to have just the right food in your cupboards or the perfect family to make it work for you.  You don't have to have an extra hour a day to commit to a strenuous video workout, while the kiddos or grand-kiddos are napping.   You just need to live intentionally through your day.
I love the way this book makes health accessible.  Nina shares how her toxic diet made her itch uncontrollably through her pregnancies as the toxins put pressure on her health.  I can identify.  I too had idiopathic jaundice and itching during my pregancies.  Bingo!  I never thought that my diet had anything to do with the curse of that itching.  For Nina it was the motivation to discover her allergies and food sensitivities, and make healthy changes.  Nina shares how through those healthy changes, she became stronger, and the weight just melted off.  As I'm reading through the book, I'm thinking, yeah, and she's going to tell me that I have to do an exercise video for an hour a day – I can barely walk from the house to the farm gate!  But like the rest of her recommendations – her exercise regime is simple – "keep moving!"  Ok, maybe there's a bit more to it than that.  But it is really simple and I loved that part of the book.
For me though the real gold in the book is the chapter, "Nurture your soul." There's no guilt trips in this chapter and no preachy stuff.  It is a chapter on self-care, oh how we need permission in this post-modern world to actually take care of our souls – instead of running to the next BIG thing.  Sometimes you have to get off the treadmill.   And Nina gives us permission to step away.  She suggests a spirituality based on relationships not rules, she suggests de-cluttering, not cleaning, she suggests saying, "No" to obligations and yes, to serving others.  And my favorite tips are "go to bed earlier," "take a siesta," and "take a time-out." Permission to rest, be still, and listen is granted.    (Oh, hard-working Mom, you need this wisdom today.  It's all right to feel tired.  It's all right to need a rest.  And it's all right to actually take a nap, go to bed early, and get away by yourself for a little break.  It's like a refreshing drink of water!)
This book is awesome.  I think it will nurture you.  It will help you pull together all the little pieces of a more healthy lifestyle, with intentionality, and simplicity so that you gain the intuition to make it work in your circumstances. Simple Natural Health, Wellness made Easy is one of the 78 eBooks included in the Ultimate Homemaking Bundle.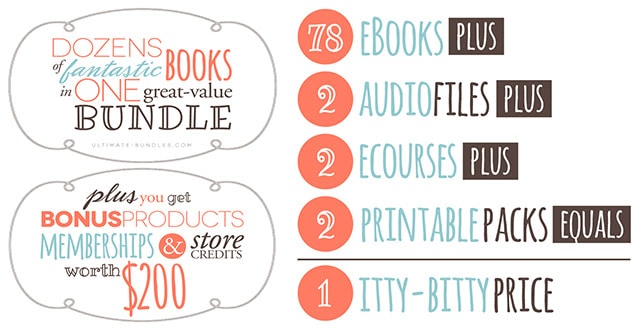 The Ultimate Homemaking Bundle is only on sale until Monday, April 28th, so buy it now or you'll miss out.  It includes 78 eBooks, 2 eCourses, audio files, and print packs, as well as over $200 in bonus products.  It's a steal at less than $30 for the Bundle, which includes all the eBooks in pdf format.  And for the first time the bundle is also available in Kindle format (which includes the PDF versions as well).  You are going to love this!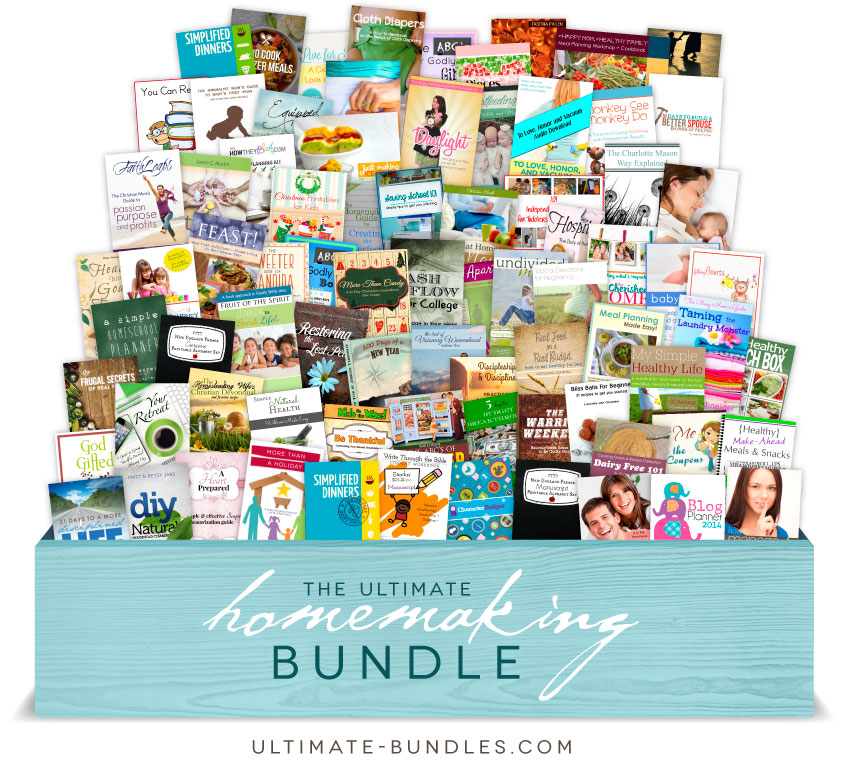 Find out more here.
Or buy it right now on pdf or kindle
(This post contains affiliate links.  Thank you for your support.)