Shower soothers are convenient for those times when kids are inconsolable and exhausted.  They are inexpensive and quick to make.  Keep a batch close by for this busy season.  You'll be so glad you thought ahead.
After a long day at relatives houses, or out shopping for Christmas gifts, kids can get overwhelmed with all the stimulation. In fact they can get so tired that they can't calm their own nerves enough to rest.  They just don't have the coping skills of a grown up. These shower soothers work in two ways.  First the running water in the shower releases negative ions into the air to promote relaxation and calm the mind.  Plus the essential oils and natural herbs release their scent and trigger the relaxation response quickly.  The combination is a powerful ally for a tired and exhausted mom.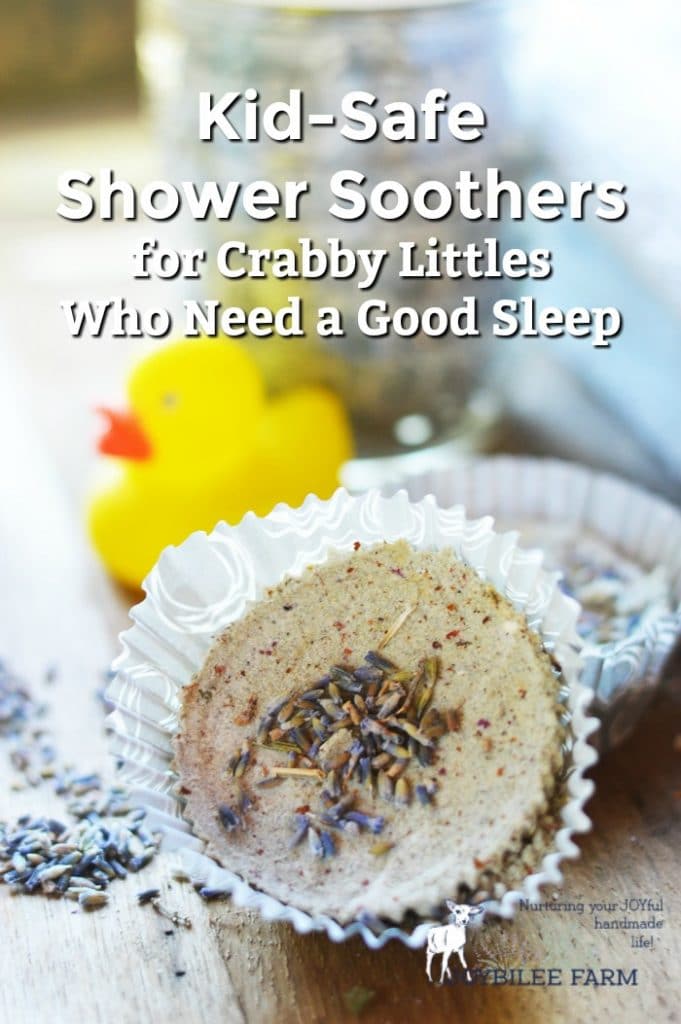 Yes, sometimes both mom and little ones are crabby.  In those moments it can be hard to be a mom.  You want to wave a magic wand and bring calm, peace, and rest.  But you can't remember where you left your magic wand.  These shower soothers can bring peace and quiet when all else fails.  Made with kid-safe essential oils and mom calming blends these are the ones you turn to when you can't even think straight.
10 minutes in the shower and the crabby little one will breathe deeply and be at peace.  These can also be used in the bath tub, but sometimes that can be too stressful for mom.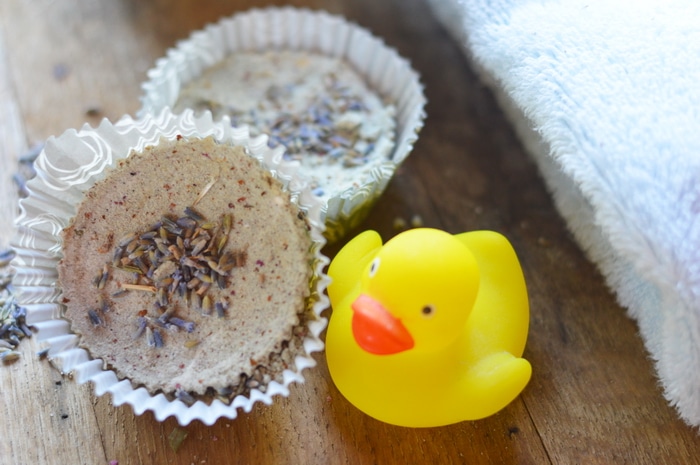 Calming Aromatherapy Shower Tablets
Ingredients:
1 tablespoon lavender flowers, dried, powdered
1 teaspoon pink clay
1 cup baking soda
1/2 cup Himalayan salt
30 drops sweet orange essential oil

(#ad)

30 drops chamomile essential oil
40 drops lavender essential oil

(#ad)

2 teaspoons lavender hydrosol or plain water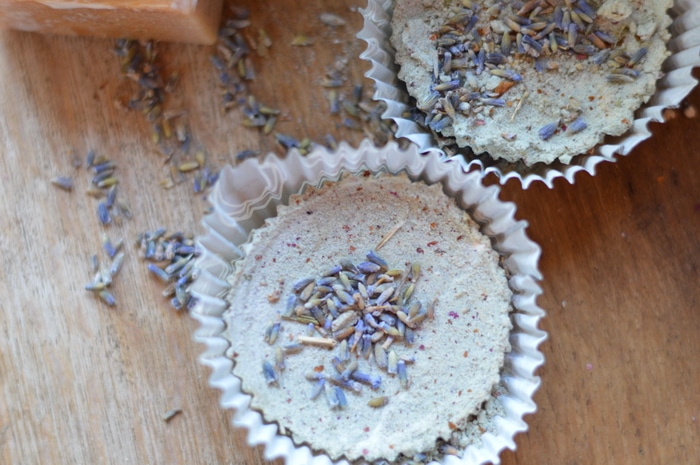 Directions:
Add lavender flowers to a blender jar and blend till they are the consistency of coarse powder.  Turn out into a 1 quart bowl.  Stir in pink clay.  Add baking soda and salt.  Stir well to blend.  Add essential oils.  Stir again.  Add hydrosol, or water.  Stir to combine.  Add 2 tablespoons of mixture to a cup cake liner placed in a muffin tin.  Tamp the mixture firmly into the paper liner using the small end of a kraut pounder or the back of a spoon.  Repeat with remaining mixture.  Tamp each mold to make a firm tablet.
Preheat oven to 250F.  Place the muffin tin in the oven. Bake for 1 hour at 250F.  Turn off oven and allow it to cool naturally.  Leave the muffin tin in the oven until the shower soothers are cool.  They will continue to dry as they cool.
Pop the shower soothers in the paper liners, out of the muffin tins.  Allow the shower soothers to cool and harden completely.
Store in a wide mouth mason jar with a tight fitting lid.
To use:
Remove the shower soother from the paper liner.  Place a naked shower soother on the floor of the shower, in the front corner, outside of the direct shower stream.  You want it to get wet, but not so wet that it all washes down the drain at once.
The water from the shower will slowly release the essential oils aroma into the air so that you can breathe it.  It is the fragrance from the shower soother that calms and relaxes the child.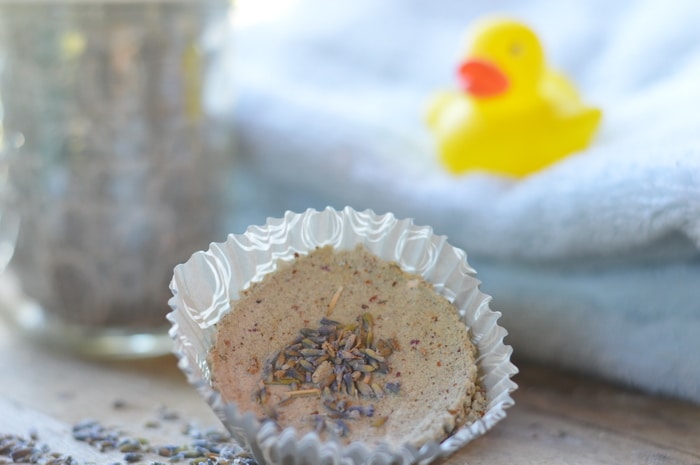 Caution:
All the essential oils in this recipe are safe for children 2 years of age and up.  However, please keep these finished shower soothers away from children.  These should only be used with adult supervision.
Prevent children from eating these shower tablets.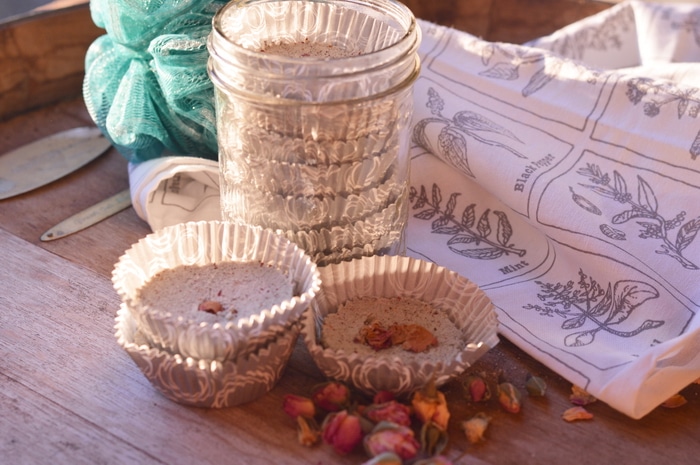 Gift these shower soothers
These shower soothers make a great gift for a new mom.  Add them to a wellness gift basket or a spa basket.  You could even attach them to a magic wand.  Add a rubber ducky and a soft towel.  You get the idea.
And while you are DIYing these shower soothers for the children make a batch of shower tablets for mom, too.