My pizzelle iron sits in the cupboard for most of the year. I don't usually condone having a gadget that only does a single job. The kitchen space is too precious to use for a single use item. However, I make an exception for pizzelle irons. Pizzelle irons do one thing very well. They make a crispy wafer cookie that is light, slightly sweet (or savory), with big wow factor. They are also quite tasty and make a good foil to other recipes.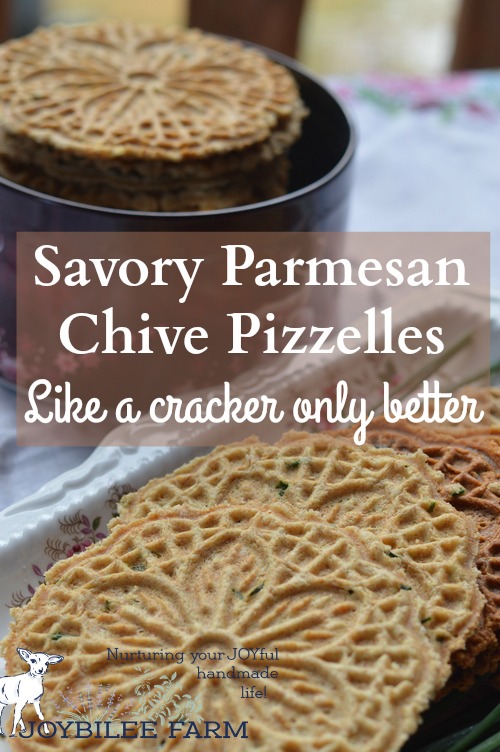 But savory pizzelle crackers are little talked about. Savory pizzelles are better than the finest, high end store-bought cracker. A base of eggs, butter, flour, and baking powder can be spiced up with grated cheese, sesame seeds, flax seed, nuts, onions, garlic, fresh herbs, lemon peel, or spices. And the recipe is enough to please 4 to 6 people for appetizers. Double the recipe for a bigger audience.
Make a batch for the big game and use a pizza cutter to cut them into quarters as they come out of the pizzelle iron. You'll have a batch of snacking crackers ready to dip or bite.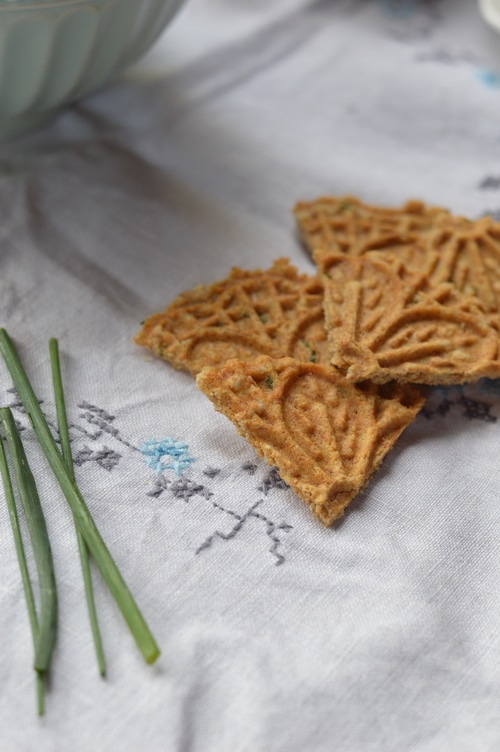 Once you've had freshly made crackers, you won't be satisfied with store bought. Well, why would you want to run to the store, when you can have savory pizzelles ready in less time than a trip to the store? And when you make your own you control the ingredients, too.
One tip, use a light hand with the flour. It may seem like the batter is too moist, but since there is little sugar in the recipe, the pizzelles will become too hard and dry if you use too much flour.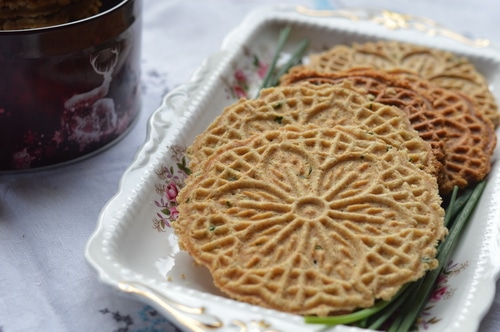 Savory Pizzelles with Parmesan & Chives
Yield: 18 savory pizzelles
Ingredients:
3 eggs
¼ cup plus 1 tbsp. butter, melted
2 tbsp. chives, chopped
1 tsp. dried onion flakes
1 tsp. organic sugar
½ tsp. Celtic sea salt or Himalayan salt
½ cup parmesan cheese, grated
1 cup whole wheat flour
2 tsp. baking powder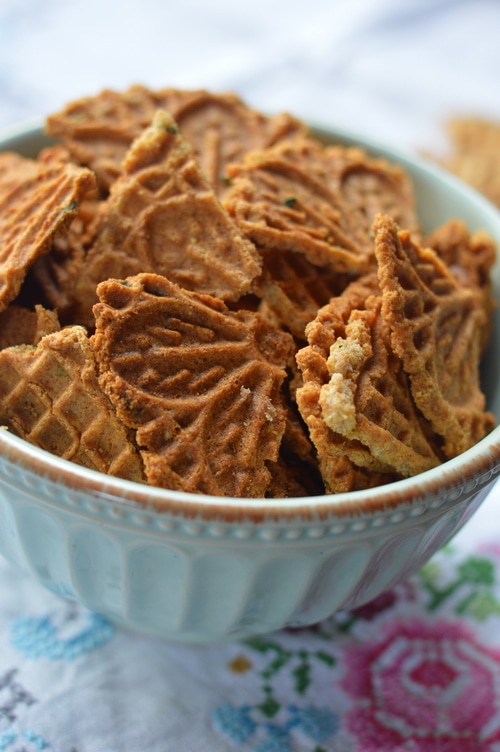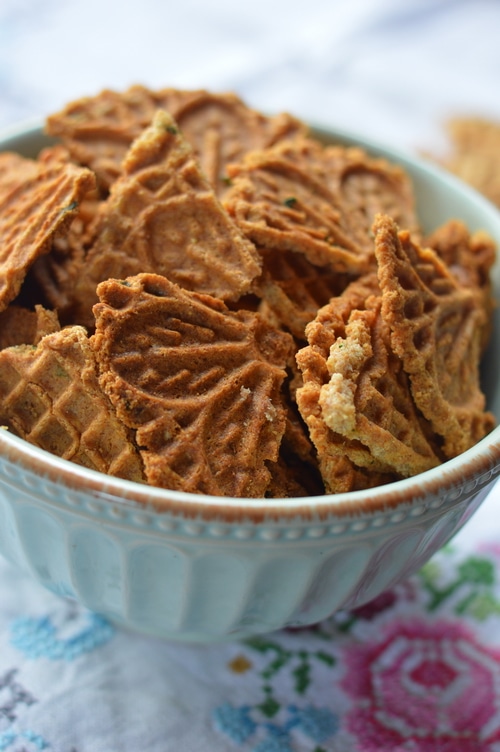 Method:
Add eggs, one at a time, to a medium bowl, whisking after each addition. After melting allow butter to cool to room temperature. Pour butter into egg mixture whisking while you add it.
Add chives, onion flakes, salt, and parmesan cheese to the egg mixture. Whisk until the batter is light and frothy, about a minute.
Add whole wheat flour and baking powder together to the egg mixture. Stir with a wooden spoon just until the flour is moist and the batter clings together. The batter will be thick and it will clump together but it should still be light. The batter consistency is a little thicker than muffin batter but not as thick as biscuit dough.
Preheat the pizzelle iron according to manufacturer's directions.
Drop the batter by heaping teaspoonful into the centre of the pizzelle plate, just a little toward the back of centre. Close the pizzelle iron.
Cook the pizzelles until the steam stops escaping from the iron. Pizzelles should be golden brown and will hold their shape when removed from the pizzelle iron.
Cut the pizzelles into quarters, if you wish to make smaller crackers, or leave them whole. Cool immediately on wire rack to crisp the pizzelles.
Repeat with remaining batter. Makes 1½ dozen pizzelles.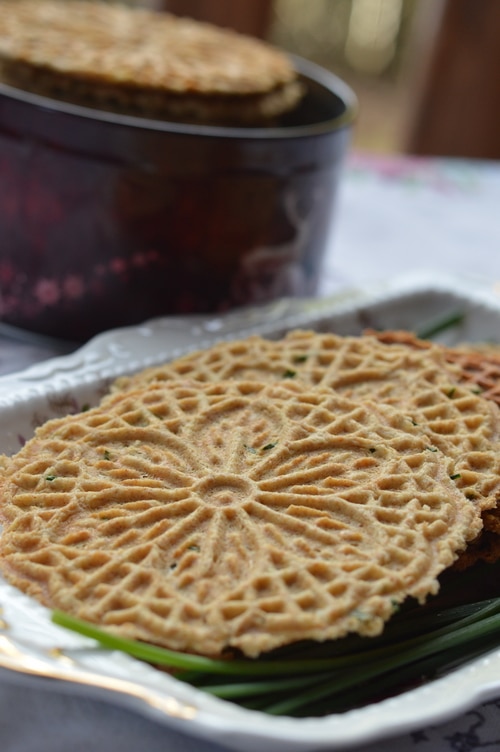 To Serve:
Savory pizzelles can be used like crackers. Cut them into quarters using a pizza wheel to use as chips and serve them with chive and garlic dip.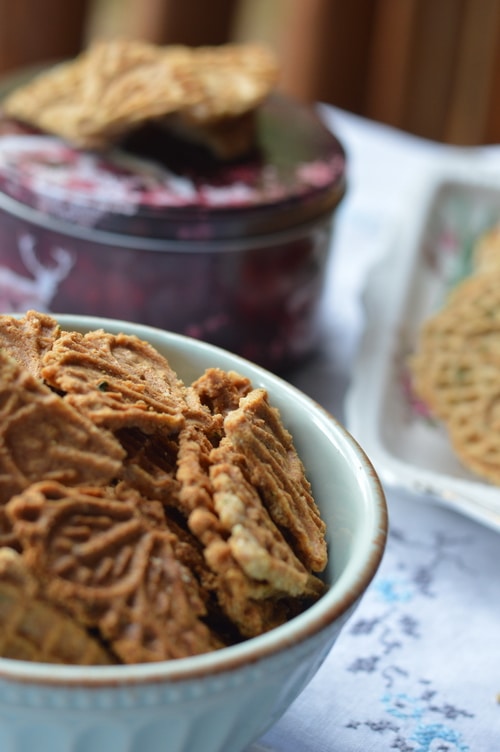 Serve them whole on a cheese plate. Use them as the base for hors d'oeuvres.
Top savory pizzelles with cream cheese and lox or gravlax.
Package them for gift giving in a Christmas Cookie Tin, with the recipe.
So don't keep that pizzelle iron in the back of the cupboard to just use in November and December. Dust it off and make savory pizzelle crackers year round. You can have them ready in less time than it takes to drive to the store for a box of crackers, and these ones are healthy.
Other pizzelles to add to your repertoire
Sweet Pizzelles
Traditional Anise seed pizzelles
Pumpkin spice pizzelles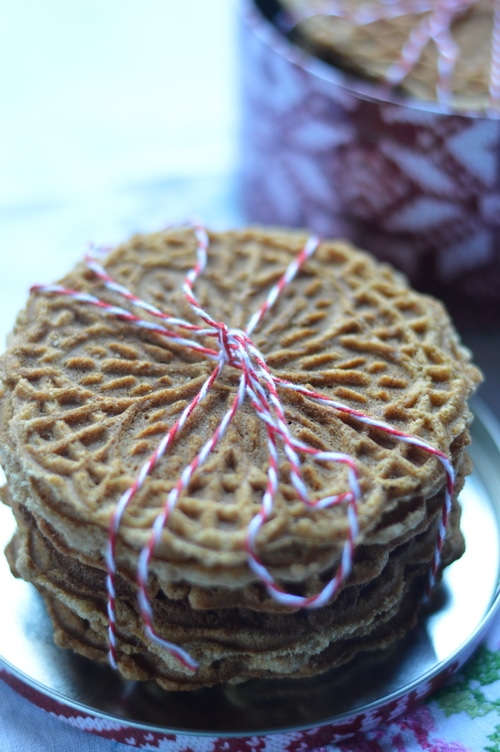 Savory Pizzelles
Spicy taco pizzelles
Parmesan and chive pizzelles
Sesame and dill pizzelles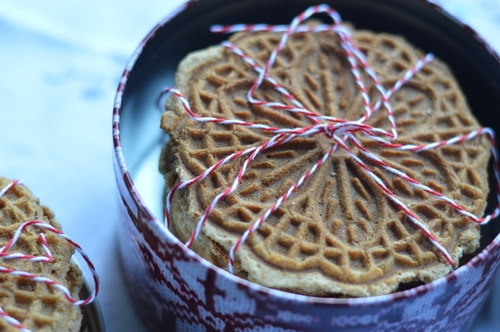 Your turn:
Do you have a pizzelle iron? What's your best recipe to make with it?
Save