Gingerbread pizzelles for digestive help
Celebrations call for after-dinner digestives. Whether you had a heavy meal of stuffed turkey, sweet potatoes, and all the fixings or roast beef or ham, or baked salmon, your stomach isn't used to eating like that. It can weigh you down and make you feel lethargic – the after turkey blues. Or you can nibble some digestive aids like these gingerbread pizzelles and skip the sluggish bloat.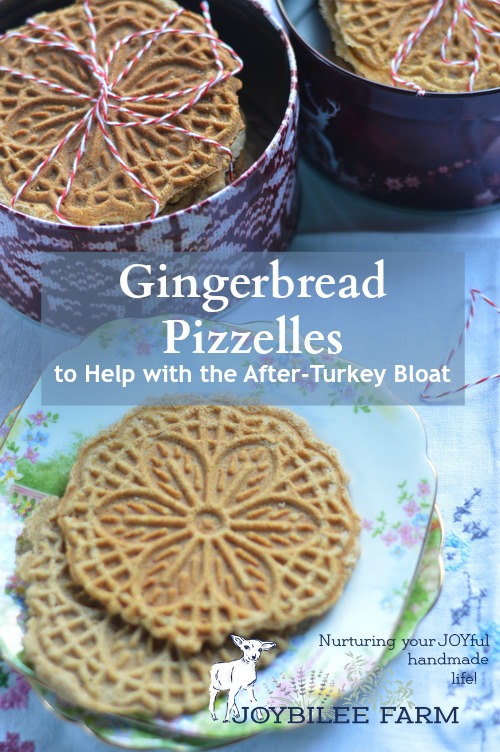 Ginger is a prime digestive. It stokes the inner fire and warms up sluggish digestion, which makes you feel better. Ginger pizzelles are good for upset stomachs and nausea, too. Or just enjoy them as a light snack at any time of day.
This post contains affiliate links.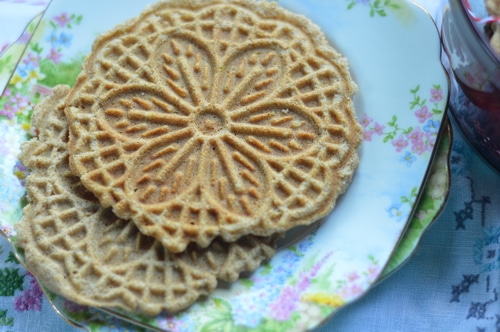 These are made with organic whole wheat flour, to avoid glyphosate (aka. Roundup™). You can substitute all-purpose flour or Bob's Red Mill Gluten-free flour. I haven't tried it with other gluten-free flours, so if you are swapping flour, don't double the batch till you understand how your flour will behave in the recipe. The dough should be stiff.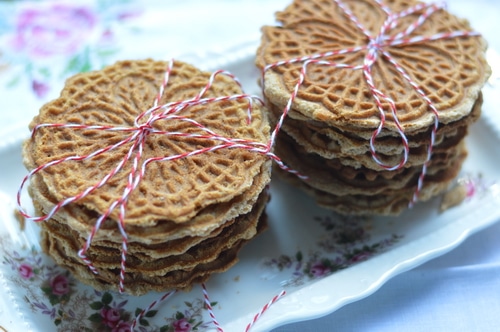 Gingerbread Pizzelles
Yield: 27 pizzelles
Ingredients:
3 eggs, room temperature
½ cup organic sugar
2 tablespoons maple syrup
½ cup butter, softened
1 tsp. vanilla (optional)
1 ¾ cup whole wheat flour (I ground my own)
1 teaspoon cinnamon
2 1/2 teaspoons ginger
½ teaspoon cardamom
2 teaspoons baking powder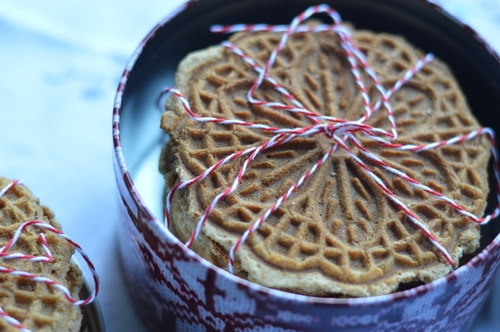 Method:
Grease the plates of the pizzelle iron generously with butter or coconut oil. Preheat the pizzelle iron according to the manufacturer's directions.
(While my pizzelle iron has a non-stick surface, if I was buying one today, I'd definitely get one with a normal metal surface, to avoid the toxins associated with non-stick cookware, like this one.)
Set up a cooling rack close to where you are baking the pizzelles. Once you start cooking them you need to work fast.
In a large mixing bowl, beat the eggs, sugar, and maple syrup together until light and fluffy. I use a wire whisk and beat it by hand. It's not a difficult batter to work with by hand.
Add butter, vanilla, and beat well with a wooden spoon or use your stand mixer.
Sift flour, cinnamon, ginger, cardamom, and baking powder together and add to egg mixture. Mix until just blended. Don't overwork the batter. The batter will be stiff. If it is too runny it won't spread properly in the iron.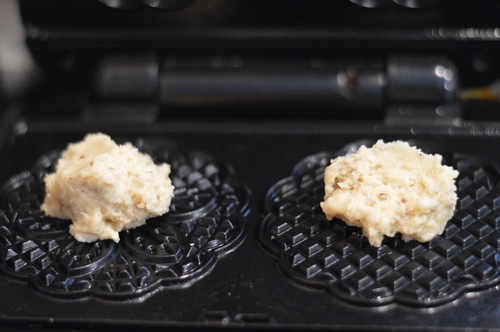 Drop the batter by teaspoonsful into the centre of each circle on the pizzelle iron. My pizzelle iron uses 1 heaping teaspoon of batter per pizzelle. Follow the directions with your own pizzelle iron.
If the teaspoon of batter is off centre, the pizzelle doesn't fill the design completely. It takes a bit of practice to place the dough in exactly the right spot on your iron to fill the design without any overflow. In my pizzelle iron that spot is centre and then just slightly to the back of the decorative plate. It's worth the extra effort to get to know your own pizzelle iron so that you know exactly where to place the batter.
Close the pizzelle iron over the batter and let it cook until the steam stops. Once the steam stops and the pizzelles are baked remove them from the iron.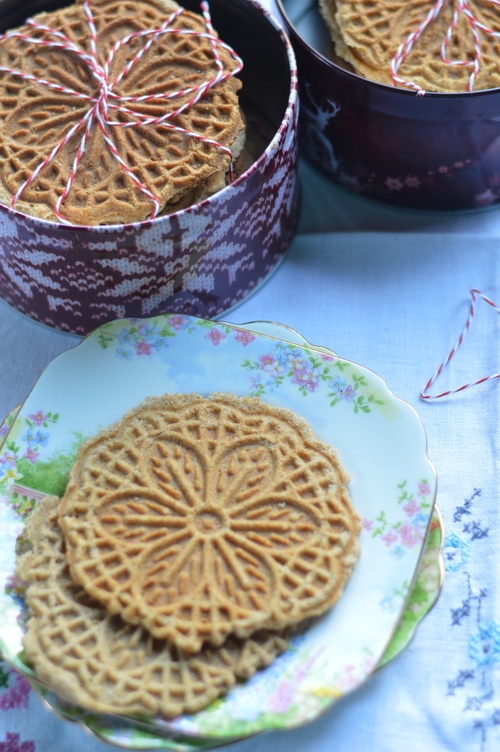 How long should you cook pizzelles?
Most pizzelle irons will evenly brown your pizzelles in 30 seconds to 2 minutes. Once the steam stops, though, the pizzelle may be pale, golden brown. If you plan to shape the pizzelle, remove them from the iron at this stage. They will be more pliable and less likely to crack when you roll them. You'll need a form to roll them into cannoli shapes or cones for butter cream or icecream filling.
If you plan to serve them as flat wafers, the darker pizzelle has a more intense caramelized flavour.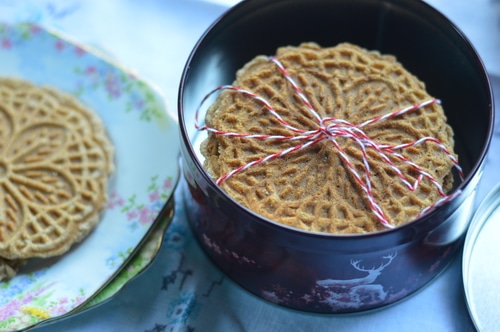 Shaping pizzelles
If you want to roll them into cones or cut them into wedges do that immediately when they come off the pizzelle iron. They are soft and pliable then. As they cool they will crisp up.
Place them on the cooling rack.
When they are cool enough to handle, I pull off the outer edges that are outside the design. This is optional. I save the crumbs for toppings for other cakes and desserts. They make the perfect crumbs to replace graham cracker crumbs in parfaits or cheese cake.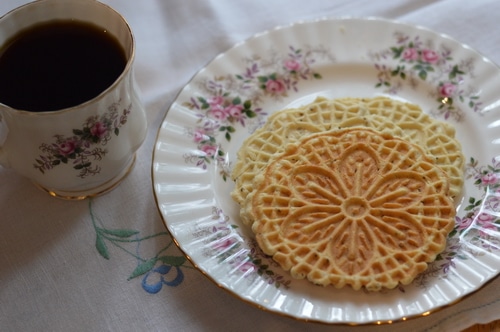 How to serve pizzelles
Serve pizzelles plain, with a dusting of icing sugar, or dip them in melted chocolate.
Pizzelles are natural digestive aids. They traditionally include anise seed, lemon peel, bitter chocolate, ginger, cinnamon, or cardamom. These are spices that fit into the bitter and/or carminative actions of herbs and spices. Bitter herbs assist the liver to function, which aids the digestion of protein and fat, while carminatives are warming and increase digestive flow.
I know someone is going to ask me for a gluten-free pizzelle recipe. Try this one from Bob's Red Mill. You're welcome.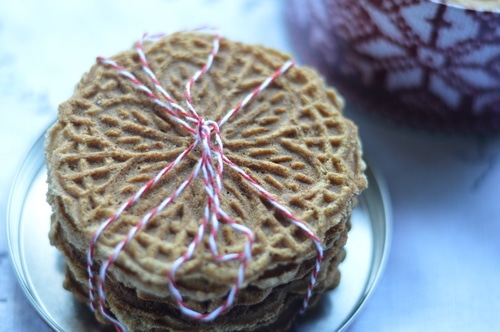 How to package pizzelles for neighbor gifts
I like to package pizzelles in stacks of 12 to 15 cookies. They are quite thin so the stack of a dozen is about the right height to fit into a small festive cookie tin. Tie them up with butcher twine in festive colours. One batch of pizzelles will give you enough cookies for two small cooky tins. Avoid the larger cookie tins. You can't fit any more pizzelles in them, without damaging the crispy cookies.
Pizzelles are brittle so they don't ship well over long distances. Save them for local gifts.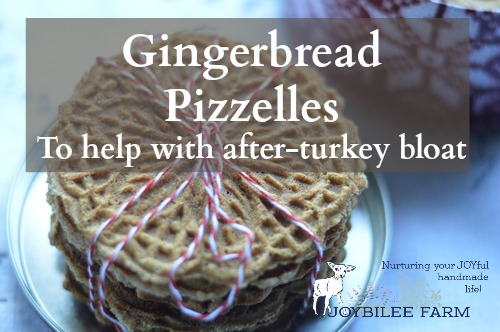 More pizzelles
While you have your pizzelle iron warmed up try these pizzelle wafers, too! Pizzelles are so versatile you can create many different flavours. They are so quick to make, too.
Try them for ice cream sandwhiches, make cannolis, cones, or biscuits. Serve them with desserts or a cheese ball. Cut them into wedges and serve them with dip.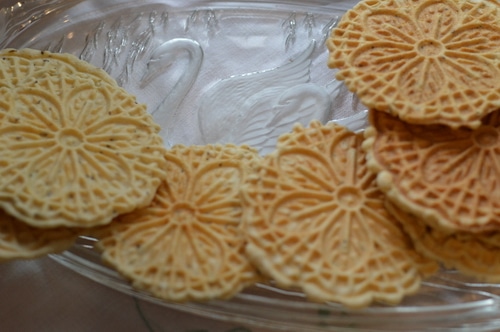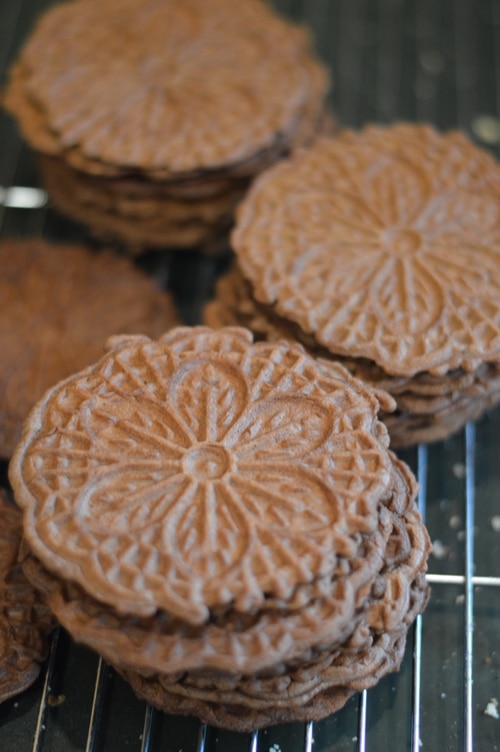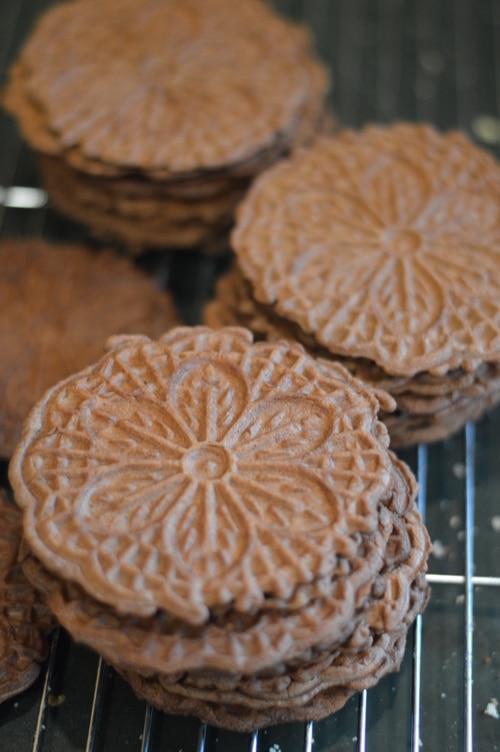 Pumpkin spice pizzelles (coming soon)
Savory parmesan/dill pizzelles (coming soon)
Savory poppyseed and onion pizzelles (coming soon)
Savory cheddar/hot pepper pizzelles (coming soon)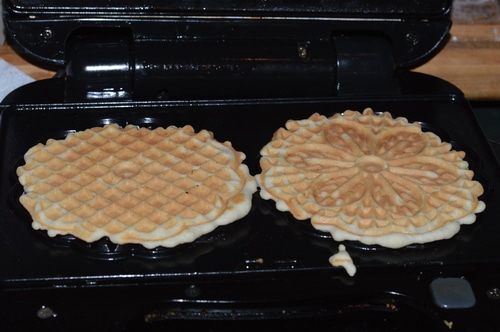 Your Turn:
What is your favorite way to serve Pizzelles? Do you have a special memory of eating or cooking pizzelles?
Save
Save
Save