Pine needle tea has significant amounts of vitamin C, vitamin A, and flavoniods that make it a citrusy flavoured tonic drink to forage in winter. 
As I type this I'm sitting with a steamy cup of pine needle tea, unsweetened, on the desk beside my computer.  The fragrance reminds me of winter holidays, walking in the woods in summer, when the needles are baking in the strong sun, and harvesting food in our forest garden under the pine needle mulch.  It's a homey fragrance, rich in grounding memories as well as health benefits.  Pine grows abundantly around me in the conifer forests of the dry southern interior of BC, where I live.  Pine is my herb of the month, as I study one herb at a time.
Pine needle tea has a citrusy flavour with a hint of resin.  The flavour depends upon the pine or confers tree you harvest the needles from.  Nibble on a few needles from several pine trees before you harvest and pick the tastiest for your tea.  Save the more resinous flavoured needles for making pine infused cleaning products.  Use the citrusy flavoured needles for tea and herbs in cooking.  Drinking pine needle tea is a way to get to know your local conifer resources and build your local herbal knowledge with hands-on experience.  The best kind of learning.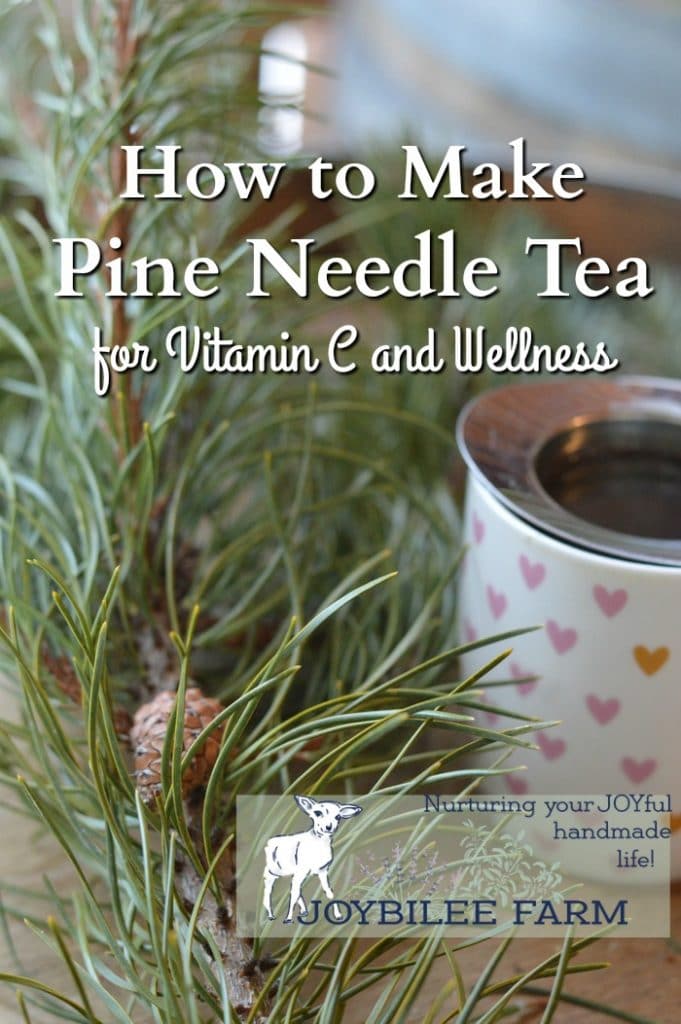 Vitamin C is a vital nutrient necessary for health.  It is a water-soluble vitamin with many benefits.  See this post on the benefits of vitamin C.  Pine needles have 4 times as much vitamin C as freshly squeezed orange juice.  However, they don't have quite as much vitamin C as rosehips.  But pine needles come with other health benefits, too.  Pine needles are also high in vitamin A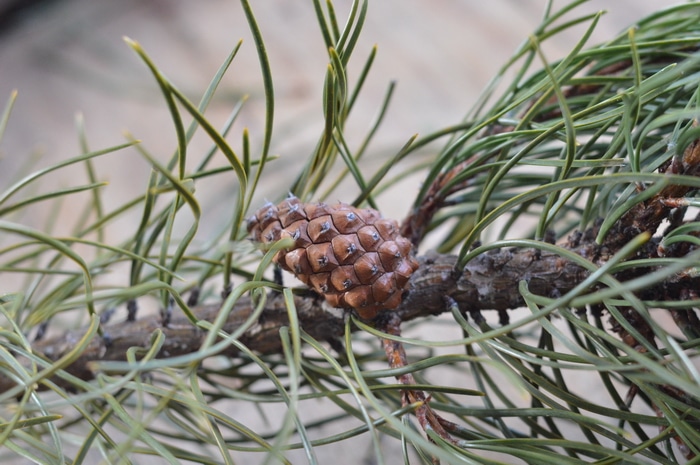 Health benefits of pine needle tea
If you are coughing, pine needles can help to make the cough more productive.  They relieve congestion.  They also support the immune system to do its job recovering from viruses and infections.  Pine is high in antioxidant flavonoids including anthocyanins
A 2011 Korean study demonstrated using pine needles in tea was the best way to access the antioxidant benefits from pine needles. Some other benefits that pine needles share with other conifer species:
Analgesic
Anti-inflammatory
Antimicrobial
Antiseptic
Antitussive
Antiviral
Aromatic
Astringent
Decongestant
Detoxifying
Disinfectant
Diuretic
Expectorant
Immuno-modulating
Improves circulation
Invigorating
Lymphatic
Relaxing
Relieves nervous exhaustion and fatigue
Relieves sore muscles
Restorative
Tonic
Pine needle tea is one way to enjoy the benefits that your local conifers have to offer.   Pine needle tea is rich in vitamin C and other antioxidants however, before you plan to drink a mug of this natural vitamin C supplement, there are a few things you should understand.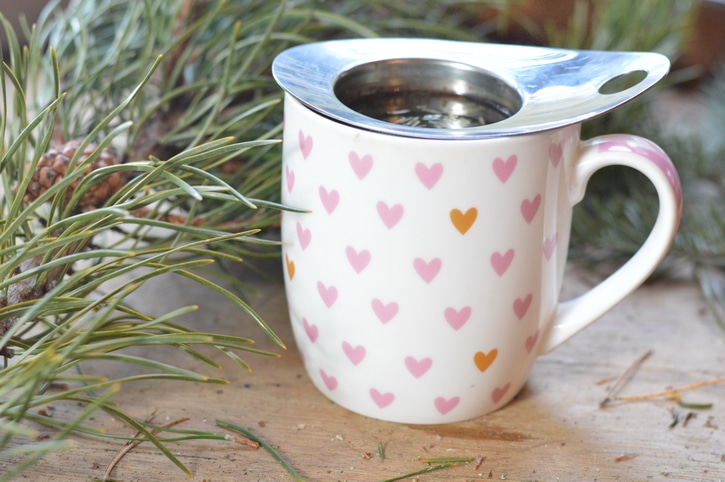 Be cautious drinking pine needle tea if:
Some species of pine have been known to cause abortion in pregnant cattle, so if you are pregnant or plan to become pregnant soon, avoid using pine needle tea.
The diuretic actions of pine needle tea can be irritating to the bladder.  If you are taking other medication check with your health professional before drinking pine needle tea regularly.
Some conifers can be toxic so make an identification of the specific species before using it in this recipe.  Avoid yew, cypress, and Norfolk pine as they are reported to be toxic.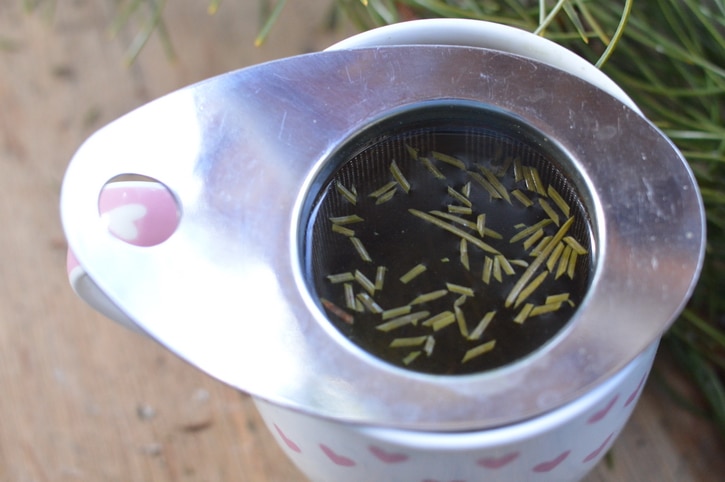 Print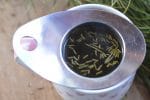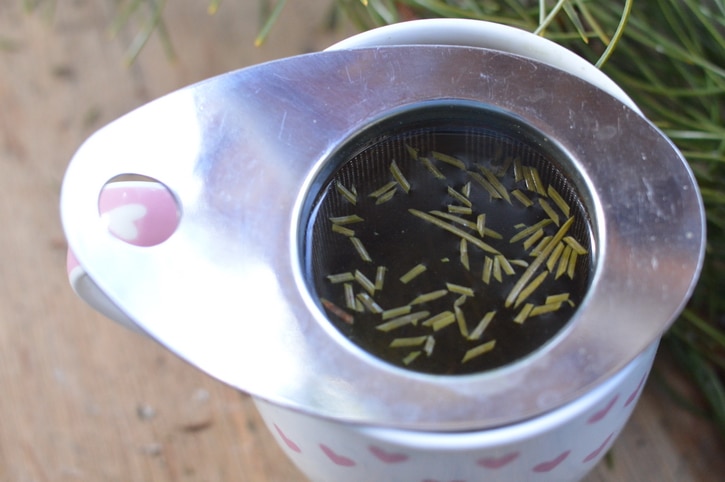 How to Make Pine Needle Tea
Author:

Prep Time:

5 minutes.

Cook Time:

10 minutes

Total Time:

15 minutes

Yield:

1 cup

1

x
---
Description
Pine needle tea is a vitamin C and antioxidant rich tissane that is tonic and restorative in winter, with 4 times the vitamin C of fresh squeezed orange juice.  It should be avoided, however by pregnant mothers and those who plan to become pregnant.
---
Scale
Ingredients
2 tablespoons

fresh pine needles

1 cup

boiled, hot water
Honey to taste
---
Instructions
Remove the fresh, unblemished pine needles from the pine branches.  Rinse the needles in cold water.
Using herb scissors or a sharp knife, cut the pine needles into smaller pieces.  Discard the brown scale that joins the needles to the brand.
Place the pine needles in a tea strainer.  Place the tea strainer in a mug.  Pour boiled water into the mug, over the pine needles.  Cover to inhibit the volatile oil from escaping in the steam.  Steep for 5 minutes.
Remove the strainer from the mug.  Add honey to sweeten the pine needle tea.
Drink while warm.
---
Notes
The needles of some species of pine can cause abortion in pregnant animals, including humans.  Avoid drinking or eating pine needles if you are pregnant.
Recipe Card powered by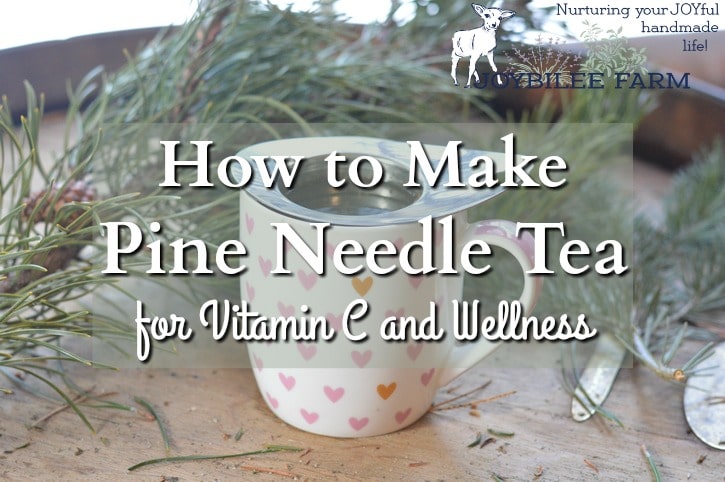 Pine Needle Tea
The plant family Pinaceae covers pine, spruce, fir, cypress, cedar, juniper,  and other conifers.  When speaking of pine needle tea, many people will assume this refers to any plant within the Pinaceae family.  So look beyond pine trees and also consider spruce, fir, and cedar as candidates for a daily cup of tea. All these have high amounts of vitamin C and vitamin A as well as other antioxidants that can help you stay healthy in a long winter.

Get a good field guide for your region though, before you head out on a foraging hike.  Some trees are potentially toxic and should be avoided.  Spruce and fir trees are safe and in my opinion, have a nicer flavour with a less resinous quality than pine or cedar.  The flavour also varies between individual trees even within the same species.  So nibble as you hike.  But avoid yew, Norfolk pine, and some cypress trees.