How to manage the pear harvest
"There are only ten minutes in the life of a pear when it is perfect to eat." – Ralph Waldo Emerson
Pears are an interesting fruit. They are harvested from the tree when they are under ripe. Pears ripen from the core out to the skin. If you wait for the outside of the fruit to be ripe and soft before picking, the inside, near the core will be mush, and most likely the stem will separate from the fruit, causing the fruit to fall to the ground. However, if you pick them too early, when the skin is still deeply green or brown, they won't ripen at all. There's a secret to harvesting pears at the peak of perfection.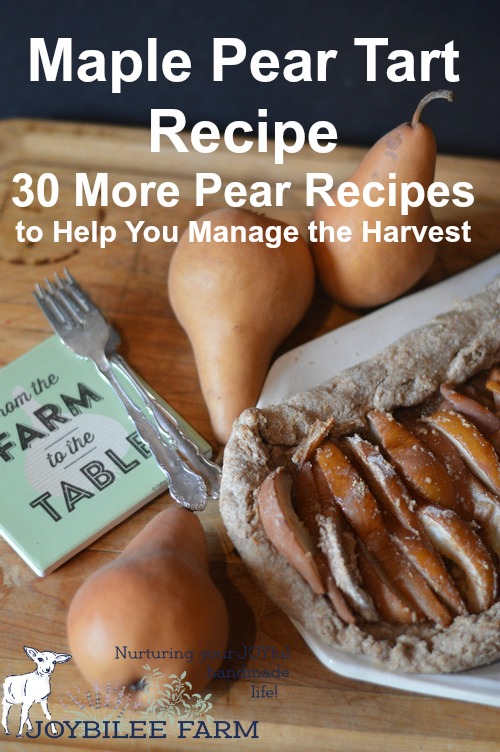 When are pears ready to pick
Pears lighten in colour when they are ready to harvest. A green pear will be lighter green and a brown pear will be lighter brown. When a pear is ready to harvest you can tilt the pear at a 45 degree angle to its natural hanging position, and the pear comes off in your hand. Prior to this perfect time, the pear will remain on the branch and not separate, when it is tilted to the side. After this time the pear will ripen from the inside out. You may not notice an over ripe pear until it is lying on the ground.
Generally once a few pears are ready on a given tree, the whole tree should be picked clean within a few days.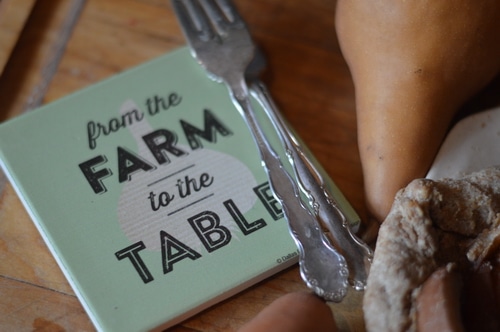 How to ripen pears off the tree
Once harvested, pears ripen within a week of picking. This time can be prolonged somewhat if the pears are kept in a cool spot or under refrigeration. It can be sped up by keeping pears in a warmer place to encourage ripening.
Winter keeping pears like Bosc and Anjou need a cold period for at least 2 weeks to ensure that they ripen properly. Keep these in a cold storage area after picking to ensure that they ripen properly. If they are kept too warm after picking they will not ripen, but they will soften and become unpalatable.
The pears seem to ripen all at once. Have you noticed that? You wait for weeks for the first delicious, sweet, juicy bite. It's firm and then it gives in, filling your throat with its tantalizing juice. And then you realize, every single pear in the basket, all 40 pounds of them, are ripe. And they won't keep. They'll just keep getting riper day by day, until they rot.
You need a strategy to deal with the abundance. Those first few days of ripeness the pears can be eaten fresh. Slice them in a bowl on the table and leave them out to tantalize your family. Relish them. Don't hold back. This is the moment of reward for all your labours. If you have a lot of pears, and you haven't already, move them to a cooler location like a cold storage room or an unheated basement. This will give you a few extra days to strategize your management of pear abundance.
The next few days those ripening pears can be put into pies, tarts, cobblers, and other desserts. (See below for an amazing group of recipes to use that pear abundance.) Yes, continue to serve them fresh. But you'll notice that when you slice into them the area around the core is a little softer, more translucent than it was just a few days ago. Keep an eye on them now so that they don't get away on you and ripen too fast.
Soon they will be at the last stage before they are too far. You'll see that the skin is looking a little mottled. It may have bruising on it that you didn't notice earlier. At this stage you'll want to process the rest of the basket or box. Juice them, make pear butter, pear jam, pear fruit leather, or pear chutney. They won't last much longer. If you miss this window you'll be feeding them to the chickens, the goats, or the compost pile.
But before you get lost in the pear abundance, try this quick to make recipe for Maple Pear Tart.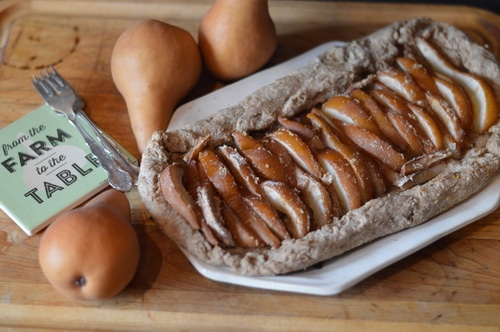 Low on added sugar and high on flavour this pear tart is tasty enough for dessert yet healthy enough for breakfast, brunch, lunch, or afternoon tea. Make it while the pears are ripe. It is a superb fall dish.
Maple Pear Tart Recipe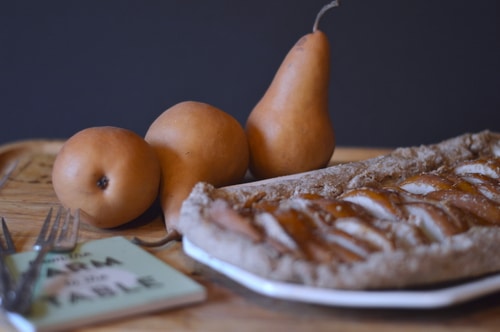 Serves 4 to 6
Ingredients:
2 fresh Bosc or D'Anjou pears
1 tbsp. maple syrup
Crust:
2 cups of whole wheat flour
½ cup cold butter
½ cup cold water
1 egg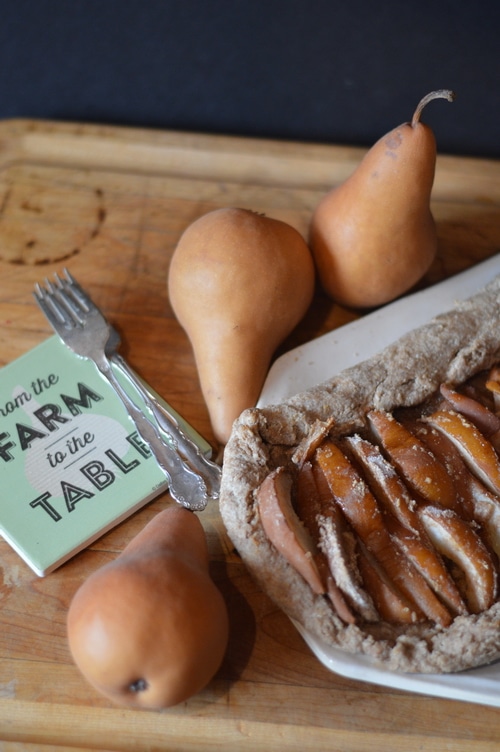 Method:
Cut pears in quarters and remove the core and stem. Do not peel. Slice thinly. Set aside.
Prepare the tart crust. In a bowl, add flour and butter. Break butter in to pea size pieces and work into flour. Mix water and egg in a glass measuring cup. Beat well with a fork to fully incorporate. Add water mixture one tablespoon at a time into the flour-butter mixture. Mixing with a fork until a soft ball forms. Cover and chill for 60 minutes.
Prepare a baking sheet by greasing with butter and flouring. Roll out the chilled dough into an 8 by 12 rectangle. Roll the dough over, folding in toward the center to create an edge.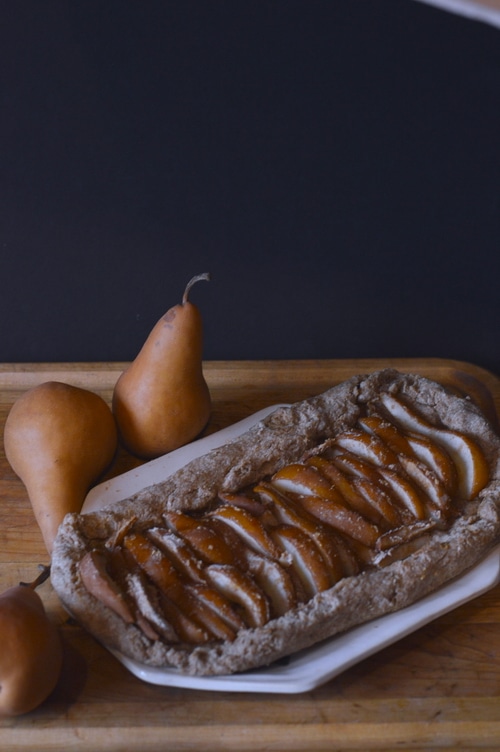 Layer the pear slices on the dough, inside the frame made by the dough edges. Lay the pears close together so that the outside edge of each piece of pear is upright in the crust. Drizzle maple syrup over the top of the pears, keeping all the syrup inside the crust.
Bake at 400°F for 30 minutes or until crust is golden brown and pears are soft and fragrant.
Serve while still warm with slices of cheddar cheese, whipped cream, or ice cream.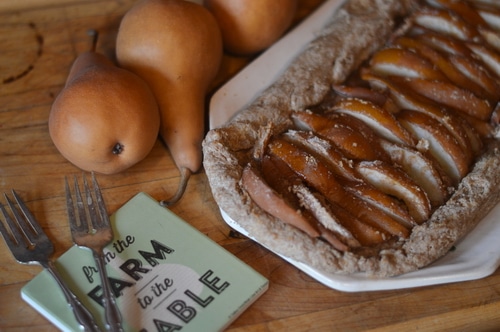 More delicious pear recipes
Pear desserts
Dark chocolate pear bundt cake
Crustless Ginger Blueberry-Pear Pie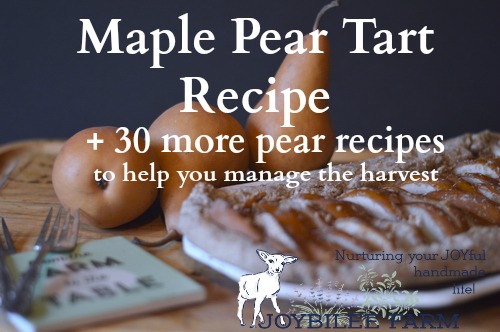 Pears as a main course
Asian pear slaw— this one calls for asian pears but winter pears would work, too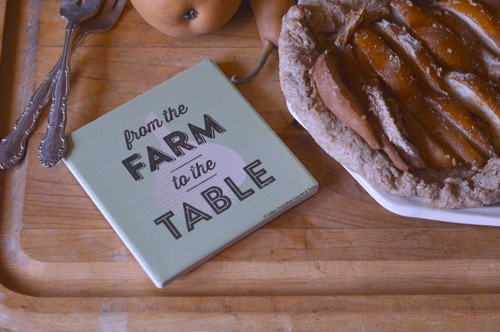 Pear preserves
Your Turn:
What is your favorite way to use those abundant pears?
Save