Mizithra Cheese recipe — Traditional Greek shepherd's cheese
The iconic Old Spaghetti Factory
The Old Spaghetti Factory in Gastown, in the heart of Vancouver, Canada is my favorite restaurant.  My mom took me to the Old Spaghetti Factory for my 13th birthday in 1972, we sat in the tram car section of the restaurant, on the antique wooden chairs at a vintage wooden table.  Today the chairs are all antique-looking, press-back chairs, but in those days, there wasn't a matching chair in the restaurant.  The Tiffany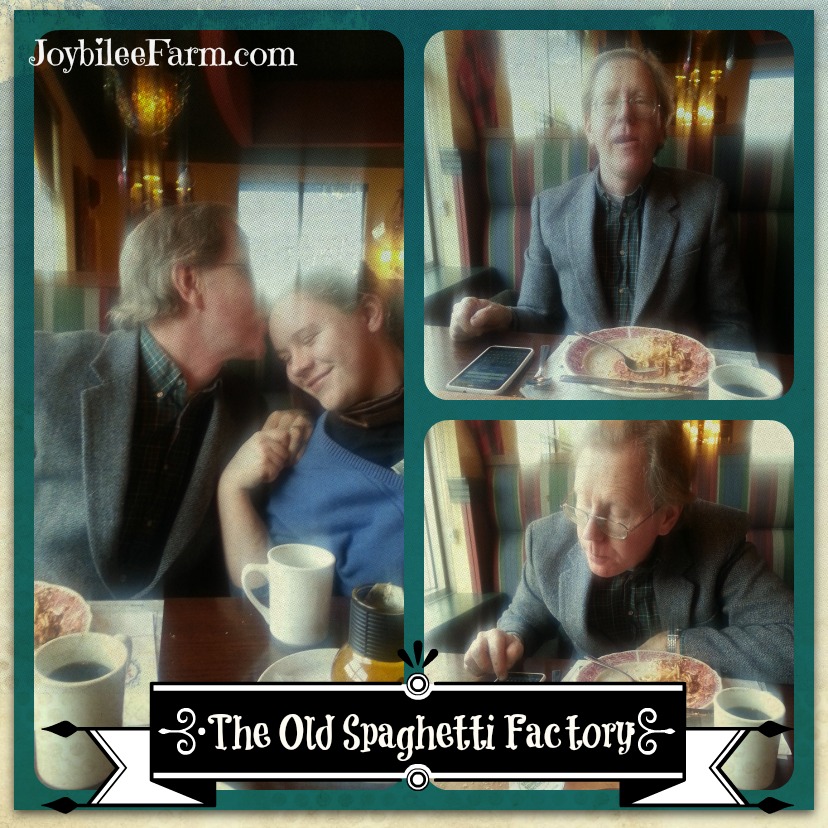 lamps cast a warm, olden-days glow that reminds you that this is a special time, in a special place, fit for special people.
I think we've visited one of the Old Spaghetti Factory franchises at least once a year, for the past 40 years. The restaurant in Gastown was the original.  It is a fun restaurant with a predominantly spaghetti menu, that includes still-warm, sourdough bread with garlic butter – as much as you can eat –, salad with house dressing, your choice of main dish, coffee or tea, and spumoni ice cream for dessert for one price – around $10 to $15 per person.  Drinks are extra.  There is a child's menu, to keep the meals within a family budget.
For my 13th birthday I can still remember what I ordered because it's what I ordered every time – Salad with house dressing, and the Manager's Special.  The Manager's special is spaghetti with two toppings – spicy meat sauce and spaghetti with browned butter and mizithra cheese is my favorite combo.  The topping is browned butter with mizithra cheese and parsley sprinkled on top.  I don't order it much anymore because I try to limit my pasta intake, but I turned my husband and my daughter on to it many years ago, and they still order it.  In fact I found out on our last visit to the Old Spaghetti Factory in Kelowna that you can order the browned butter with Mizithra cheese as a side to sprinkle on your pasta if you want to.
How to get excellent service at the Old Spaghetti Factory
So first let me tell you the secret to how to get excellent service at the Old Spaghetti Factory.  First tell them that you heard about them from Joybilee Farm. Second, if you go for dinner, there is always a long line up and you will wait for at least 15 to 30 min.  Don't let this discourage you.  It is worth the wait.  You can shorten this time if you show up with your grandchildren and they are under 3 years old.  The hostess will tell you the wait will be 30 min. but if your grandchildren are in the waiting area with you,  and you ask for 2 highchairs, you will suddenly become top priority.  The kids don't even need to fuss, for this to happen.  So don't take the babes outside the restaurant thinking you'll come back in half an hour.  At the Victoria, BC restaurant they had our table with 2 highchairs ready in less than 10 minutes.  The Spaghetti Factory is also not squeamish about nursing mothers.  (You're welcome.)
Also the locations we have been in have wifi for guests to use, so even if you are sitting in the waiting area, you can visit your Facebook page and visit with your friends so all is not lost.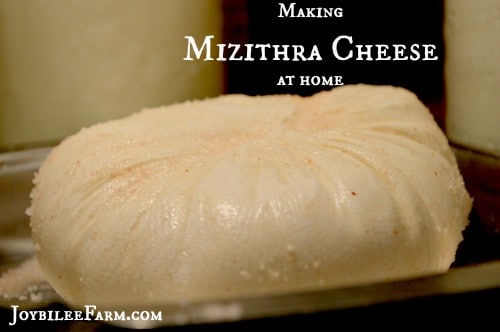 Making Mizithra cheese at home
Since many of you don't have an Old Spaghetti Factory close to your home, and by now you're salivating on your smart phone, let me tell you how to make this awesome traditional Greek cheese at home.  Mizithra Cheese is epic.  It is goat cheese and can be found at specialty cheese stores.  But you can make it at home on the homestead, too.
If you are already making cheese at home, you will be happy to know that Mizithra cheese is made from whey.  It's a great cheese to follow a day of making feta cheese but whey from other mesophilic cheeses will work, too.  It is similar to ricotta in this respect, but the method is very different.  Feel free to print out this recipe for later.
Directions for making mizithra cheese
To make mizithra cheese at home, reserve the whey from making goat feta cheese or other mesophilic cheese.  Do this while the whey is still fresh for best yield.
To make 1 lb of Mizithra Cheese – 8 to 10 servings of Pasta a la Homer
You'll need:
8 quart pot, sterilized
4 quarts of fresh whey
2 quarts of raw goat's milk or sheep milk
Juice from 1 lemon
1 tsp. salt
Large clean cotton cloth (I use new birds-eye weave diapers for my cheese making)
Colander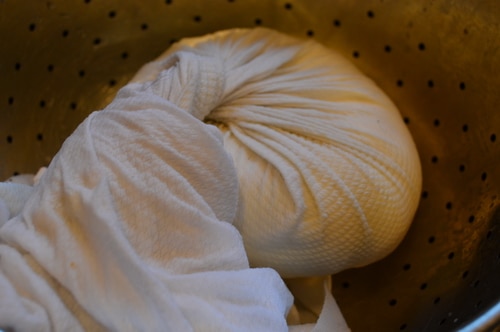 Boil water in a large pot like a pasta pot or other 8 quart pot.  Dump the water and your pot is sufficiently sterilized.
Take 4 quarts of whey and 2 quarts of raw goat's or raw sheep's milk.  Put in a large pot and bring to 90F – body temperature works if you don't have a dairy thermometer.  (But wait.  Why don't you have a dairy thermometer?)  Remove from heat.
Add the juice of 1 lemon plus 1 tsp. sea salt.  Cover and let ripen at room temp for 2 or 3 days until milk is thick and curdled.
Line a colander with your cheese cloth.  Strain milk through a cloth.
Gather up the corners of the cloth and let the milk hang for up to 48 hours to drain. If you are looking for a soft mizithra cheese, stop the hanging and unwrap the cheese after 12 hours.  You should consume soft mizithra cheese within a week.  If you want it drier, hang it for the full 48 hours.
Cheese will be firm and dry.  This dry Mizithra cheese is like what is grated over spaghetti at the Spaghetti Factory.  It will keep refrigerated for up to a month.
Yield 10% – a 1 lb. Mizithra Cheese Ball
Pasta with Mizithra cheese with browned butter
Enough to serve 4 people – make your favorite homemade pasta.  Homemade pasta cooks in about 5 minutes and that's all the time it takes to make this amazing pasta topping.
Here's enough for just 4 people.
Homemade Pasta
1 cup of bread machine flour
2 whole eggs
¼ tsp. salt
1 tsp. olive oil
Mix together. Knead until mixture makes a smooth ball.  Divide into 4 portions.  Process through your pasta machine as per the directions on the machine.  Cut using the pasta cutters of your choice.  I prefer angel hair pasta with this recipe.  Toss the pasta in flour as you take it from the machine.  This will keep it from sticking while you cut the rest of the pasta.
Get a pot of water boiling rapidly.  Add the pasta.  Stir gently.  Leave it to boil for 5 min.  Fresh pasta is done to al dente when it rises to the surface of the boiling water and floats on top.  Test a piece in your teeth to check for doneness.  Perfect pasta is not mushy or starchy.  It should slightly resist your bite, but not be starchy.
Pour the finished pasta into a colander and rinse briefly with hot water.  Set aside.
To make Spaghetti with Browned Butter and Mizithra Cheese like the Old Spaghetti Factory does (serves 4)
While the pasta is cooking, melt ¼ cup of butter in a saucepan.  Add ¼ cup of chopped fresh parsley, and 1 tbsp. chopped fresh chives (optional). Stir slowly over medium heat until herbs are wilted.  The butter will begin to brown.  Once the butter begins to brown remove it from heat.  It doesn't take long.  Spoon it all over 1 lb of cooked pasta. (note if you are making the Manager's Special just use half your pasta at this point but keep the other measures the same.) Grate 4 oz. of mizithra cheese on the fine side of your box grater.  Sprinkle over hot pasta and toss together with the butter.  It's ready to serve.
If you want to make the manager special a la the Old Spaghetti Factory, you'll also need a pot of marinara sauce, with browned ground beef and a ¼ tsp. of cayenne pepper (to taste).  Marinara sauce is just tomato sauce like what you canned last summer.  I make my canned tomato sauce pretty spicy with jalapeno peppers and coloured sweet peppers, so I omit the cayenne pepper and just add the ground meat – usually lamb or goat in my house.  How spicy you make it is up to you.
If you are making the manager's special you'll put the reserved, plain spaghetti – one mound on each of 4 plates.  Then you'll also put a mound of your prepared Spaghetti with browned butter and Mizithra Cheese on each plate.
Serve the Spicy Meat sauce on the plain mound of spaghetti.  Grate fresh Parmesan cheese over the top if you wish.  It's ready to serve.  Remember the warm sourdough bread, tossed salad with Italian dressing, and spumoni ice cream in silver dishes, for a perfect meal.
If you're heading down to the Old Spaghetti Factory in Gastown, after reading this, tell them Joybilee Farm sent you.  I might even see your there.  After writing this I'm hungry!