Adding a frog shelter to your garden is one of the simplest way to attract insect eating frogs and toads to your garden area, where they will gorge on mosquitoes, biting flies, and plant predators.  You probably already have the materials on hand.  Broken pottery, mugs, clay butter dishes or serving bowls and even clay plant pots can furnish the materials for a frog house for your garden.  If you have a choice unglazed pottery will absorb moisture from the soil and offer a cool spot to rest in your garden, but glazed pottery will work, too.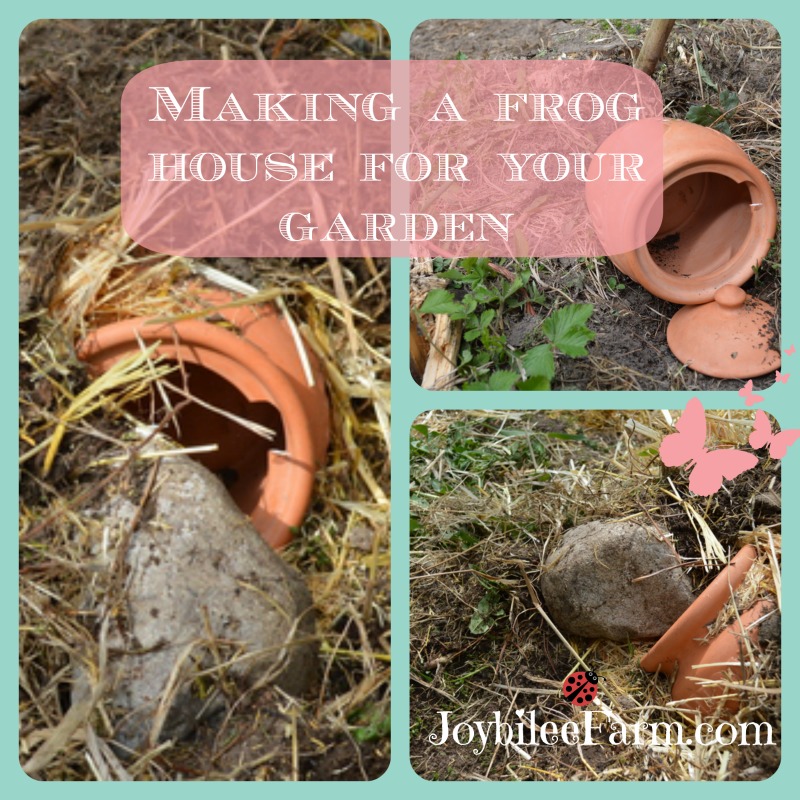 Materials to use for your frog house:
I found a unglazed onion keeper that had a small chip in the rim.  It's been sitting empty on my kitchen counter (I know!  I should have done this years ago.)  It hasn't had onions in it for a long time.  But since it had a chip, it didn't make it to the thrift store box.  But it was too good to toss.  I bet you have some pottery in your house, that is damaged but too good to toss, too.  Here's the ideal project.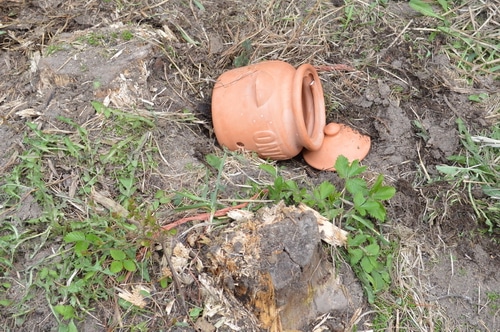 How to make a frog house for your garden:
Take your pot to the garden.  Find a spot where it won't get sloshed with water in a heavy rain.  At the top of an incline rather than in a low area.  A natural hollow is perfect.  I found a spot with a stump that hasn't rotted out yet.
Lay your pot on it's side and dig it down 1/3rd of the way.  Or if you have a natural hollow like I do, build it up around the pot so that the bottom third is covered.  I tipped up the opening of the pot by propping it up with it's own lid.  You can use a rock to tip up the opening of the pot, if it doesn't have a lid.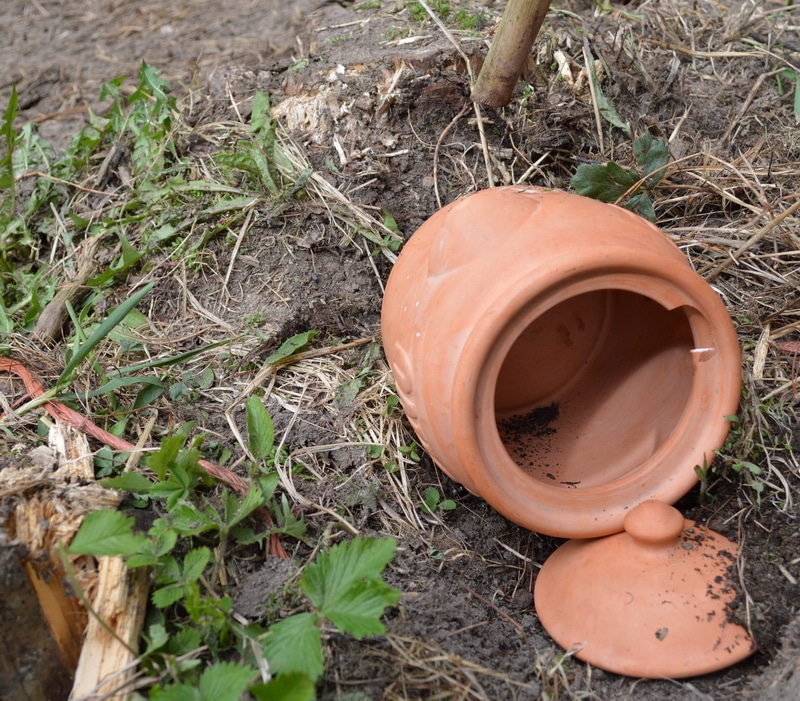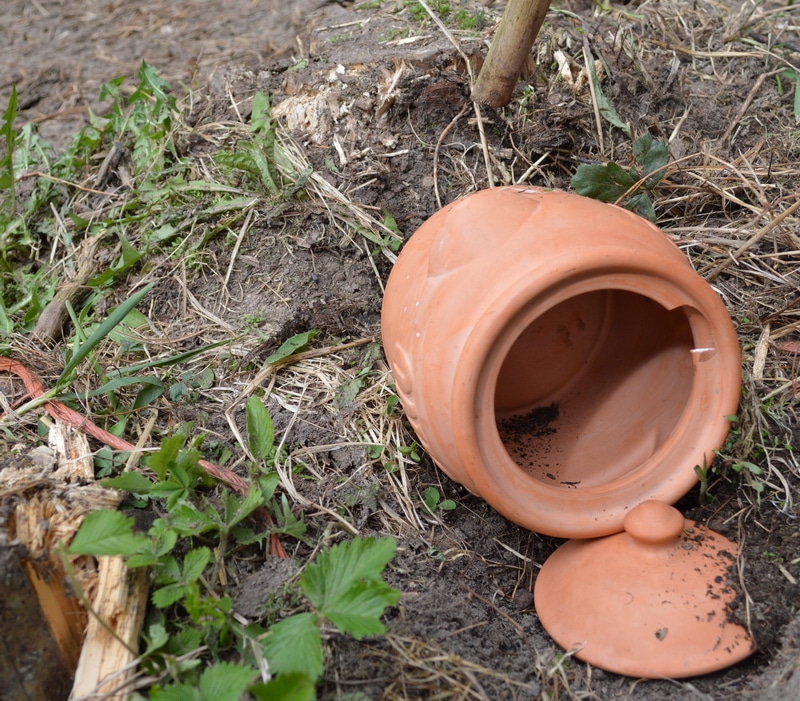 Cover the top and sides of the pot with dirt, moss, straw or anything handy to keep the vessel cool and prevent the sun from beating down on it, if it's in an exposed spot.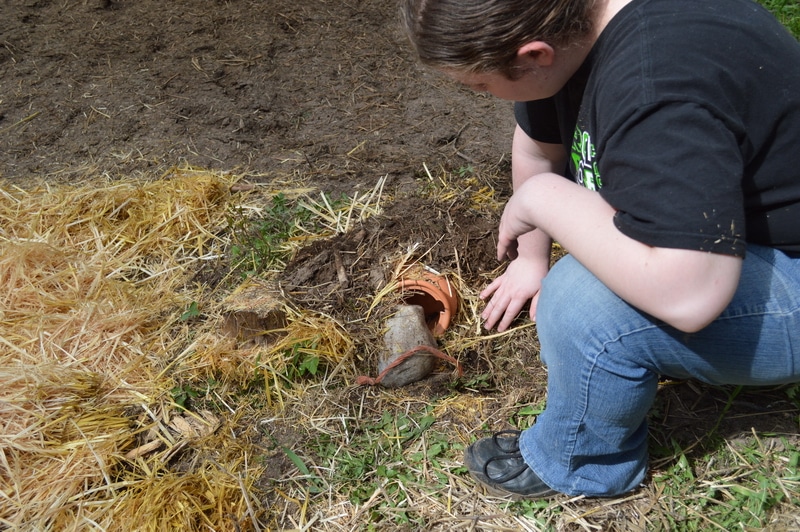 Partially cover the opening with a heavy rock, but leave enough space so that the frog can slip in.  This protects the frogs that find shelter in your frog house from cats, and predators.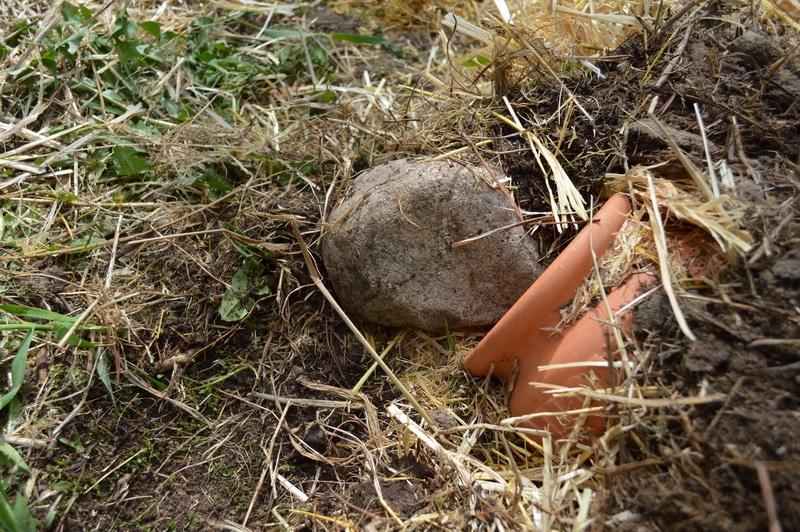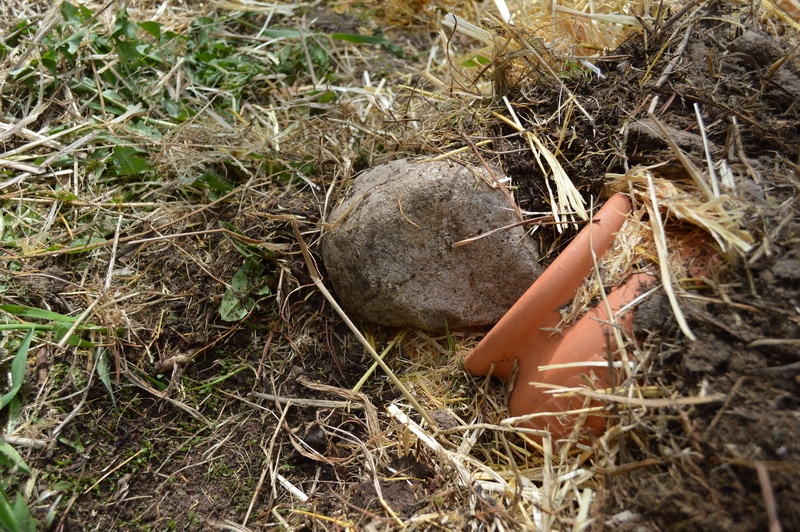 Your frog house will be moistened with dew and when you sprinkle the garden.  If you used an unglazed pot or vessel, your frog house will absorb moisture in the night and evaporate it during the day, keeping your frog house cool even when the sun is beating down.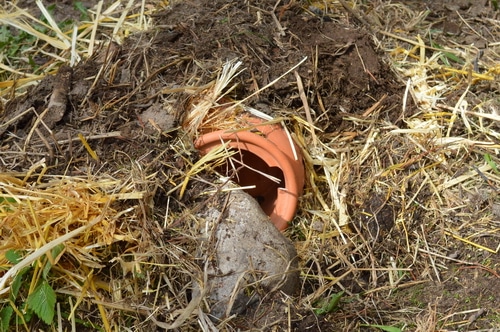 Benefits of inviting frogs and toads to your garden:
Now enjoy the benefits of inviting frogs and amphibians to your garden.
Less insect damage to your garden crops.
Songs in the night.
Fewer mosquitoes to bite you while your weeding.
The good feeling that you are helping another species survive the summer.
I'd love to see your pictures of your frog house creation.  You can post it on my Facebook page.