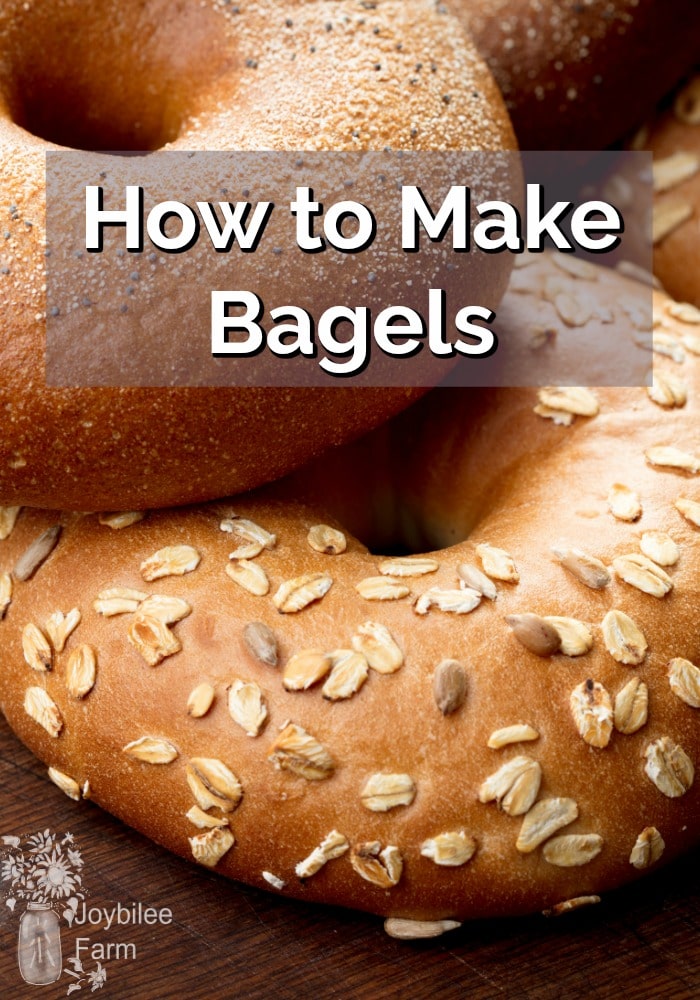 This lesson builds on the last lesson where we made a large batch of bread that could be kept in the fridge and a portion broken off for immediately use.  "Artisan Bread in a few minutes a day".  The multigrain dough from this recipe is great for bagels.
"Bagel" is a Yiddish word.  And Bagels are originally from Jewish cuisine in Eastern Europe.  Bagels are formed with a hole in the middle because they are a heavier dough and the hole makes sure that they are cooked through the centre.
So here are the steps to making bagels:
Take out your dough.  For 6 bagels you'll need 1 lb of the dough.  You can use any bread dough for this recipe, not just the multigrain.  What makes the bagels aren't the ingredients in the recipe but rather the method of handling the dough and baking it.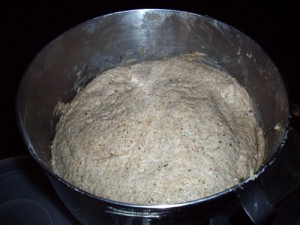 Break off a 1 lb piece of dough and knead it briefly with a bit of extra flour to make it easier to handle.  Let it rest at room temperature for 30 minutes.
Divide the dough into 6 equal portions and roll each portion into a smooth ball, in your hands.  Once you've made a smooth ball, hold the ball between your two hands and insert both thumbs into the centre of the ball to make a hole.  Work your thumbs around the hole and stretch it so that when the bagel rises, the hole will stay open.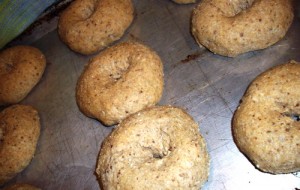 Lay the bagel on a greased baking sheet and cover with parchment paper or plastic wrap or a towel.  Let them rise in a warm spot until the bagels are double in size — about an hour if your room is warm, longer if it is cold and drafty.
Once the bagels are risen, fill a pot half full of water, add 1 tsp of celtic salt, and bring the water to a rapid boil.  Drop the bagels 3 to 5 at time into the boiling water.  Allow to boil for one minute, turn the bagels to the other side and boil one minute more.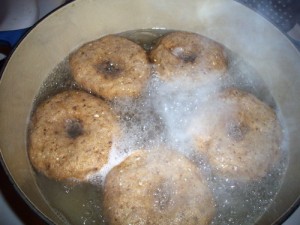 Drain the boiled bagels for a few minutes on 4 to 5 paper towels to absorb excess water.  Place the drained bagels back on the grease baking sheet.  If you'd like a seed topping on your bagels, at this point, brush an egg wash on the top of the bagel and sprinkle poppy seed or sesame seed on top.  (Egg wash: Beat an egg.  If it seems too viscous, you can add a 1/2 tsp of water to make it easier to spread. Use a pastry brush to brush the tops of the bagels.)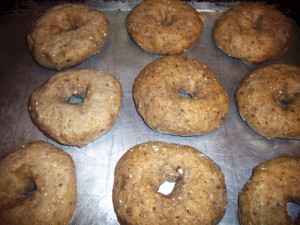 Preheat oven to 375F.  Bake bagels for 10 min.  Turn heat down to 350F and bake for an additional 15 minutes, until bagels sound hollow on the bottom, when tapped with your knuckle.
Remove from oven.  Allow to cool on a rack until just warm.  Serve.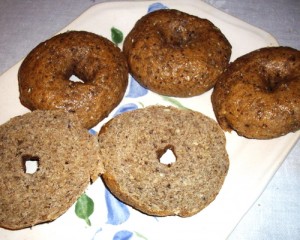 These are traditionally served for a dairy meal accompanied with cream cheese and lox (salted smoked salmon).  It's yum!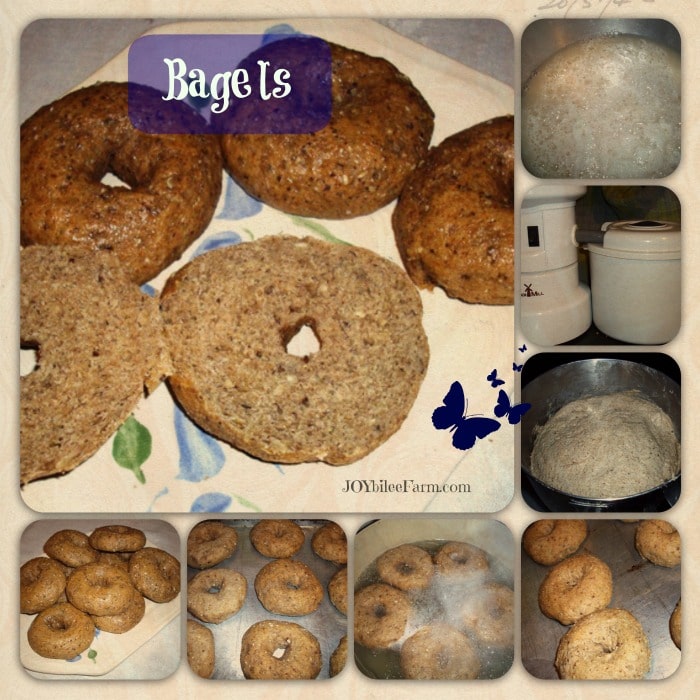 Here's a different bagel recipe for you to try: Whole Wheat Bagels.