7 Tips for using hardy greens in your salad bowl and My Kale Salad Recipe
Hardy greens like kale, collards, and chard, grow well in the shortened days of fall. They are unharmed by light frost. Kale and collards even get sweeter with frost. But they are a little strong tasting and, well, chewy, for raw eating.
Here's my special techniques for making hardy greens so delicious, they make romaine seem watery.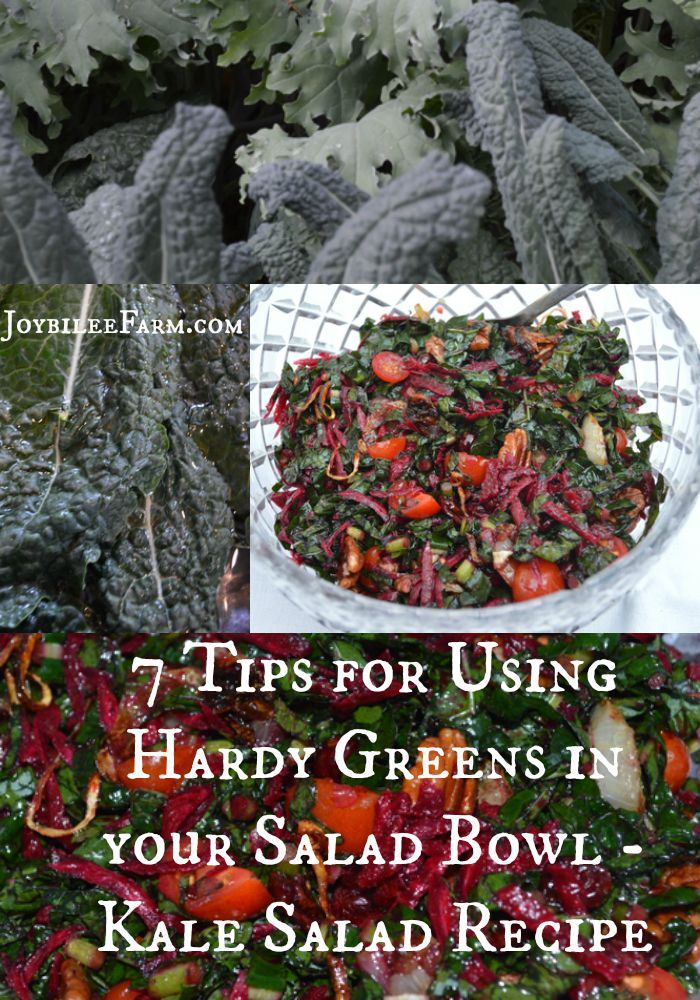 1 — Apply the salad dressing in stages
Add the acidic part of the dressing first, before you add the oil. This allows the leaves and other hardy vegetables to absorb the flavor before being coated with oil. It also releases some of the minerals from the leaves, making them more bioavailable to your body.
I love those infused balsamic vinegars and infused virgin olive oils that you can buy at the specialty olive oil stores. (like Olivia's in Kelowna.) I especially love citrus flavors with Kale, like Grapefruit white balsamic vinegar and Blood Orange Olive Oil.
Hint: Use a white balsamic in this recipe or freshly squeezed lemon juice for the acidic portion of the dressing.  Red balsamic will make the salad colors look muddy and less appetizing.
2 — Massage the leaves
Once you've applied the vinegar or lemon juice, take a minute and massage the leaves of your hardy vegetables. You'll see the leaf color darken and become more translucent. It only takes a minute and the wilting makes the leaves a little less chewy and remarkably more delicious.
3 — Add fermented vegetables for crunch and flavor
Go ahead and add some fermented carrots, pickles, or kimchi for extra probiotics, crunch, and flavour. They really bring a special salty-sweetness to a fall or winter salad. And they make the digestion of hardy vegetables easier on your stomach.
4 — Add something sweet
Dried cranberries, dried blueberries, or even grated apples or pears add a sweet touch to your salad that takes it from bland to gourmet. Even the picky eaters will enjoy their vegetables with a little bit of healthy sweetness.
5 — Add something crunchy
I like to add lightly toasted nuts, sunflower seeds, or pumpkin seeds to salads. The extra crunch, flavor, and nutrition really brings out the best in a kale salad recipe.
6 — Combine cooked and raw vegetables for interest, flavour, and texture
Grated raw beets, carrots, or other root vegetables combine well with caramelized onions and the robust taste of kale, collards, or Swiss chard.  Don't be afraid to mix raw vegetables and cooked vegetables in the same salad.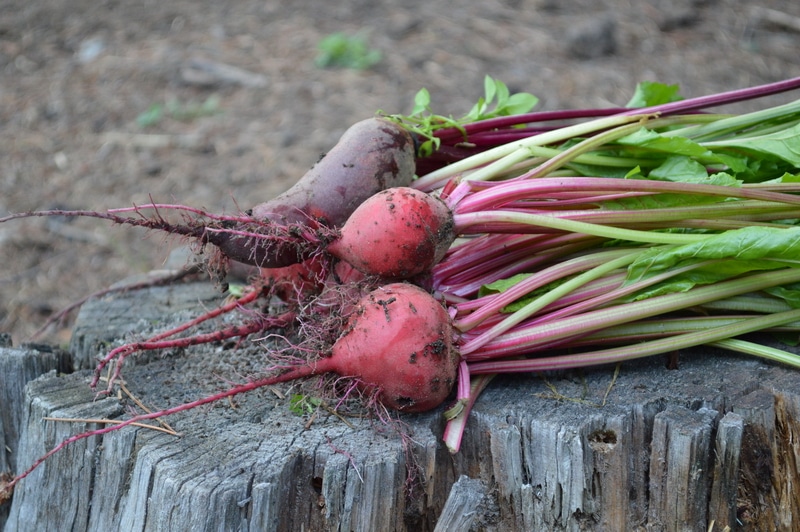 7 — Add cooked grains and make it a meal
Leftover rice, quinoa, or bulgur wheat adds a chewy texture to kale salads. And give the salad a little more staying power to get you through till dinner. A little sprinkle of grain can make a salad into a meal.
My kale salad recipe sparkles with reds and greens. I would be proud to take this to a potluck or a family dinner. It makes use of the fresh harvest from my garden right now – cherry tomatoes from the greenhouse, kale in abundance, and big, beautiful, robust, beets. You can combine Kale with anything you have available in the garden right now. If you apply my tips, your Kale Salad Recipe will be amazing.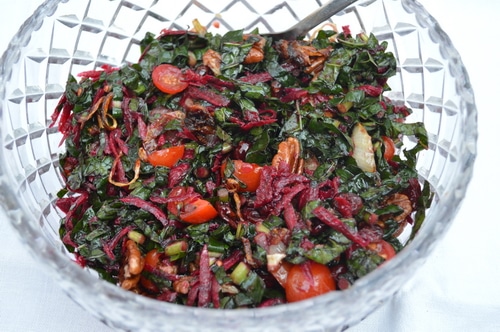 Kale autumn salad
(Serves 4)
Ingredients:
3 cups of Kale, sliced very thinly
½ c. raw, grated beet (about ½ a medium beet)
½ cup pecans, lightly toasted
2 tbsp. dried cranberries
½ cup of sliced cherry tomatoes (optional)
1 cup of onions, thinly sliced, caramelized until dry (about 1 onion)
2 tbsp. white balsamic vinegar
1 tsp. + 2 tsp. coconut oil, for frying
2 tbsp. virgin olive oil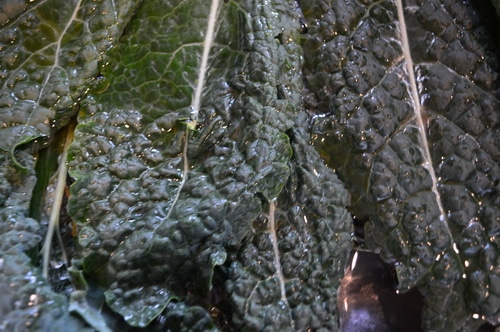 Method:
Wash and slice Kale leaves very thinly. I used Dinosaur Kale in my salad. If you are using a Kale with a large midrib, such as Red Russian, or Winterbor, slice the midrib out of the leaf before cutting the Kale thinly.
Peel and grate the beet. Place the prepared Kale and grated beet into a bowl. Sprinkle with white balsamic vinegar. I used Olivia's Grapefruit White Balsamic. Using your fingers, massage the kale and beets until the kale leaves wilt and take on a translucent appearance.   Add the cranberries to the kale and beets and allow them to absorb some of the vinegar flavor. Set aside.
Slice the cherry tomatoes in half. Set aside.
Lightly toast the pecans in 1 tsp. of coconut oil. Remove from heat and set aside.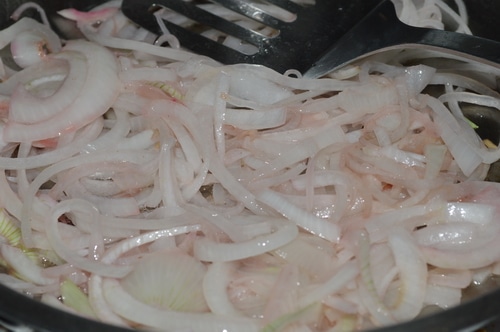 Slice a sweet onion, like Walla Walla, very thinly. Fry the onion on medium heat with 2 tsp. of coconut oil. Stir occasionally until the onion caramelizes. Caramelize the onions until they are dry, but not burnt. See this video for directions on how to caramelize onions.
To the kale-beet mixture, add the cherry tomatoes and pecans. Add the virgin olive oil and mix well.
Add caramelized onions. Put the salad in a fresh bowl to serve.
Serves 4.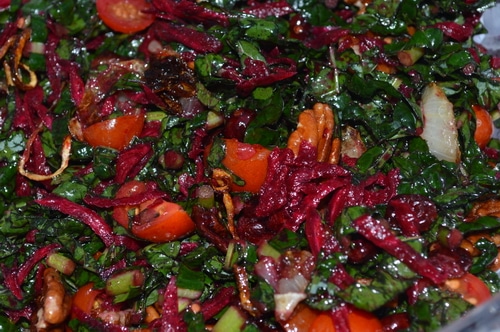 Don't be afraid to make substitutions to this recipe to use your own fresh garden harvest. Apply the tips for using fresh hardy greens and you'll have a wonderful salad with just what you have on hand. Plus eating some of your vegetables raw every day, improves your digestion by adding important enzymes to your stomach that keep you healthy.  What is your favorite Kale Salad Recipe?
Other recipes for using up your hardy greens:
Asian Greens Electric Salad Mix from Mother of a Hubbard
Kale Salad recipe from Attainable Sustainable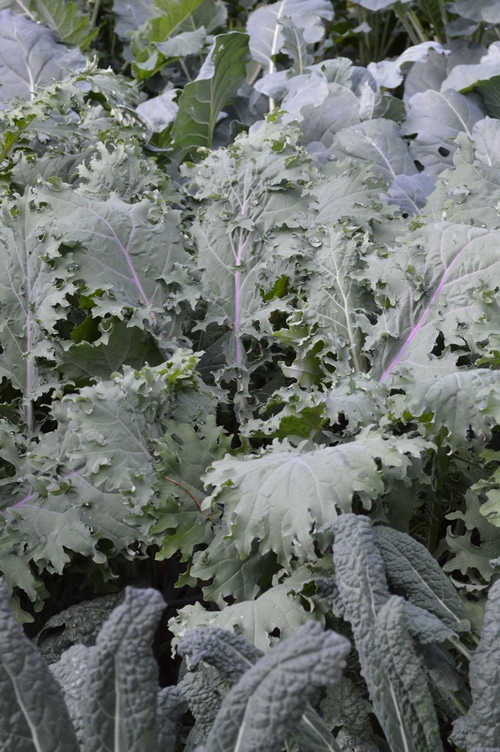 I wanted to tell you
…about a Craftsy (#ad) course that I'm taking right now, "The Extended Harvest, vegetables for every season" taught by Bill Thorness.  Bill teaches you (and me) how to pick the right area of your yard for a winter garden, and both ancient and modern techniques to get a longer growing season.  He also tells you which varieties of lettuce, kale, and other hardy vegetables are best to grow in the off-season in your winter garden.  I'm finding the course very informative.  What Jefferson said is true.  "There are no old gardeners."  Even after 30 years of learning from my garden, I still have a lot to learn.
Another Craftsy (#ad) course that can help you get better yields from your salad gardening efforts is "Grow Better Greens: From Seed to Salad" with Stephani Bittner.  In the final lesson of this course Stephani gives you even more tips for using hardy greens in fall and winter salads. And there's several gardening secrets for growing greens that I didn't know.  (And as I mentioned before, I'm a Craftsy (#ad) affiliate)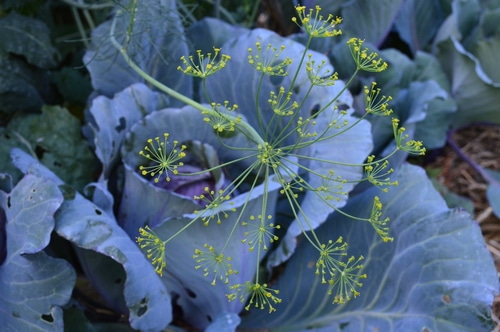 The Organic Harvest Project
September is organic harvest month. I teamed up with a group of like-minded bloggers to bring you healthy recipes, to encourage you in your gardening and harvest activities. There will be two giveaways this month, too, so be sure and visit again so that you don't miss out.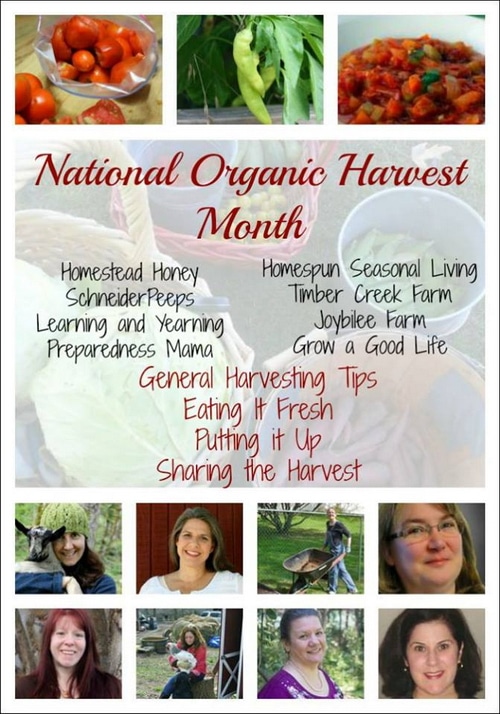 September is National Organic Harvest Month and to help you make the most of your harvests, I've teamed up with these other amazing bloggers. Please be sure to check out their tips and more: Rachel from Grow a Good Life – Kathie from Homespun Seasonal Living – Teri from Homestead Honey – Chris from Joybilee Farm – Susan from Learning and Yearning – Shelle from Preparedness Mama – Angi from SchneiderPeeps – Janet from Timber Creek Farm