Learn how to grow sprouts and add fresh greens to you diet all year round. Sprouting is an inexpensive way to grow your own fresh greens through the winter months, in any size space. It is a flexible, fun, and tasty hobby to help your health and self reliance.
I've been sprouting for almost 40 years as a regular part of our indoor food growing, especially in winter.  We sprinkle sprouts on bagels, egg dishes, salads, sandwiches and even in soup and rice dishes.  Sprouts are an easy way to get those 9 servings of vegetables in, especially when the garden is covered in snow.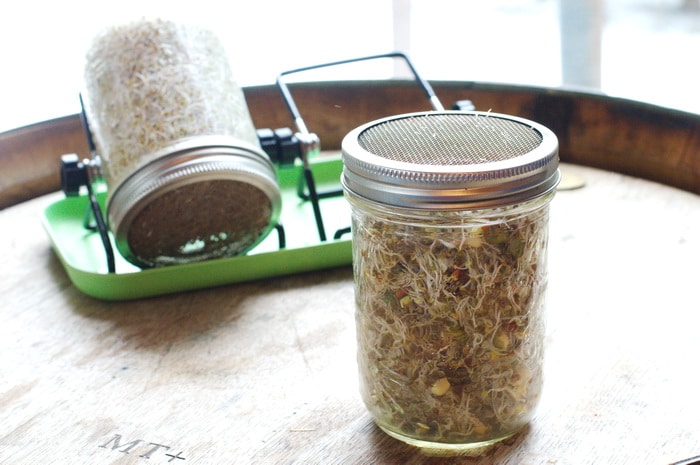 Sprouting is almost fool-proof.  Seeds want to grow.  If you give them moisture and the correct temperatures for germination, they will grow.
I've used various methods for sprouting from dedicated sprouting trays, Mason jars with window screen over the jar opening, muslin bags, and more.  My favorite sprouting set up right now is a stainless steel screen with stainless steel jar ring, that fits a wide mouth mason jar.  I have a stand that holds the jar upside down at a 45 degree angle for optimal drainage.  Using this set up I get fresh sprouts every 4 to 5 days, keeping us in a wide variety of sprouts to support our winter menus.
If you are new to sprouting or its been a while since you used your sprouting equipment, use this tutorial to get up to speed quickly.
Sprouting is easy
It packs a nutritional punch that has kept armies on their feet.  The Russian army beat Napoleon because of the wheat sprouts in their woolly pockets.  Full of vitamin C, enzymes, minerals, and vitamins, with increased protein, sprouts will help you add variety and nutrition to your diet. Sprouting increases the anti-oxidant value of seeds, while removing the antinutrients. Learning how to grow sprouts is simple, easy, and fun.

You can grow sprouts with inexpensive equipment
You can do it year round, in your kitchen, even without a window.
When you grow your own you get a pure, uncontaminated food
Sprouts are high in vitamin C and were used in the past to prevent scurvy on long naval voyages.
Have I convinced you to learn how to grow sprouts?
Let's get started.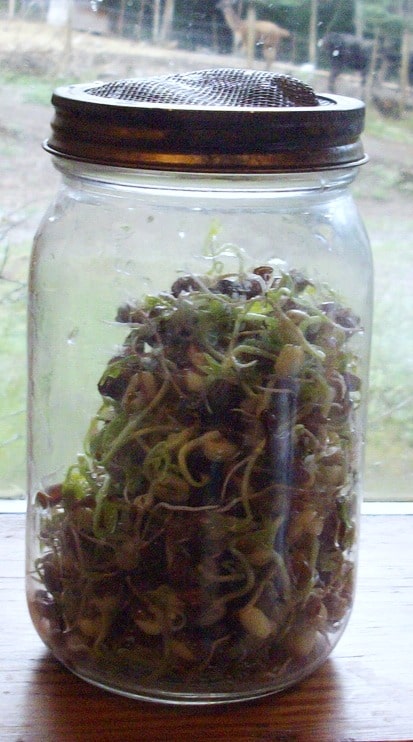 To grow sprouts you need:
A wide mouth glass jar with a screw ring lid, or better yet 3 or 4.
A stainless steel screen lid with canning jar ring (or another way to cover the top but let water in and out)
Seeds to sprout
Potable water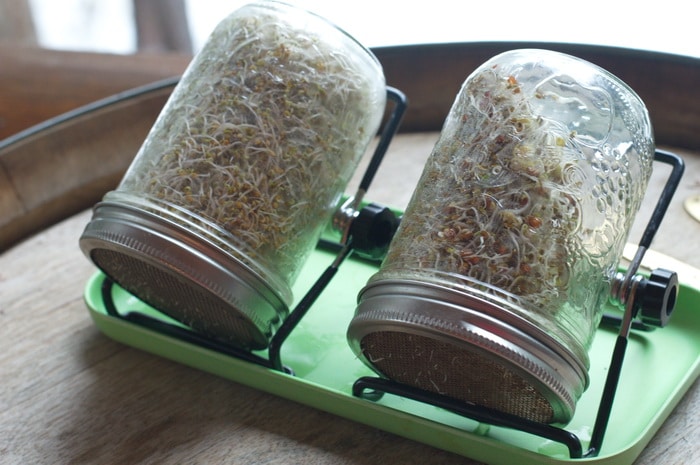 Step 1: Put 2 tablespoons of seeds for sprouting into a jar.  Cover seeds up to 1 inch over the top of the seeds with water.  Place screen inside ring.  Screw the ring on the jar.
Step 3: Allow seeds to soak for 4 to 8 hours.  Drain.  Leavings most seeds over night is fine.  Broccoli seeds should only be soaked for 4 hour.  Don't leave them longer than this as they will become starved for oxygen.
Step 4: Rinse the seeds in fresh water.  Turn jar onto drain board to fully drain.  Repeat this step twice daily about 12 hours apart. If you forget, the seeds can dry out and not sprout properly. When learning how to grow sprouts, it may be a good plan to write a reminder.
Step 5: Some seeds will be ready in 4 to 5 days.  Some take a little longer.  Once your sprouts are ready to eat, dump the contents of the jar in a colander.  Rinse well, and stir it to get rid of the spent seeds. The spent seeds will be flushed away through the wide holes in the colander.  While the sprouts will be retained.
This step will ensure that your sprouts last at least a week in the fridge.  The spent seeds will speed the deterioration of your finished sprouts so remove as many as possible.  Drain in the colander for at least an hour.
Step 6: To store your sprouts, place a folded paper towel in the bottom of a glass container.  Add your sprouts.  Top with a second folded piece of paper towel.  This will absorb excess moisture while preventing your sprouts from drying out.  Cover with an airtight lid.  Store in the bottom of your refrigerator where there is no chance of freezing.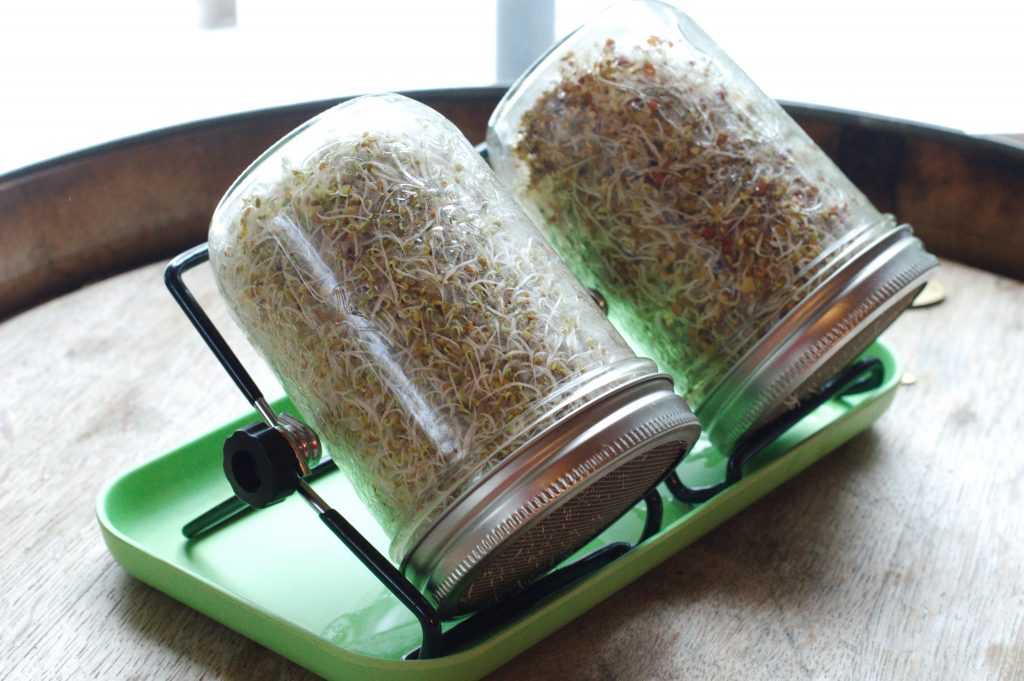 Repeat steps 1 to 4 at 3-day intervals to keep your home in freshly grown sprouts.
Some seeds to try sprouting:
Mung beans and adzuki beans grow delicious bean sprouts.  Use 3 tablespoons per quart jar.
Other beans will also sprout — Stir fry them briefly before you eat them. Beans have an anti-nutrient that needs brief cooking before they are digestible.  Don't sprout soybeans — they need to be fermented for up to 2 years to make them safe to eat.
Alfalfa seed, clover seed, Cress seed
Radish seed, kale, broccoli, cabbage, kale, or turnip seed and other Cole plants (spicy)
Lettuce seed, onion seed, chive seed, beet seed
Wheat, barley
Cautions
Don't use seed that has been treated with fungicide.  Some seed has been treated with an anti-sprouting compound — don't use those seeds.
Use seed that you grow yourself or seed that is sold as sprouting seed.  Garden catalog seed might be contaminated with bacteria.  Seeds sold specifically for sprouting or human consumption have normally been tested against pathogens like e. coli, listeria, and other food borne illnesses. So choose seeds for sprouting that are sold specifically for sprouting or microgreens.
You can grow your own seeds for sprouting.  Just allow bok choy, radishes, kale or broccoli to flower and go to seed. Save the seed before it falls to the ground and finish drying in the house.  Winnow the seed to remove chaff and store in a glass jar in a cool, dry place. Use your homegrown seeds in your seed sprouting arsenal now that you've learned how to grow sprouts.
What do you do with the seed once it's sprouted?  Use it in salads, as a sandwich filling, add it to your veggie juice or morning smoothie, eat it right out of the jar as a snack.
Here is my favorite salad using sprouted seeds. This is easy to make after you learn how to grow sprouts.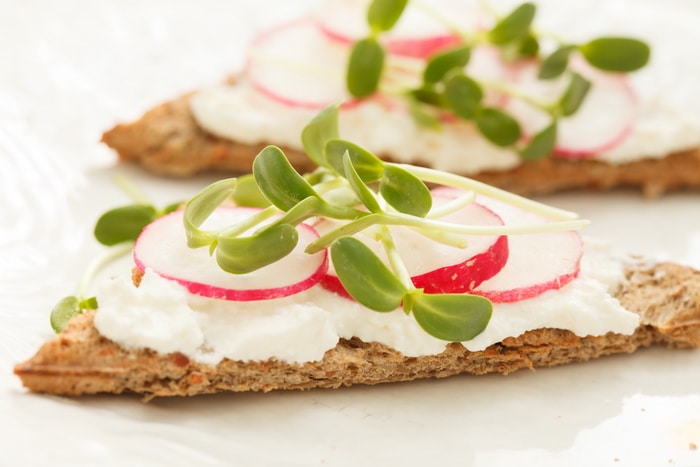 Where to find sprouting seed to sprout?
In the USA my favorite sprouting seed sources are:
In Canada I use Mumm's Sprouting for most of my sprouting needs.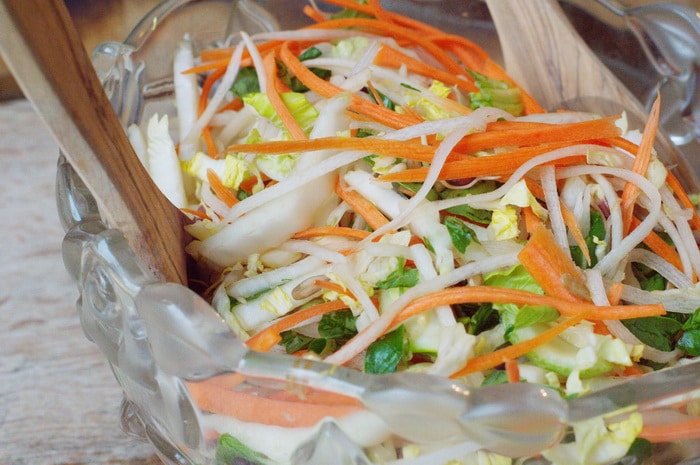 Your turn:
What's your favorite sprouts to eat, now that you've learned how to grow sprouts?