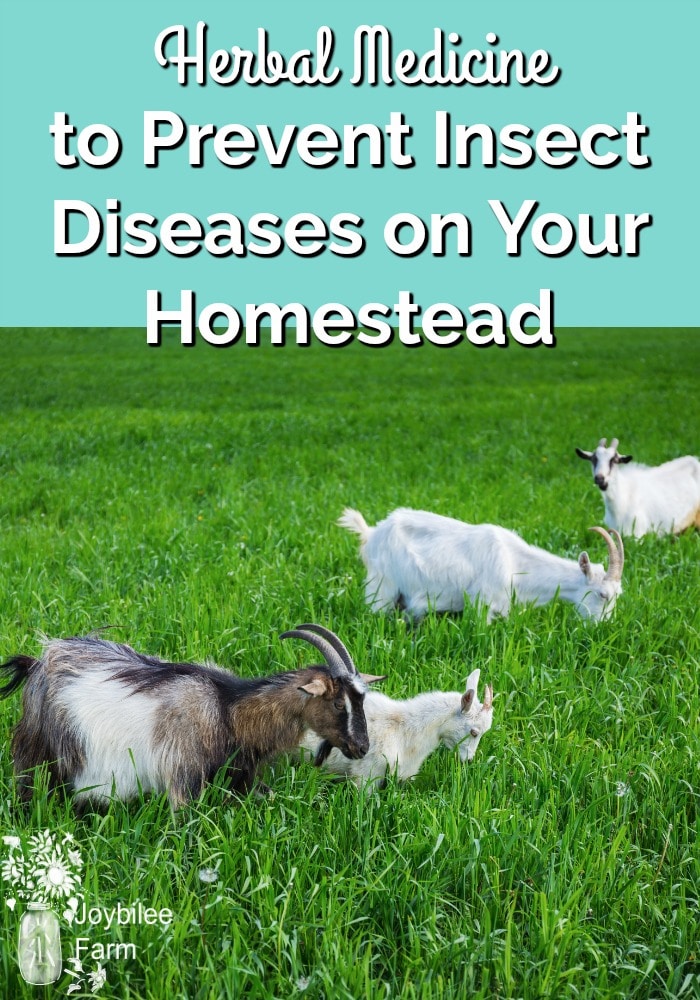 In my last post I talked to you about the dangers of insect vector diseases on your homestead and with our livestock, controlling them without using poisons.  Insect vector diseases like Tick paralysis in llamas, West Nile Virus from mosquitoes, or Typhus from lice, can cause losses in your livestock, death in your pets, and even harm your family.  But the poisons that control these insects, like DDT and DEET, have their own toxicity issues.  There are both mechanical, herbal, and natural ways to control insects on your homestead and in your home.
Controlling Ticks on your homestead
Tick lifecycle
Ticks live for 12 months of the year on your homestead.  They are tiny arachnids that live out three quarters of their lifecycle on the ground.  When they reach adult stage, they climb up onto blades of grass, put out their feelers looking for a mammal to hitch a ride on and take a blood meal, before dropping to the ground to lay their eggs.  Ticks carry several diseases including Lyme Disease, Rocky Mountain spotted fever, and tularemia.  Some livestock, like camelids, are also prone to tick paralysis when they have a heavy infestation of ticks on their bodies.
Controlling Ticks on your homestead
Understanding the tick lifecycle can help you manage ticks better and prevent tick-borne disease both in your livestock, pets, and in our home. Ticks, generally, are only a bother, in temperate zones, in the early Spring from the time the snow melts until midJune, when they have laid their eggs in the grass and their lifecycle begins again.   Livestock and pets, as well as humans, should be checked after walking in long grass, for both crawling and embedded ticks.  Ticks prefer to imbed on livestock and pets in the groin area or along the neck, and behind the ears.  These spots should be checked regularly for embedded ticks during tick season.  If you find a tick, don't just pull it off, as you will leave behind the mouth and head as well as squeezing the disease causing bacteria into the blood stream of your patient.  Instead follow the directions here, to safely remove ticks from livestock and pets.
Ticked Off – Tick Remover
Sheep Keds
Sheep keds are common on both sheep and angora goats.  They don't imbed on humans.  But they are a nuisance on livestock.  Check all new animals that come on your farm and powder them well with pyrethrum dusting powder, or an herbal preparation of tea tree, wormwood, rose geranium, and peppermint to kill the keds, before allowing a new animal to integrate with your herd.  Also make sure that your herd is well fed with the appropriate minerals for their species.  Giving a sulfur salt block, feeding kelp meal free choice, and making sure that your goats have adequate copper, will go a  long way in preventing both parasites, ticks, and lice in your herd.
Natural Tick predators
Poultry are natural tick predators.  Guinea Fowl are famous for the tick foraging capacity and a small flock of guinea fowl will keep your small acreage tick free, by foraging in the grasses for ticks at every stage of their lifecycle.  Chickens are also good forages of ticks, and a little less noisy.
Herbal Repellents
Eucalyptus, cedar wood oil, lemon thyme, rose geranium oil, and tea tree  essential oils disguise the scent of carbon dioxide and make ticks less likely to climb your pets.  Further tea tree oil, citrus oils, and rose geranium oil are deadly to ticks.  Make a mixture of these essential oils with witch hazel or olive oil.  Spray your pets, or livestocks top line and the area around their legs to protect them.   Reapply after rain or at least once a week in tick season.  Avoid using tea tree oil on cats or rabbits as tea tree EO is toxic to cats and rabbits.  Substitute Rose Geranium oil in sprays for felines and rabbits.
Mechanical Removal
If you find an imbedded tick, remove it carefully by forcing it to back out of its victim.  See the instructions here.
Herbal antibiotics for supportive care of livestock and pets
Immediately after tick removal apply anitbiotic EO to the affected wound — My choices would be Tea Tree EO, Lavender E.O. or Oil of Oregano, depending on the species that is injured.  Plantain infused oil can also be applied to draw any toxin out of the blood.
Controlling Lice on your homestead
There are several different types of lice and lice do not transfer between species.  So lice that infest the human head, (head lice) will not infect your livestock.  Also goat lice, won't infect sheep and chicken lice won't infect goats.  Typhus fever is a disease that is carried by lice and transferred to humans.  It is uncommon now.  Sheep, goat, and chicken lice do not carry typhus.  However, lice cause fleece loss in wool sheep, and goats.  Anemia from the bites can cause an animal to weaken, and in very young animals death can result, so if you see a lice problem in your livestock, don't ignore it.  It won't go away and will likely get worse.
In our sheep and goats, animals that are on pasture rarely get lice infestations.  The varied diet of browse and herbs keeps the animals healthy, and the exposure to rain and sunshine disinfects their fleece.  Wormwood in our pasture is a very good preventative to lice infestations.  However, in winter, when the sun is weak, and animals spend more time in close housing, away from their favorite herbs,  some animals come up with lice infestations annually.  In our herd it is the angora goats.  Keeping their copper level up and giving them access to sulfur salt blocks seems to lessen their misery and make them inhospitable to the lice.
Louse lifecycle
Lice hide in the wood work of barns, and fences and animals that are lice infested scratch themselves on fences, allowing the infestation to attack your entire herd.  Animals that are in top condition, rarely succomb to lice infestations, while those that are ill or unthrifty, in the same herd, will have a great many lice attacking them.  Lice feed on blood several times a day, and lay their eggs (nits) on the hair shafts, close to the skin.  On close examination you will see small tan coloured dust specks along the skin surface of an infested animal.  Nits take 6 to 10 days to hatch, so any treatment of an infested animal should be repeated 3 times 7 to 10 days apart.
Herbal repellents
Herbal repellents are effective in livestock.  Scientists in Australia found that a dip in a 2% tea tree oil solution killed 100% of lice on sheep and goats.  Chickens control their own lice by dust bathing.  You can increase their success by adding wood ashes to their dusting places.  To make animals less attractive to lice, spray their top line with a mixture of 1 tsp. tea tree oil and 1 cup of witch hazel.  Shake well before use.  Spray along top line from the base of the neck to the tail head.
Mechanical Removal
Lice can be removed from humans and pets using a nit comb, a very fine comb that removes the eggs from the hair shaft.  To use it first oil the hair and scalp completely in Olive Oil.  Leave on for at least 1 hour.  Wash hair or fur well and rinse with a strong vinegar solution.  1 cup of vinegar to 1 cup of water.  Then comb the hair carefully to remove any remaining nits.  The vinegar loosens the nits and makes them easier to remove.  Add tea tree or lemon verbena to the final rinse to make the host less hospitable to the lice.
This part 3 of a 3 part series on dealing with insect parasites on your homestead.
Part 1: Dealing with parasites in your goats and sheep.
Part 2: Controlling insect vectors of disease on your homestead
These are part of a larger series, Creating you homestead pharmacy
Joybilee Farm is here to teach you the skills you need to be a successful homesteader.  If we are on the same page, subscribe to our newsletter and  join us on Facebook
Your Turn:
What's your biggest challenge when dealing with blood sucking insects on your homestead?