Review: The Art of American Whiskey, a visual history of the nation's most storied spirit through 100 iconic labels. Noah Rothbaum, 10 Speed Press: Berkley, 2015.
5 stars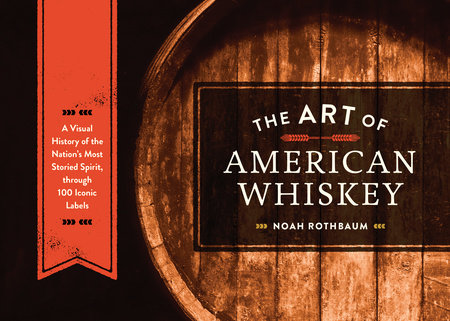 Why would a non-drinker be interested in a book about American whiskey and bourbon?
The history of alcohol is the economic history of the USA, from the 1800s, through prohibition, and onto the resurgence of alcohol and whiskey drinking today. It's a fascinating history. A vocabulary and a body of literature grew out of it. The economy of the USA and the world was deeply affected by it. Even the income taxes that we pay today, were birthed from it. The history of American whiskey is a pivotal, and much ignored, catalyst to where we are today. And as a non-drinker this history was completely hidden to me.
So I grabbed the chance to learn more about the history of whiskey through not just labels, but the shapes of bottles, and the artistry behind them. Here's what I learned from reading The Art of American Whiskey.
Prohibition transforms America
January 17, 1920 marks the beginning of prohibition, the pivotal point in the story of whiskey. On this day 100s of distilleries went out of business at the stroke of a pen. Only 6 distilleries were permitted to stay in business. However, these 6 were only permitted to bottle medicinal alcohol and were not allowed to make any new alcohol.
Prohibition created speakeasies, bootlegging, and organized crime syndicates to quench America's thirst. Prohibition created new wealth through bootlegging. As I was reading The Art of American Whiskey, I grabbed the video, The Great Gatsby and watched it again. Gatsby made a whole lot more sense after reading the Art of American Whiskey. But while prohibition created wealth through illegal activities, it shut down a lot of legitimate business enterprises. Distilleries, bars, liquor stores, and supporting trades were closed down overnight, leaving a lot of people unemployed, hundreds of companies bankrupt, and creating a monopoly of trade.
The dry period ended in 1933 with the 21st amendment, in the middle of the Great Depression. With the loss of taxes from the sale of liquor the government recouped its losses by creating income taxes. Income taxes didn't end with prohibition though.
The dark ages of American whiskey
During the 1930s, with the economy tanked, whiskey didn't immediately make resurgence. Imported wine and domestic beer replaced whiskey as the most popular alcoholic beverage. Good whiskey requires aging in wooden kegs to mellow, for many years. The whiskey made in 1933 wasn't the best and by the time it had aged properly, the war was on and rationing prevailed. Distilled alcohol was needed for the war effort as fuel, explosives, and medicine.
Juvenile whiskey tastes bad. Whiskey doesn't age in the bottle like wine. Since whiskey needs time to age, in a climate controlled environment, it took several decades for the quality of whiskey to overcome the effects of prohibition and the Great Depression. Blended whiskeys were used to mellow the taste of whiskey and bourbon, and bypass the traditional aging process.
The Maker's Mark
The Art of American Whiskey tells the story of this tumultuous history with labels, bottles, and the stories of significant people in the industry. My favorite story was of Margie Samuels and the Maker's Mark Bourbon. See pages 80 to 83 for the full story. Margie designed the label and the bottles in her basement, using papier-mâché mockups. The Maker's Mark bottles were specially designed with a pinch in the neck that gives a satisfying glug, when the bourbon is poured. The labels are printed and cut in house. The recipe was a result of experimentation with various ratios of wheat, corn, and malted barley in bread making. In the final artistic touch the bottles are hand dipped in wax to exclude air. The hands-on touch makes this product stand out. The family owned company was sold to Hiram Walker, a Canadian company, in the 1980s, but the Samuels continue to run the day to day operations of the brand, and the bottles continue to be dipped by hand. Currently the brand is owned by a giant Japanese conglomerate, Suntory.
This is a fun book. It's a short, squatty hardcover that can be slipped into a gift bag with a couple bottles of scotch, bourbon, or rye for a unique gift.  Even as a non-drinker, this book was hard to put down. The chapters follow chronologically from the pre-prohibition era through to the renaissance of good quality whiskey and bourbon that we see today. Each chapter ends with two or three cocktail recipes that are iconic for that era, recipes that demonstrate the history of whiskey in that period. Some of the recipes were invented to disguise the acrid taste of poor quality booze, and others to highlight the smooth taste of artisanal bourbon. Each chapter is illustrated by labels that were iconic in each era, as well as photographs of bottles and packaging. The only thing missing is the taste test. You`ll need to provide that yourself.
The golden age of whiskey
The Art of American Whiskey announces the golden age of American whiskey. We're in it. The internet has informed a new generation of connoisseurs, who are both knowledgeable and with a large disposable income to buy quality alcohol. Many new companies have emerged that create quality whiskey with unique ingredients, liked smoked grains, honey, and maple syrup.
There's an amazing selection of bourbon, rye, Tennessee and unaged whiskies by both large famous brands and new artisanal companies. International demand is high. In 2012, more than one million barrels of bourbon were filled. (p.131) In 2013 exports of Tennessee and bourbon totalled more than $1 billion. Maker's Mark, Margie Samuels' creation, sells more than 1 million 9-liter cases per year. With the emphasis on craftsmanship and the artisanal nature of each bottle, well made whiskeys are having trouble keeping up with demand.
If you enjoy a dram on the rocks, you'll get a deeper appreciation for the whiskey in your glass by reading this book. If you're Canadian, pick up a mickey*, on your way home from the bookstore, and spend a relaxing evening learning the history you didn't learn in school. If you are a teetotaller, you`ll still find a fascinating picture of American history that you never even suspected.
About the author:
NOAH ROTHBAUM is a writer and spirits expert based in New York City. He is the author of The Business of Spirits, the former editor-in-chief of Liquor.com, and has contributed to the Wall Street Journal, New York Times, O Magazine, Details, Men's Journal, Men's Fitness, Food & Wine, Gastronomica, and more.
Another language: whisky nomenclature
*Note a "mickey" is a 13 ounce bottle of hard liquor sold in Canada. No relation to "Mickey Finn" or "Mickey Mouse". The bottle is supposed to fit discreetly in a pocket and is usually flattened to make it easier to carry. Never mind that it is illegal in Canada to be drinking in public from a bottle of whisky in your pocket.
Bourbon is whiskey made with a mash that contains at least 51% corn. Rye is Canadian whisky and may or may not contain any actual rye grains. Scotch is whisky made in Scotland and aged for at least 3 years there. Both Scotch whisky and Canadian whisky are spelled without an "e" to distinguish them from Irish whiskey and American whiskey. Irish whiskey is made in Ireland and aged for at least 3 years in the Emerald Isle. None of this information is included in the Art of American Whiskey. The book lacks a glossary. But at least it does have an index.
Disclaimer: I received this book from Blogging for Books for this review.