Sprouting is easy
It packs a nutritional punch that has kept armies on their feet.  The Russian army beat Napoleon because of the wheat sprouts in their woolly pockets.  Full of vitamin C, enzymes, minerals, and vitamins, with increased protein, sprouts will help you add variety and nutrition to your diet. Sprouting increases the anti-oxidant value of seeds.
You can sprout with inexpensive equipment that you make yourself.
You can do it year round, in your kitchen, even without a window.
When you grow your own you get a pure, uncontaminated food.
Have I convinced you to give sprouting a try?
Let's get started.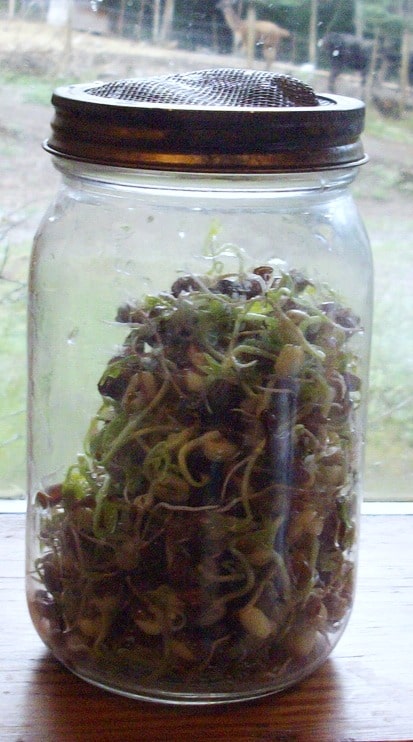 You need:
A wide mouth glass jar with a screw ring lid, or better yet 3 or 4.
A piece of fiberglass window screen, or bridal tulle fabric.
Seeds to sprout
Potable water
Step 1: Take the window screen or fabric and trace a circle using the jar's screw ring as a pattern.  Cut out the circle.  If you're using the tulle fabric cut two circles for each jar and stitch them together for stability.  The screen should fit inside the ring and be flat — so trim as necessary to get a good fit.  Make one for each jar, and a few extra.
Step 2: Put 2 tbsp. of seeds for sprouting into a jar.  Cover seeds up to 1 inch over the top of the seeds with water.  Place screen inside ring.  Screw the ring on the jar.
Step 3: Allow seeds to soak for 6 to 10 hours.  Drain.  Don't leave them longer than this as they will become starved for oxygen.
Step 4: Rinse the seeds in fresh water.  Turn jar onto drain board to fully drain.  Repeat this step 3 times daily about 8 hours apart.
Step 5: Some seeds will be ready in 3 days, in a warm climate.  In a cooler climate or in winter your sprouts may take a week.  Once your sprouts are ready to eat, rinse well, drain, and store in a glass jar with a snap lid, in the fridge.
Step 6: Repeat steps 1 to 4 at 3-day intervals to keep your home in sprouts.
Some seeds to try:
Mung beans and adzuki beans grow delicious bean sprouts
Other beans will also sprout — Stirfry them briefly before you eat them. Beans have an anti-nutrient that needs brief cooking before they are digestible.  Don't sprout soybeans — they need to be fermented for up to 2 years to make them safe to eat.
Alfalfa seed, clover seed, Cress seed
Radish seed, kale, broccoli, cabbage, kale, or turnip seed and other Cole plants (spicy)
Lettuce seed, onion seed, chive seed, beet seed
Wheat, barley
Don't use seed that has been treated with fungicide.  Some seed has been treated with an anti-sprouting compound — don't use those seeds.
You can grow your own seeds for sprouting.  Just allow bok choy, radishes, kale or broccoli to flower and go to seed. Save the seed before it falls to the ground and finish drying in the house.  Winnow the seed to remove chaff and store in a glass jar in a cool, dry place.
What do you do with the seed once it's sprouted?  Use it in salads, as a sandwich filling, add it to your veggie juice or morning smoothie, eat it right out of the jar as a snack.
Here is my favourite salad using sprouted seeds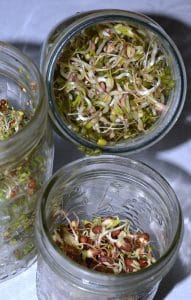 Oriental Salad Recipe
Made with bean sprouts to get your imagination and creativity flowing:
From the garden:  Chinese cabbage, Bok Choy, Tsat soi or other Chinese greens, chives or green onions — don't have a garden?  You can substitute savoy cabbage for the Chinese greens and green onions for the chives.
Wash greens well, drain and chop into bite size pieces.  Mix in a salad bowl.  Top with 1/2 cup bean sprouts.
Fry in 1 tsp. coconut oil or butter: 1/4 cup slivered almonds or shelled sunflower seeds, until golden brown.  Or toast seeds in a dry frying pan, stirring constantly. Add to salad.
1 pkg. ramen noodles — noodles only.  Do not use MSG flavour package.  Break noodles over salad just before serving.  You can substitute chow mien noodles or rice crackers.
Easy oriental dressing:
2 tbsp. balsamic or rice vinegar
2 tbsp. olive oil
1 tbsp. toasted sesame oil
1 tbsp. water
1 tsp. maple syrup or honey
1 tsp. soya sauce or tamari (check that it is made with organic soy beans to avoid GM soy)
1/2 tsp. Dijon mustard
1 clove garlic, crushed
1/2 tsp. grated fresh ginger
Mix all ingredients in a glass jar.  Mix with a fork.  The Dijon mustard should be completely incorporated into the dressing.  The dressing will thicken as you mix.  Allow to sit for 1 hour or more to incorporate flavours.  Pour over salad just before serving.
Serve with flat bread and hummus for a complete Meatless Monday Meal.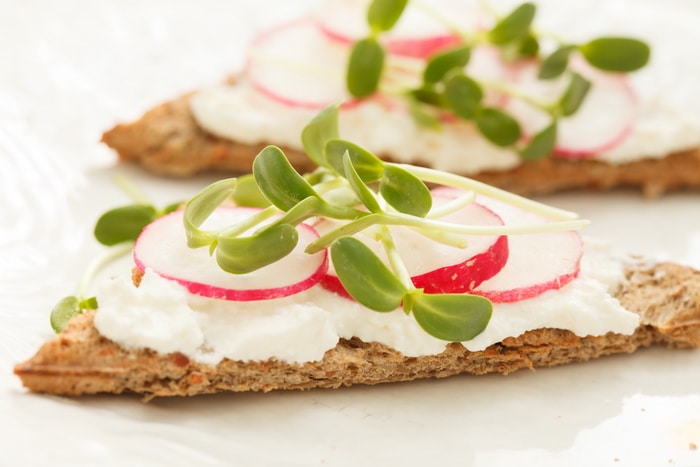 Want to go deeper?
Here are some resources that will lead you to a deeper exploration of sprouting:
Grow Sunflower Sprouts for Tasty and Nutritious Microgreens in Just 12 Days
Sprouting Seed Super Sampler- Organic- 2.5 Lbs of 10 Different Delicious Sprout Seeds: Alfalfa, Mung Bean, Broccoli, Green Lentil, Clover, Buckwheat, Radish, Bean Salad & More
The Complete Guide to Growing and Using Sprouts: Everything You Need to Know Explained Simply, Including Easy-to-make Recipes (Back-To-Basics) (Back to Basics Growing)
Sprouting for all Seasons by Bertha B Larimore
Now Sprouting Jar lids (Case of 6) – (Fits a variety of wide mouth jars)

What's your favourite sprouts to eat?  Is sprouting a regular part of your weekly meal planning?  What's hindering you from sprouting more often?