What's mullein
Mullein is a biennial plant of pastures and waste places. It has some amazing therapeutic properties including pain relief, drying secretions, being antimicrobial, and lymph draining. It reduces inflammation. It's especially helpful during colds and flu because it loosens mucus and relieves coughing. You can get this benefit by drying the leaves anytime during the growing season, and then using the crushed leaves in tea when you need it.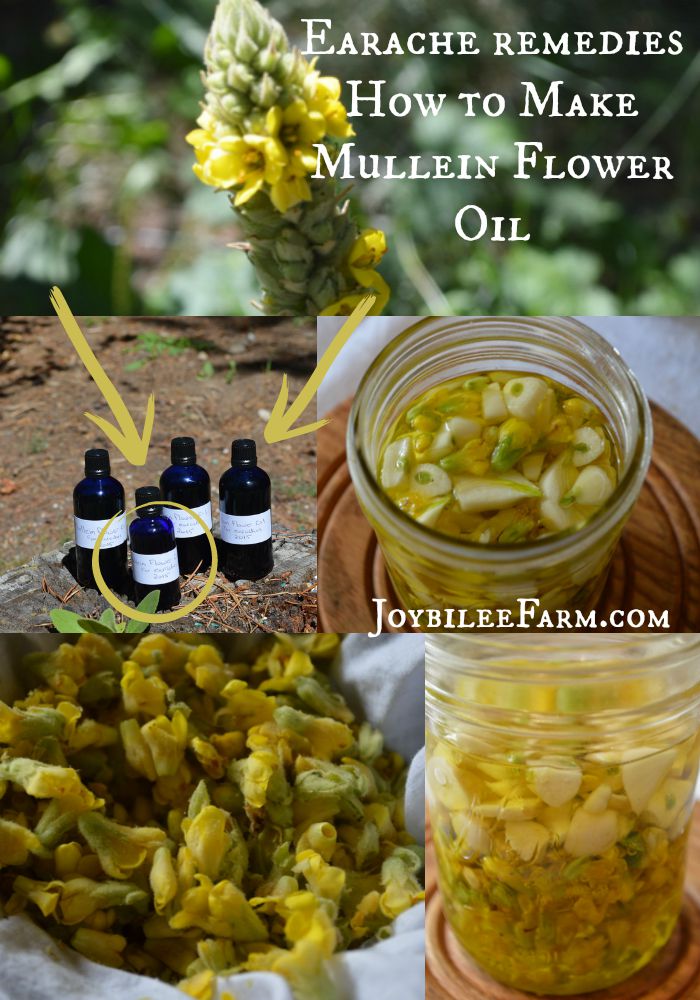 But one of the special attributes of the mullein plant is its help in your arsenal of earache remedies. My mother's heart would break when one of my babies was suffering from earache pain. The piercing screams that couldn't be consoled were unnerving. The sleepless and frustrating nights spent rocking a screaming baby are the hardest part of being a mom. And earaches, for me, were the most common cause.
As my kids grew older, the frequency of earaches lessened and were often accompanied by other viral symptoms. A bacterial ear infection, swimmer's ear, would often show up at night, after a day in a public swimming pool. But no matter whether you are dealing with an earache in a baby or swimmer's ear in a child, mullein flower oil will help.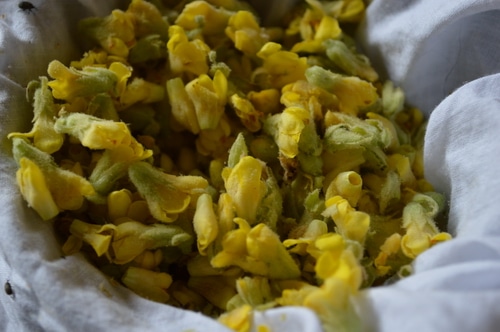 Make Mullein Flower Oil
You make it with just 4 ingredients. Harvest the mullein flowers fresh to make mullein flower oil.
Harvest the flowers away from roadways, where you know that they haven't been sprayed with insecticides or pesticides. You'll want clean plants that aren't covered in aphids, too.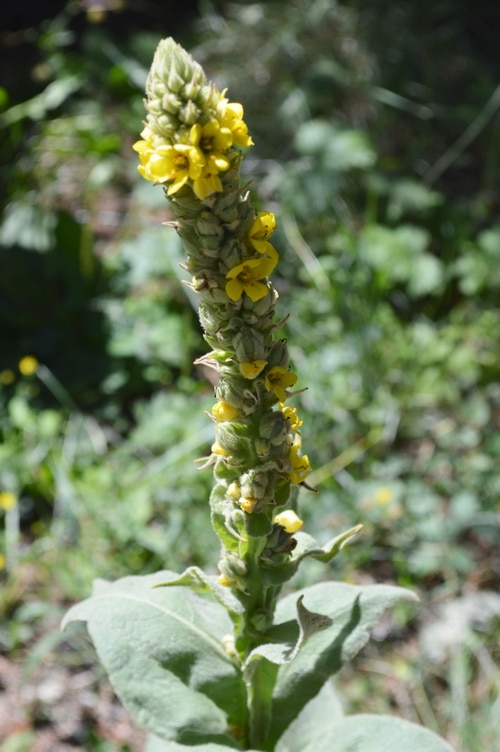 The flower stalk rises on second year plants and the multiple flowers open one at a time around the flower spike. Harvest the flowers as they open. You only need a cup of flowers for this recipe, so if you can find a patch of mullein in the middle of its bloom period, you will get all that you need. Never take more than 1/3rd of the flowers though. You'll want to leave some to go to seed for next year's plants.
The flowers are tiny, but if you can find a good patch of mullein you'll be able to gather enough flowers in about 30 minutes.
If you are unable to harvest the mullein flowers yourself, you can buy dried mullein flowers  from Mountain Rose herbs or buy the already made mullein flower oil.
You'll also need 2 heads of garlic for this recipe. Choose organic garlic. If you grow your own that's even better. Around the time the mullein flowers are in bloom, the new garlic is almost ripe and ready to harvest. It's all right to use the old garlic for this recipe, even if it's beginning to sprout. That just shows its vitality.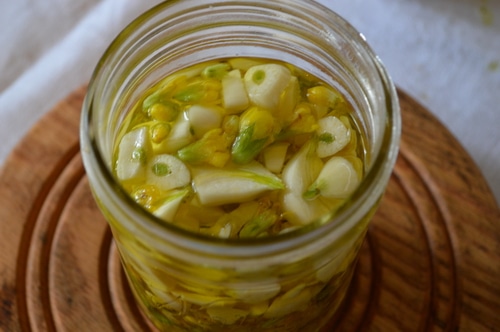 Mullein Flower Oil for Earaches and Swimmer's Ear
Yield: 12 ounces – 5 x 50ml bottles
Ingredients:
1 cup of freshly picked mullein flowers
2 heads of organic garlic
2 cups of virgin olive oil
¼ tsp. vitamin E oil
1 wide mouth pint jar with lid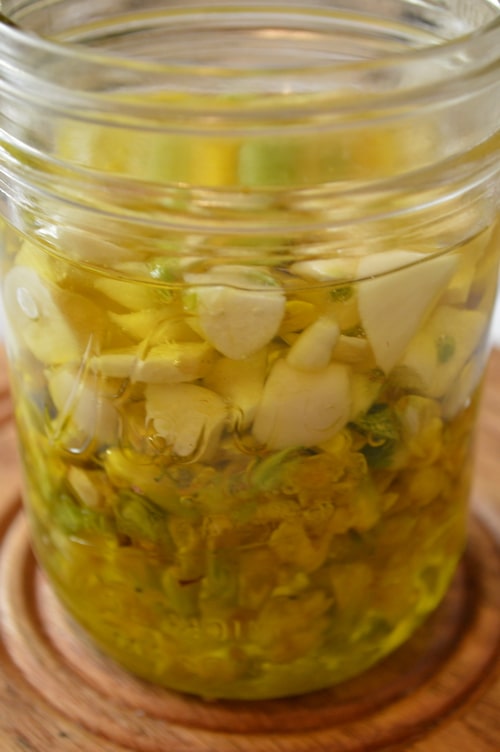 Method:
Place the mullein flowers in the bottom of the jar. They will fill it half way.
Separate the garlic cloves from the garlic head. Peel each clove. Coarsely chop the garlic and drop it in the jar, on top of the flowers.
Cover the mullein flowers and garlic with olive oil. Stir gently to remove any trapped air.
Cap it tightly. I use the plastic lids that are sold separately from the mason jars, as they seem to leak less. (Really why don't they make a lid that includes a rubber ring to prevent leaks.)
Normally I let an oil infusion macerate in a dark cupboard, at room temperature, for 4 to 6 weeks. With this earache remedy, I use my crock pot to speed the process. It will be ready in the morning.
Fill a crock pot half full of water. Place the covered jar in the crockpot. Cover the crock pot with a lid to hold in the warmth. Put it on the "warm" setting, or the lowest setting that your crock pot has. Plug it in. Leave it for 8 to 12 hours.  I left mine overnight.  You could make this in the morning and have it ready at bedtime, if you needed it.
Unplug the crock pot and allow it to cool down so that you can handle the jar without getting burned.  I didn't have to wait.  I was able to handle the jar immediately from my crock pot.
Strain the oil and reserve it in a coloured glass bottle, with a dropper cap.  Cap tightly.  Label.
(Straining this is going to make your crave toasted garlic french bread. Don't say I didn't warn you.)
This remedy will last at least a year, if kept in a cool, dry cupboard.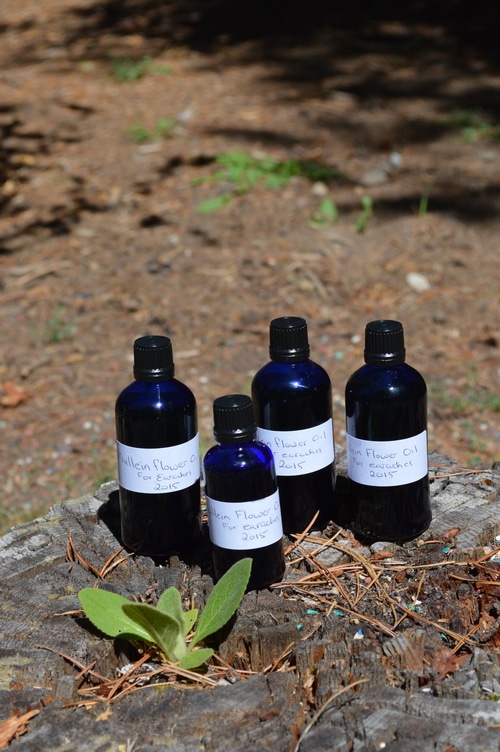 How to use this earache remedy
Warm the bottle by placing it in a cup of warm tap water. You want to make the oil gently warm but not hot. Test it by putting a drop on the inside of your wrist, like you'd test the warmth of a baby bottle. Drop 2 or 3 drops of the mullein oil into the ear canal and massage the outside of the ear gently. Place a cotton ball or cotton plug in the ear to keep the oil in as long as possible. Repeat on the other side.
You will want to treat both ears at the same time to prevent the ear infection from going to the other ear.
You can use this gentle remedy every 30 minutes to bring relief.  For a serious ear infection that doesn't respond to home earache remedies please consult your family health professional.
Use it to clean excess ear wax from the ear canal
This mullein flower oil remedy is also beneficial for cleaning excess ear wax from the ear canal. Use it as you would for an earache and wipe the ear with a tissue to remove excess wax. Don't put sticks into the ear or you may move the ear wax deeper into the ear canal or even perforate the ear drum.
This Dr. Mom Otoscope helps you see clearly into the ear canal to check for redness, swelling, and fluid. It comes with instructions and a chart to guide you in home analysis and in your choice of earache remedies.  Every home should have this in their household first aid kit.
Milk allergy can cause ear infections in young children
Oh, and it turned out my babies were allergic to cow's milk. We switched the whole family to raw goat's milk. No more babies screaming inconsolably in the middle of the night. But I still make this for the few times each summer that we have to deal with swimmer's ear.
.
Caution: If the ear drum is bulging or there is a blood tinged discharge, see a doctor immediately. Home remedies are for mild cases of common infirmities.  You can check the condition of the ear drum with the Dr. Mom's Otoscope.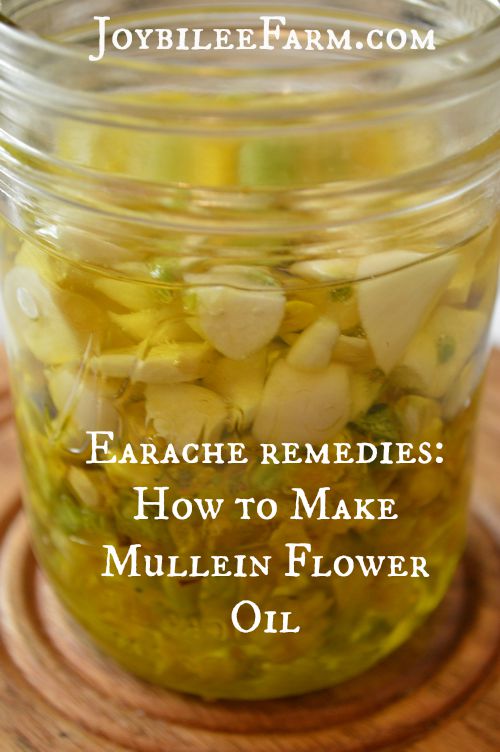 References
This recipe is my adaptation of a recipe for Garlic-Mullein Flower Oil found in Rosemary Gladstar's Herbal Recipes for Vibrant Health (Gladstar, p. 82-83). I highly recommend this book as an adjunct to your herbal field guides and Materia Medicas. It has some very practical and doable recipes to make your herbal learning fun and productive. You don't have to follow the recipes exactly. I don't. You can substitute with what you actually have on hand, that fits the problem.
For instance, if you are short on mullein flowers add 1/2 a cup of calendula blossoms along with just 1/2 the mullein flowers.  Making herbal remedies are part science and part art.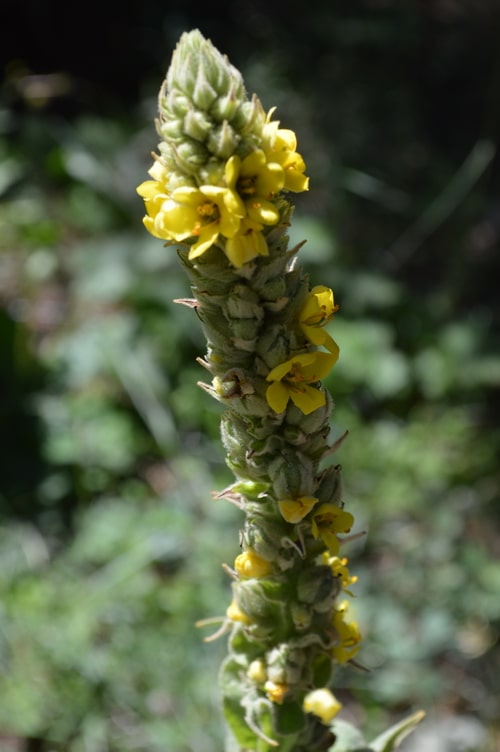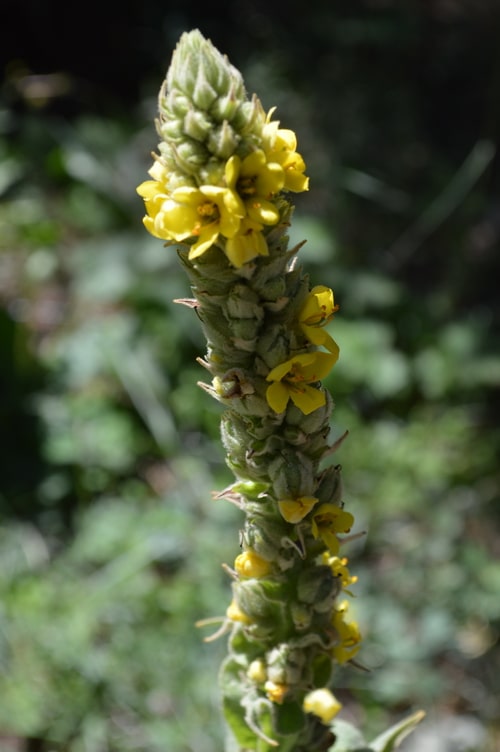 Find out more about mullein
Your Turn:
What do you find helps the most for earaches in young children?  Do you have any other earache remedies to share?
Shared on