Drinking vinegar is an ancient practice to replenish electrolytes and quench thirst in the summer heat. Haymakers' Punch, shrubs, and even lemonade draw inspiration from ancient drinking vinegar that increases stamina and keep us from feeling faint in the summer heat.
Only a small amount of drinking vinegar is used in a beverage, just enough to give flavor and add electrolytes.  Drinks made with flavored drinking vinegar are mostly water, a little herb and a little fruit. Drinking vinegars are also called shrubs, or punch. Shrubs are the fruity cousins to switchels. Make shrubs with fruit, herbs, and vegetables that have been soaked in vinegar and sweetened with sugar. This is a good use of overripe fruit.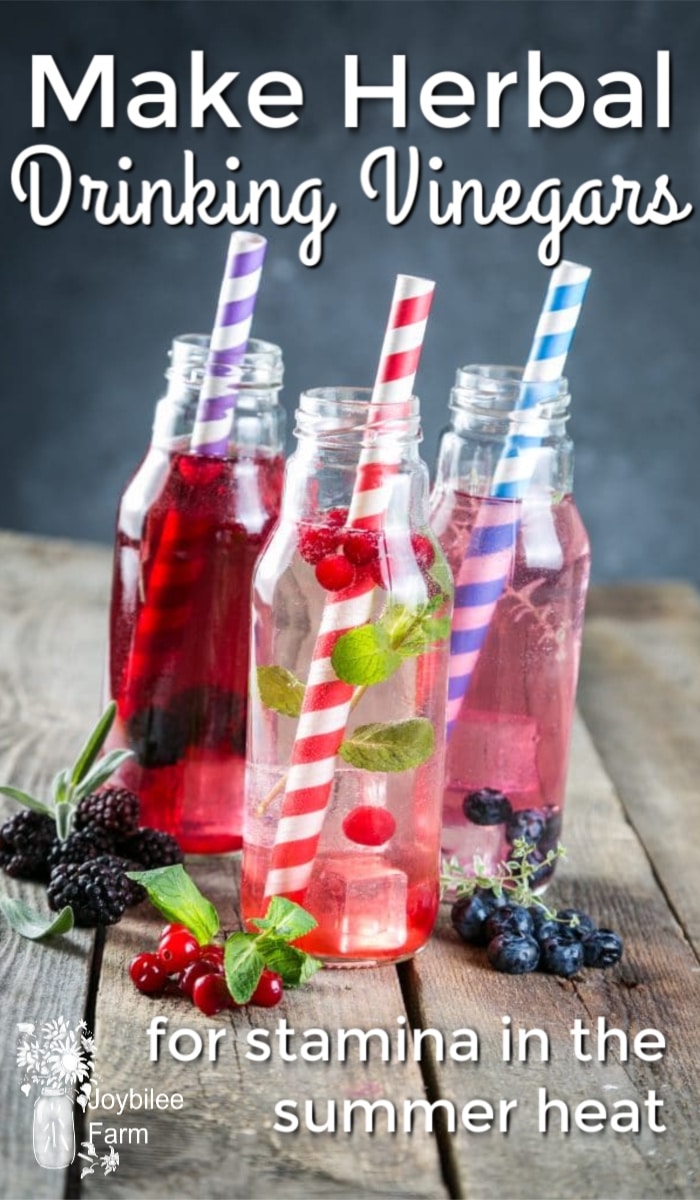 Drinking vinegar or shrub is concentrated like an oxymel, but is generally used to flavor a drink where a cordial or flavored syrup would be too sweet. Vinegar preserves the ingredients, making it stable at room temperature.
You'll start with a base of apple cider vinegar to infuse the minerals and other beneficial properties from the fruit and herbs. These vinegar-based drinks were the original Gatorade, full of probiotics, healthy electrolytes, sugar, and fluid to support field workers at the peak of haying season or harvest. Soldiers and sailors also used switchel to maintain their energy after a hot day at work.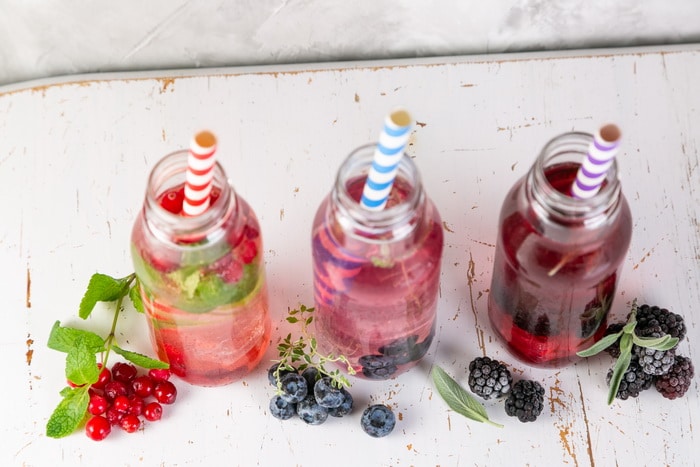 Benefits of Apple Cider Vinegar
Lowers blood pressure by promoting vasodilation (widening of blood vessels)
Improves overall gut health and supports good bacteria
Provides live enzymes that markedly improve digestion
Promotes gentle systemic detoxification daily – important function because of the daily pollution we are exposed to
Stimulates circulation – effective for cold hands and feet
Boosts energy and decreases fatigue
Slows down aging by speeding up toxin removal and improving skin health and appearance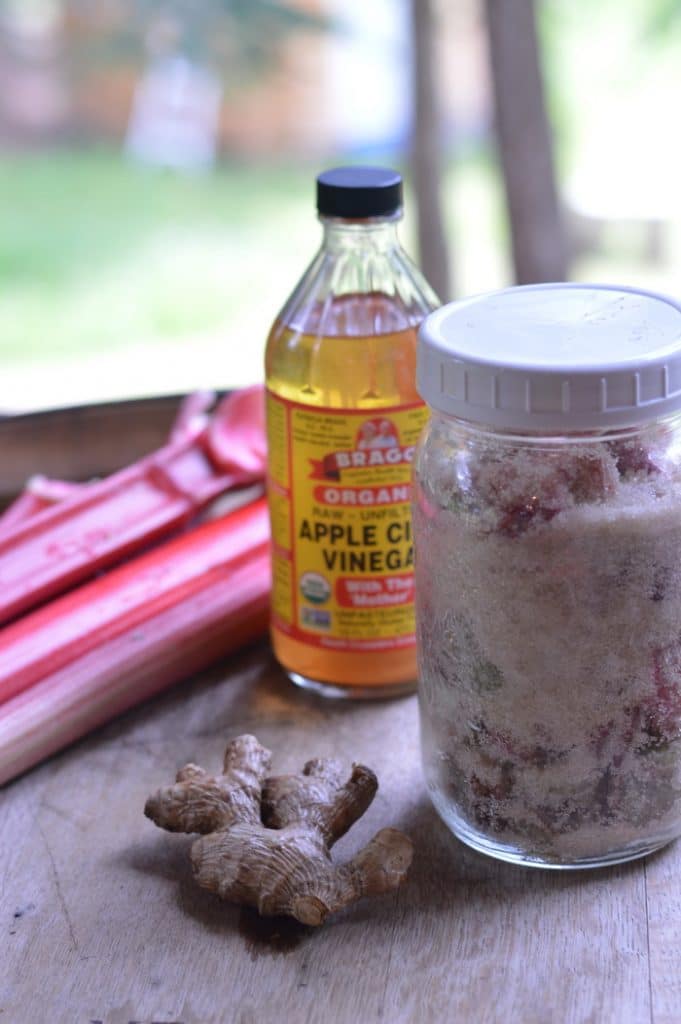 Fruit and Herb Drinking Vinegar recipe:
Fruit adds vitamins, minerals, flavonoids, and antioxidants to this beverage – along with flavor. You can substitute honey, maple syrup, or even molasses for the organic sugar in this recipe.
2 to 3 cups of raw fruit
2 sprigs of herbs such as peppermint, rosemary, or lavender OR
A 2-inch piece of ginger or turmeric
1 cup of organic sugar
1 cup raw apple cider vinegar, with the mother
Directions:
Start by making a syrup. Mix the raw fruit, fresh herbs, and sugar in a Mason Jar. Cover this mixture with a lid and place it in the refrigerator for 4-5 days.
Shake the jar to distribute the sugar and herbs with the fruit, as often as you think of it. A

fter 5 days, r

emove the syrup from the fridge.
Strain the juice and syrup through a sieve or cheesecloth, pressing down hard on the solids to retain as much juice as possible.
Mix the equal amounts of fruit syrup and apple cider vinegar and pour it into a fresh, sanitized Mason jar with a lid. Label and date.
You can use this herbal shrub immediately, but letting it sit for a week will allow the flavors to deepen, meld and harmonize. Add by the tablespoon to cocktails or sparkling water.  Try 2 tablespoons of shrub to 12 ounces of sparkling water for starters.  Add more or less to taste until you get it exactly as you like it.
Drinking vinegar will keep up to a year if kept refrigerated.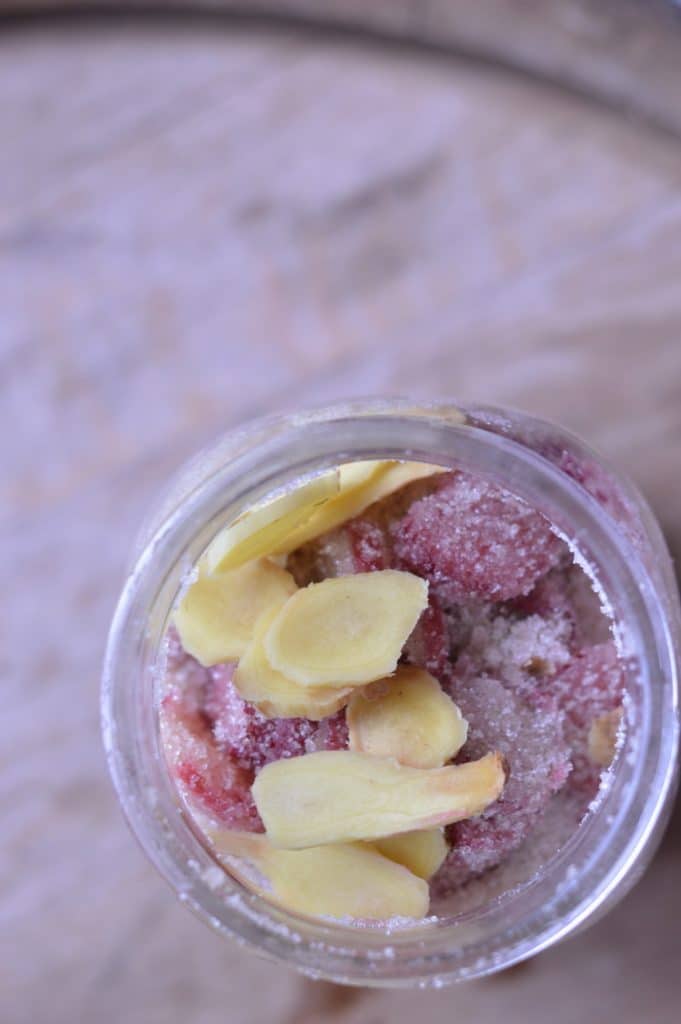 How to use shrubs to make inspiring summer drinks
Use 1 to 2 tablespoon of shrub in a glass of sparkling water or plain water
Try these flavors:
blackberry, rosemary, balsamic vinegar
blueberry, thyme, apple cider vinegar
cherry, lemon balm, white balsamic vinegar
rhubarb, ginger, apple cider vinegar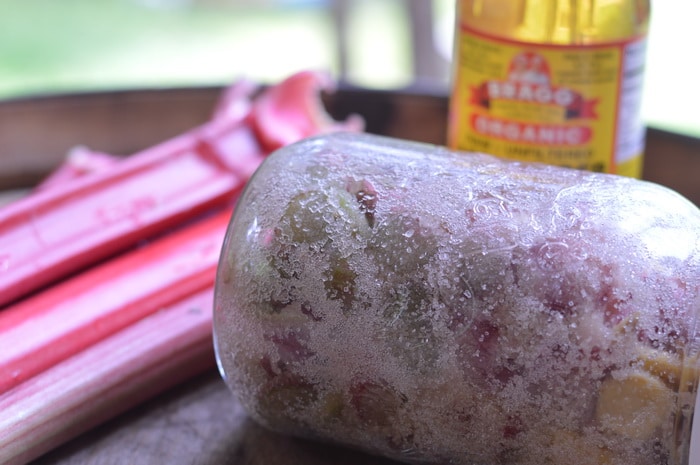 Check out my new class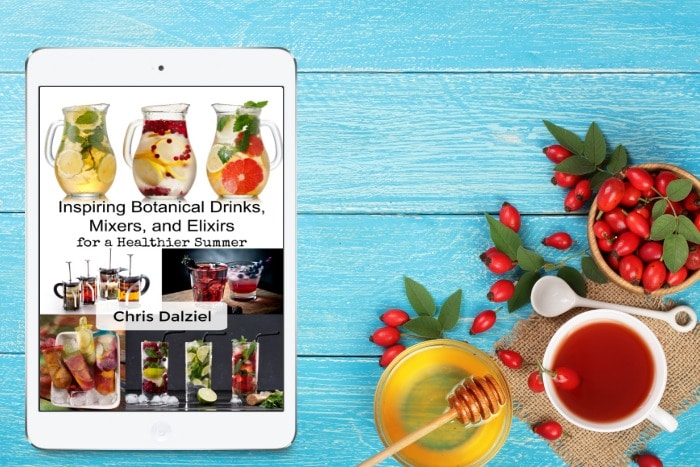 Learn more about making healthy and nutritious shrubs, vinegar drinks, ice pops, sherbet, botanical drinks, herbal tea, fruity lemonades, liqueurs, and bistro drinks healthier at home using wholesome ingredients, less sugar, and more fun.  My new class Inspiring Botanical Drinks will help you turn your garden produce and easy to find ingredients into beautiful beverages and frozen desserts easily.
Break the pop and sweet tea habit with these healthier options.  You'll save money, reduce food waste, and enjoy delicious and nutritious hot and cold drinks year-round when you use herbs, garden fruit and berries, and even weeds to make healthy tea, drinks, and beverage syrups.