With Christmas just around the corner, make this sweet candy cane lip balm to add to stockings or gift baskets.  It tastes just like candy canes but it's sugar free, made with natural beeswax, cocoa butter, and extra virgin olive oil, to combat winter dryness, chapped lips, and seasonal discomfort.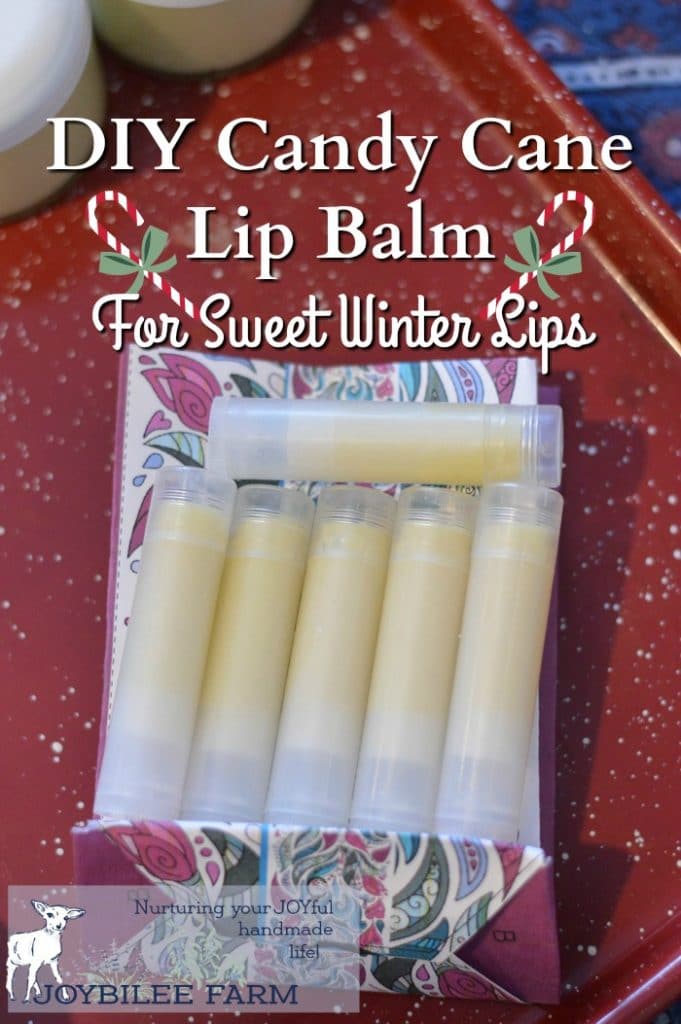 Candy Cane Lip Balm
Yield: 6 tubes of lip balm
Ingredients:
2 teaspoons Extra Virgin Olive Oil
2 teaspoons cocoa butter
2 teaspoons (8 grams) beeswax
10 drops Candy Cane essential oil blend  or Peppermint essential oil
Directions:
Create a double boiler using a glass measuring cup and a saucepan.
Add the cocoa butter, EVO, and beeswax to the glass measuring cup.  Simmer gently over medium heat until the beeswax melts.  Remove from the heat.  And remove the glass measuring cup from the saucepan.
Stir briefly to combine the beeswax and the oils.  Add in the essential oils by the drop, stirring to incorporate fully.
Stir while the mixture is cooling just until the mixture becomes opaque.  Spoon or pour into lip balm tubes.
Label.
If you don't have the Candy Cane essential oil blend (#ad), you can substitute peppermint, or a combination of peppermint, lavender, and sweet orange.  But the Candy Cane blend really smells and tastes like candy canes and increases the gift-appeal of these lip balms.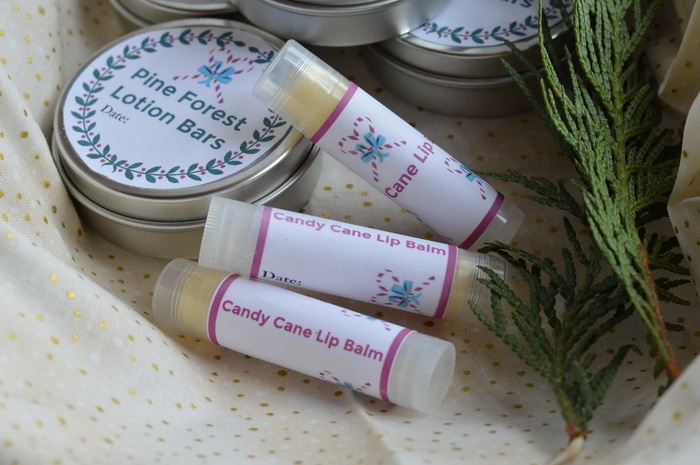 For a printable candy cane lip balm recipe try this one:

Rocky Mountain Oils
I'm trying out Rocky Mountain Oils essential oils right now.  So far I've just invested in their two Holiday Kits.  Candy Cane is one of three essential oil blends in the Christmas Morning Holiday Kit.  that includes Evergreen dream, a combination of fir needle, frankincense, and pine — all fabulous essential oils for skin care because they are antioxidant, antimicrobial, and anti-inflammatory.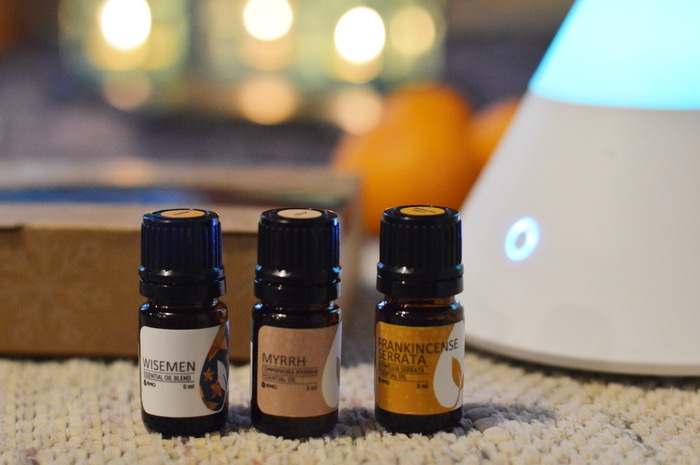 The other holiday kit I'm loving is their Sacred Night Holiday Kit that contains Myrrh, Frankincense Serrata, and Wisemen, a blend of frankincense, myrrh, and sweet orange.  I'm planning to try this one in a beard oil, and a beard bomb recipe for my son.
These essential oils are fabulous for skin care essential oils, but they also work really well in my essential oil diffuser, filling my kitchen with Christmas memories. (Someone should make a sugar cookie diffuser blend, all the feels and none of the calories, don't you think?)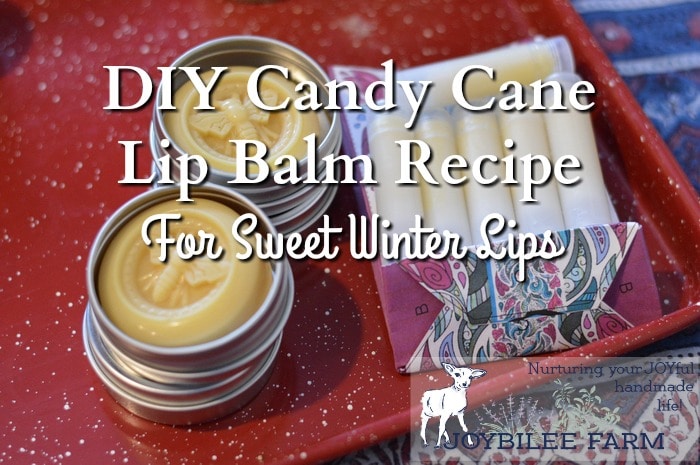 Have a look at these other skin care recipes that make amazing gifts!
Holy Land Lemon Grass Salt Scrub
Pine Forest Lotion Bars (coming soon)
And check my book (#ad),  The Beeswax Workshop, for more ideas for DIY Gifts and DIY Skin Care Recipes.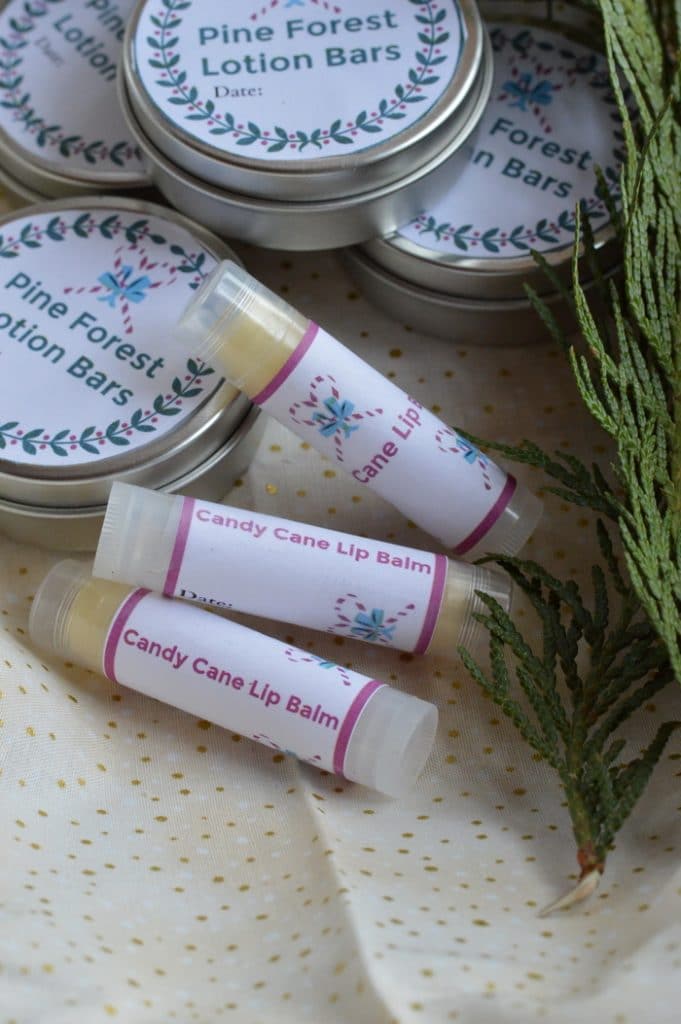 Free Lip Balm Labels
Get these FREE Labels to make your DIY lip balms and lotion bars look amazing!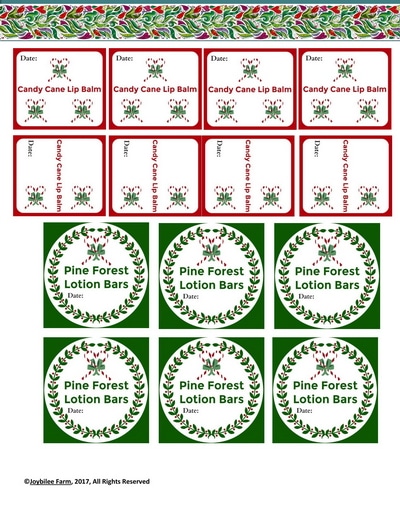 Download these lip balm and lotion bar labels now and make your gifts look amazing.