Take a little wine for your stomach's sake — Digestive Bitters
You remember the Apostle Paul/Saul writing to Timothy and telling him "take a little wine for your stomach's sake?" That verse has troubled Protestants for generations. It turns out that wine and its bitter tannins actually help with digestion, as Paul correctly advised Timothy. Digestive bitters, in fact, may be more beneficial than probiotic supplements for stomach aches, sluggish digestion, feelings of bloating, and bowel irregularity.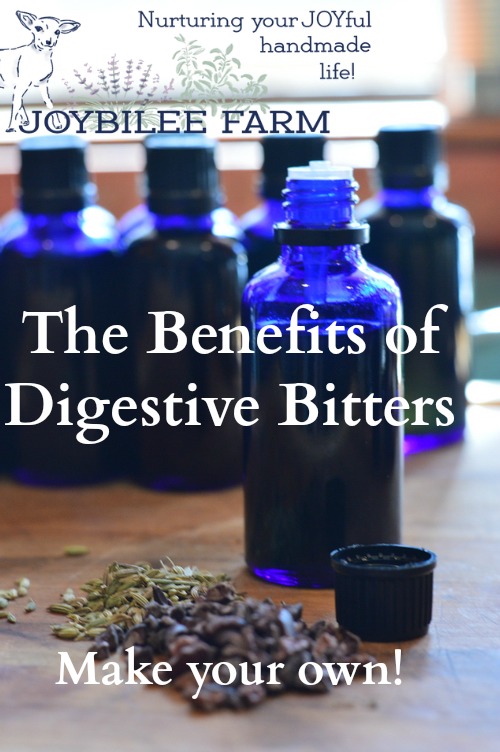 The tradition of eating a green salad at the beginning of a meal is founded on the use of digestive bitters. Lettuce, endive, and chicory, common salad ingredients, stimulate the tongue with their bitter taste, as well as stimulating every organ involved in digestion. Limoncello, martinis, vermouth, and absinthe are alcoholic aperitifs that offer bitterness for the pre-dinner happy hour. Other common beverages like espresso, cacao, and green tea offer more than just caffeine for stimulation. Bitterness is also one of their healthy attributes.
Bitters aid digestion, stimulate bile juices, and calm the nerves, engaging the para-sympathetic nervous system. When you taste bitters, your heart rate slows down, your glandular and intestinal activity increases, and the muscles in your intestinal tract relax, getting ready to digest. Your fight or flight response is relaxed in order to allow your body to nourish itself. Bitters stoke the inner digestive fire. And when the digestion is working optimally, so is the body.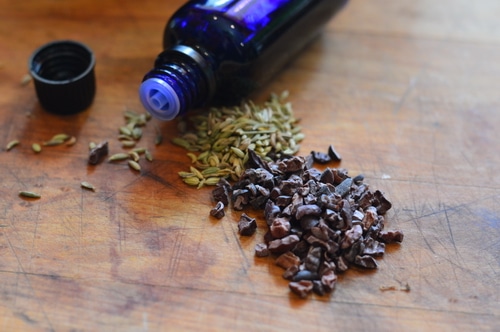 Benefits of digestive bitters:
Bitters have also been used to supress food cravings. The craving for sugary snacks or starchy salty snack foods can be quenched with a drop of bitter taste on the tongue.
Bitters relieve gas and bloating.
Bitters help maintain healthy blood sugar levels
Bitters support the liver and gall bladder.
Bitters relieve heart burn and indigestion
Bitters relieve upset stomach and nausea
Bitters are both drying and cooling
Bitters aid weight loss by curbing sugar cravings and maintaining healthy blood sugar
Bitters help to regulate fat metabolism
Bitters can improve your complexion by improving digestion
But for bitters to be effective they must be tasted. It's the bitter stimulation of the tongue that triggers the cascading effect of bitters on the digestive system.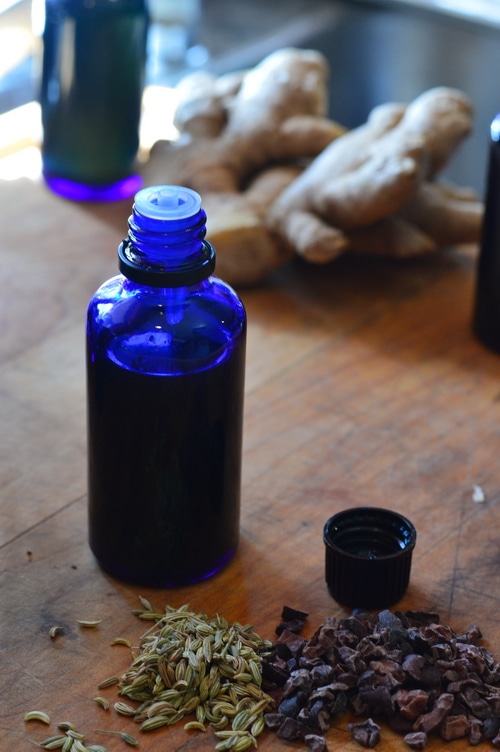 How to increase the digestive bitters in your diet.
Eat raw green salads before a meal.
Drink a glass of red wine with dinner. White wine doesn't have the same astringency as red.
Take a bitter tonic or aperitif about 30 minutes before dinner.
Take a bitter tincture 20 minutes before eating. Just a few drops on the tongue is all you need.
Include bitter tasting food in the meal
Use less sugar to mask the taste of bitters
Use carminatives with bitters
Because many bitters are cooling and drying, it's a good idea to add a carminative to digestive bitters to balance the actions. Many carminatives are spicy, warm herbs like ginger, pepper, fennel, and cinnamon. Carminatives aid digestion with their warming and moistening actions. Carminatives increase circulation and improve the herbal actions of other herbs. They help keep things lubricated and moving through the digestive track. If a plant is highly scented or strongly flavoured it probably has some carminative actions.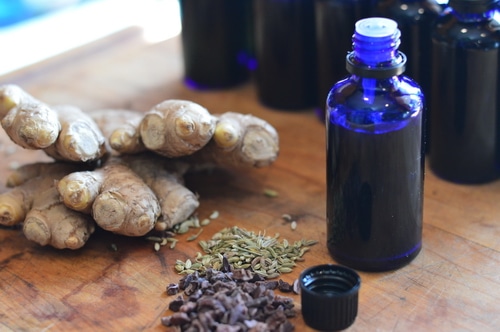 What is the easiest way to add digestive bitters?
These tasty bitters may be enjoyed as an aperitif, a digestive, or to settle an upset stomach. A bitter tincture is one of the easiest ways to add bitters to your daily routine. Carry a bottle with you and sprinkle a few drops on your tongue as needed.
My recipe uses grapefruit peels and cacao nibs for their mild bitterness. Ginger, vanilla, and fennel are carminatives added to stoke that inner fire.
While you can buy prepared digestive bitters at Mountain Rose Herbs or at your local herb store, they are super easy to make at home. And you'll save a lot by making them yourself.
This recipe makes almost $200 worth of digestive bitters for just a few dollars. You can assemble the ingredients in less than 10 minutes. After letting it macerate for a few weeks, it takes about 20 minutes to strain it, bottle it, and label the bottles. That's a good return on your time investment. What other job pays you $400 an hour for your time!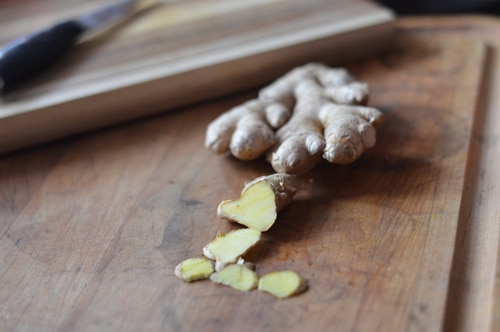 Grapefruit Chocolate and Ginger Digestive Bitters
Yield: 13 – 2 oz. bottles
Equipment:
1 wide mouth glass quart jar, with lid
13 — 2 oz. coloured glass bottles with lids and a drop reducer or with dropper tops
2 quart bowl for straining
Stainless steel cone sieve for straining

Potato ricer to strain the tincture
1 cup glass measure
Stainless steel funnel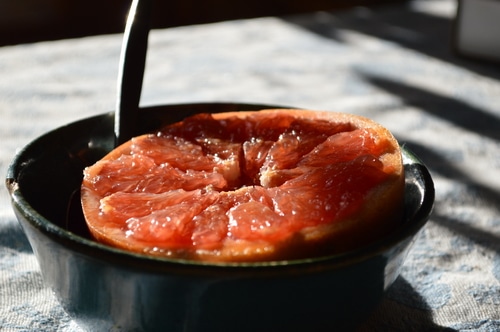 Ingredients:
2 organic grapefruit peels (use the fruit for something else)
½ cup of organic cacao nibs
2 tbsp. of grated fresh organic ginger root
1 tbsp. organic fennel seed
2 organic vanilla beans, halved and scraped
1 750ml bottle of 40% alcohol vodka (organic if possible)
Method:
It's important to use organic ingredients as much as possible. The alcohol will leach any chemicals used in the ingredients into your bitters. That would be nasty.
Clean and sanitize a wide mouth quart jar. Peel and eat the grapefruit, or set the fruit portion aside for another recipe.
Tear the grapefruit peels into small pieces, about an inch is a good size. Place them in the jar. Add the cocoa nibs, ginger root, and fennel seed to the jar. Split the vanilla beans in half along the long side. Scrape the vanilla beans and add all of it to the jar. (Note: you can use vanilla beans leftover from making vanilla. They will still have lots of flavour.) Pour the alcohol into the jar and fill to within ½ inch of the top. Cap tightly. Give the jar a shake. Add more alcohol if necessary to maintain the 1/2 inch headspace.
Place in a cool, dark cupboard for 2 to 3 weeks. Shake the jar whenever you think of it. After 3 weeks strain the contents, reserving the liquid. The marc (the spent herbal material) can be composted.
I use a potato ricer, like this one, to get the last drops of the tincture. You'll need good arm strength, so get help if necessary to give it a good squeeze. If you don't have a potato ricer, put the marc in a tightly woven cloth and wring out as much liquid as you can.
Pour into dark, glass bottles and cap tightly. Label and date.
Store in a cool, dark place. Bitters will keep for several years without loss of quality.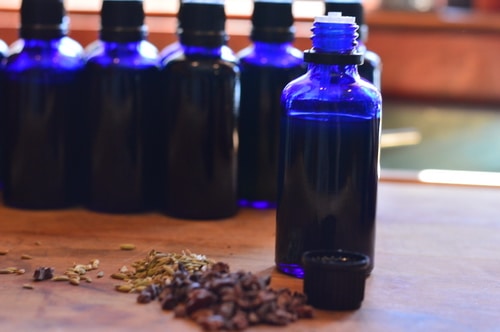 To use:
About 20 minutes before a meal place 1 to 5 drops of digestive bitters on your tongue. Taste and swallow. If you are using bitters to quell food cravings, you can take up to 7 doses of bitters in a day.
Grapefruit peel is only mildly bitter. For children over 2 years of age put drops of bitters in a half cup of water to dilute the flavour somewhat.
If you are new to using digestive bitters, use a small amount at first. You can increase the amount as you get used to how your own body reacts to them. If you feel discomfort cut back on the amount of bitters. Expect to see improvement within 3 weeks. Herbs work more gently than drugs.
Contraindications:
Those who have acute gall stone issues should talk to their doctor before consuming bitters. The bitter taste stimulates bile flow and could cause issues.
If you have any of these conditions talk to your doctor before consuming digestive bitters. (David Hoffman)
Pregnancy
Kidney stones
Gallbladder disease
Dysmenorrhea
Gastro esophageal reflux disease
Hiatal hernia
Gastritis
Peptic ulcer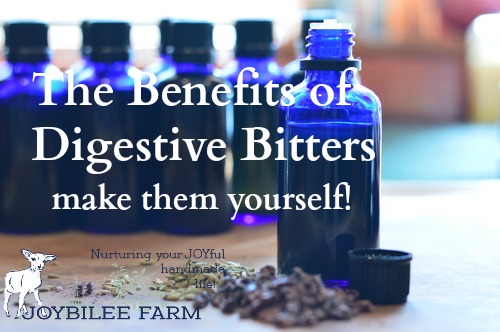 Learn more about digestive bitters and other herbal remedies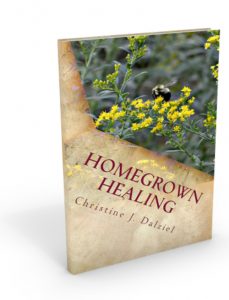 My book is available on Amazon.
Save
Save
Save
Save
Save
Save
Save
Save
Save