Don't spray the weeds. Eat them!
Dandelion leaves like other spring greens are tonic and help our bodies transition from winter dormancy to spring growth and increased activity. Many are slightly bitter and help our livers cleanse and renew. In fact, the bitter taste stimulates bile flow in our bodies, waking up our sluggish digestion. Spring greens, like dandelion greens,  stimulate lymphatic flow. The fresh greens, after a winter of less than fresh food, also enrich our bodies with minerals, vitamins, and phytonutrients to help us rebuild our health and vitality.  You can preserve the green freshness by turning the abundant, tender dandelion leaves into dandelion leaf pesto, and savor the goodness for weeks.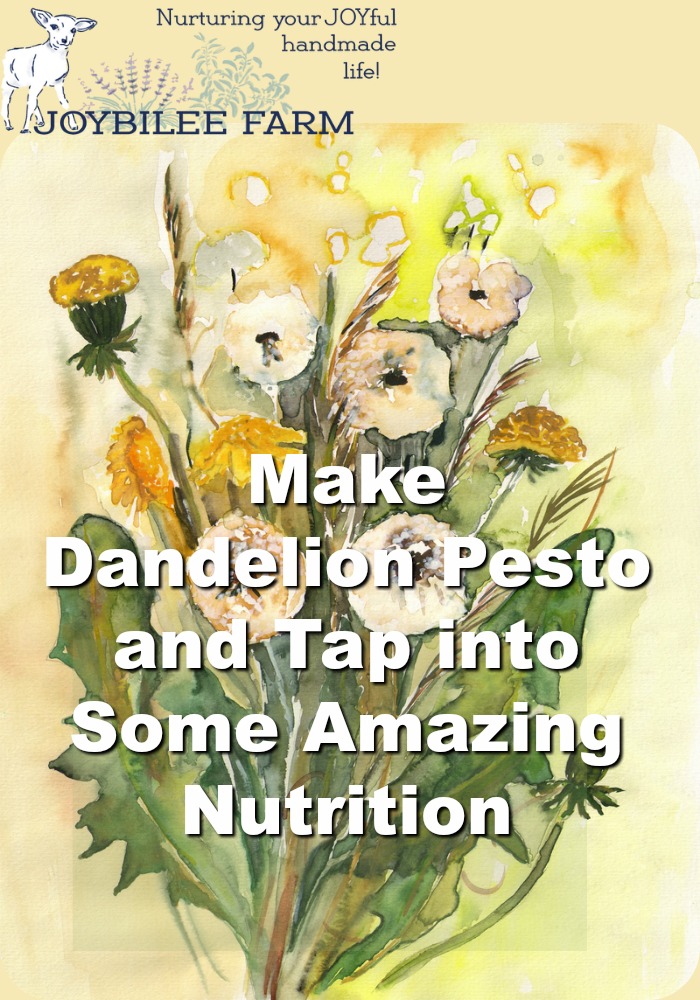 The season for spring greens is so short. You have only a week or two to harvest the dandelion, nettles, plantain, lamb's quarters and other spring greens before the flowers come and they become tough and bitter. But they are ready to harvest before the lettuce and spinach is big enough to harvest in the garden, so take advantage of them while you can.
First some safety precautions:  When foraging for spring greens off your own property never harvest where you think the weeds may have been sprayed with chemicals.  Herbicides are deadly to more than just the weeds.  Just to be safe, don't harvest within 50 feet of a road.  Ideally, harvest them from an organic garden and always ask permission when harvesting on someone else's land.  And of course, make positive identification before harvesting, or tasting any weed.  A good field guide and an experienced wild craft mentor can help you learn to know the weeds growing near you.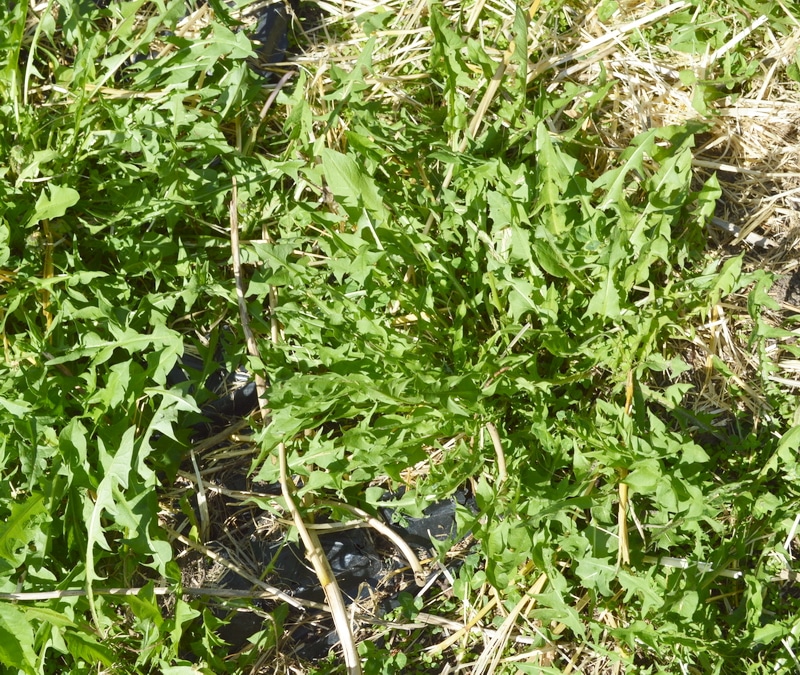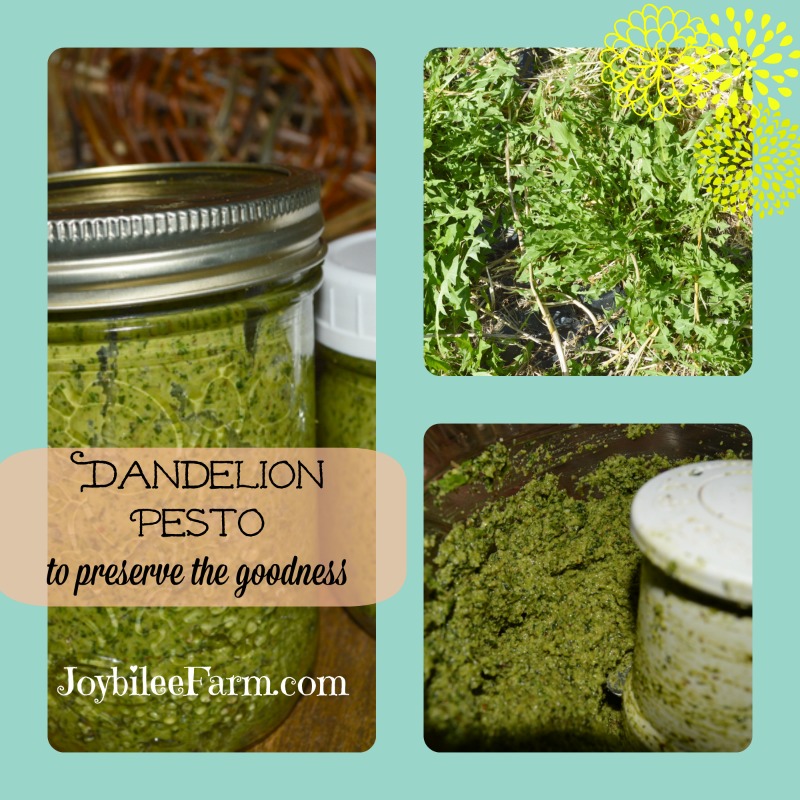 Making dandelion pesto from spring greens
I made pesto with a portion of my abundant dandelion greens. I was inspired to try this by the Intermediate Herbal Course I was taking online, from the Herbal Academy (#ad) of New England. Unit 2 of the 10 unit course, discusses food as medicine, and suggests making pesto from spring greens like dandelion, but there's no recipe. There is simply a method that is very similar to making pesto from fresh basil, garlic, pinenuts, and parmesan cheese, ground to a paste with virgin olive oil.
I love pesto made with basil.   In fact, I love the smell of my kitchen infused with the scent of crushed basil leaves. It makes me smile. Just a warning, crushed dandelion leaves smell nothing like basil. This was a bit of a disappointment. I knew it wouldn't, but just seeing that amazing brilliant green paste, my mind wanted the fragrance of basil. Who knew that moist green paste could be such a trigger!
You'll need a food processor for this or lots of patience if you are using a blender. I've burned out a few Sunbeam blenders trying to make pesto in them. Invest in a food processor and you won't regret it. I have a Kitchen Aid 9 cup food processor and I'm very happy with it. Turning nuts, oil, and fruits and vegetables into a smooth paste is one of tasks it excels at.
The basic ingredient proportions for making pesto that I used were:
5 to 7 cups of spring greens
2 whole cloves of raw garlic
½ to ¾ cup of extra virgin olive oil
½ tsp. Himalayan pink salt
2 cups of toasted nuts
1 cup of grated cheese
But my actual recipe turned out a little differently.
The chives were ready in my garden along with the dandelion greens, so I added chives to the pesto. And I found the flavour a little bland so I added a smidge of toasted sesame oil and a bit of tamari. I think this would be amazing with raw ginger but I didn't add that.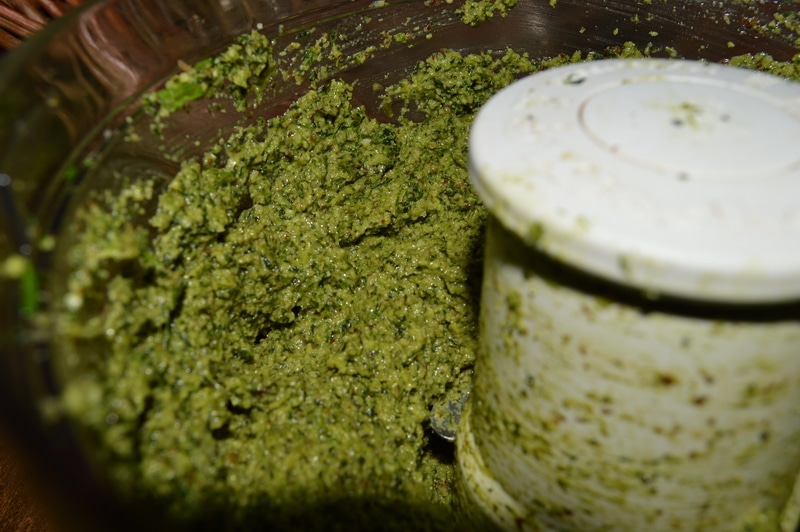 Joybilee Farm's Dandelion Pesto
Ingredients:
2 cups of raw hazelnuts, toasted in coconut oil
1 cup of grated mild Gouda cheese
1 tsp. tamari
2 tbsp. toasted sesame oil
1 cup of fresh chives, chopped
2 cloves of fresh garlic
4 to 6 cups of fresh spring dandelion greens, washed, dried, and chopped
½ to ¾ cup of extra virgin olive oil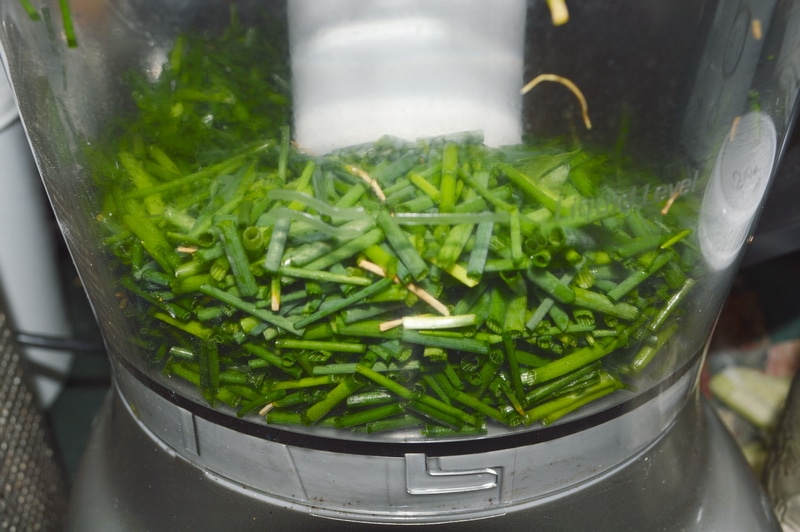 Method:
Put chives in the food processor with ½ cup of virgin olive oil, and process for 30 seconds on low. Add the 2 cups of toasted nuts, 2 whole garlic cloves, tamari, and sesame oil. Process on low for 30 seconds. Add dandelion greens 1 cup at a time, processing briefly after each cup. Add cheese and continue processing on high for 1 minute. Add additional olive oil or additional chopped greens until you get the paste consistency that you are looking for. Taste and adjust with added salt if you like.
Variation:
Thai dandelion pesto: You can add hot peppers, lime or lemon zest, and fresh ginger if you prefer your pesto a bit more complex and spicy. You won't need to adjust the ratio of greens to olive oil, just add a pinch of dried hot peppers, the zest, and a 1 inch piece of raw ginger, peeled and grated, at the beginning of the processing time. Adjust the flavours to your own liking. This is amazing served over rice noodles.
How to use Dandelion Pesto
Pesto should be flavourful, because it is added to bland dishes like rice, pasta, or scrambled eggs to enhance the flavour. So go ahead and experiment to find the mixture that you like best. And be sure to write it down so you can repeat it next year.
I've been adding a tablespoon when I scramble our breakfast eggs this week. I may have to make more, it's that good. I don't notice any bitterness.
Put the finished pesto in a glass jar and store in the fridge. Top the paste with a layer of olive oil. It will keep for several months in the fridge. You can also freeze this in glass jars – leave a 2 inch head space to prevent breakage.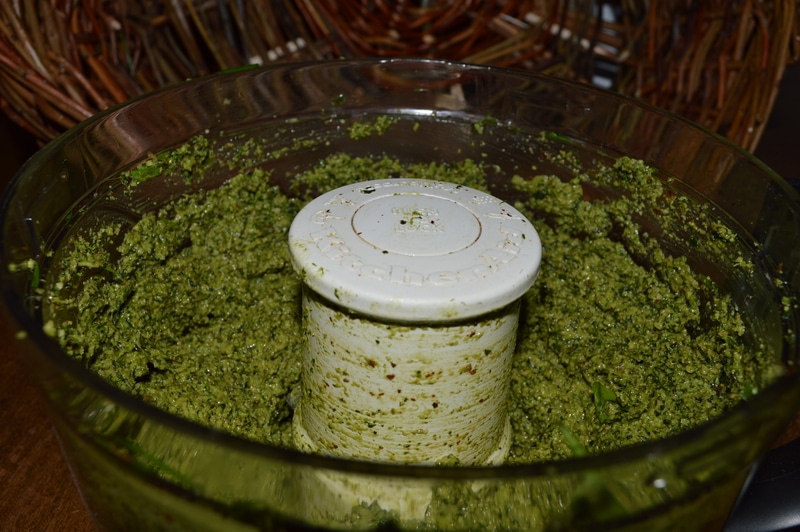 Tip: When washing a large quantity of fresh greens, you can spin them dry in a salad spinner. But if you don't have a salad spinner, put the greens in a clean pillow case and step outside. Swing the pillow case around over your head a few times and you'll get those greens dry. But beware of people or pets standing in the outflow area. They may give you funny looks, when you soak them, unexpectedly.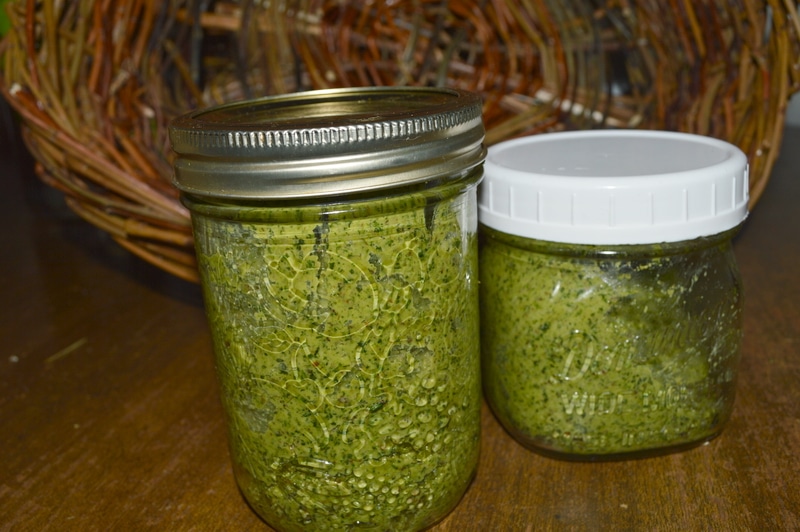 Other ways to preserve spring greens
If you have an abundance of dandelion, nettles, lamb quarters, and other greens, harvest the abundance and dry some for winter. You can add them to teas, crumble them and add them to soups and stews, and put them in smoothies all winter long. They'll hold their goodness for up to two years if stored away from light, heat, and moisture.
Freeze spring greens for winter
You can also blanch spring greens, bag them, and freeze them for winter. Dandelion or lambs quarters are delicious as a substitute for spinach in dishes like lasagna or spanakopita. To freeze them, wash them and chop them into bite size pieces. Bring a pot of water to a rapid boil. Place the spring greens in a colander that will fit inside your pot. Plunge the greens, inside the colander, into the boiling water. The greens will turn a vibrant green in 15 to 30 seconds. As soon as you see this colour change, remove them from the boiling water and plunge them into a sink of cold water to rapidly cool them and stop the cooking process. Drain them and put them in freezer bags. Get as much air as possible out of the freezer bag. Complete the seal. Allow to cool to room temperature and put them in the freezer to freeze. Spring greens will keep for a year in the freezer, if they are properly packaged and stored.
If you are new to herbs, the Herbal Academy of New England, where I was enrolled in the Intermediate Herbal Course, just opened up enrollment to the Beginner Herbal Course, specifically geared to introduce herbal remedies for personal and family use to beginners.  Feel free to sign up using my affiliate link and begin your exciting journey to learn more about herbs today.
Save
Save
Save
Save