Get ready to bake some amazing breakfast muffins. It's hot breakfast month and this week my team of #hotforbreakfast bloggers are bringing you 10 recipes that you can make for a hot breakfast on those busy days when you might be too rushed to sit down for breakfast. These are make ahead dishes, that you serve when you need them or dishes that you can make while you get ready to go. Then take them with you to heat on the run.
Every one of these recipes, like my breakfast muffins, makes use of wholesome, healthy real food ingredients to give you lasting satisfaction and energy for your busy day.
If you are following along during National Hot Breakfast Month, or following the #hotforbreakfast hashtag on social media, you'll find 50 original recipes to insure that you have a hot breakfast for your crew that uses real food and natural organic ingredients. Check out my blogging friends at the bottom of this post, for more original Hot Breakfast Month recipes.
Breakfast muffins are a fast hot breakfast that you can mix in 10 minutes and pop in the oven to bake while you get ready to go. They take only 15 minutes to cook and you can eat them on the run. Add a slice of cheese and you have a nutrient dense breakfast to fuel your work and your brain till lunch.
Want more breakfast muffin recipes? Check out Muffins from Scratch and find out how to take the ingredients you have and turn them into warm, comforting breakfast muffins.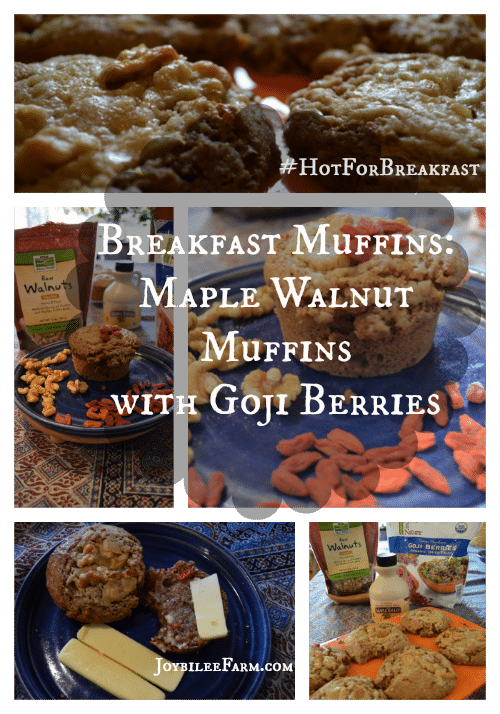 Maple walnut goji berry muffins
Time: 10 minutes prep time and 12 to 16 minutes baking time.
Yield: 12 regular size muffins or 6 extra large muffins
Ingredients:
3 eggs
2 tbsp. coconut oil
½ cup of maple sugar
1 cup of almond milk
2 tsp. vanilla
¼ cup of flax seed, freshly ground
2 ½ cups of whole wheat flour
2 tsp. baking powder
½ cup of goji berries
½ cup of walnuts, coarsely chopped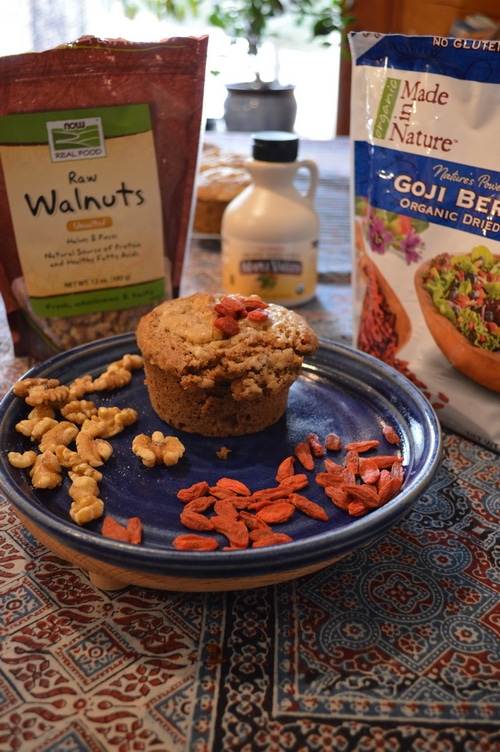 Maple glaze
2 tbsp. butter, softened
¼ cup walnut halves
3 tbsp. maple syrup, grade B
Method:
In a bowl, beat together eggs, coconut oil, vanilla and maple sugar until light and frothy. Mix in almond milk until it is incorporated well. In a separate bowl, mix together flour, flax seed, and baking powder. Stir the flour mixture into the egg mixture, until the flour is incorporated. Do not over stir. Fold the walnuts and goji berries into the mixture.
Spoon into well greased muffin tins.
Maple Glaze
Mix together maple syrup and butter until creamy. Mix in walnut halves. Spoon onto uncooked muffin tops.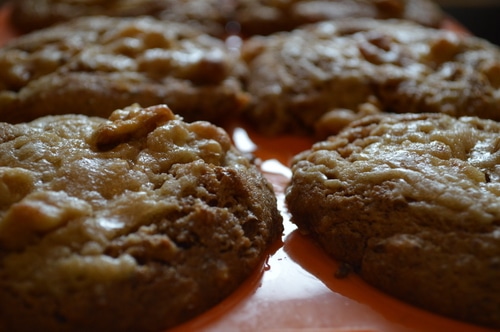 Preheat oven to 375F. Bake muffins for 12 minutes for regular size muffins or 16 minutes for extra large muffins. Bake until the surface of the muffins springs back when touched and a toothpick inserted into the centre comes out clean.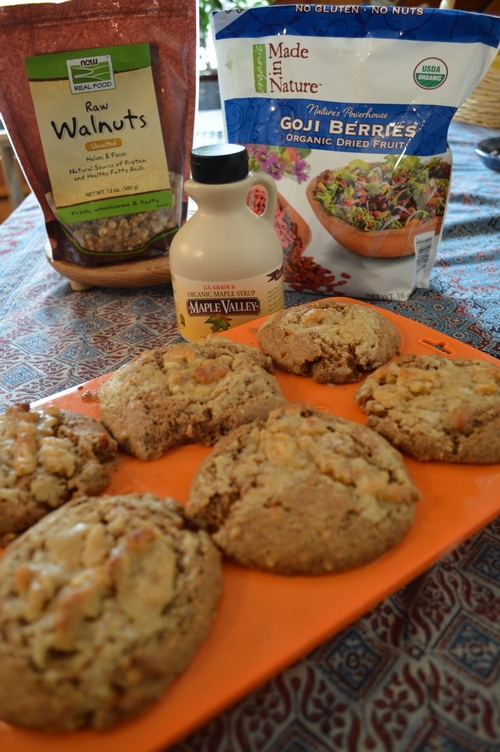 Breakfast muffins are made easy with quality ingredients like home ground flour, freshly ground flax seed, and nut milks like those made by Pacific Foods. Maple syrup by Maple Valley, dried fruit by Made in Nature, raw organic nuts from Now Foods mades these maple walnut muffins with goji berries amazing. If you want more crunch and fiber add 1/4 cup of 10 grain cereal from Bob's Red Mill to this recipe.
Grade B maple syrup is the best grade of maple syrup. It is thicker, richer and has a more pronounced maple flavour. I think you'll like this quality organic product from Maple Valley. My only hesitation with this product is that it is sold in a plastic container. I purchase grade B maple syrup directly from a sugar farmer in 1 quart glass bottles. If you don't have a sugar farmer in your area, Maple Valley is a quality product made in the USA. I did a taste test comparing my local maple syrup (from a sugaring bush in Quebec) to Maple Valley maple syrup and there was no perceivable difference in taste nor viscosity. Overall I was very please with the taste and performance of Maple Valley grade B maple syrup in these Maple Walnut muffins.
Goji berries are a super fruit full of antioxidants and great flavour. Made in Nature goji berries are soft and chewy, not hard and leathery like other dried berries I've used. They are easy to toss into muffins, rice dishes, and bread. They have a sweet-tangy flavour that is unique and pleasant. I would add these to granola and trail mix for their added antioxidants and surprising taste. I tossed a handful of Made in Nature goji berries into a pot of forbidden rice. The hint of blueberry flavor in the forbidden rice, a black rice that is highest in antioxidants, complements the goji berries like they were made for each other. I have a new favorite way to cook rice now.
Now Foods organic raw walnuts are delicious. They made these breakfast muffins exceptional. You already know how much I love maple walnut flavour. Buttery and rich maple walnut flavour only comes from walnuts that are high in natural walnut oil, and are completely fresh, without rancidity. The Now Foods walnuts meet my criterion for buttery, rich walnut taste. Walnuts are another superfood making these breakfast muffins super healthy as well as delicious.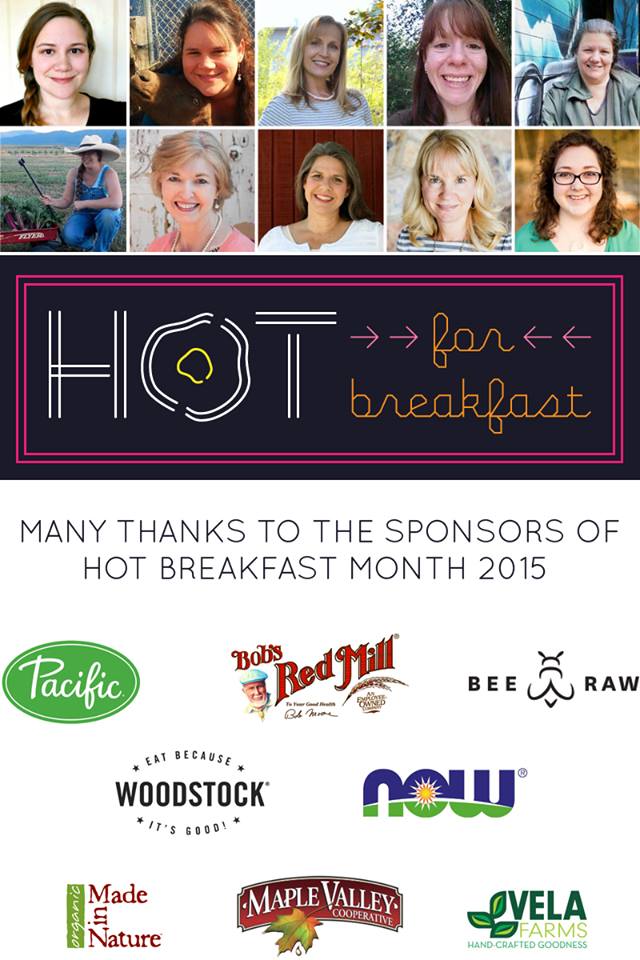 Be sure to check out my #hotforbreakfast partners and their amazing recipes: Jess at 104 Homestead – Jami at An Oregon Cottage – Susannah at Feast & West – Kathie at Homepun Seasonal Living – Tessa at Homestead Lady – Chris at Joybilee Farm – Sheila at Life, Love, and Good Food – Lynda at Me & My Pink Mixer – Annie at Montana Homesteader – Angi at Schneiderpeeps
The following companies generously sponsored various #hotforbreakfast month projects. I may not have used all of them in my recipes, but this project is in no small part thanks to them and their incredible contributions: Bee Raw, Bob's Red Mill, Made in Nature, Maple Valley Syrup Cooperative, Now Foods, Pacific Foods, Vela Farms, & Woodstock.
Disclaimer: I received the Now Foods raw walnuts, Maple Valley grade B maple syrup, and the Made in Nature Goji berries to test for this recipe from the companies for free. I was not required to give a review of these products and I was not paid for the review of these products. This review is my honest opinion of these quality products. This post contains affiliate links.