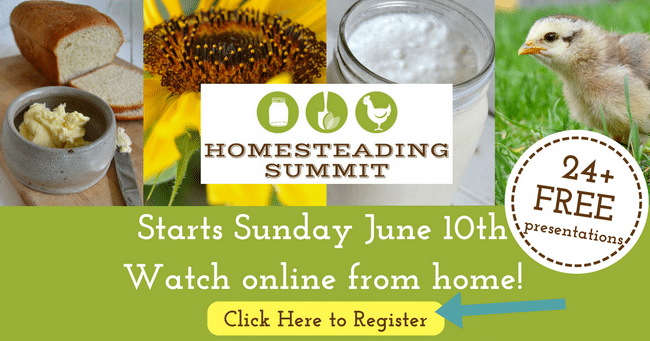 We all have a tea lover on our Christmas list.  You know the one.  Loves tea — herbal, green, or black.  Sometimes warm and sometimes sweet tea in a glass over ice.  These tea bag shortbread cookies are just a little more finicky to make than regular shortbread.  But I promise you the effect is worth the effort.
If you are making these for a gift, find a vintage tea tin to present them, or put them in a wooden tea chest or a tea box.  Use your imagination to make this awesome. It's a priceless gift for less than the cost of a cuppa at Starbucks.
These would also be perfect for Grandma's tea party when your precious grand daughters come for a visit.  So don't just make them at Christmas.  Think Valentines, Mother's Day Tea, Birthday, a wedding shower, or anytime that it's afternoon tea party time.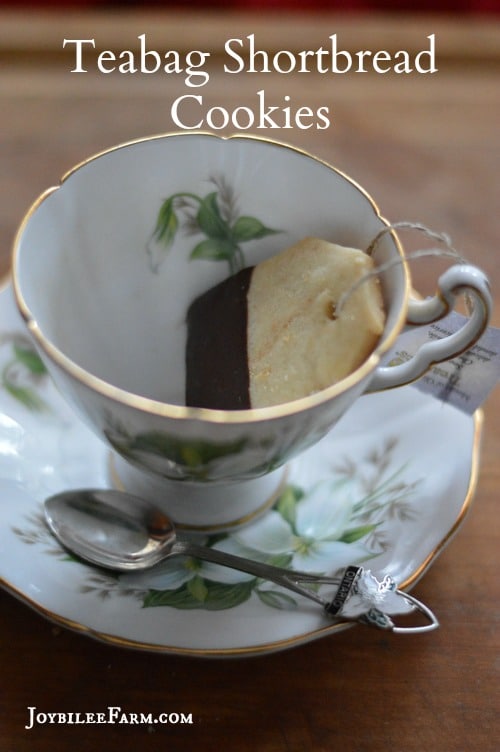 Tea Bag Shortbread Cookies
Ingredients
1 lb. of butter, softened
1 cup of organic sugar
4 ½ cups of Bob's Red Mill Organic, Unbleached All-Purpose Flour
2 tsp. vanilla
Melting chocolate (prepared according to package directions)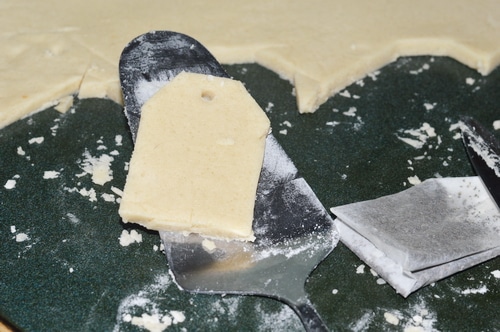 Method
Preheat oven to 360°F.
Prepare baking sheets by lining with parchment paper.
I use salted butter in this recipe. If you use unsalted butter add ¼ tsp. of Himalayan salt.
Cream real butter, vanilla, and sugar together until light and fluffy. Stir in flour one cup at a time. You can work the flour in till the dough is very light.
Cover the mixing bowl and put it in a cool place or refrigerate for 3 hours or more.  Chilling the dough makes it easier to roll out, and improves the texture of the cookies.
Divide the dough into portions that can be rolled out easily. Roll the dough on a lightly floured counter to ¼ inch thickness.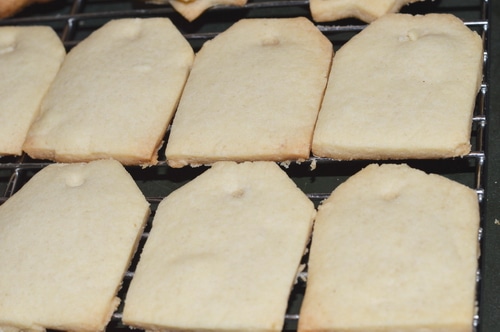 Cut out the tea bag cookie shapes
Now this is the fun part. Using a tea bag and a sharp paring knife, layout the tea bag on the cookie dough. Cut around the tea bag with the paring knife. Don't cut your counter top. Move the cut out tea bag shape onto your prepared baking sheet. Using a sucker stick, or other dull stick, make a hole in the top of the tea bag, to hold the string later.
Repeat with remaining dough.
Bake in 360°F oven for 12 minutes, until lightly browned.
Remove from cookie sheet to a cooling rack. Repeat with remaining dough.
Once the cookies are completely cooled, dip half the cookies into melted chocolate. Cool on parchment paper until solid.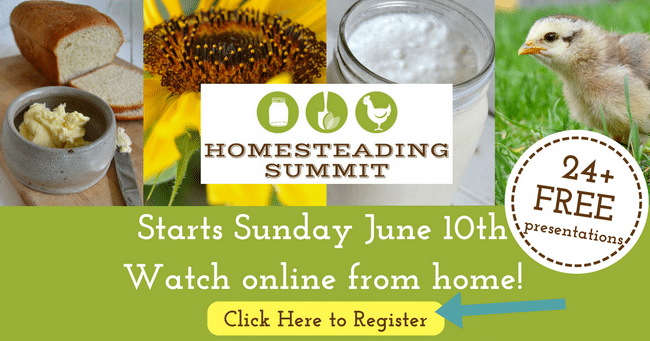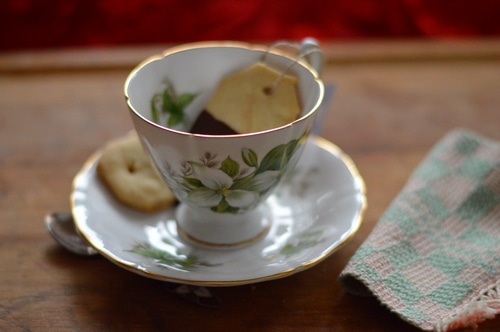 Assembling the tea bag cookies
The hole in the cookie may have closed somewhat during baking. Once the cookie is completely cool, use your sucker stick in a twisting motion to open the hole, without damaging the cookie.
Take a 6 inch piece of fine twine and thread through the hole.
Print the tea bag label sheet.  Cut out the individual labels.  Tape the end of the twine on the back of the tea label.  Tea bag cookie completed.  Repeat for each cookie.
If you are stacking the finished cookies in storage, place parchment paper between the layers. The chocolate may melt and cause the cookies to stick together if the cookies are stacked one on top of the other.
Store in an airtight cookie tin, in a cool place.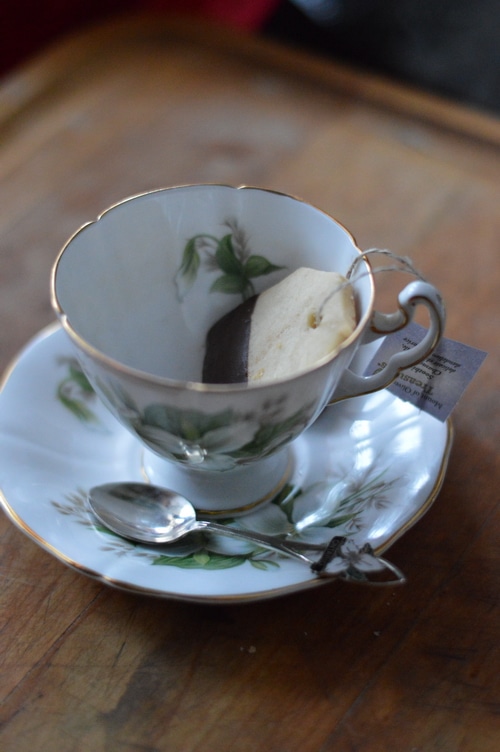 Free Downloadable Labels (pdf)
Download and print the Tea Tag Sheet.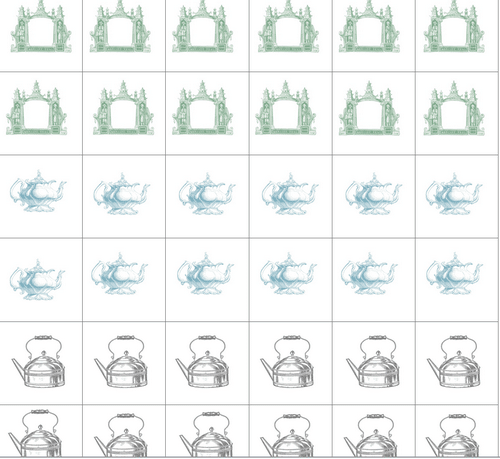 I don't know where the original idea for these shortbread cookies came from.  I found it on Pinterest.  Here's several other shortbread teabag cookie recipes to try and a few ways other baker's have assembled the cookies.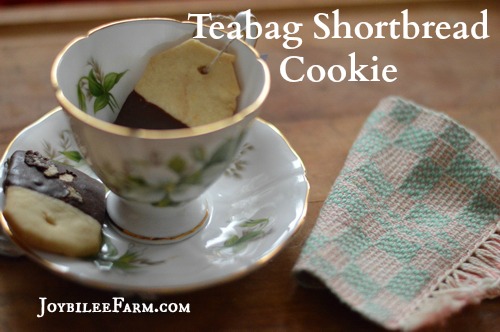 Tea Bag Shaped Lavender and Lemon Cookies from Every Day Dish
Peanut Butter Shortbread Teabag Cookies from Teaspoon Living
Paleo Shortbread Teabag Cookies  from Paleo Spirit (ah, these ones have no grains or sugar)
Earl Grey Shortbread from Love NonPareille
Orange and Poppyseed TeaBag Cookies from Red Brolly
White Tea Lemon Shortbread TeaBag cookies from Young Idealistic Baker
Matcha Green Tea Shortbread Cookies (Gluten Free) from Whatever's Left
Your Turn:
How would you present these teabag shortbread cookies to make them awesome?