Using Natural Walnut Dye to colour your homestead wardrobe.
In another blog post I talked about making ink from walnut hulls for fabric printing, or for writing with a fountain pen.  In this article I will show you how to dye yarns or fabrics with natural walnut dye, so that you can create a personal homestead wardrobe.
I took the same walnut hulls that I used to make the walnut extracts for ink and added water to the pot again.  If it gets a bit moldy because it took a while before you got around to the dye bath, just skim the vat before you start.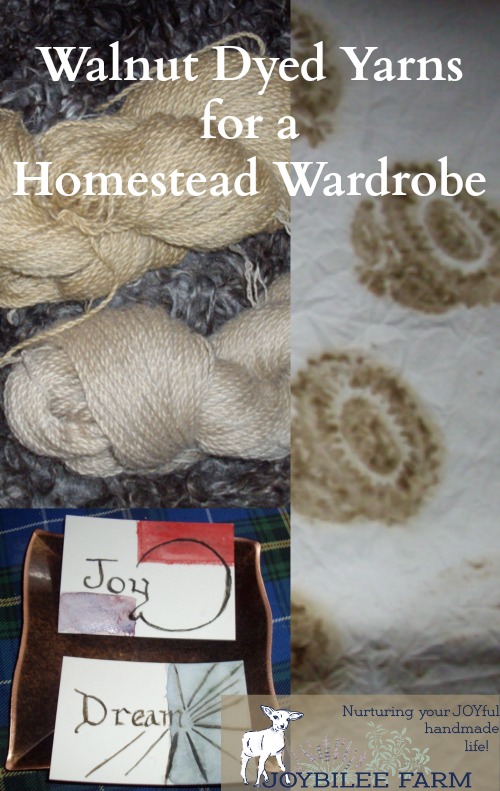 1.  Simmer the walnut hulls for several hours.
To make natural walnut dye you'll need to simmer the walnuts for several hours.  I put mine on the back of the wood stove.
The smell is not nauseating so you can do this indoors, or out.  Some natural dyes are quite nauseating as they cook and you don't want to do it indoors.  Woad is one of these.  But I find walnuts quite pleasant smelling.  If  you are allergic to nuts or have a family member who is, though, don't do this in the house.  If  you personally are allergic to walnuts don't do this at all!  But you can apply these same principles to other natural dyes.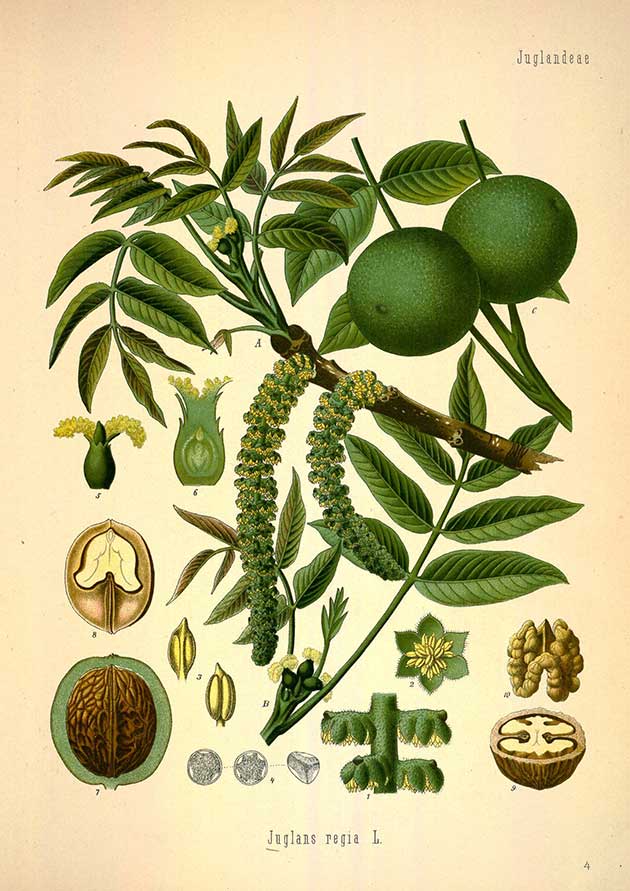 2.  Strain the resulting liquor.
It will be quite thick and dark, even though you've already taken out a good bit of colour for the ink.  You want to strain out the sludge.  I like to strain it once.  Let it sit for a week so the rest of the sludge drops to the bottom of the pot and then strain it again.  If left with sludge in your dye pot, the fabric or yarn that sits in the sludge will streak darker than the rest of the yarn or fabric.  If you want this effect, don't strain it the second time.
3.  Prepare yarn or fabric for dyeing.
Before dyeing you need to scour the fabric with a detergent or washing soda to remove sizing, starches, bleach residue or spinning oils, to prepare the fiber for dyeing.  You do not need to dry it after cleaning, but if you do, allow it to soak for several hours before immersing it.  If you are dyeing yarn, skein the yarn and tie it loosely in at least 4 places.  If you are dyeing loose wool fleece, prepare the fleece by washing gently to remove dirt, lanolin and sweat before dyeing.
With walnut dye you do not need to premordant fabric, yarn or wool before dyeing.  If you choose to premordant you will pick up other colours from the dye vat than if you don't mordant.  You may find that the yarn that is mordanted is more colourfast (or less colourfast) than unmordanted yarn.
I use 3 tsp. of alum and 1 tsp. of cream of tar tar for each lb. of wool, silk, or mohair (protein fiber) that I am going to dye.  If I am dyeing cotton fabric, with walnut dye, I would not bother to do a second tannin mordant, but with other dyes I do.  I use the same amount of alum for cotton or linen, as I do for wool, but I omit the cream of tar tar.
If you are dyeing yarn and you want a two tone effect for knitting or weaving, try mordanting half your yarn and leaving the other half unmordanted.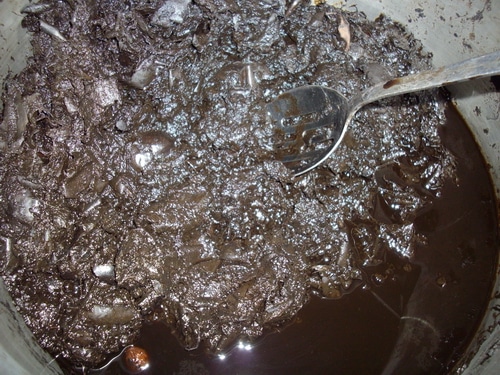 4.  Immersion dyeing
Enter the prewetted fabric, yarn or fleece into a cool vat and put it on your heat source.  Slowly bring the vat up to temperature but do not allow to boil.  Simmer it gently, keeping the vat at around 180F for several hours.  You can check the colour after a few hours.  You want the colour to be darker than what you hope your final product will be because the colour lightens as it drys.  Once you have achieved the colour you want.  Allow the fiber or fabric to cool in the vat over night.
5.  Rinsing
Remove the fiber, fabric, or yarn from the cooled vat.  Rinse in cool water, so as not to felt it.  Rinse it thoroughly, as many times as necessary to remove all colour that hasn't adhered to the fiber.  The final rinse should be clear.  If you are dyeing a fiber that felts easily, like wool, be careful to keep the rinse water the same temperature, as sudden changes in temperature can felt your work, and handle gently so as not to felt it.
You can spin out the fabric or wool in your washing machine on the spin cycle, but only if your machine allows you to do so without spraying water, during the spin cycle.  You can also use a salad spinner or put it in a pillow case, go outside, and whirl it around your head to imitate a centrifuge.  Make sure there are no people near by to be sprayed.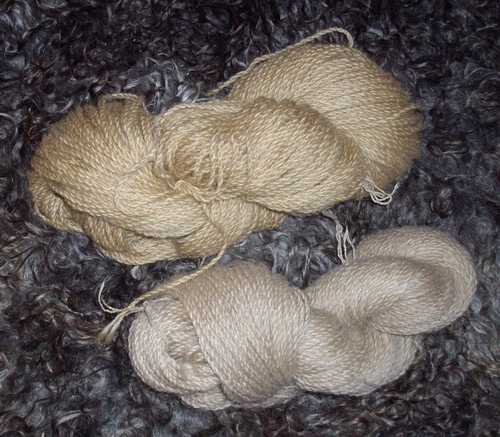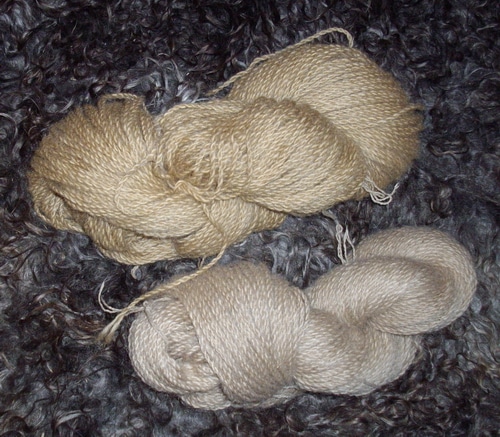 6.  Air dry
You want to air dry it rather than using a clothes dryer.  I have a baker's rack that I spread the fleece out on, beside the wood stove.  If  you are drying fleece, you want to stir it up as it dries so that it dries evenly.
7.  Getting more colour from the vat.
That's it.  With natural dyeing you won't be able to completely get all the colour from your dye bath onto your yarn, like you do with chemical dyes.  Natural dyes contain chromophores but they also contain other natural flavinoids and alkaloids that colour the water but won't necessarily adhere to yarn.  However, you can use the dye bath again for paler shades of the same colour.  My favourite way to use up a dye bath is to stuff it with washed fleece and let it sit for a week in a cool place.  Then simmer it just before removing the wool.  This pretty much uses up all the colour that's left in a dye vat.  If the shade is pale, it can be used as an under dye for another dye vat.Walnut is a very good under dye to get dark almost black blues from woad and indigo.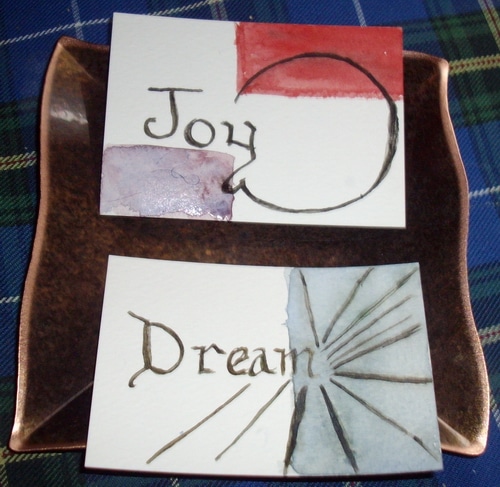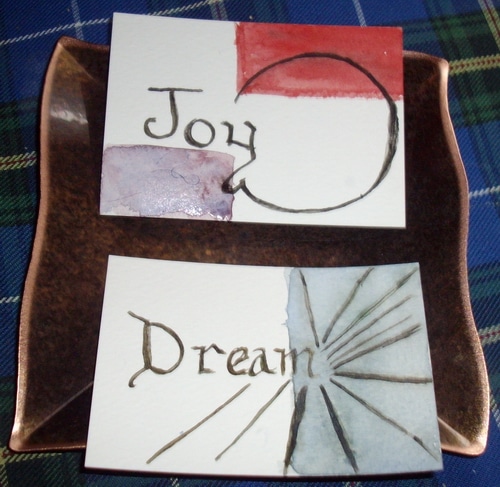 A friend of mine from UK, makes hand made paper, for bound books and cards.  She takes these second dye vats and puts shredded paper and bits of fabric and thread in them.  Once she has cleaned out the vat, she turns the scraps into beautiful hand made papers and books.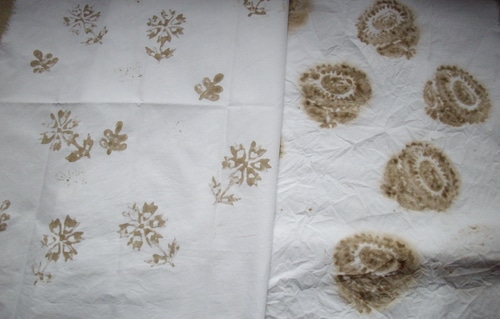 Resources:
The Modern Natural Dyer
Wild Colour
Harvesting Color
A Garden To Dye For
More about natural dyes
Walnut ink for fabric stamping
Planning your natural dye garden
Medicinal Herbs that are also Natural Dyes