Homemade neck heating pads are a frugal but effective way to soothe sore muscles after a hard days work outdoors. Keep several on hand and use them hot or cold.  
I make a few of these DIY heating bags every year for winter comfort and find that it does an amazing job at soothing my sore, chilled neck after a day working on the homestead.  Not just for sore muscles, we also use them as a warming pad at the foot of our bed. When my children were little they each had their own flax bag to warm cold feet, and bring comfort. 
Because our home is heated with a wood stove in the kitchen, the rest of the house can get pretty cold. In winter the bedrooms are unheated and these flax heating pads, make a huge difference in warming up a cold bed. Mr. Joybilee will often use one to warm his muscles before he heads outside in the snow to feed the sheep or water the goats.
The bags are heated with the microwave, which is the only thing we still use ours for. Several years ago we stopped using our microwave to heat food and boil water, choosing instead our wood cookstove.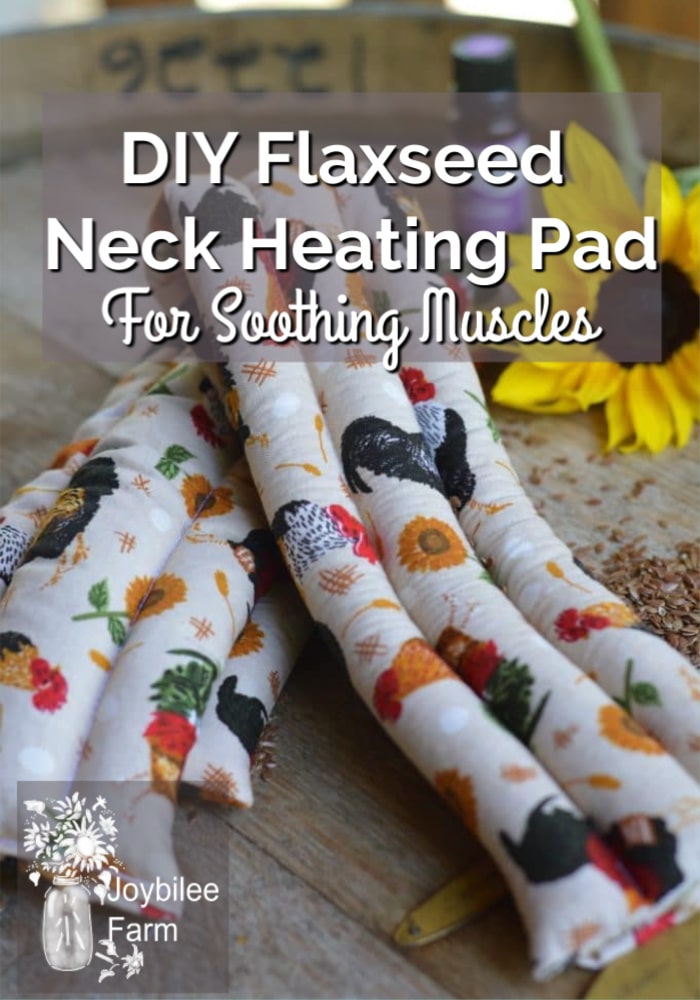 Directions to Make 2 DIY Flaxseed Neck Heating Pads
1 fat quarter or a piece of fabric measuring 18″ x 21″ inches
5 cups whole flax seed
1 cup dried lavender blossoms
12 drops lavender essential oil

(#ad)

(optional)
Thread to match the fabric
The technique to make flaxseed neck heating pads is the same as making a lavender eye pillow for headaches. The benefit of this version is that the flax holds in the warmth or coolness.
One fat quarter is enough to make 2 flaxseed neck heating pads or 1 neck heating pad and 2 eye pillows.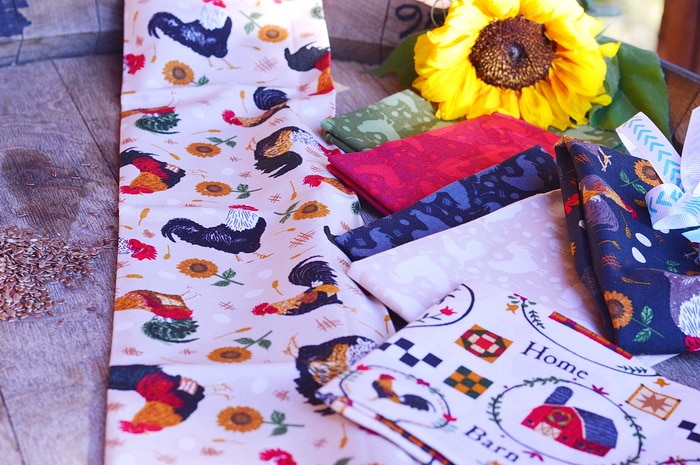 Step 1: Cut the fat quarter in half longwise so you have two pieces measuring 9 x 11 inches.  (for the flax heating pad above I used fat quarters from the Lily & Loom brand fabric, "Heartsong".)
Step 2: Fold one piece of the fabric in half along its long side, with right sides together making a 4.5 x 11-inch rectangle. Pin the piece on the long side and also at the raw edge bottom.
Stitch using a straight stick, 1/4 inch from the edge, leaving one end open. (usually the selvage end). Re-stitch the same seams to finish the edges using a zig-zag or overlock stitch if your machine has one.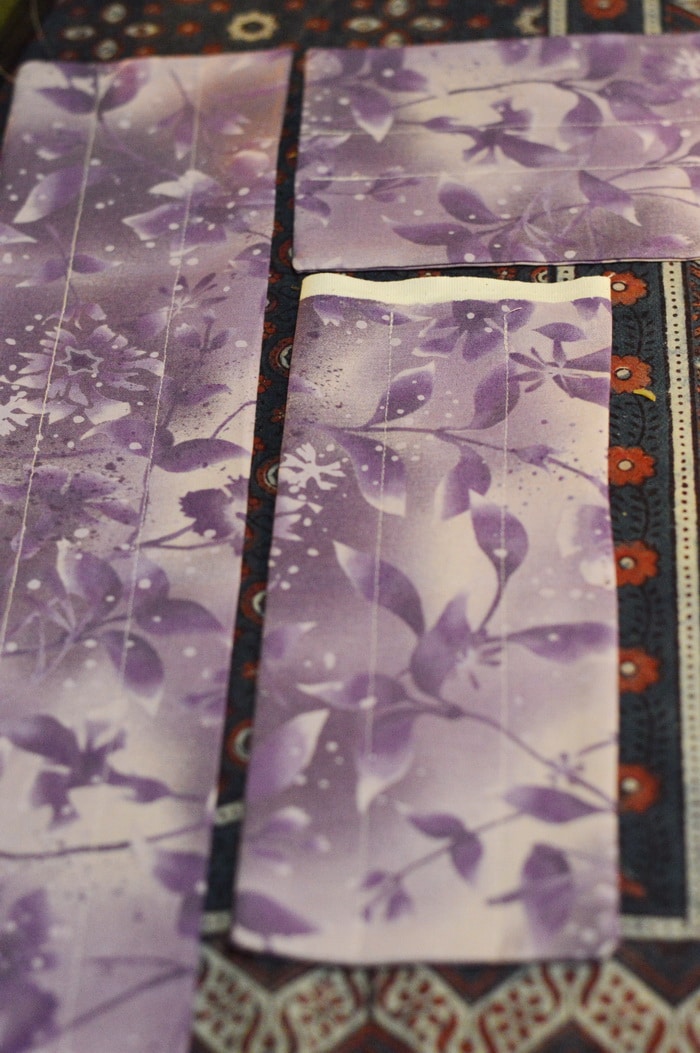 Step 3:  Turn the cloth bag, right side out, and press the edges to make a straight edge.  Use a straight pin to pull out the corners neatly. This will help the flax to completely fill the corners.
Step 4: Using your sewing machine seam guide, stitch 2 straight lines along the length of the bag, about 1 1/2 inch from each edge, leaving the top, open part of the bag, unstitched to within 2 inches of the top edge.  This will be folded over later.
This creates three separate channels in the bag.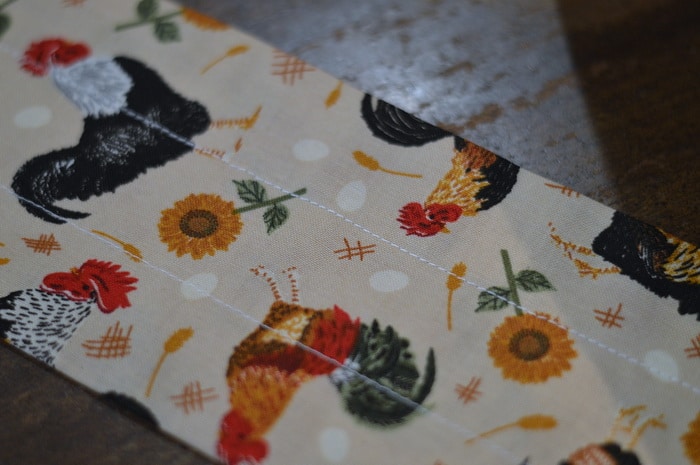 Step 5: Combine the 5 cups of flaxseed, 1 cup of dried lavender blossoms, and lavender essential oil (#ad) (if using) in a bowl. Stir to fully combine.
Step 6: Using a funnel, an empty toilet paper roll, or even a folded piece of copy paper, fill the channels in the bag.
You'll want to wiggle the channels to get the flaxseed mixture compacted in the channels and the corners. Each bag will use about 3 cups of the flax-lavender mixture. Leave the top 1 1/2 inches of the bag empty so you have room to sew it shut.
Step 7: Fold over the top edge of the bag from corner to corner, keeping the edges even with each other. Pin it all in place then stitch across the open top with a straight stitch.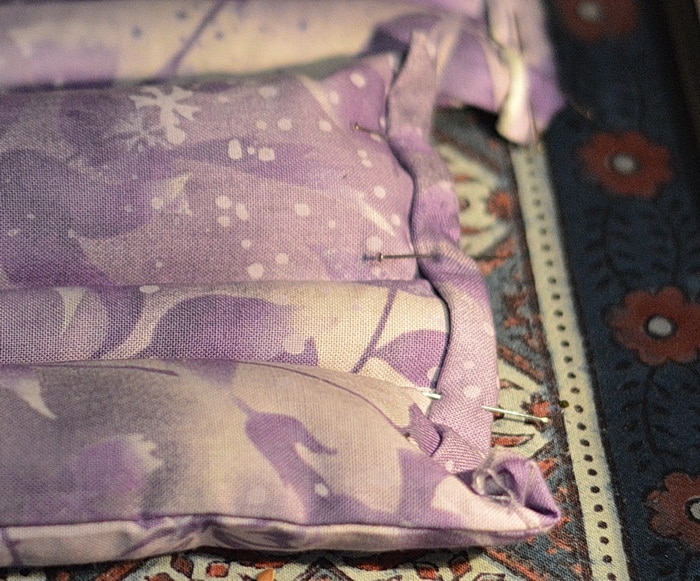 Step 8: You have a functional neck heating pad! Admire your handy work, pop it in the microwave, and give it a try right now. Enjoy the warmth!

This article is part of the series Gifts from the Homestead. Be sure to look below for other terrific gift ideas that can be made by hand and download a copy of my annual Christmas Planner for 2019 (FREE)
How to Use a Flax Neck Heating Pad
To use this as a flax neck heating pad, microwave the bag for 90 seconds. The actual time will vary depending on the strength of your microwave, so check during the process and stop it when the bag is the temperature you desire. Be careful, these bags can become quite hot as the oil inside the flax seed warms up.
You might want to consider making a cover for your flax bag. If you do you should take it out of the cover before heating it in the microwave. If you use your machine much, you know that microwaves can end up with lots of stray bits of food, oils, and other sticky stuff that you probably don't want on your heating bag. If you are not going to make a separate cover for it, then make sure to wrap it in a clean paper towel or cloth napkin before you heat them. This is the best way to keep them clean.
To use this flax bag as an ice pack, place the bag in a plastic zip-lock bag, inside the freezer. For it to be effective leave the bag in the freezer for at least 2 hours before using.
I like to keep one of these in the freezer for emergencies. They make good ice packs because they conform to the shape that you need, giving you the ability to wrap the bag around an ankle or a wrist, or conforming to the shape of the forehead.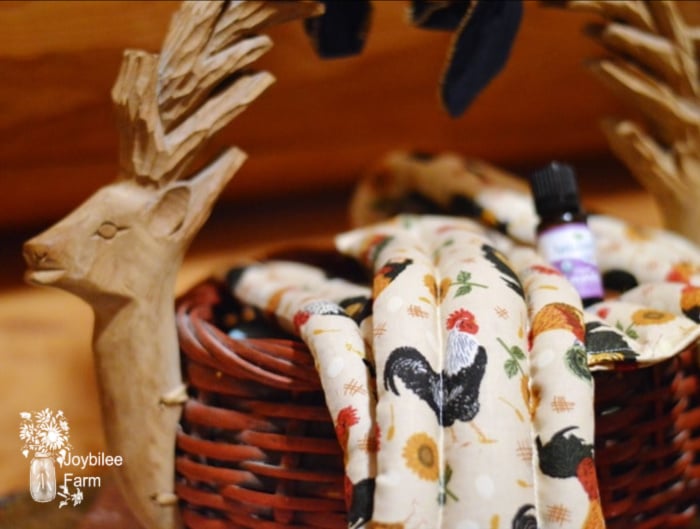 What to Do If Your Flax Neck Heating Pad Gets Wet
According to Sarah at Wearing Woad: A flax seed heating pad cannot be washed, and flaxseed bags should not be gotten wet at all. You can clean your flaxseed bag if you un-pick the final end-seam and empty out the contents. Then wash the emptied bag, refill with fresh flax, and sew the bag back together.
If a bag accidentally gets wet, it is fine if you dry it immediately (next to a stove is best), but don't heat a wet bag in the microwave. It's normal for the fabric to eventually be discolored by the seeds. If a bag has been wet for an unknown length of time, dry it out and then heat it. Unfortunately, if it smells musty then the seeds have mildewed and the entire bag should be discarded. If it does not smell musty, you can continue using it.
Other Homemade Heating Pad Ideas
You can make this DIY lavender eye pillow for headache relief in 30 minutes or less, using study cotton fabric scraps. That's almost instant relief.  Give it as a gift, keep one for yourself.  It's also microwavable and freezer proof for fast relief of tension headaches and some migraine headaches.
Make a cherry pit heating pad. Cherry pits, like flax seeds, are small and have a small amount of oil in the center to hold the heat.  The heating comfort bags made with cherry pits are lighter weight than flax bags, so if you have littles who need extra heat and or for those times when you don't want something heavy on your neck, give this version a try.
Flax pocket warmers are a smaller variation of this project. Make squares from 5 inch by 10 inch fabric scraps that are just big enough to be carried in pants or jacket pocket. Your outdoor workers will be glad to have them on cold winter days.
Get your Santa Super-Power Cape on with this free downloadable Christmas Planner
Grab the 2019 DIY Christmas Holiday Planner, free for a limited time.  This Seasonal Workbook will help you plan your holiday season to ensure that the things that are most important to you are included in your holiday plans.  You'll also find tips to reduce your expenditures during the holiday season and an updated list of DIY gifts that are inexpensive and easy to make.  This is a free workbook that is full of ideas and strategies so that you can have the best Holiday Season ever!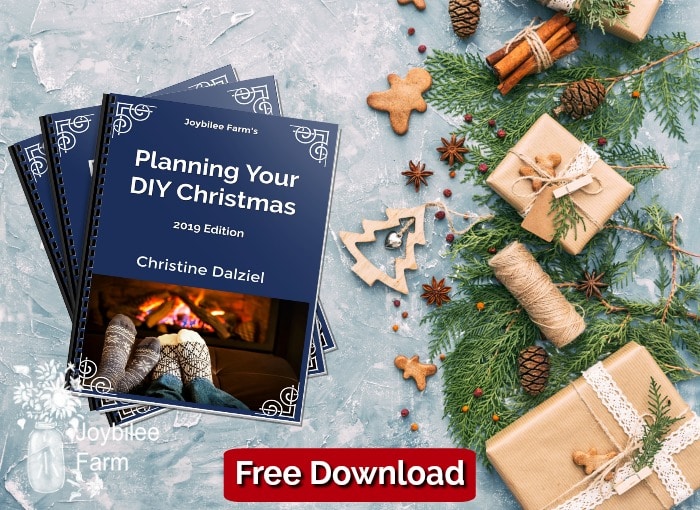 Grab your copy by clicking on the red button below, and get on the list, so you can get the best tips and DIY projects to make your Christmas and Holiday season the best, stress-free holiday yet.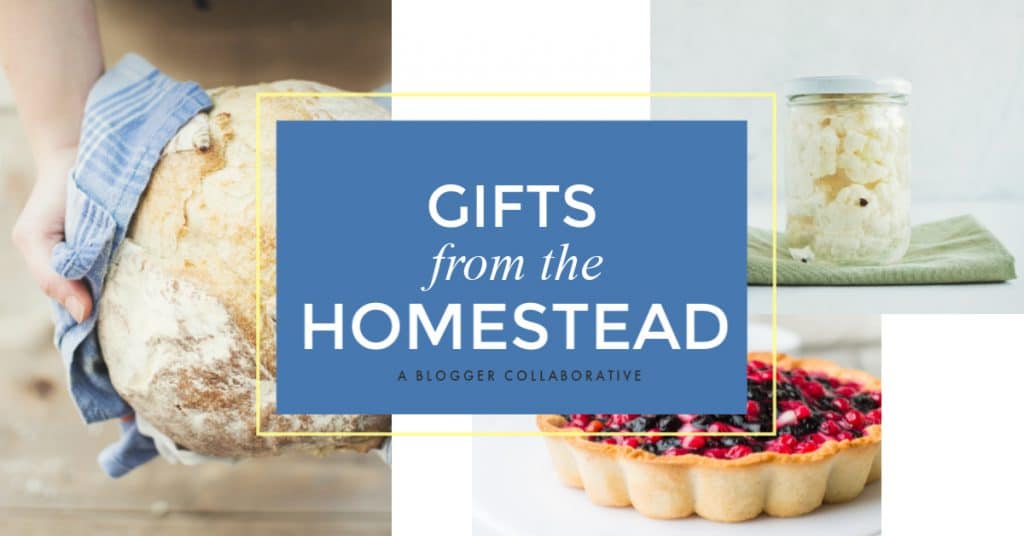 More DIY Gifts for you to make this holiday season
Welcome to Gifts from the Homestead! I've collaborated with some of my homesteading friends to bring you this list of gift ideas for every time of the year. Be sure to bookmark this article so you can refer back to it next time you are looking for a quick, but thoughtful homemade gift to give to family and friends.
Gifts You Can Make in an Hour or Less
Creative Cookie Packaging Ideas || Rootsy Network
Create a Giftable Indoor Herb Garden Kit || Not So Modern
Two Holiday Chai Tea Blends: The Perfect Fall or Winter Gift || Healing Harvest Homestead
Soup in a Jar: the Perfect Comfort Gift || Dehydrating Made Easy (#ad)
Snickerdoodle Cookies || Nancy On The Homefront
Cinnamon Roasted Almonds (with printable gift tags) || A Modern Homestead
How to Make & Give Homemade Hot Cocoa Mixes || Homespun Seasonal Living (#ad)
How to Can Homemade Salsa || Not So Modern
Make Gift-Worthy Bread Mix In A Jar – Great for Your Own Pantry Shelf Too! || Oak Hill Homestead
Make Your Own Lotion Bars || Learning and Yearning
Easy Homemade Bath Salts Recipe || Better Hens and Gardens
Peppermint Foot Salve || The Self Sufficient Home Acre
SPF Lip Balm Recipe || Our Inspired Roots
3 Bedtime Bath Teas for Kids || Homestead Lady
DIY Lavender Neck Heating Pad for Sore Muscles || Joybilee Farm
No-Sew Scented Sachet Bags With 5 Herbal Recipes || Rockin W Homestead
Fall Air Freshener DIY || Feathers In The Woods
Gifts You Can Make in a Day or Less
Easy Applesauce Recipe For Canning or Eating Fresh || Hidden Springs Homestead
How to Make Hot Process Soap Complete Picture Tutorial || Healing Harvest Homestead
Crockpot Apple Butter with Canning Instructions || A Modern Homestead
DIY Quilted Mug Rug || Flip Flop Barnyard
Feathers & Hugs – How to Create a Psalms 91 Throw || The Farm Wife
DIY Flower & Veggie Row Markers || The Self Sufficient Home Acre
Make Your Own Veggie Hod || Nancy On The Homefront
Horseshoe Farm Sign – Fun DIY Gift for the Horse Lover || Homegrown Self Reliance
Apple Pie in a Jar: Greatest Fall Gift || 15 Acre Homestead
Gifts You Can Make in a Week
Easy Primitive Throw Pillow Tutorial || Hidden Springs Homestead
How to Make a Rag Quilt || Flip Flop Barnyard
Make Your Own Plant Pots and Baskets || Homestead Lady
Special Gifts That Take One Month to Create (but are well worth the wait)
Making Herbal Vinegar || Better Hens and Gardens
Elderberry Elixir – A Delicious Immune Boosting Gift || Homegrown Self Reliance
How to Make Homemade Vanilla Extract || Farming My Backyard
How to Make Strawberry Wine Step-by-Step || Stone Family Farmstead
How to Make Cold-Process Soap from Scratch || Oak Hill Homestead
The next time you are looking for an easy to make homemade gift come back to this list for inspiration!