Warning: Not Gluten-Free
How to bake Challah (braided egg bread)

Bread is the staff of life, and the basis for holiday baking, lunches, Shabbat meals, and many comfort dishes. Bread is also the basis of many ethnic traditional foods. Bread gets its light, spongy texture from gluten in wheat, rye, and barley. Bread is also high in carbohydrates. Although ethnic specialty breads are expensive, they are inexpensive when you make them at home, from scratch.
Those on gluten-free diets because of celiac disease, wheat sensitivity, irritable bowel syndrome, or diabetes should refrain from eating bread made from wheat, rye, or barley flour. If you are on a low carb diet you'll want to save this lesson for a special occasion. If you have a family member who is celiac or has a wheat sensitivity, you'll want to avoid this recipe. Gluten-free bread and many other traditional breads (wheat and rye) are the focus of Scratch Cooking 201.
In this lesson I'll just skim the surface on bread baking. Challah is a fun bread that is a bit more challenging to master. But it looks so sensational that once you learn the easy braiding technique I know you'll want to add this to your repertoire of scratch cooking. Not only that but this basic sweet dough can be used as the foundation for many other sweet breads, so, provided you aren't gluten-free, you'll want to take the time to learn this technique.
We'll go more in depth in lessons on various ethnic breads and also on gluten-free baking in Scratch Cooking 201 — which you can sign up for now.
Today I'll give you this basic sweet bread recipe that can be used in other sweet breads as well.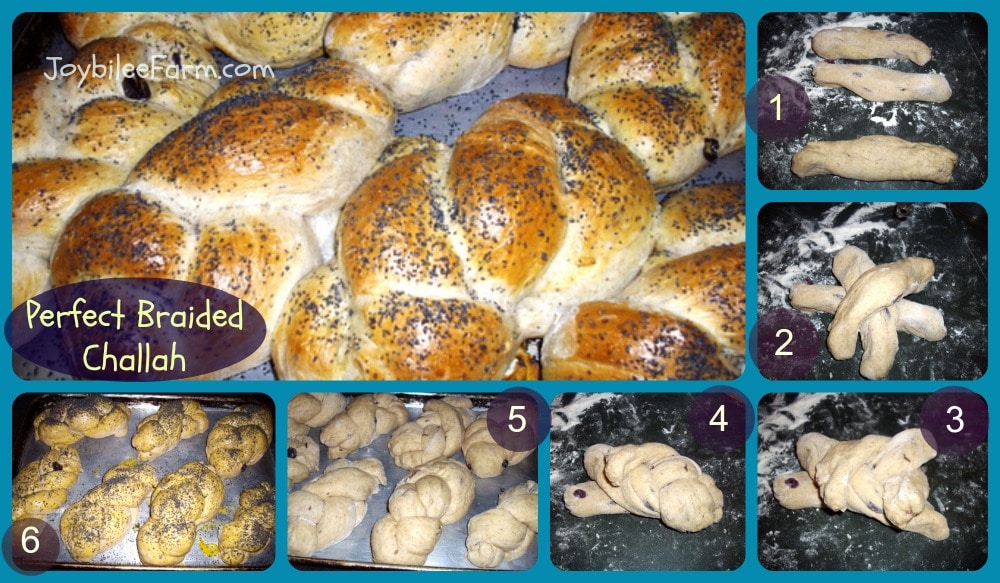 Perfect Braided Challah

Time: About 3 hours start to finish. Hands on time about 15 min plus 25 min — total hands on time 40 min.)
3 c. warm water
1 tbsp. organic sugar
2 tbsp. dry yeast
7 whole medium eggs
2 tbsp. liquid coconut oil or melted butter
1/4 cup of organic sugar (optional)
1 tbsp. Celtic salt or Himalayan salt
8 cups unbleached bread machine flour
1/2 cup freshly ground flax seed
2 cups whole wheat flour
1/2 cup of raisins, plumped
1 tbsp. cinnamon, powdered
Dissolve yeast and 1 tsp. sugar in water. Wait until it gets frothy or foamy. Add to mixer bowl. Crack in 7 medium whole eggs, beating after each addition. Add 5 cups of unbleached bread machine flour, 1/2 cup ground flax seed, 3 cups whole wheat flour. Beat with dough hook on your stand mixer after you've added the first 4 cups of flour and then continue beating adding 1/2 cup of flour at a time. Dough should be smooth, pliable, and elastic. Cover dough with cloth or lid, set in a warm place, and allow to rise for 1 hour or until doubled in bulk. The extra protein from the eggs makes this a rapid rising dough.
Once dough has doubled in bulk, punch it down. And allow it to rest again for 15 minutes.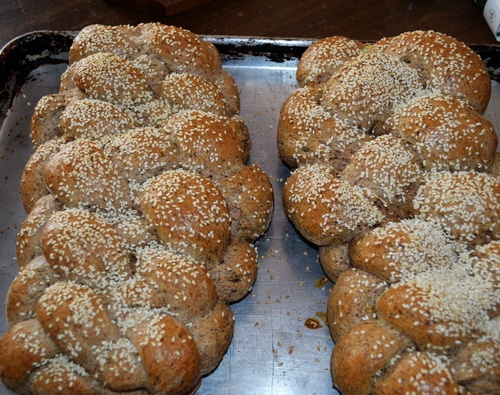 To form Challah loaves:
There are several ways to form the braid. This bread can be divided into 3 portions and each one braided as in the diagram and it will make 3 large loaves. Or it can be divided into 12 portions and each portion can be braided for smaller challah loaves. See the step by step diagram to see how to braid the challah.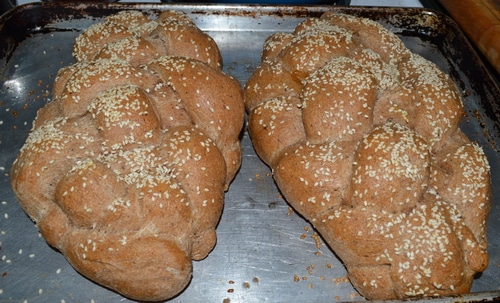 Here's the verbal instructions:
Divide dough into 12 portions. Take each of the 12 portions and divide into 3 parts. Roll each part into a smooth log as in picture 1.
Cross the 3 logs in the centre. (picture 2)
Working on one side at a time, braid the 3 strands by passing them alternatively under and over each other as if you are weaving. (Picture 3)
When you run out of dough, press the three ends together and tuck this end under the loaf. (Picture 4)
Repeat steps 1 to 4 on the opposite side of the loaf.
Place each loaf on a greased baking sheet. The loaves will rise until doubled in bulk and then rise more in the oven so leave enough room between them on the baking sheet so that they don't grow into each other during the baking.
Form each loaf in turn and place on baking sheet.
Beat 1 egg, and brush each loaf with the beaten egg. Once you have brushed all the loaves with the egg, go back and repeat the egg brushing so that each loaf has been brushed twice with the beaten egg.
Sprinkle the tops of the loaves lightly with poppy seeds or sesame seeds.
Cover and allow to rise until double in bulk. (about 30 min.)
Preheat oven to 400F. Put baking tray into oven and immediately turn down the oven to 350F. Bread will be done in 25 to 30 min. Bread is done when it is golden brown and the bottom of the loaves sounds hollow when tapped.
Hints: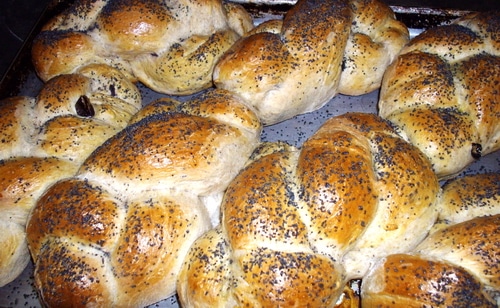 You can use this recipe for several celebration breads by substituting other dried fruit and nuts for the raisins and omitting the cinnamon. Christmas fruit breads, Easter breads can also be made using this basic recipe, although I personally think, none of them are as pretty as braided challah.
This can be made savoury by omitting the 1/4 cup of sugar, and the raisins and adding spices like oregano, basil, pieces of olives, and grated cheese.
Form individual rolls with the challah dough — and make mini braided loaves or turbans or circular braids. This recipe will make 18 individual rolls.
If you are having trouble getting the dough smooth when you roll it into logs, try wetting your hands. Dough should be smooth and elastic but still moist when you are working with it.
This is one bread that is just as delicious 2 days after baking as it is fresh, and warm from the oven. The extra eggs and oil keep it moist and tender for several days. If you are making a big batch, you can freeze the extra rolls or loaves to keep for another day.
This bread travels well. Make individual rolls for your next long car trip and slice them lengthwise for deli sandwiches — corned beef, kosher dills, and mustard are a great choice, so is cream cheese and smoked salmon.
French Toast
Leftover bread is the basis for some sensational French Toast. To make French Toast, slice the loaf thickly and drag through a mixture of beaten egg with a scant amount of milk and cinnamon added. Fry lightly on both sides. Serve warm with icing sugar, jam, or syrup.
Cinnamon buns
Make cinnamon rolls with this recipe: Divide the dough into 3 portions. Roll out one portion to 1/2 inch thick. Spread the surface of the dough with butter. Sprinkle with cinnamon sugar. Roll up from the long side to form a roll with layers of cinnamon sugar in a spiral. Cut with a sharp knife into rolls about 1 inch thick. Prepare a glass baking dish by buttering the dish. Spread cinnamon sugar over the butter. Lay out the cut rolls, cut side down in the baking dish. Place rolls close together so that when they rise, they press into each other. Cover and allow to rise until doubled in bulk. Bake at a 350F oven for 30 min. Remove from oven and turn out of pan. Cool on a wire rack, upside down. Allow to cook and ice with thin icing if desired.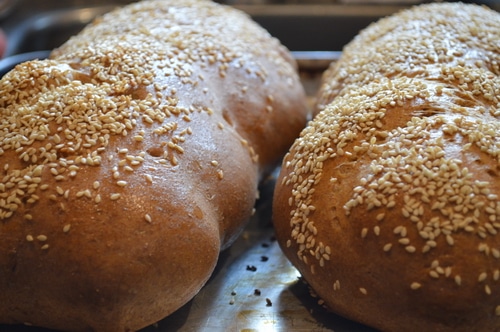 How to make challah with 100%whole wheat flour
To make these loaves with whole wheat flour or freshly milled flour your technique needs a bit of adjustment. To use 100 % whole wheat flour, be sure that your flour is freshly milled — still warmed from the mill is not too fresh. Add only half the flour to the liquid and beat well, until strands of gluten begin to form on the beaters or on your wooden spoon, if you are making this by hand. Allow to rest for 1 hour and let the sponge-batter become frothy and light. It will begin to rise.
Add in the remaining dough and 1/4 cup vital wheat gluten (this is a dough conditioner used to give structure to whole grain bread doughs) and 1 tbsp. lemon juice. The bread will be heavier and will need additional rising time. Extend the rising time to 90 min. and allow dough to double in bulk before forming loaves. Then proceed as per the recipe.
If you like this recipe, you'll like these, too.
Check out these tips that your grandma forget to tell you for the perfect loaf.
Pita bread recipe