While the rest of the year you might bake any cookie recipe that attracts your attention, at this time of year tradition dictates what you must bake. In our home there are several holiday cookie recipes, many over 100 years old, that I bake every December.
Centuries Old Scotch Shortbread Recipe
This Scotch Shortbread Recipe was the only Christmas Cookie my own mother ever baked. (She didn't enjoy cooking.) It came from the "Stewart" side of the family. Mr. Joybilee's mother used the same recipe, from the "Davidson" side of the family. Tradition!
The original shortbread cookie recipe has only 3 simple ingredients, flour, sugar, and real butter. I've updated it with organic sugar and unbleached organic flour from Bob's Red Mill.
This is a roll and cut out cookie. Now is your chance to use those pretty cookie cutters you've got hiding in the kitchen drawer.
Traditional Scot's Shortbread Recipe
This traditional shortbread has only three ingredients.
Please use real butter. Don't substitute margarine for butter in this recipe. Margarine just doesn't work in shortbread cookies.
Notice that there is no vanilla. The traditional recipe doesn't call for any flavouring. The addition of liquid flavourings means you need to use a lighter hand when mixing the flour in.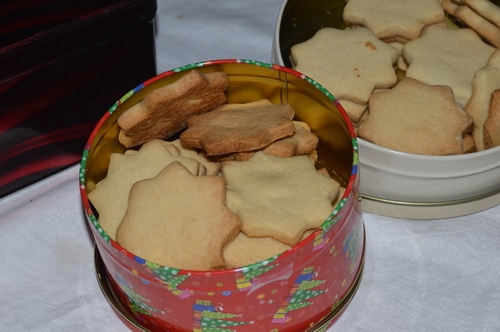 Ingredients
1 lb. of butter, softened
1 cup of organic sugar
4 ½ cups of Bob's Red Mill Organic, Unbleached All-Purpose Flour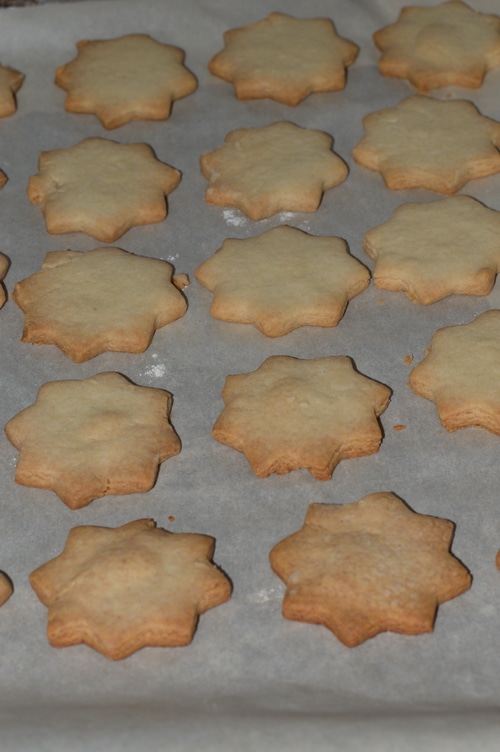 Method
Preheat oven to 360°F.
I use salted butter in this recipe. If you use unsalted butter add ¼ tsp. of Himalayan salt.
Cream real butter and sugar together until light and fluffy. Stir in flour one cup at a time. You can work the flour in till the dough is very light.
Cover the mixing bowl and put it in a cool place or refrigerate for 3 hours or more. Chilling the dough makes it easier to roll out, and improves the texture of the cookies.
Divide the dough into portions that can be rolled out easily. Roll the dough on a lightly floured counter to ¼ inch thickness.
Cut with cookie cutters into desired shape and size.
Prepare baking sheets by lining with parchment paper. Bake in 360°F oven for 12 minutes, until lightly browned.
Remove from cookie sheet to a cooling rack. Repeat with remaining dough.
Once it's completely cooled, store in an airtight tin. Can be stored at room temperature for up to 2 weeks. If you will need to store it longer, it will keep for 3 months in the freezer without loss of quality.
Shortbread tastes better the day after baking, after the flavours have melded.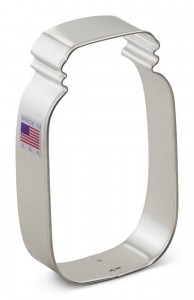 Make it giftable
Traditional shortbread becomes a stellar gift when you cut it out with a themed cookie cutter. Try this mason jar cookie cutter for your friend who's passionate about jams and jellies, or this tea bag cookie cutter for the Jane Austin buff who loves tea parties.
Package it up in a pretty tin. Beautiful to give. Beautiful for your own family, too.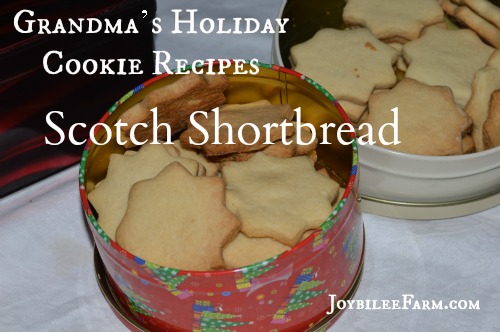 Grandma's Cookie Baking Tips
Learn Grandma's tried and true cookie baking tips here.
More Holiday Cookie Recipes from ages past
Try some of these traditional Christmas Cookie Recipes:
Minty Nanaimo Bars are traditional in Canada, filled with the perfect flavours of mint and chocolate.
Soft Ginger Spice Cookies, Scotch Shortbread, and Rob Roy Cookies from Homestead Lady
Potica Cookies, a Serbian nut bread cookie from Homespun Seasonal Living
Mexican Wedding Cookies from Schneiderpeeps. And a similiar recipe Russian Tea Cookies from Learning and Yearning.
Polish Kruschiki are a deep fried cookie shared by Learning and Yearning
Lemon Shortbread from Common Sense Homesteading and another Christmas Tradition, Czech Kolache . Laurie speaks of her mother, baking Kolache for the holidays and often at other times throughout the year.
Pinwheel Cookies and Sugar Cookies from 104 Homestead
Your Turn:
What is one of your favorite traditional Holiday Cookie Recipes? What ethnic group does it come from?