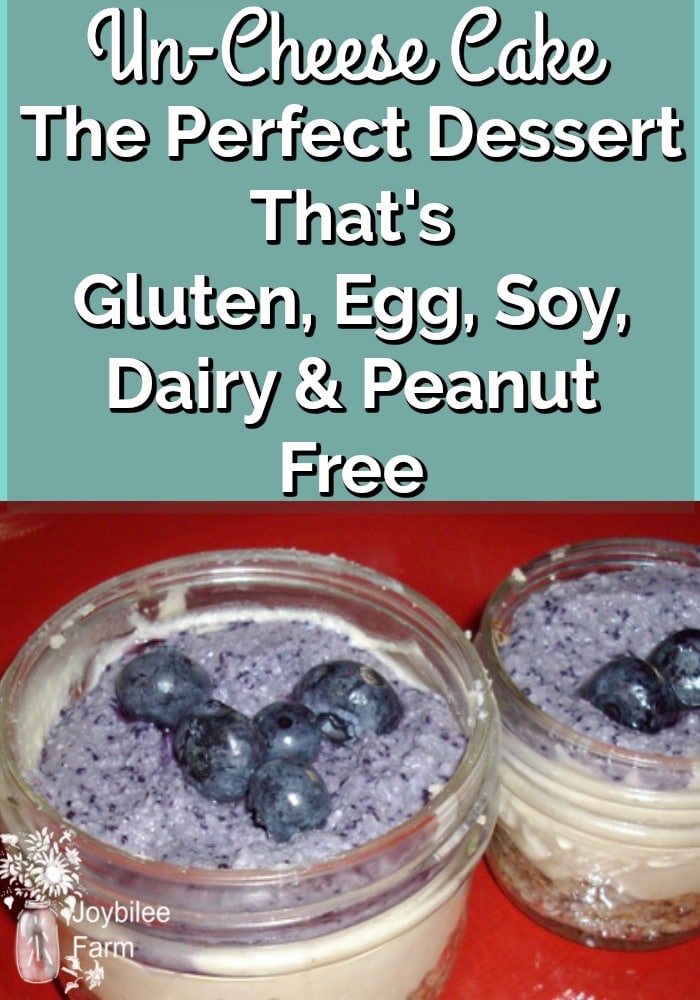 Warning:   The following recipe is a non-conformist answer to the problem of:  I have to bring a dessert but one of the group has allergies.
On my recent trip to Alberta, I was feted with an awesome cheese-cake that was dairy-free.  It was put-by in a small canning jar.  The taste was deliciously rich.  The texture was creamy and smooth, like a rich dessert should be.  I was convinced that it was made from soy, but was assured that there was no soy in it either.  And it was raw-food-nourishing, too.
I used to have to follow a vegan, gluten-free, dairy-free, egg-free diet due to multiple environmental allergies that played havoc with my health.  No longer.  Once we started raising our own food, including meat, the allergies vanished — except for a dairy allergy.
So when one of my friends found out that she had similar allergies I felt for her.  This is the answer to providing her with a delicious dessert that she can enjoy any time her family is having a rich dessert that is forbidden to her. Its rich, creamy and a fitting ending for a celebration meal.  Its a bit finicky to make but using a food processor cuts down on the prep time, substantially.
I don't have a food processor so I used my older model vita-mix blender.  The vita-mix  required periodic scraping of the ingredients by hand.  But it makes 17 portions so that time is well spent.
Its made in individual 125ml canning jars and stored in the freezer until needed.    I made it yesterday to take to our weekly Bible Study.  There's only 3 jars left. Serving it in the canning jars was a hit, too.  And I just brought the jars home to wash so there was little clean up for our hostess.  It was a win-win strategy, for a memorable dessert.
The recipe is based on nuts so if you have a nut allergy, go carefully.  The almonds in the crust could be substituted with sunflower seeds but the cashews are critical to the success of the creamy filling.
I revised the original recipe to make it more coco-nutty.  Coconut oil is a beneficial saturated fat that improves brain function, helps balance blood sugars, and improves thyroid function.
Preliminary preparation:
Soak 3 cups of raw cashews for 2 to 3 hours, or overnight, in filtered water, in the refrigerator.
Recipe:  Gluten Free, Dairy-free, egg-free, soy-free, peanut-free un-cheese cake
Prepare 17 glass canning jars with lids, by washing well.
Crumb base:
1/4 cup organic virgin coconut oil, melted
1 1/4 cup pitted dates, finely ground
1 1/2 cup blanched almonds (or almond flour (#ad))
1/2 cup organic coconut
In a food processor or vita mix blender whirl almonds until they are a fine flour.  Set aside.  Process dates until they are completely blended and form a paste.  If they get too solid add the coconut and some of the almond flour (#ad).  Add remaining almond flour (#ad) and coconut and mix to a coarse crumb.  Remove all ingredients to a bowl.  Add melted coconut oil and mix well.
Press 1 tbsp. of the mixture into each small jar.  Press well into the jar with the flat of a spoon, completely covering the bottom 1/4 of each jar.
Creamy filling:
3 cups raw cashews, soaked and drained
1/2 cup lemon juice, freshly squeezed
1/2 cup honey, liquid (for vegans: substitute 1/2 cup organic maple syrup)
1/2 cup filtered water
1 cup organic virgin coconut oil, ,melted
1 tsp. vanilla or 1 tbsp. liquor flavouring (coconut, cocoa, creme de mint, etc.)
In a food processor blend cashews, lemon juice, liquid honey, water until smooth.  Add liquid coconut oil and continue processing for 2 minutes.
KitchenAid KFP750OB 700-Watt 12-Cup Food Processor, Onyx Black
Reserve 1 cup of mixture.  Spoon the remaining mixture over the crumb crust until the jars are filled equally, about 3/4 s full.
Berry topping:
1 cup of frozen Blueberries, raspberries, rhubarb, or other moist fruit
1 cup reserved filling mixture
Puree these two ingredients together.  Top up each jar to within 1/8th inch from the top.  Add a blueberry, raspberry for garnish.
Place the lid on each jar and chill completely before serving.  Desserts can be stored in the freezer until needed.  Thaw for one hour before serving.
These are delicious and filling for breakfast, too.
A non-conformist Chocolate variation:
I'm going to try a chocolate uncheese cake next:
To make a chocolate un-cheese cake:
Add 1/2 cup of cocoa powder to the crust ingredients.  Add 4 oz. melted white chocolate to the filling ingredients and mix well.  Melt 2 oz. of dark chocolate and garnish the top of each dessert jar with it.  Cap and chill well before serving.
I loved the dessert in a jar, concept.  Make a batch and freeze it for when you need it.  Clean up is easier than using a Spring Form pan. You aren't tempted to eat that last piece, to avoid wasting it.  And the 1/2 cup canning jars are decorative and unconventional.  I had to use a combination of lids — spaghetti sauce lids, white plastic lids and the two-piece canning lids.  It would look better with all the same lids, maybe?
What's your favourite gluten-free, egg-free or dairy-free dessert?  Leave a comment and share the recipe or add a link.  I'd love to hear from you.
If this is your first time here, check out the Start Here page to see what this website is all about.  And if you found this article helpful please share it with your friends, link to it on Facebook, tweet about it on twitter.  Send me some link love and I'll return the favour.