Surprise!
I got a present in the mail from Eddie and Jo at Homestead Chronicles. It was a lovely maple kraut pounder, turned especially for me. Now don't be jealous. Get one for yourself, too, here.
Kraut pounders bruise cabbage and other vegetables to release their juices, increasing the liquid in a fermented vegetable mixture and speeding up the fermentation process. This one is the size for a wide-mouth quart mason jar.
Kraut pounders are also used to press down fermented vegetables into a vat or a jar to exclude air. Air spoils a fermentation vat. The fermentation process is anaerobic so it's important that as much air as possible is excluded.
The kraut pounder is perfect. (Thank you, Eddie and Jo) It is well balanced and feels great in your hand. The wood is smooth and the finish is food safe. But I know after I use it and wash it, I'll need to condition it.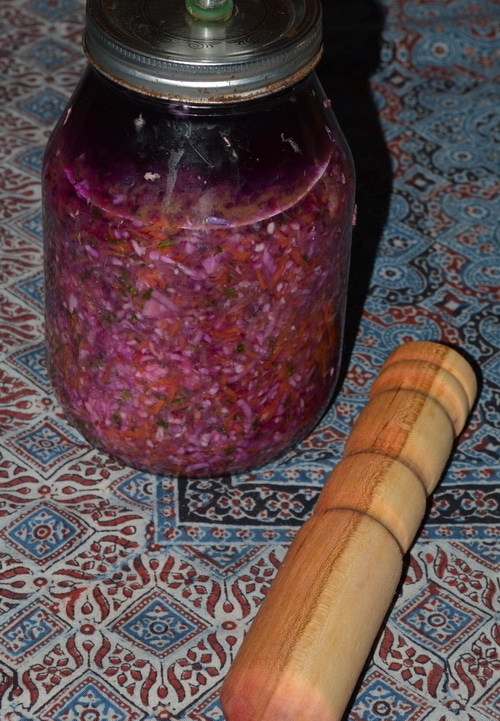 How to take care of your Kraut Pounder
It's important to condition your kraut pounder after use to keep it from drying out. Even more important if you have a wood cookstove, like I do. Wood burning fireplaces dry out wooden utensils, like they do wooden furniture and musical instruments.
The easiest way to condition your kraut pounder is to wipe it with organic coconut oil, palm oil, or tallow. These saturated fats replenish thirsty wooden tools. They are antimicrobial and are absorbed deeply into the wood to keep the wood supple. They work for leather, too. Simply apply the oil generously to the surface. Wait for 5 to 20 minutes, while it absorbs, depending on how porous the wood is. Wipe off the excess. Buff the finish till it shines.
Apply the oil each time you wash your kraut pounder. It will cause the wood to darken into a nice, golden patina.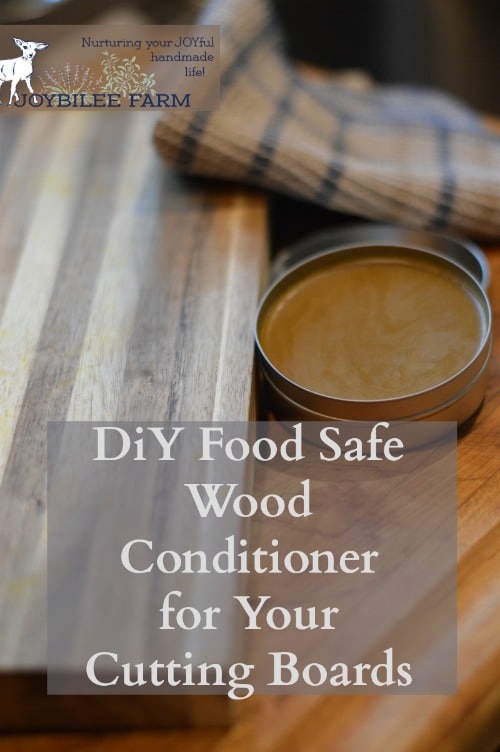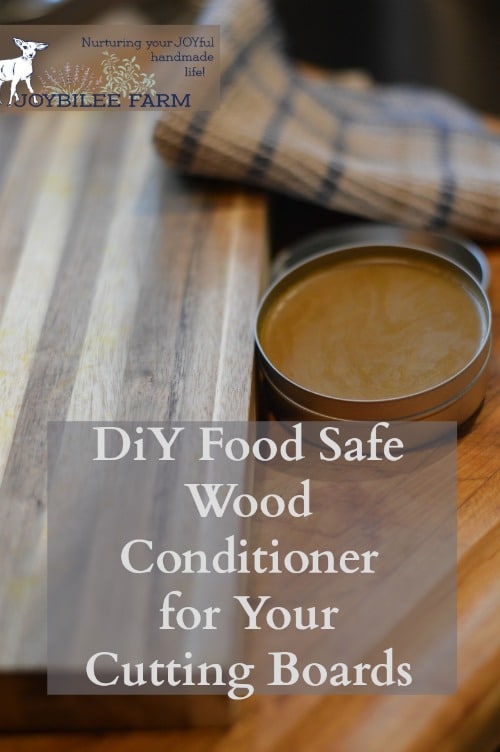 Food-safe wood finish
For a little more longevity make a batch of this food-safe wood finish.
In less than 20 minutes it will be ready to use. I use this food safe wood finish to condition wooden spoons, wooden cutting boards, kraut pounders, spurtles, and even my granddaughters' captive ring baby rattles. It's nontoxic and real-food based rather than petroleum based like mineral oil. Apply the finish to your kraut pounder each time you wash it in soapy water, at first. After a few applications the wood won't require it as often. It will reach saturation. You'll notice when you reach this point because the wooden tool feels smooth rather than dry and coarse grained. It darkens the wood, bringing out the wood grain pattern, too. With its refreshing orange fragrance, it cleans as well as conditions.
This food safe wood finish makes a nice gift for the wood turner in your life, too. A little dab goes a long way. So follow this recipe and make three 2 oz. jars – one for you and two for gifts.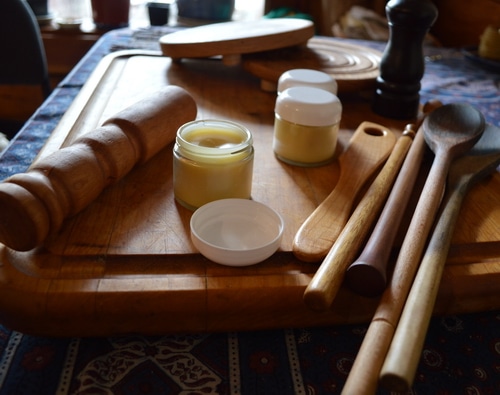 Food safe Wood finish
Ingredients:
5 tbsp. beeswax melted
2 tbsp. organic coconut oil
6 tbsp. organic walnut oil
3 capsules of vitamin E, natural source, contents only
½ tsp. organic orange essential oil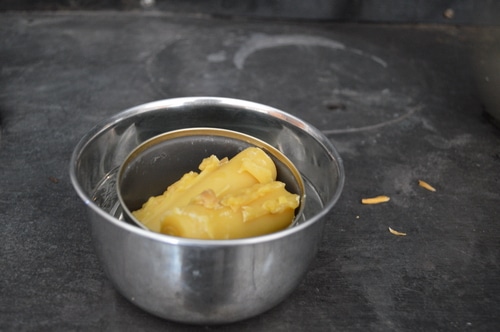 Method:
Melt the bees wax in a can, inside a pot of water. You'll want a pot that is dedicated to melting bees wax because it is super hard to clean afterward. I used a salmon can, inside a small stainless steel bowl and heated them on my woodstove.
In a separate pan melt together coconut oil and stir in walnut oil.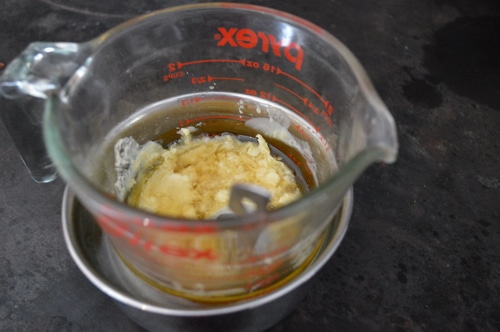 Once the oil mixture is the same temperature as the melted bees wax, measure and pour the beeswax into the oil. Stir well. Allow to cool slightly and stir in the contents of 3 vitamin E capsules. This protects the oils from rancidity.
Add the orange essential oil. Orange essential oil is antibacterial and very good for wood finishes. You can substitute lemon essential oil or grapefruit essential oil, if you like. Citrus oils go well with wood and deeply cleanse the wood, removing surface stains, and grime.
Pour the contents into 3 2oz. glass jars. Cap tightly and label.
Makes 3 2 oz. jars – one to keep and two to give as gifts.
Note: If you or your friend are allergic to nuts – sesame oil can be substituted in equal portions for the walnut oil. Sesame oil doesn't go rancid at room temperature. Get the untoasted kind. The toasted sesame oil has a strong characteristic scent. The untoasted has little scent.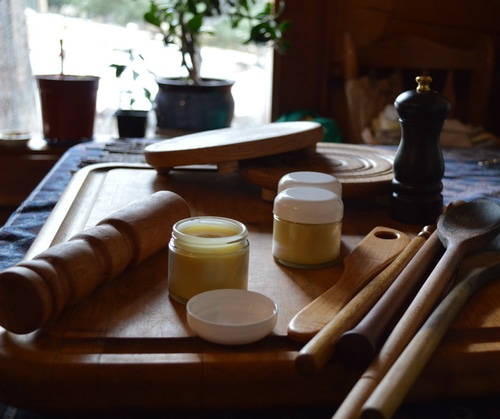 How to use it:
To use this food safe wood finish, apply it with a cotton rag. I used a piece of cloth from a thread bare flannel night gown. The rag will become saturated with the polish, but that's ok. Save it with the furniture polish to reuse again and again. (As a bonus, a rag saturated in this polish has no petroleum distillates and is NOT a hazard for spontaneous combustion!)
Dip the rag in the jar of polish and wipe the polish on the surface of the wooden tool or cutting board. Completely cover all surfaces, even the underside. Allow it to sit on the wooden surface for at least 15 minutes. Get a fresh cloth and wipe off any excess paste. Buff until it glows.
The orange oil in this wood finish cleans as well as conditions. It is antibacterial. The walnut oil penetrates deeply into the wood grain, preventing the wood from drying out and warping or cracking. The coconut oil and the wax make the finish harder and protect the wood from damage.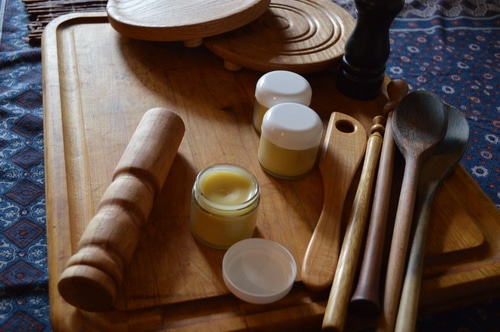 Gift it:
Consider including a jar of this food safe wood finish in a gift of wooden spoons or other wooden kitchen tools, wrap it all up in a kitchen towel Furoshiki style. Consider this for a bridal shower, a hostess gift, or a gift for your MIL. With its fresh orange scent, it's sure to be appreciated.
Here's a few more recipes for food safe wood finish from Arbutus Arts, or try this one from Homespun Seasonal Living.
If you'd like to learn more about Turning for Profit check out Mr. Joybilee's other site where he has more ideas for food safe wood finishes.
Save
Save
Save