Cure tooth decay with DiY remineralizing tooth powder for sensitive teeth
You really can cure tooth decay at home, according to Ramiel Nagel, author of Cure Tooth Decay. It takes some commitment and a change in lifestyle, but it's doable. Even if you are happy with your current situation, you may want to save this post, in case you or a friend needs to know how to cure tooth decay in the future.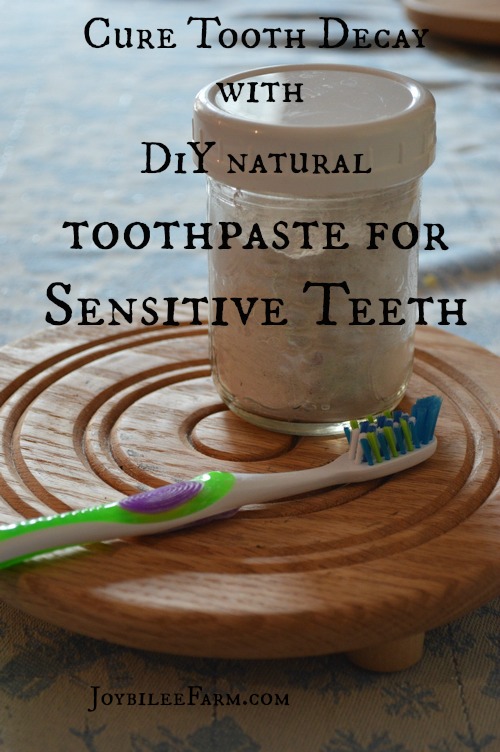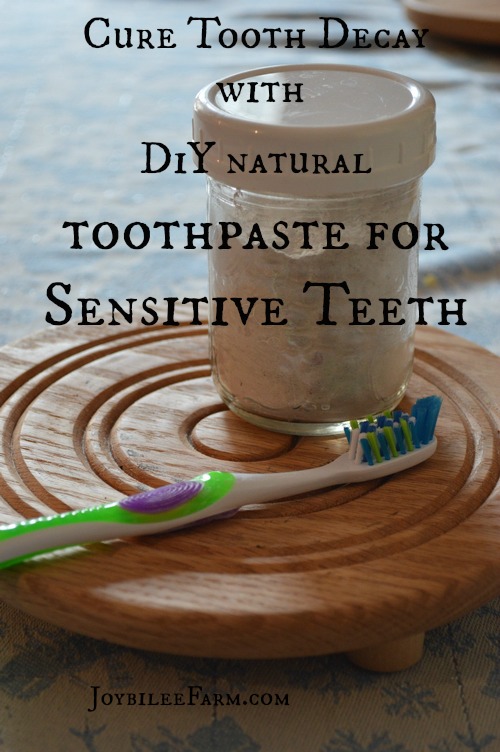 Living without a dentist
Although I've lived at the same address for 13 years, I don't have a family doctor and I don't have a dentist. It's crazy because we actually do have extended health benefits and a dental plan with Mr. Joybilee's employment, but the doctors here aren't taking new patients – I asked.
In September Sarah noticed that she had 3 small cavities on her back molars. Sarah went into town and personally visited the 3 dentists' offices and asked if she could get an appointment. Not one of the 3 dentists is taking new patients. We've heard this story before and so although she could see 3 cavities on her teeth, she couldn't get an appointment.
Sarah hasn't been to the dentist in 8 years. That makes sense when you realize we were without a dental plan for most of that. But even though we've had a dental plan for the last 2 years, she still couldn't get an appointment. Since she graduates in December with her BSc degree, she won't have a dental plan in January. She can only be on her Dad's dental plan while she is a full time student. Now we could feel sorry for ourselves, paying into a dental plan that we can't take advantage of, or we can take responsibility for our own health. If you know us well, you know the choice that we made.
The book, Cure Tooth Decay by Ramiel Nagel, outlines a diet that will remineralize your teeth and stop new cavities from forming. It is based on research by Weston Price using bone broths, fermented grains, and raw milk products to stop the bad stuff from harming your teeth and encourage the good stuff to rebuild them.
The key take away from the book, is that in order to cure tooth decay and remineralize your teeth, they need to have direct contact with the building blocks that teeth are made of – calcium, phosphorous, and some trace minerals. Your teeth also need less contact with the things in the oral environment that inhibit the rebuilding process.
(An aside: the good things that help rebuild your teeth are also the things that help rebuild your immune system and help you conquer chronic diseases like cancer. There is a critical connection between the state of your teeth and the state of your health.)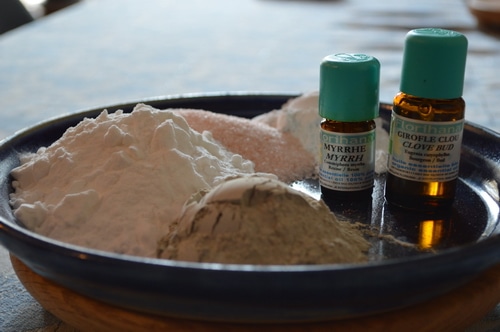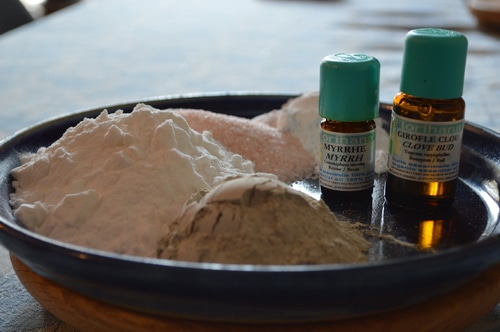 The bad stuff:
The oral environment that prevents cavities from healing and destroys dental enamel
Uncontrolled blood sugar spikes
Sugary food and drink
Commercial toothpastes – the glycerin and fluoride inhibit the remineralization of tooth enamel
Artificial sweeteners – increase blood sugar, acidify the mouth
Fluoridated water – binds to tooth enamel making it weak and preventing mineralization with calcium and phosphorous.
Unfermented grains – inhibit the absorption of minerals due to anti-nutrients
Bacteria that forms biofilms in the mouth preventing the remineralization of tooth enamel and destroying tooth enamel
Acidic oral environment – eats away at tooth enamel causing cavities
Dental drilling that destroys tooth enamel and prevents the remineralisation of teeth.
Glycerine, found in commercial toothpaste coats teeth and prevents the remineralisation of tooth enamel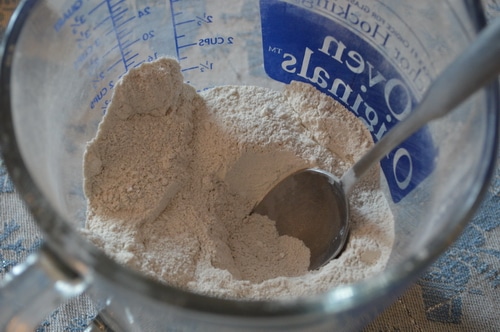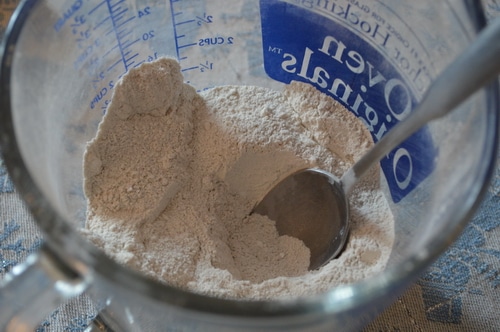 The good stuff:
Oral environment that strengthens and builds tooth health
Is rich in calcium — calcium and phosphorous are the building blocks that your teeth need to rebuild. You have to supply them.
Maintains neutral pH, not overly acidic. The toothpowder is alkaline and should act as a pH buffer — so brush at least twice a day.
Is free of bad-bacterial biofilms – has a predominance of good bacteria in the microbiome – lactic acid bacteria is one of the good guys that helps keep the bad guys in check. You'll need to brush your tongue when you brush your teeth, and floss at least once a day to get rid of the biofilms. Bacterial biofilms will prevent the minerals from adhering to your teeth.
Is without dental treatments that destroy tooth enamel and oral integrity such as dental fillings and root canals. Once the dentist has drilled your teeth and removed the enamel, that tooth is compromised. Root canals remove the nerve and blood supply from a tooth which allows bacteria to proliferate in the dead tissue. Ideally, avoid both if you can, by catching potential problems before they require emergency management. Even if you are like me, with mercury fillings and a root canal, this remineralizing tooth powder recipe will still help, but if you can avoid the invasive dental treatments you'll repair your teeth more easily.
Diet high in fruits and vegetables and calcium rich bone broths, low in sugar, processed foods, and unfermented grains will both rebuild tooth enamel and rebuild your overall health and wellness. There is a connection between the health of your teeth and the overall health of your body.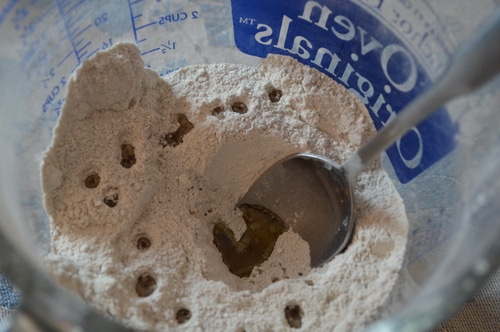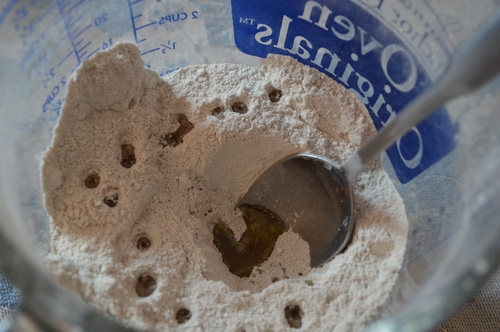 How to cure tooth decay
According to Cure Tooth Decay, you can cure tooth decay. Healing your cavities involves not just tooth brushing and oral hygiene but also a change in lifestyle and diet. You can't just change from commercial toothpaste and keep eating crap and expect to rebuild your tooth enamel and heal your cavities. Your body deserves better.
My personal experience
Today Sarah's cavities are almost completely gone. There's just a small shadow now where two months ago there was a medium size dark spot. She cut out quite a bit of the sugary treats she was eating and I made her this remineralizing tooth powder to brush her teeth with twice a day. She brushes her teeth and then holds the mixture at the back of her mouth for a minute, while she combs her hair, and then spits it out and rinses with plain water. She's had very yellow teeth since she was young, attributed to the floridation treatments that our dentist gave her. She brushed and brushed and her teeth have remained yellow. However, after two months using this remineralizing tooth powder, her teeth are regaining their whiteness. And finally, her gums have bled after flossing for over a decade. She said to me this morning, "My gums are no longer bleeding. It's the first time in my life that my gums aren't bleeding when I brush my teeth and floss." It makes me feel happy to improve my baby's oral health with such a simple step as making my own remineralizing tooth powder.

But even better, I've had a toothache since I had the "flu" last Spring. I've had a biofilm in my mouth that I couldn't seem to shake. The pain was in a tooth that I had an unnecessary, botched root canal in over 20 years ago. It was so severe that I couldn't chew anything on that side of my mouth. Since the dentists in town aren't taking any new patients I hadn't been able to have it looked at. It was a blessing in disguise.
I started using the same remineralizing tooth powder that I made for Sarah and the pain disappeared after the first day of using the tooth powder and it never came back. Robin is also using it and his teeth have changed from yellow to much whiter and healthier looking.
10 years of experimenting with DiY natural toothpaste
10 years of experimenting with DiY natural toothpaste
I haven't used commercial tooth paste in over 10 years and I haven't been to the dentist since 2003. I've experimented with different recipes and kept the good and tossed the bad. I've tried plain baking soda – it worked but was a little soapy tasting, 1/1 baking soda and Himalayan salt – it hurt my mouth, a bit too abrasive. I've tried both of these plain and with added peppermint essential oil – the peppermint oil is nicer. I've added coconut oil to make it more like a tooth paste rather than a tooth powder – it was harder to get a uniform amount out of the jar, and it became solid in our cold house. If we lived somewhere warmer, we might choose the coconut oil recipe instead of this one.
Here's my recipe for remineralizing tooth powder for sensitive teeth – perfected after 10 years of trial and error. It's going to get the toxins of regular fluoride toothpaste out of your mouth and you'll even save money — actually a lot of money — by making your own toothpaste at home — and it will actually cure tooth decay as it remineralizes your teeth. So forget paying $4 a tube for toothpaste that's fluoride free and SLS free — make your own with these easy to find ingredients.
Note: If you are sensitive to scents use the essential oils in this recipe sparingly. Try 10 drops of the peppermint essential oil instead of 1 tsp. The following recipe is the one I use exactly. But it may not be suitable for you, if you are sensitive to essential oils. Feel free to experiment and adapt it to your needs.
DiY Tooth Powder Recipe that:
Whitens teeth
Freshens breath
Remineralizes tooth enamel
Repairs cavities
Antibacterial
Pain relieving
Prevents cavities by strengthening tooth enamel, removing bacteria, and changing pH
Cure tooth decay with remineralizing tooth powder for sensitive teeth
DiY Remineralizing Toothpaste (makes 1 cup with no fillers)
Ingredients:
3 tbsp. calcium carbonate
2 tbsp. bentonite clay
1/2 cup baking soda
1/4 cup Himalayan salt, whirled in your spice grinder until a fine powder
1 tsp. peppermint eo
10 drops myrrh eo,
10 drops clove eo
Divide this between 2 – 125ml (1/2 cup) glass jars. Keep tightly capped when not in use.
Directions:
This tooth powder has no fillers. Every part is essential. Initially buying the ingredients may seem expensive, but it will give you many months of tooth powder for your efforts.
Mix calcium, clay, baking soda, and Himalayan salt in glass bowl. Whisk it to blend it thoroughly. Add peppermint eo (reduce the amount to your personal preference), myrrh eo, and clove eo. Divide between two ½ cup jelly jars. Cap tightly.
How to use this remineralizing tooth powder to cure tooth decay:
To use: Moisten toothbrush under the tap. Use plain, unfluoridated water. If your water is fluoridated it's better to use filtered water to brush your teeth. Fluoride will bind to your teeth preventing remineralization with calcium. Floride is also harmful to the thyroid, filling the iodine receptors, and inhibiting iodine uptake.
Stick your moistened toothbrush in the jar and take up some of the tooth powder on the brush.
Brush teeth as normal. If you are remineralizing your teeth in order to cure tooth decay, hold the goop in your mouth for 60 seconds while you do something else. This allows your tooth enamel to be in contact with the remineralizing calcium and clay. Spit. Do not swallow. The spit will be grey. That's the clay removing toxins from your mouth. It's normal. Rinse your mouth with clear water.
Brush at least twice a day. Floss once a day.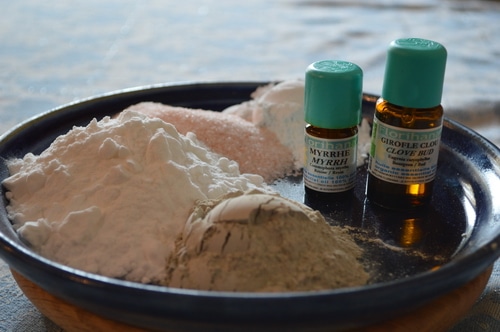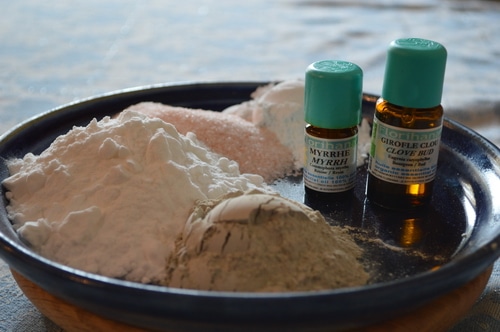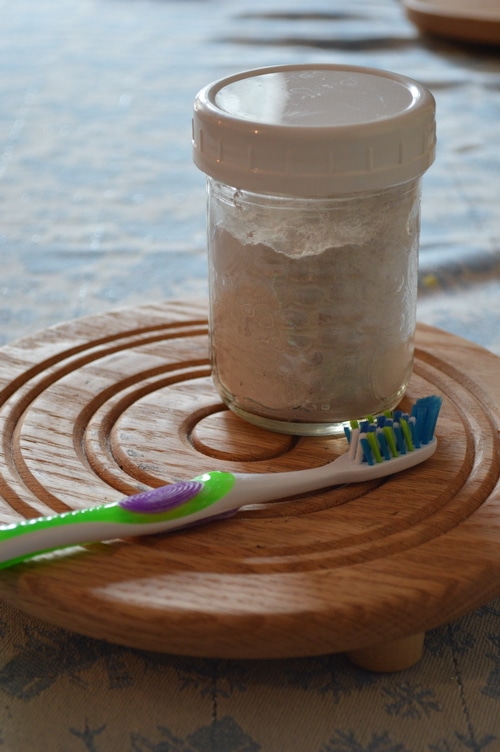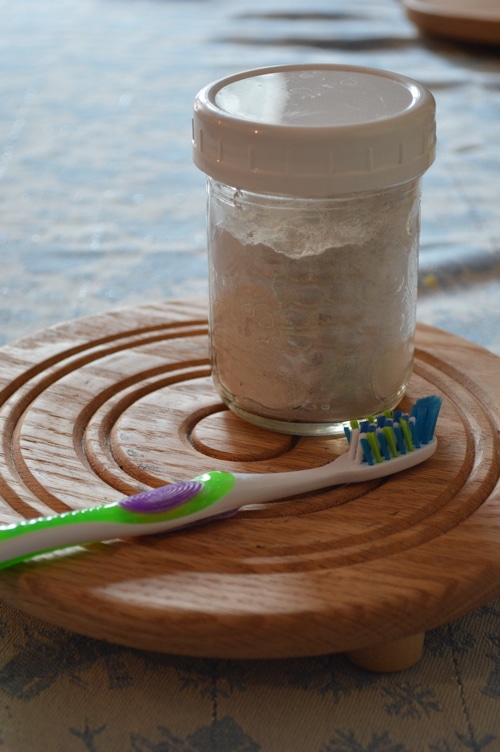 Turn this into remineralizing toothpaste:
If your family is used to toothpaste and would find it easier to use a paste rather than a powder, simply add ½ cup to ¾ cup of coconut oil to the above recipe. It will remain soft and paste like if your ambient temperature is between 60 and 70 degrees F. Organic virgin coconut oil is known to prevent cavities.
What does each ingredient in the recipe do?
Calcium carbonate – supports healthy enamel
Bentonite clay trace minerals that support oral health
Baking soda – supports oral health, changes pH, mildly abrasive
Himalayan salt, trace minerals that support oral health,
Peppermint eo – refreshing, traditionally used for oral health
Myrrh eo – refreshing, traditionally used for oral health,
Clove eo – traditionally used for oral health
Cure Tooth Decay
Get the bad stuff out of your mouth. Put the good stuff in your mouth. And use this remineralizing tooth powder or add coconut oil and make it into remineralizing tooth paste and you'll be on your way to not just better dental health, but also better overall health. Your teeth are a window to your overall health.
Disclaimer:
Does this replace seeing your dentist? Of course not.
This is a book review, not dental advice. As always, consult with your health professional for personalized advice in your own circumstance.
Addendum:
I recommend purchasing your Bentonite Clay from Mountain Rose Herbs rather than Amazon. There are different qualities of Bentonite Clay available. Mountain Rose Herbs seems to have the best quality for this purpose in my opinion. I'm unable to link directly to the product on the Mountain Rose herbs website due to the thumbs screws placed on them by the FDA. You can find it on their website under Ingredients and "clays". I also recommend Mountain Rose Herbs for the essential oils. The other ingredients are good to get from Amazon if you can't find them locally.