(Inspired by Rosemary Gladstars Zoom Balls – p. 37 of her book Rosemary Gladstar's Herbal Recipes for Vibrant Health)
These are chocolate truffles with adaptogen, carminative, and antioxidant herbs to promote relaxation and adrenal health. The recipe makes about 48 — 1 inch truffles.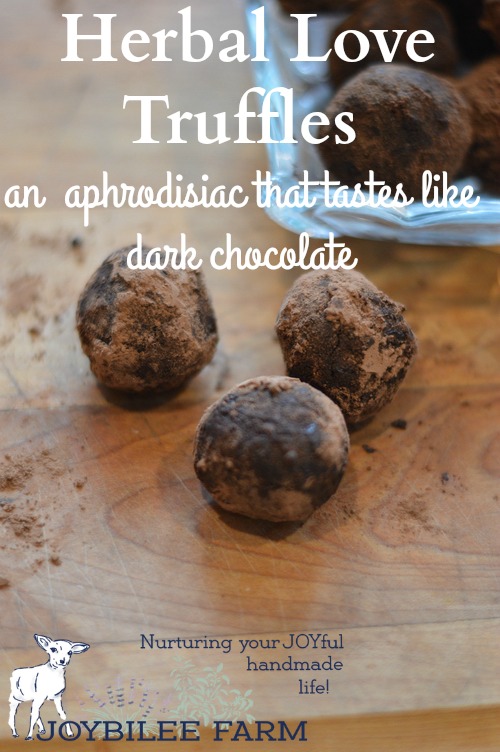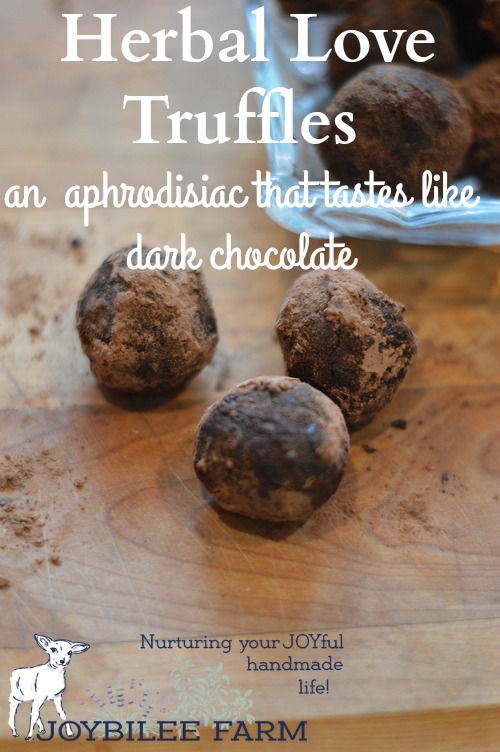 Sexual health is tied to adrenal health.  When the adrenal glands are exhausted, blood pressure will be out of whack, and the exhaustion and stress of life will interfere with normal sexual drive.  The whole organic system becomes unbalanced when this happens.  Digestion is incomplete.  Sleep is elusive.  Sexual appetite diminishes.
Adaptogen herbs are tonic herbs that nourish the adrenal glands and help the body cope with stress.  Exhaustion takes more than herbs to fix though.  The adrenal glands need quality sleep to replenish, as well, so team up these yummy love truffles with a long soaking bath, a massage, or even a foot massage for deep relaxation. And if it doesn't work the first night, persist. Herbs are nourishment, not drugs. It takes time to replenish a stressed out soul.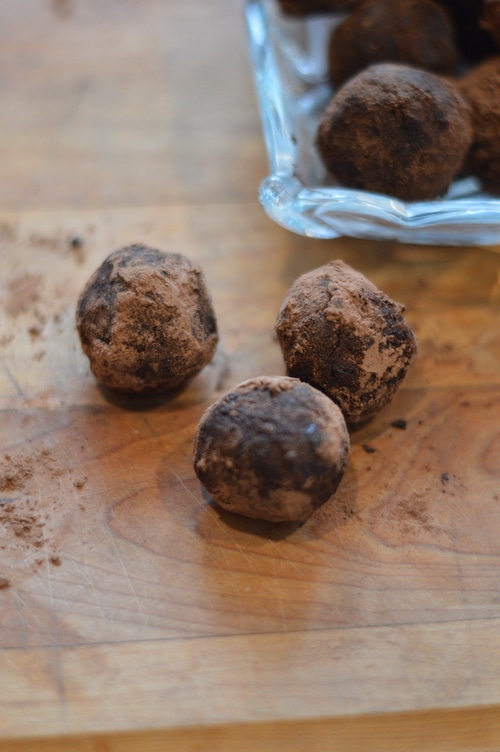 This mildly sweet truffle is tasty, but also tonic. For more information on the individual adaptogen herbs see this post.
Make sure that the herbal powders are fully powdered.  If you are powdering your own, at home, watch for overheating which will damage the herbal actions of the herbs.  You can buy these herbs whole and powder them as needed, which will prolong the shelf life of your herbs.  Or you can buy them powdered in smaller quantities.  Once they are powdered they should be consumed in 3 to 6 months.  I purchase my powdered herbs at Mountain Rose Herbs or at The Bulk Herb Store.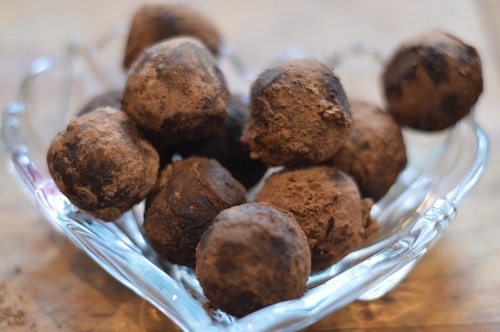 Love Truffles
Yield: 48 1 inch truffles
Ingredients:
¼ cup astragalus powder
¼ cup eleuthero powder
¼ cup ashwagandha powder
¼ cup hawthorn berry powder
1/4 cup dark cacao nibs
1/4 cup cocoa powder + 2 to 4 tbsp.
1 tsp. nutmeg, freshly grated
1 tsp. black pepper, freshly ground
1 tablespoon ginger powder
1 tablespoon cardamom
1 cup tahini butter (make your own for optimal freshness!)
½ cup almond butter
1/2 cup honey (you can use herbal infused honey)
½ cup of maple syrup
3 tsp. additional honey, as required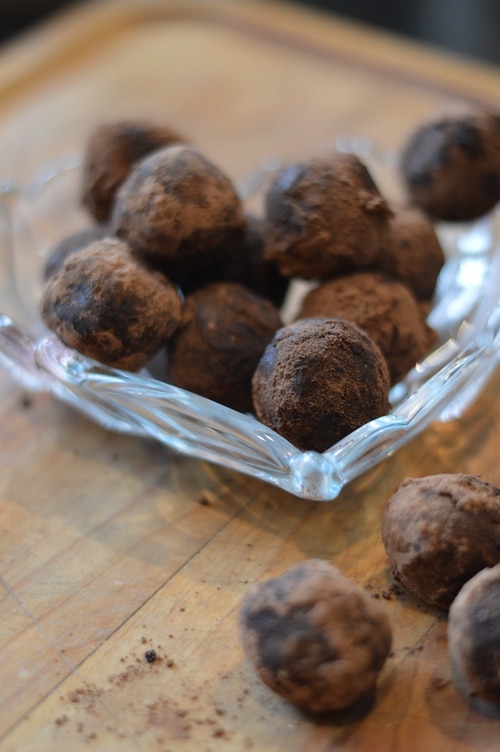 Directions
In a large bowl, mix together tahini and almond butter and raw honey.  (See this recipe for making your own tahini from scratch) Stir in maple syrup.
In a second bowl, stir together all powdered herbs and spices.
Slowly mix the powdered herbs, cacao nibs, and cocoa powder into the honey. Add Maple syrup to the nut mixture and mix well until a thick paste forms.
Roll this "dough" into balls 1 inch in diameter.   As you get near the bottom of the bowl you may find the dough doesn't stick together as well. Add additional honey 1 tsp. at a time, to help the dough hold together.
After each ball is formed, roll the balls in the extra cocoa powder to prevent from sticking. Store in glass wide mouth jar in the fridge.
Store in the refrigerator.  These are warming, slightly spicy, and delicious.
Serving size – 2-3 daily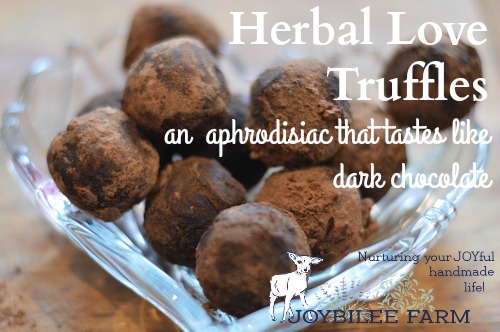 Almond butter and Tahini are rich sources of zinc, an essential nutrient for glandular function.
Honey and maple syrup add minerals and a mild sweetness.
Astragalus, Eleuthero, and Ashwaganda are adaptogens for stress and healthy glandular function.
Hawthorn is for circulation and is high in bioflavinoids that support healthy hearts.
Cardamom, ginger, black pepper, and nutmeg are warming carminatives to stoke that inner fire.
And dark chocolate, well, what could be sexier than dark chocolate?
Enjoy!
Other DiY herbal gifts to rekindle that romantic flame