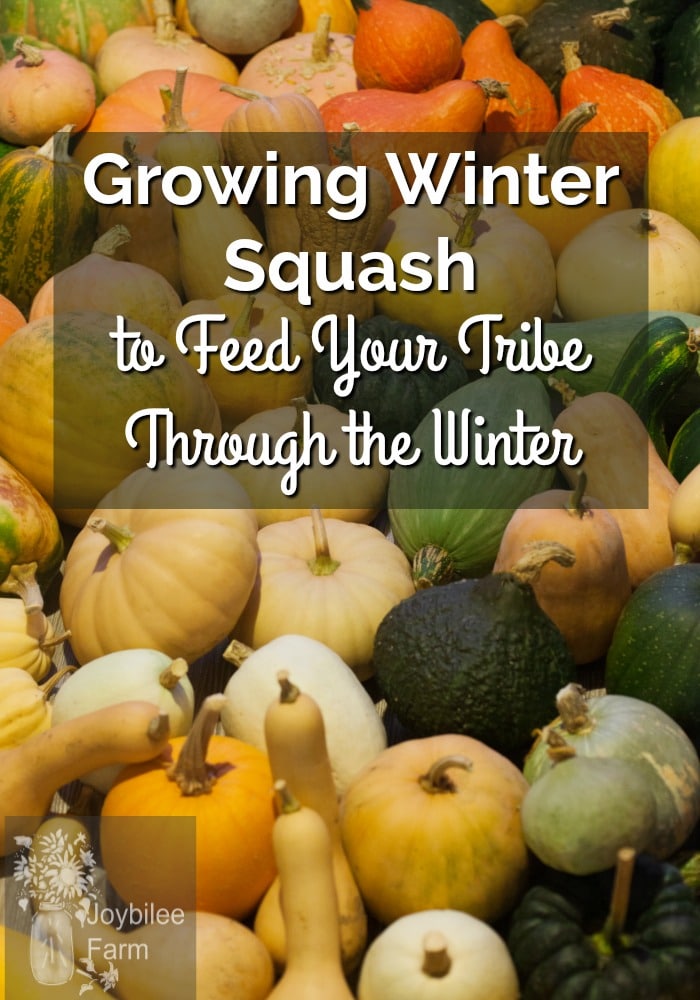 Winter Squash and Summer squash — zucchini, butternut, acorn, delicata, pumpkins — are all members of the squash family – Cucurbita spp.  There are 3 basic groups and they don't cross pollinate.  A fourth group is less common and doesn't follow these rules.  Does it matter?  It does if you are trying to save your own seed.  You can plant one type of each family group and still have pure seed, provided your neighbours aren't growing squash, and you have a long enough growing season to mature the squash.  Squash seed remains viable for at least 3 years so consider growing out your favourite varieties for seed once every 3 years.
C. Pepo is the family name for all zucchinis, and summer squash.   These are bush plants and produce over the full summer if you have a warm climate.  You can extend the season by starting the plants indoors in April and planting out in a hot bed after all danger of frost has past.  For Joybilee Farm the danger of frost never passes so I planted mine in a green house this year. C. Pepo varieties also include spaghetti squash, some Halloween pumpkins, and acorn squash.  The stems of these plants are deeply ribbed but the outside is almost smooth to fine ridges.  The plants have a bush habit.
Giant pumpkins fall in the C. Maxima group, as well as hubbard, turban squash and buttercup.  These plants are identified by their smooth, spongy stems.
My favourite squash is the butternut which falls into the C. Moschata family.    It is called butternut pumpkin in Australia and is used interchangeably with dishes that call for pumpkin.  Its my favourite because of its thin, easy to peel skin and its deep orange, sweet flesh.  If you pick it before the skin is hard it will continue to ripen in storage.  As it ripens it will become deeper orange and sweeter.  Other C. Moschata squash include pie pumpkins with deeply ribbed skins, and kobocha, a Japanese squash, with green skin and deep orange flesh. The stems on C. Moschata are prickly and finely ribbed.
A fourth variety of squash is C. Mixta, represented by the cushaw varieties.  These will cross pollinate with both C. maxima and C. Moschata so if you want to save seed you will have to isolate these from all other squash except C. Pepo varieties.

Saving seed from squash plants 
If you want to save your own seed make sure you have two plants of one variety.  Hand pollinate your plants using a male flower from one plant and a female flower from another. Tape the flowers closed after pollination to prevent cross pollination by insects. Mark the stem of your hand pollinated flowers so that when you harvest your squash, you'll know which squash has your pure seed. When the squash is ripe, harvest the squash and allow it to harden off in storage at least a month, before cutting it open and saving the seed.  Rinse the seed after scooping it from the plant and allow the seed to dry in a the open.  Store once the seed is completely dry.  One squash will give you ample seed for family use.
Preparing squash for winter storage
To prepare squash for winter storage, you want to purchase specimens that are fully ripe, with stem intact and free of cuts to the skin or blemishes.  If you are growing your own, use the squash that have cracks in the skin or stem removed first.  The scar where the stem falls off tends to mold first in storage.  If the squash is not yet mature but the outside of the skin has begun to colour, the squash may harden off in storage.  Place these at the front of your storage and plan to use them first.
Wash the outside of the squash in soapy water, rinse and wipe with a mild bleach solution or rubbing alcohol to remove bacteria.   Allow the disinfectant to dry on the outside of the squash.  Store in a cool, dry place on shelves.  Check the squash frequently.  Often they will begin to spoil from the inside out around the end of February or the beginning of March.  Plan to use them up by then. I've had some last till June, but by then we're pretty tired of squash and the garden is giving us early kale, lettuce and some radishes.
If a squash begins to spoil you can cut off the spoilage and use the intact flesh, provided the inside of the squash has no mold growing in the seed cavity.  Chickens love squash, so consider sharing the bounty through the winter, if you have ample for your needs.
Torpedo zucchini will harden off as well, with the skin getting thicker and the flesh thinning out and leaving a hollow seed cavity with mature seed.  You can use these in winter.  I like to save some torpedoes to feed to the chickens in January.  Just cut them in half to expose the seeds, and leave them in the hen house.  The hens will clean them up leaving only the shell.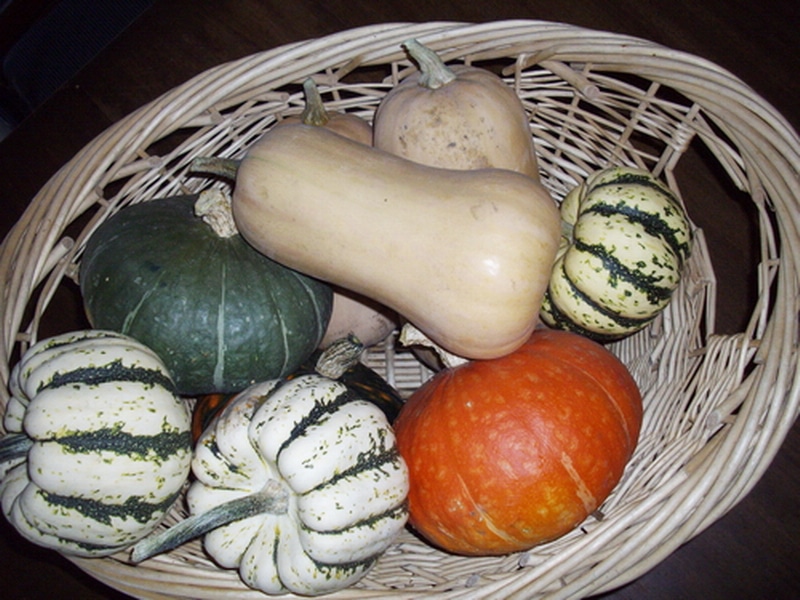 How to cook squash
Squash is used as both a vegetable and a fruit (in pie or custard).  Summer squash can be eaten raw or lightly sauteed.  Winter squash can be baked, grilled and stir fried.  Baking it in a slow oven concentrates the sugars.  I like to put the whole squash in the wood stove oven in a baking dish with a small amount of water.  After the squash softens remove the top and scoop out the seeds and remove the flesh and mash it with butter to serve as a vegetable.  Really simple.
For small squash like delicata or sweet dumpling, you can remove the top, hollow out the seed cavity and then fill with chopped apples, raisins, almonds and a bit of brown sugar and butter.  Place the top back on and bake whole.  Delicious.
Other viable fillings include mixtures of cooked meat, onions, coconut milk and curry spices.  Use your imagination.
Squash bisque is a cream soup made with pureed squash or pumpkin, onion, garlic, and spices.  Serve with a sprinkling of toasted nuts or savory cream.
Recipe: Butternut Squash Bisque
This is a winter staple at Joybilee Farm.  Low in carbs and high in fiber, and vitamins.  It has staying power even on high energy days.
1 med onion, finely chopped
2 cloves garlic, peeled and minced
1 tbsp. coconut oil for sauteeing
1 inch piece of ginger, peeled and minced
1 butternut squash, baked until softened
2 cups water or broth of your choice
1/2 tsp. salt
Pepper to taste
Method:
Saute onion, garlic and ginger in coconut oil, until softened.  Add cooked squash.  Add water to cover.  Cook for 15 minutes.  Using a stick blender, puree bisque until smooth.  Alternately puree in blender.  Return to pan and reheat.  Serve with cream and toasted almonds or sunflower seeds.
Curry Squash Bisque variation:
Add 2 tbsp. of coconut cream to the mixture before pureeing, plus 1/2 tsp. curry spice.
Bonus Recipe:  Spiced Pumpkin Syrup for lattes and expresso
This is adapted from a recipe on the "Cook Like a Champion" Blog. (link above)
Pumpkin Spice Syrup
Ingredients:
1 1/2 cups water
1 1/2 cups sugar
4 cinnamon sticks or 1 tablespoon ground cinnamon
1 inch piece of ginger, peeled and grated or 1 tbsp. ground ginger
1 whole nutmeg, grated, or 1 tsp. ground nutmeg
3 tablespoons butternut squash or pumpkin purée
Method:
Combine water and sugar in a medium pot over medium heat. Cook until sugar has completely dissolved. Whisk in remaining ingredients. Cook for about 6 minutes, stirring frequently. Bring mixture to 95C, but do not allow mixture to come to a boil. Fine bubbles should begin to appear.  Strain syrup through cheesecloth into a large glass measuring cup. Transfer to 16 oz. (500ml)  bottle of your choice and store in the refrigerator.
To make a pumpkin spice latte, simply add about 1 1/2 tablespoons of syrup for each 2 oz. of espresso. Add frothed milk (I prefer goat's milk).  Add whipped cream if desired.  Sprinkle top with cinnamon.
Your turn:
What's your favourite way to prepare squash?  Leave a comment.
Further resources:
EatingWell in Season: The Farmers' Market Cookbook (EatingWell)
I just got this cookbook and I'm really enjoying it.  Its along the same lines as the More With Less Cookbook and the Extending the Table Cookbook by the same publisher:
Simply in Season Expanded Edition (World Community Cookbook)