Are you behind in your Christmas Baking?
I haven't even started my Christmas baking. That's on purpose. I know as soon as I begin, it will be eaten, and if I do it too soon, I'll just have to do it again before Christmas. And we really don't need all those extra treats. My friend, Jo, over at Homestead Chronicles      gave me her recipe for Buckeye bark, to give me a headstart on my baking.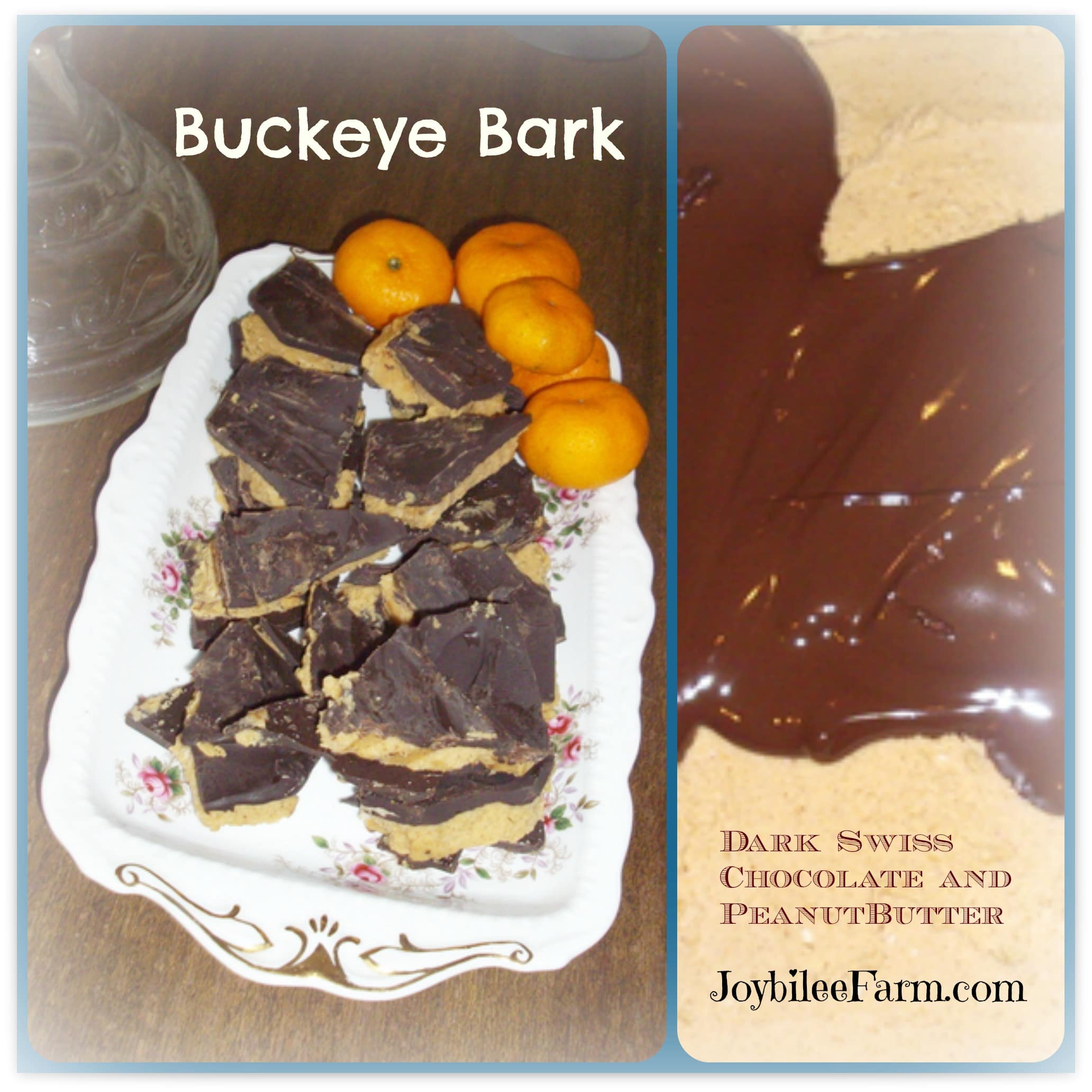 What's buckeye bark?
What is buckeye bark, you ask? Well, I asked, cause I knew you'd want to know.  And Jo said it was like "peanut butter cups on steroids."  The good news is it can be ready to eat in less than an hour.  The bad news is, it can be ready to eat in less than an hour AND it uses 2 lbs of dark swiss chocolate.  Of course, you could use the cheaper, less creamy chocolate melting wafers, but I didn't have any.  And I did have about 8 lbs of the best quality dark swiss chocolate. you'll be glad you opted for the good stuff.
So here's my version of Buckeye bark using the best quality of dark swiss chocolate.  And Adams natural smooth peanut butter.  You are going to add icing sugar (powdered sugar) and vanilla, so you don't need any other additives in the peanut butter.
It's very quick to make.  Actually it took me longer to saw the 2 lbs of chocolate off the block of Swiss chocolate than it did to make the entire recipe.  It's true that the melting wafers are  less messy and more convenient.  But I got to eat all the chocolate crumbs, before they melted all over the counters.
Buckeye Bark Recipe
2 lbs of Swiss Dark Chocolate, divided into 1 lb. portions
2 cups of Adam's brand smooth peanut butter (or other natural, no additive peanut butter)
2 cup icing sugar (powdered sugar, confectioner's sugar)
1/4 c. butter, softened (use real butter)
1 tsp. vanilla extract
Melt 1 lb of chocolate over a double boiler.  Be careful not to get any moisture in the chocolate or it will seize.  Stir it as it is melting. In the meantime line a baking sheet with parchment paper.
Spread the parchment-lined baking sheet with the melted chocolate.  Spread it until it is no more than 1/8th to 1/4 inch thick, and in an even layer.    Put it in the freezer until firm.
Meanwhile, cream the butter and peanut butter together.  Beat in sugar and vanilla and mix until smooth.  Spread over the hardened chocolate on the baking sheet.  Return to freezer to firm.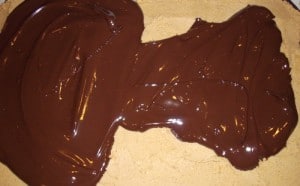 Melt the last 1 lb. of chocolate.  Spread over the top of the peanut butter, smoothing it into a thin, even layer.  Return to freezer to completely harden.
Once the buckeye bark is completely hardened, remove from freezer and allow to thaw slightly.
Cutting the Buckeye Bark
This is the tricky part.  If you try to cut it when it is still very hard, the bottom chocolate layer will crack and the three layers won't stay stuck together.  If you try to cut it when it's come to room temperature, the pressure of the top layer will squish the peanut butter filling out from between the hard layers of chocolate.  The bark should no longer be hard but should still be cold when you slice it.  Make sure your knife is very sharp.  Cut into squares.  Put in airtight container and return to freezer until you are ready to serve it.
Looking for more Holiday recipes?  Check out the new e-Book that I contributed to, "Homestead Bloggers Homemade Holiday Recipes".  From appies to dessert, you'll find some new recipes to try this season, from our homestead to yours.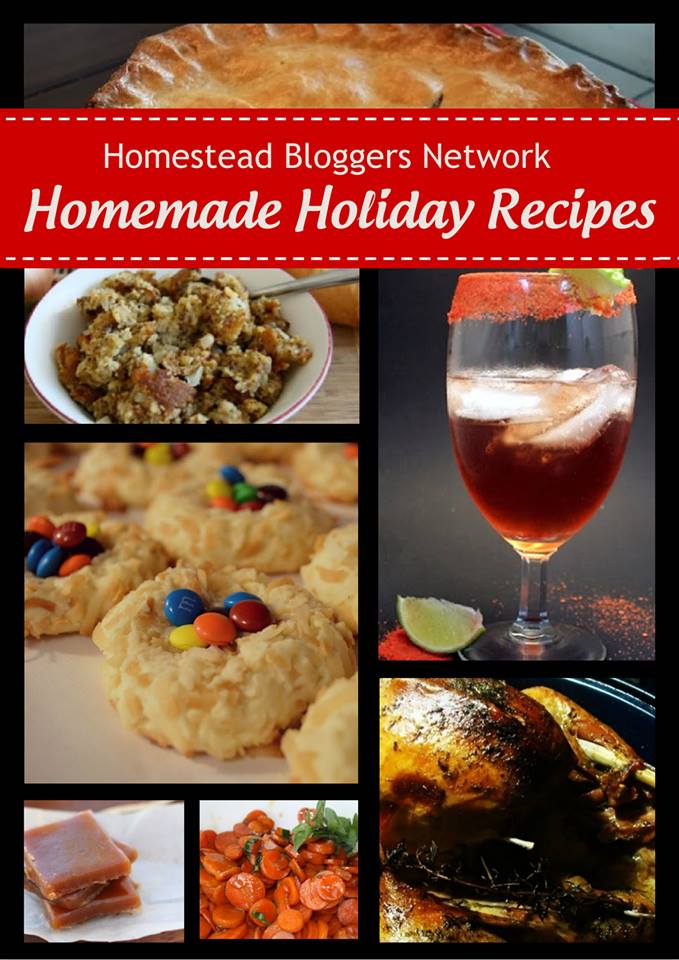 Merry Christmas!