Felting is fun and gifts made by felting are unusual so they are appreciated.  Felting is an art form.  It works up faster than knitting or crochet and so it is a really good way to make some fun, useful, and unique gifts in a short time.
It's time to make some simple gifts from wool and release your inner child and play.  Needle Felting and wet felting are great crafts to do with school age kids, too, so don't keep all the fun to yourself.  I surfed the net just for you and found some fantastic woolly crafts to help you on your way to a relaxing. loving, and happy gift season. These range in difficulty from Easy to Expert.  Be sure to book mark this page and come back often to check it out for inspiration.
Why wool?  Wool is biodegradable, natural, anti-bacterial, anti-fungal and malleable.  Most wools felt easily with soap and water or with a felting needle.  To do these crafts you will need natural wool, not polyester craft felt.
Each year we pick someone who is lonely, or needy and include them in our gift giving to brighten their season, let them know that they are not forgotten, and give them hope.  Receiving a homemade gift lets the recipient know that they aren't expected to return the favour.  These 12 gift ideas are inexpensive but fused with love.  So as you look at the list, think outside of your own family and look for someone who you can include in your blessing list, too, not to add to your burden but to increase your JOY.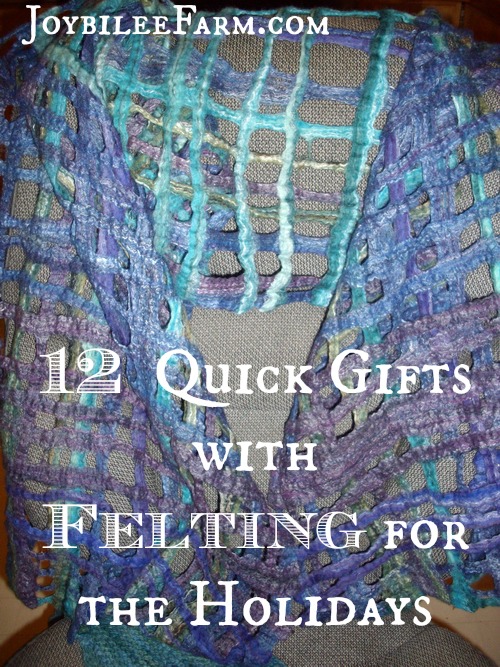 To do needle felting you will need:
Small amounts of wool roving in various colours or dye it naturally
Felting needles and an optional felting needle punch
A felting foam to work on
An idea of what you want to make (use this list for inspiration)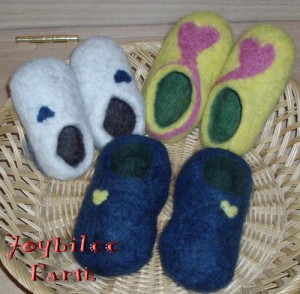 To do wet felting you will need:
Wool roving in the colours of your choice
Natural Soap
Hot and cold water
Bubble wrap
Tulle
Towel
These woolly tutorials come from various blogs around the internet.  My criterion for choosing which ones to include was that these are either tutorials or pictures — not patterns or kits that you have to buy.  So have a merry time picking some to try out.
Also, some of these tutorials suggest cutting wool roving with scissors.  Don't do that.  Wool roving will slide apart easily in your hands if you just hold your hands about 6 inches apart and pull.   If you cut the wool, you will weaken the fibers and your final felt won't be as strong or as smooth.  So play with the roving and coax it gently apart and you will have success.
Easy:
1.  Felted Wool Garland from Whipperberry:
2.  Needle Felted Sheep from Walnut Spinnery
3.  Nanofelted scarf from E-How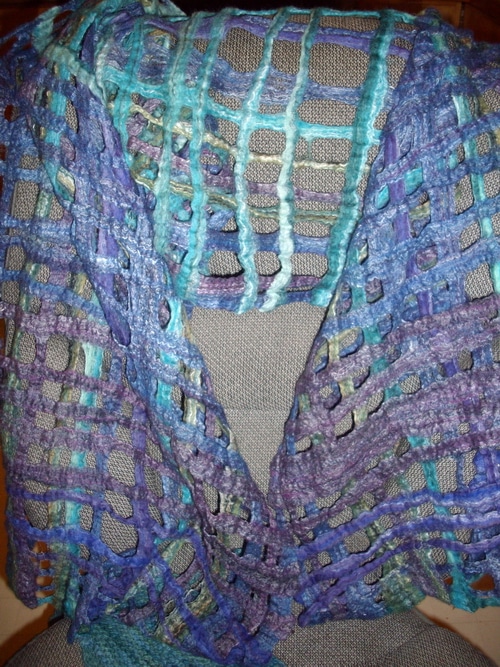 4.  Needle felted teacup pincushion from Tasket Basket Crafts
5.  Making a wooly soap
6.  Needle Felted Hearts by Apartment Therapy
Intermediate:
7.  Needle Felted Teddy Bear
Advanced:
8.  Needle Felting tutorials for making sculptural needle felted dolls, and Santas by Felt Alive
Projects from wool sweaters
And finally, some projects that use recycled wool sweaters — from the thrift store or from your own collection.  These ones require some sewing but they can be sewn by hand if you don't have a sewing machine.
9.  Up-cycle a sweater for these felted mittens,  some sewing required.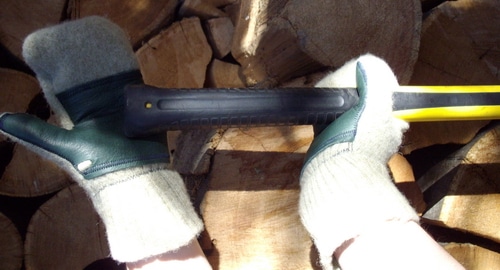 10.  Up-cycle a wool sweater into Mittens. Or how about pot holders.

11.  Make a hat from a recycled sweater, some sewing required.  From Crafty Sylish
12.  Felted Tea Cosy from an up-cycled sweater, some sewing required.  From Sewing Savvy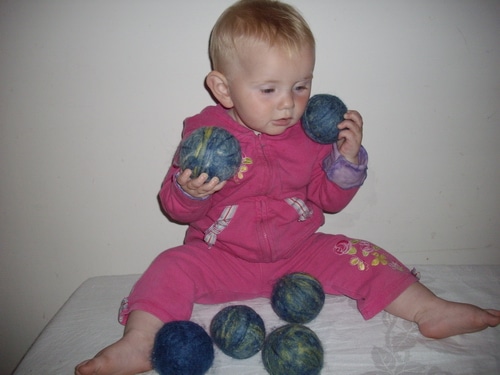 Holiday Crafts from Felt Class
(Affiliate)  The Fab Felt Holiday Classfrom Craftsy (#ad) has more ideas for those felted sweaters, from a holiday garland, a gingerbread village, slippers for every family member, and felt decorations to use up the last bits of every thrift shop sweater in your stash.  Don't overlook the Craftsy (#ad) resourses and classes when your considering your holiday crafting fun.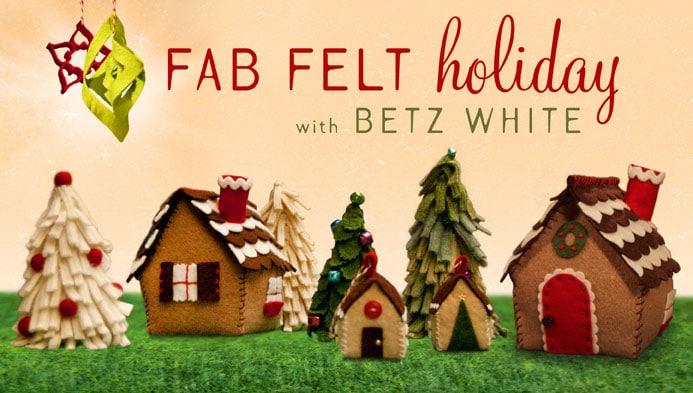 Your Turn:
Have fun with this and tell me what you made.  Remember this season is supposed to be fun, relaxing and transcendent.  Don't get caught up in the musts and should haves, but follow your creativity and enjoy the season.
Don't charge up the credit cards, but instead use your own hands to infuse love into everything you do.    Give presence more than presents!