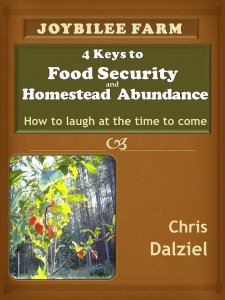 Are you worried about the economy?  Most of the folks I talk to are wondering what the damaging weather in the midwest will mean to their food dollars this year.  They're thinking that things could get worse, a lot worse.  And frankly, they're discouraged and they feel vulnerable to the powers that are beyond their control.  But you don't need to feel scared about your family's future.
In "4 Keys to Food Security and Homestead Abundance" I offer a plan to help you navigate through the different aspects of food security and make the best strategy for your own family food security.  But it isn't just a plan to make-do.  I'm not offering you a "survival mindset".  This is a plan to bring you Homestead Abundance as  you take a few easy steps toward better food security by managing the resources that you do have, right now.
Get your free copy of
Joybilee Farm's
4 keys to Food Security and Homestead Abundance,
How to laugh at the time to come,
a $7 value 
FREE!
and find out…
How to stop worrying and start doing something about your family's food security
How to get cancer-causing, genetically modified food out of your kitchen and off your plate
How to get more energy and feel better, while you save money at the grocery store
How to stock up for tomorrow and for unforeseen emergencies without going bankrupt
How to grow some of your own food, even if you live in a tiny apartment or in the middle of nowhere
How to cultivate a lifestyle of Homestead Abundance that self-sows more joy every day
How to stop feeling isolated and alone in your homestead lifestyle and build community right where you live
Find out more right here.